Love, obsession, and comedy in the big city.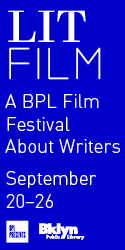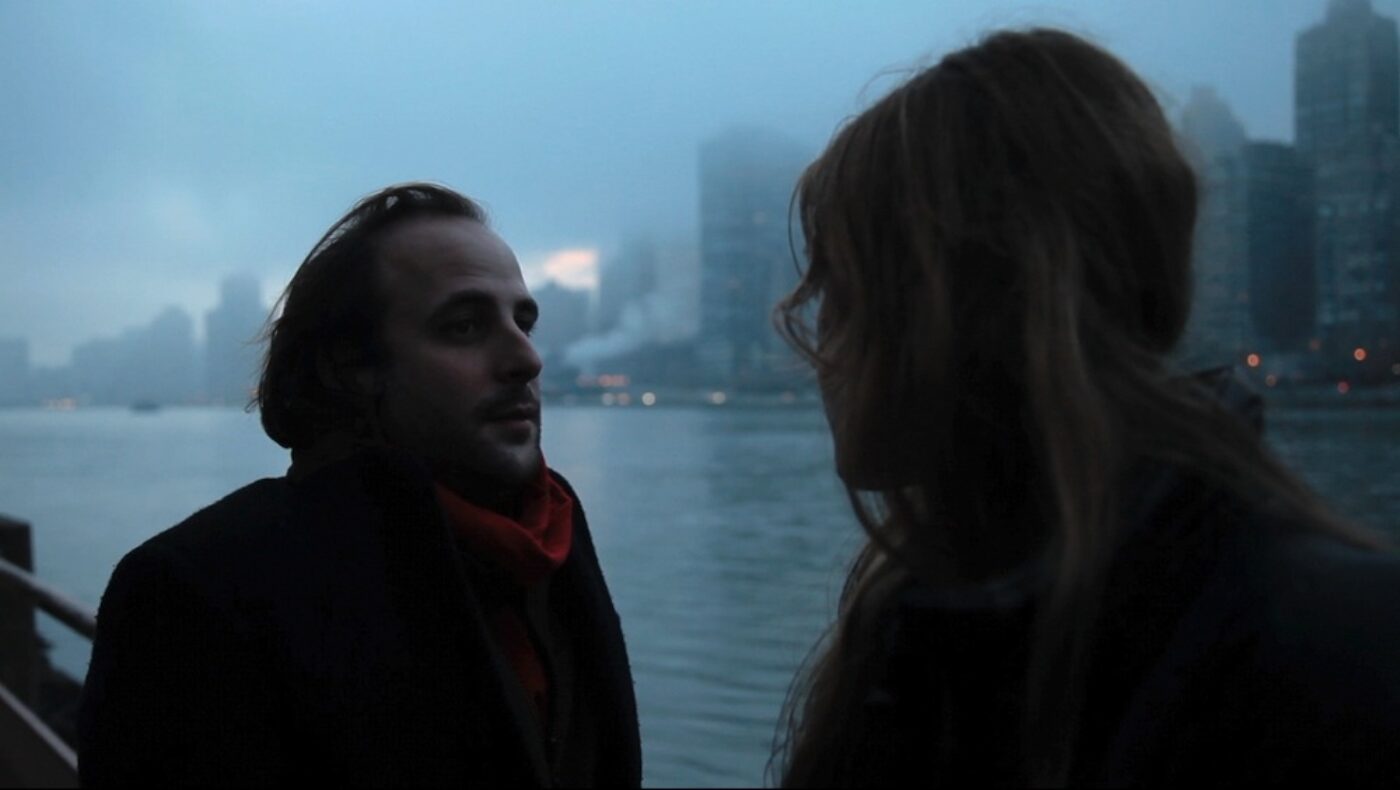 Armel Hostiou is an experimental film and video artist who grew up in Brittany and moved to Paris when he was twenty to study cinema at La Fémis. As he began directing short films, he described the experience as a "laboratory to improve, discover, and find new ways to tell stories." His first feature film, Day (Rive, or "bank," in French), was a project about Paris as seen through the eyes of three characters—a man, a woman, and a child. The film was shot in 2010, had its premiere at Cannes in 2011, and was released in France in 2012, playing New York at BAM later that same year.
Hostiou's second feature, Stubborn, had its North American premiere at the Rendezvous with French Cinema program March 10 at the Walter Reade Theater. The film will have encore presentations on March 11 at 7 PM at the IFC Center, and again that same night at 8:30 PM at BAMcinématek, as well as on March 12 at 2:00 PM back at Walter Reade. Hostiou, along with actor Murray Bartlett (Looking) co-writer Lea Cohen and several producers will be in attendance at each screening.
The film tells the hilarious—or is it horrifying?—story of Vincent (Vincent Macaigne) who follows his ex, Barbara (Kate Moran), to New York City to win her back. While she wants him to go back home to Paris, Vincent hopes to work things out between them. He willfully disregards the fact that she is currently dating another man (Murray Bartlett). He tries repeatedly, and quite unsuccessfully, to reintegrate himself in Barbara's life.
Stubborn tracks Vincent's efforts which are alternately amusing—as when he insists on having Kate's boyfriend make him fresh squeezed orange juice—to downright irritating, as when he attempts a marriage proposal to Kate with her boyfriend by her side at the time. But this comedy, while possibly cringe-inducing at times, is often very affecting, particularly for anyone who has won the battle but lost the war when it comes to love.
Gary M. Kramer How did you come to tell this story and make a French film in New York?
Armel Hostiou It was a mix of situations. When I shot Day, one of the actors was this French actor/theater director Vincent Macaigne. In the past few years, he has become a figure in independent French cinema. He was in Guillaume Brac's Un monde sans femmes (A World Without Women) (2011). I thought he had amazing potential as an actor, so I thought we should do something together. I was supposed to shoot a short film in France—I had a grant—and I asked him to do this project. But he was busy. He said he had some time a few months later, but I had to go to Troy, New York where I had a residency at a university. So we organized to shoot Stubborn in New York. We had to rewrite the script, and then shoot it very fast, with a very little crew and funding. But we had the chance to make it, so we did.
GMK The French title is Une histoire américan, but the film is called Stubborn for American audiences. Why the difference?
AH The first title was Stubborn. I like the way it sounds—the concept, and the simplicity of it. People in Brittany tend to be very stubborn. But the French distributor says that French people won't understand the title, and that it was not attractive for non-English speaking audiences. So we had to find a title in French. Une histoire américan is a title I like too. It's more romantic and more open, and it has many references for the French. But for the English title, we kept Stubborn.
GMK I love the opening tracking shot of the Manhattan skyline in slow motion. How do you accomplish something like that as a low-budget filmmaker?
AH It's shot from Roosevelt Island tram. We paid a train ticket. Raymon Depardon, the photographer, did the same shot, but I saw his afterwards.
GMK I love that the film drops you in media res. We don't have much knowledge of Vincent and Barbara's relations before the film's action begins. Why did you feel this was an appropriate starting place for the story?
AH It was more to analyze the consequences of lost love and the main character's inability to accept this. It was not my point to describe this love, or how this relationship was unequal from the beginning. It was to see how the end of the love story was the beginning of Vincent's falling apart, and lose contact with reality. It's a simple portrait of a man who slowly loses contact with reality. That's something I like to explore—what is normality and what is the normal way to deal with reality? The character has an obsession that borders on craziness. Is he crazy, or is this a way to behave? What is the border between normality and abnormality?
GMK This story is not unlike one of my all-time favorite films, Chilly Scenes of Winter, where a man tries to win back the woman he loves. What inspired or influenced you?
AH When obsession becomes stronger than anything else … One film I love that inspired me was Werner Herzog's Aguirre, the Wrath of God. Klaus Kinski plays a man who loses his mind with this obsession of El Dorado. There is something very beautiful about this kind of "romantic" outlook, in the 19th century meaning of the word.
GMK Have you ever been obsessed to the degree that Vincent is with Barbara?
AH Yes. But I did not go so far. The film is a mix of fiction and documentary. (smiles mysteriously)
GMK I like the portrait of New York that Vincent experiences—the nighttime bars, interacting with the subway buskers, or chatting with the man on the subway who gives him relationship advice. What can you say about creating the milieu that Vincent inhabits?
AH It was part of the project to mix written scenes with ones that were more improvised. Vincent was very good at bringing reality to his own work. The process of the shooting was close to the script. The character was "lost" in New York. I was impressed with how people we met in New York were very open to playing with us. They saw we were filming and they didn't care—they got into the film. The man selling DVDs on the subway was shot on the first day. We improvised that scene. We always had sound and camera, so if anything happened, we could capture it. We played things so you never know what would happen. I like fiction film, but real life suddenly emerges and you don't know what's written or not, and you don't care about that. It was impressive for me how some of the people we met while shooting were very generous and participated. We were very lucky.
The whole project was done with not much money but a lot of freedom. This was communicated to the people we met. It was easy to bring them in for that reason.
GMK How did you work with Vincent on the role and creating the character? His hair was great; his clothes were great. He's ugly, bored, deprecating—it was very realistic.
AH We really collaborated during the shooting, and wrote the script together. Vincent brought a lot of himself, and his own sensibilities to the character. He can be very intense in every sense. We developed the evolution of the character on the fly. The sequence after he offers the ring to Barbara in the kitchen is a good example. He goes outside and talks to his friend Sofie (Sofie Rimestad) in a very violent way. She is the girl waiting for him and viewers want her to be the possibility of hope and escape from this obsession and give Vincent some kind of happiness. But he falls into darkness after the ring scene. Vincent brought his own violence to the character in the way he yells at her. Sofie did not know he was going to respond so intensely. He is much darker here than how we wrote it. I like that the film goes from something almost romantic-comedic to something progressively darker. It was much more dramatic.
GMK I'm curious about the casting of Murray Bartlett, in the role of Barbara's boyfriend.
AH We had very little time to cast. I met Kate Moran in New York and she's very well known in France. She comes from the theater world, and has made films with Yann Gonzalez. She became his muse. She was in New York for a film, so she was perfect for the lost love—she has this very aloof quality. I met her in New York and asked her if she knew someone to play her boyfriend, and she recommended Murray. I saw him and he was great. I didn't know he was gay and I didn't care. For me, he was great because he has this very different physique from Vincent: he's very tall and masculine, which is very different from French bodies. He has a beauty that can be a cliché of the beautiful American male. And he's a great actor. He has this very internal sense for knowing when to speak and when not to speak. His silence is very important in the film.
GMK You visually convey the isolation and emptiness of Vincent by shooting the environment he is in, in particular through still shots of the city. What were your visual cues for the film and the character?
AH This is something I'm interested in: the relationship between big cities and the inner self, and what they can provoke. Day was about this feeling of characters lost in a big city—how the city interacts with life. I'm really focused on that; how you can feel more loneliness in big cities—this sense of anonymity—because of being in the middle of a crowd.
Do you know this film by King Vidor, The Crowd (1928)? The characters are part of the city. Their lives and their love stories are the consumed by the city. The city is a big character that needs to be fed by all the lives that belong to it. For me, this love story of Stubborn is like a grain of sand. That's why the first sequence of the film is a real prologue. We are flying over the city and seeing all these buildings and windows. You see there is life here, and there is something artistic and moving to me about that. That's a point I wanted to make—the relationship between this man and the city. Especially because it is New York. Of all the cities, New York is the most unique and impressive. It is an archetype of a city, like Babylon.
GMK What can you say about the fight Vincent gets into and the fact that his face is wounded through much of the film? It is a visual expression of his wounded emotions.
AH That was one of the ideas—to have this character bumping against people like against walls. The more we get into the film, the more he is bumping into things and people. He is provoking them, or trying to prove the solidity of the walls in front of him, to see if they can be broken or not. That's part of the humor of the film. The limits of the politeness of the other characters who try to treat him well. But he goes so far and it becomes absurd. I like that we did it physically, and Vincent is affected by getting knocked about, something gets broken. His mental state affects his physical face. In the last part of the film, Vincent is much thinner. He's lost weight, because there was some time passed between the shooting of the first part in winter, and the second part in summer. Some people see that.
GMK Does Vincent really think he can get Barbara back? Is he delusional when he goes to get a wedding ring for her?
AH The idea was the dynamic—little by little you want to tell him, "It won't work," and you wanted to tell him that the right woman is Sofie, who is right by his side. I wanted the spectator to experience this dramatic tension between Vincent and Sofie. That way, there is a stronger feeling as he going deeper and deeper into his obsession and he loses his connection with the world that surrounds him. The shot of him digging the snow is the myth of Sisyphus—divine punishment. He chooses to have this destiny.
GMK I love the orange juice scene—it's funny, but it also shows the one time Vincent has some power. Can you talk about the inspiration for this moment?
AH The concept of this scene was like in a Western—the two characters are in the main street and you don't know who is going to kill the other one. The idea was to bring this idea to a kitchen instead of the street. At this point in the film, we wanted to have something very cruel and very funny at the same time. I wanted the film to be full of dark, absurdist humor. So this moment was a climax of this absurd war between these two protagonists. We know Vincent has no chance to win Kate back. It's a lost war, but that may be why it makes the scene touching. Despite knowing he lost the war, he never surrenders. Whatever happens, he always goes a step further. We try to bring it as far as possible to make it touching, desperate, funny and sad.
GMK Do you think Vincent is stuck in life, or is a failure, or driven by shame? Or, does he have no shame?
AH I think it's a mix. At one point he has no shame, because he's totally in his own world, and his obsession. He forgets about having any shame, and that's the tragedy of the character. The ring scene, the orange juice scene—he goes much further than people with self-consciousness would go. If he had more self-awareness, he would be ashamed, and not go so far in humiliating himself. But I like that in the last third, when his family arrives to try to bring him back to France, his father and his sister make him feel shame about himself. His little sister is a kind of angel who provides a last chance for him to come back to normal life in France. But it's too late. It may be the moment he realized he went too far, but that it's also too late to look back.
GMK I like that the film presents Vincent handling his obsession in his own way, and his own time.
AH There is something that is broken inside him, but he keeps being stubborn in that he will never leave the city. He prefers to keep living in this ideal dream world rather than turning the page. That opens up the fact that it's easier for him to be like this than it is for him to cut off his obsession. Stefan Zweig's story was made into the film Letter from an Unknown Woman. There, the character sends not only a love letter, but she says that she loved this man for twenty years. Her whole life was dedicated to him. There is a shock of reality when he reads it. I liked this idea, and we did the opposite situation. We notice slowly that Vincent keeps living in this idea of love, even if it's idealistic and not realistic.
GMK Given that, are you an incurable romantic?
AH I don't know. It depends on the definition. If it's someone whose feelings can become stronger than rationality, then yes I am. I'm impressed by the number of people who write to me and tell me that the film presents something they really experienced. What we are speaking about in the film is a love affair and an obsession that brings someone to do and become something far from what he thought he could do or become. But this is something that is not so rare. The Belgian singer Jacques Brel has a song "Don't Leave Me." The lyrics go, "Let me become / The shadow of your shadow / The shadow of your hand / The shadow of your dog / Don't Leave me." I think it's very tragic, but it's the fuel of art and literature, like Proust's Swann's Way from Remembrance of Things Past. He behaves in a way that he could never imagine before. The situation brings him to behave in a way that astonishes him. That's an interesting moment in life—when you are surprised by where your life leads you.
Gary M. Kramer is a Philadelphia-based freelance writer whose work appears on websites including Salon.com and indieWire, as well as various alternative weeklies across the country. He is the author of Independent Queer Cinema: Reviews and Interviews, and the co-editor of Directory of World Cinema: Argentina.