Ariane Michel wants you to pay attention. In a work that premiered in New York on Monday evening at Van Cortlandt Park—aptly dubbed The Screening—Michel held up a mirror to film attendees by showing them a likeness of themselves on the silver screen.

New York Live Arts presents
Marjani Forte
Nov 15-19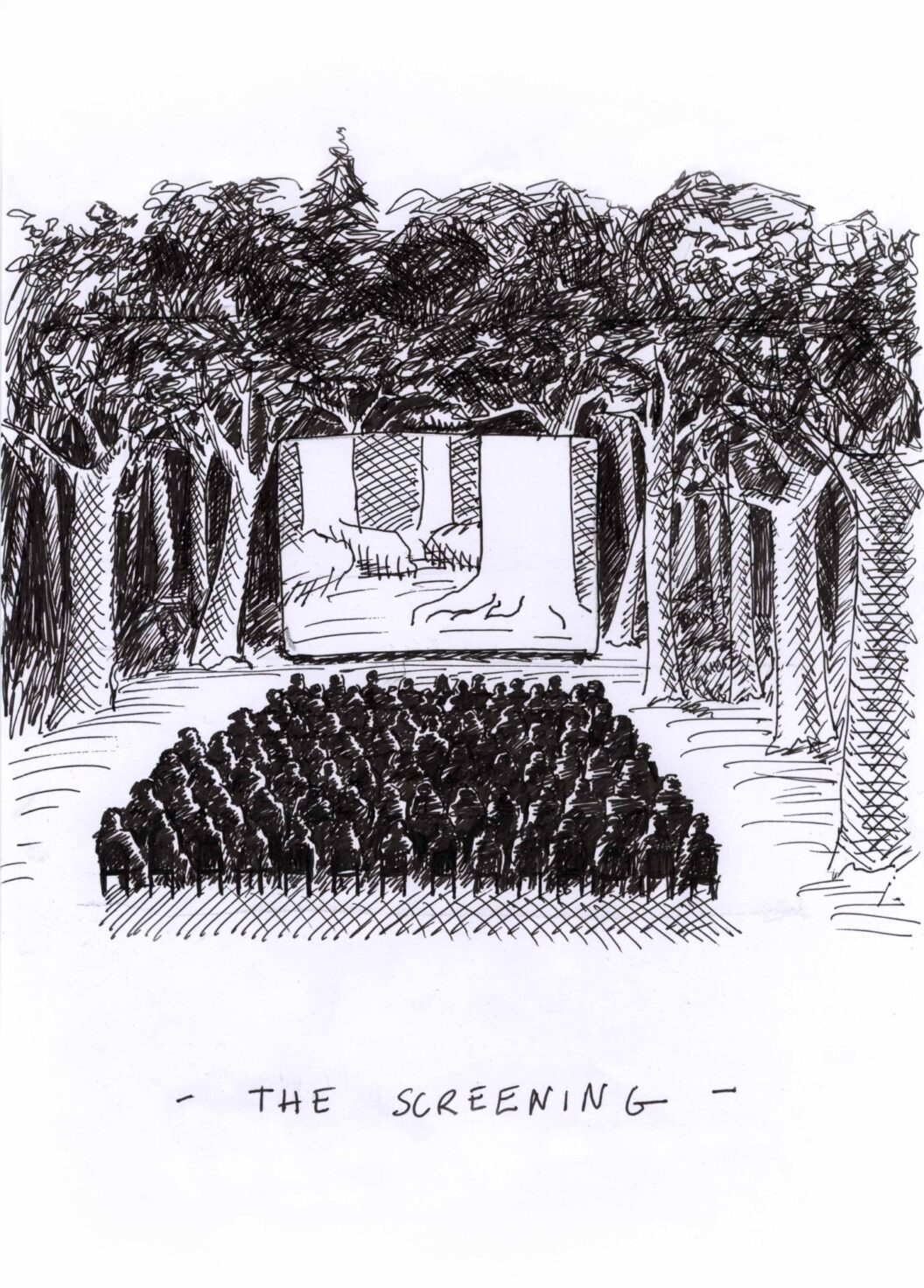 Without giving too much away (no spoilers here!), the work chronicles a screening in the woods that, for those who found themselves that night in the Park after sunset, surely echoed the familiar.
In the run of the film we hear the crunch of leaves underfoot and the scuttle of an unknown woodland visitor taking us by surprise. An owl makes the star appearance, its eyes bottomless golden pools, confronting our gaze.
At Anthology Film Archives last Monday I attended another screening of Michel's, Les Hommes. Michel, a native of France, put a spin on the translation of the title, calling it "Man on Land." There, in the famous arthouse cinematheque, I was greeted by the landscape of Greenland, and introduced to a cast of characters—polar bears, muskoxen, walrus, oh my!—that, in their presence alone, spoke volumes. An earlier work than the pithy Screening, Les Hommes shelters the viewer from human contact, introducing the physicality of the geography and its natural inhabitants as the primary language. With the backdrop of craggy rock and sheets of ice miles wide, as the film progressed I found myself miles away from the silence of the dark theater, unexpectedly transported into what felt like a prehistoric premonition
As opposed to her Screening, Les Hommes is in fact a feature-length film, unusual in an era of shorts and sound bytes, made even more striking in its selection of content: open space. The majority of the film goes without dialogue, an absence that was palpable and a welcome escape from the cacophony of the city streets, just steps beyond the front door. "As the landscape welcomes the people, as things are understanding each other," said Michel, "We come closer and closer to language."
In both films, Michel sheds light on shy ingenues, rising stars in their respective ecosystems. She asks her viewers to slow down, to take note of the things that perhaps otherwise one might miss, or pass over.
How to map out films like these, when the narrative climaxes in each involve perhaps the whistling of wind, or the sound of a stone making contact with a body of water? Michel uses storyboards, charting out each turn of a leaf with a meticulousness and care often forgone in a society obsessed with reality television.
In Michel's work, humans stay out of the frame, unless absolutely necessary to the storyline, and the provocation comes first from the creatures and the landscape, prodding the viewer towards a communal with the organic. She cites the caves of Alta Mira and Lascaux as points of inspiration in her work, a nod to people "on land" who spoke to generations of artists and historians thereafter not with words, but rather with the simple act of drawing pictures of what they saw around them.
"It's not necessarily against [the] contemporary art [world]," Michel said in a recent conversation, when asked about where her work fits in. "It's just that for a moment, I want to forget it…it's important to communicate what exists outside [of it]."

On my walk home, I could not ignore the sound of my boots scraping against the concrete, the smell of a city summer slowing down. Though far from Greenland, I realized that the symphonies and rhythms Michel looks to excavate in her work are part of my landscape, too.
Ariane Michel is here in New York presenting her work as part of the French Institute Alliance Française's (FIAF) Fall 2011 Festival, Crossing the Line.

Tonight at 7:30pm, Michel will be screening a piece titled The Cellar and other video works at Anthology Film Archives, with a Q&A to follow. More information about this program can be found here.
FIAF's Crossing the Line runs from September 17th-October 16th, 2011.
Legacy Russell is BOMBlog's Art Editor. She is an independent curator, artist, writer and cultural producer.