Architectures of Gender, Sculpture Center, New York by Marjorie Welish
Sixteen Polish installation artists take on the titular theme of Architectures of Gender in varied ways, from confronting viewers with oversized statistics to transforming Bauhaus design principles into a utopic living room.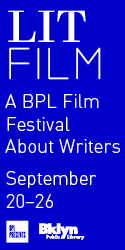 An international idiom of a sort, gender tends to provoke common responses in art across national borders, especially since we all gravitate toward the same source texts in constructing our responses. From Marx and Freud to Julia Kristeva and Hélène Cixous, issues of the body, family, women's work, and consumerism bespeak a common style even as national differences still register. And so it is that Architectures of Gender, an exhibition of installations by 16 women from Poland on view recently at the Sculpture Center, could have such ready intelligibility and palpable familiarity.
A striking assortment of approaches—or more specifically, confrontations and interventions—began in the courtyard, where giant letters spelling out a line of statistics were affixed to the bare cement wall at eye level. From individual deaths to mass demonstrations, Jadwiga Sawicka's Numbers derived its power from sheer quantity, though the impact is ultimately qualitative: the collective emphasis overrides issues of gender.
The impressive sculptures and video installations in the darkened main hall benefited from the aura of the renovated factory that is the Sculpture Center's new home. Included were pieces on the contrast between the nude ideal and the erotic body—or, for that matter, mere nakedness—by Izabella Gustowska, Monika Sosnowska, Zofia Kulik, and Katarzyna Kozyra. Even the non-site-specific works here made crucial use of the poetics of space. Installed in the long basement chambers were works by Dominika Skutnik, Katarzyna Józefowicz, and Dorota Nieznalska, among others, that explore the implications of near/far and miniature/gigantic to great visual effect and to significant social ends.
At the same time, the polemics of gender symbolism above and below ground seemed somewhat scripted. The difference between the polemics being scripted and their being universally intelligible is merged here in postmodern discourse, as much as it is merged in modernism.
Much of the presence of this show derived from a firm command of tectonics, the Constructivist (and later modernist) idea that informs materials and their structuring and advances a polemic in the process—though these artists have enlisted tectonics for very diverse postmodern purposes. Paulina Ołowska, for instance, has built a living room in which Bauhaus design principles have become at once an homage to Charlotte Perriand (designer of the "deck chair") and a relay of utopic vision; and Ołowska's institutional gloss, Perriand, deftly translates Constructivism into the reception of itself: the installation-within-the-installation remarks on its own situation.
Curator Aneta Szylak is the very person to realize this dramatic feminist exhibition. Celebrated in Poland for her curatorial boldness and leadership in launching one of the country's most important alternative spaces, The Bathhouse in Gdansk, Szylak has taken the initiative here with a show meant above all to put our shared concerns to the test.
Architectures of Gender was on view at the Sculpture Center this spring.
Originally published in
Featuring interviews with Marina Abramovic and Laurie Anderson, Paul McCarthy, Christian Marclay and Ben Neill, Jesse Reiser & Nanako Umemoto and Andrew Benjamin, Jimmy Santiago Baca and Adam Fuss, Aryeh Lev Stollman, Shari Springer Berman & Robert Pulciniby and Bette Gordon, and Elliott Sharp.