Architecture as Metaphor: William Forsythe and Tino Sehgal at A Prelude to The Shed by Cory Nakasue
A taste of what's to come at Manhattan's new space for multidisciplinary programming.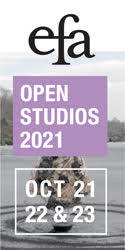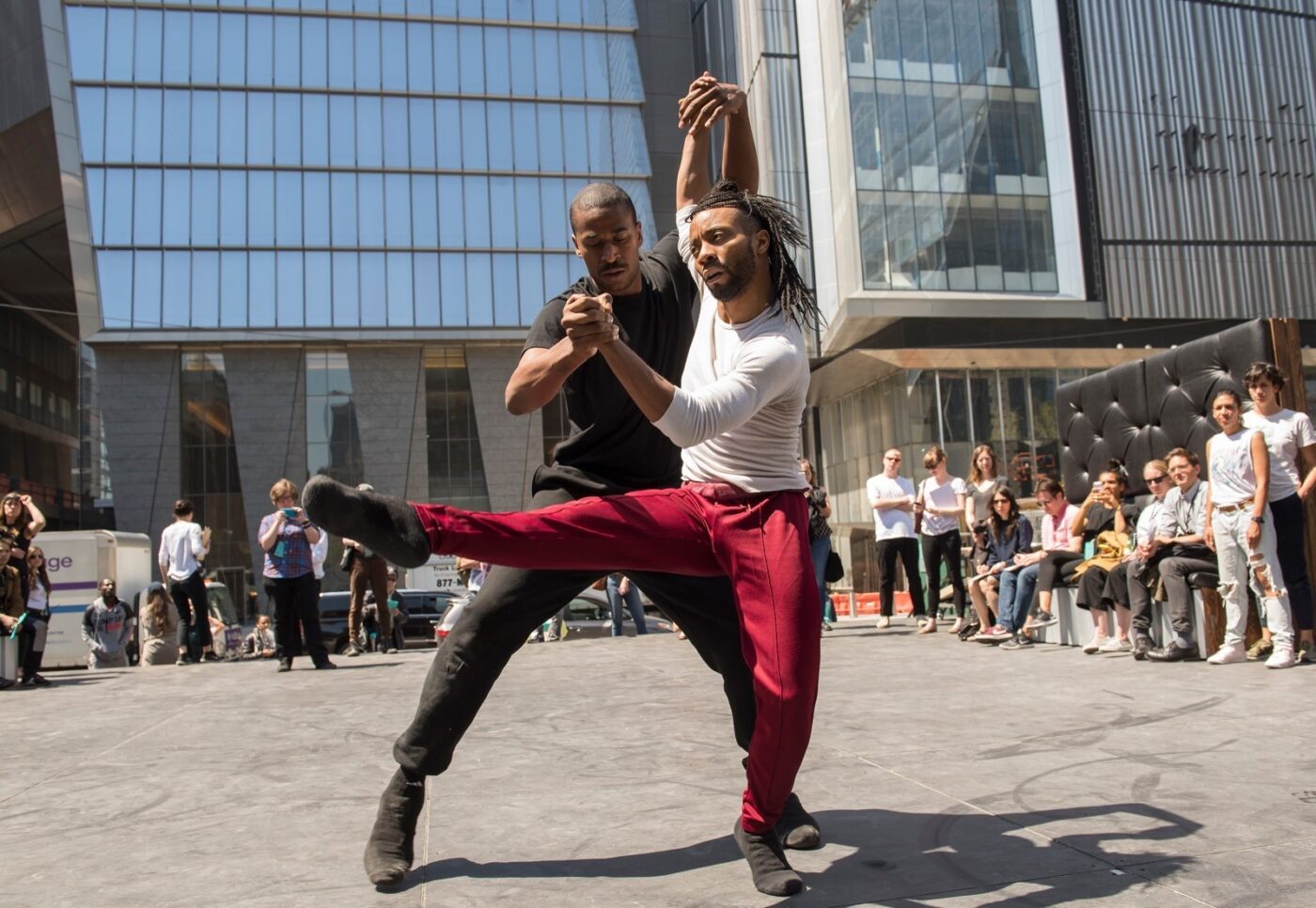 Everything about this day moves—is permeable, is modular. I arrive at Hudson Yards, site of A Prelude to the Shed on the first hot day after a long winter. There's been an unexpected spike in temperature, along with gusts of wind that send press kits and programs flying.

My first point of contact is Sommer Hixson, Director of Communications for The Shed, the arts center opening next spring located one block away. She informs me that the programming might be a little loose today as they are adjusting to the heat and other fluctuations that "flesh is heir to." I am ok with this. I make an internal adjustment to the fact that we are going off-program. I will have to be present and interactive in a way that seems perfect for the work I'm here to experience.
I enter the square performance structure designed by Kunlé Adeyemi and into the pitch-black world of Tino Sehgal's This Variation. As I walk deeper into the darkness my sense of hearing sharpens. I'm able to isolate individual human sounds in a symphony of locomotive clicks, hisses, and chest thumps. It's like walking through the jungle on a moonless night, and mapping it through the music of human motion. I'm also being taught to listen with my skin for the changes in temperature that proximity creates. Once acclimated, I worry less about colliding with performers and fellow audience. I simply move towards sounds that interest me, trusting that I'm being listened to and accommodated as well. I'm complicit in this audio-sensual ecosystem.
The space itself gradually breaks open with sunlight pouring through the cracks. The performers lean into the modular structure like choreographed waves breaking open floodgates. The audience-performer walks out into the hot sun surrounded by skyscrapers… and ballet.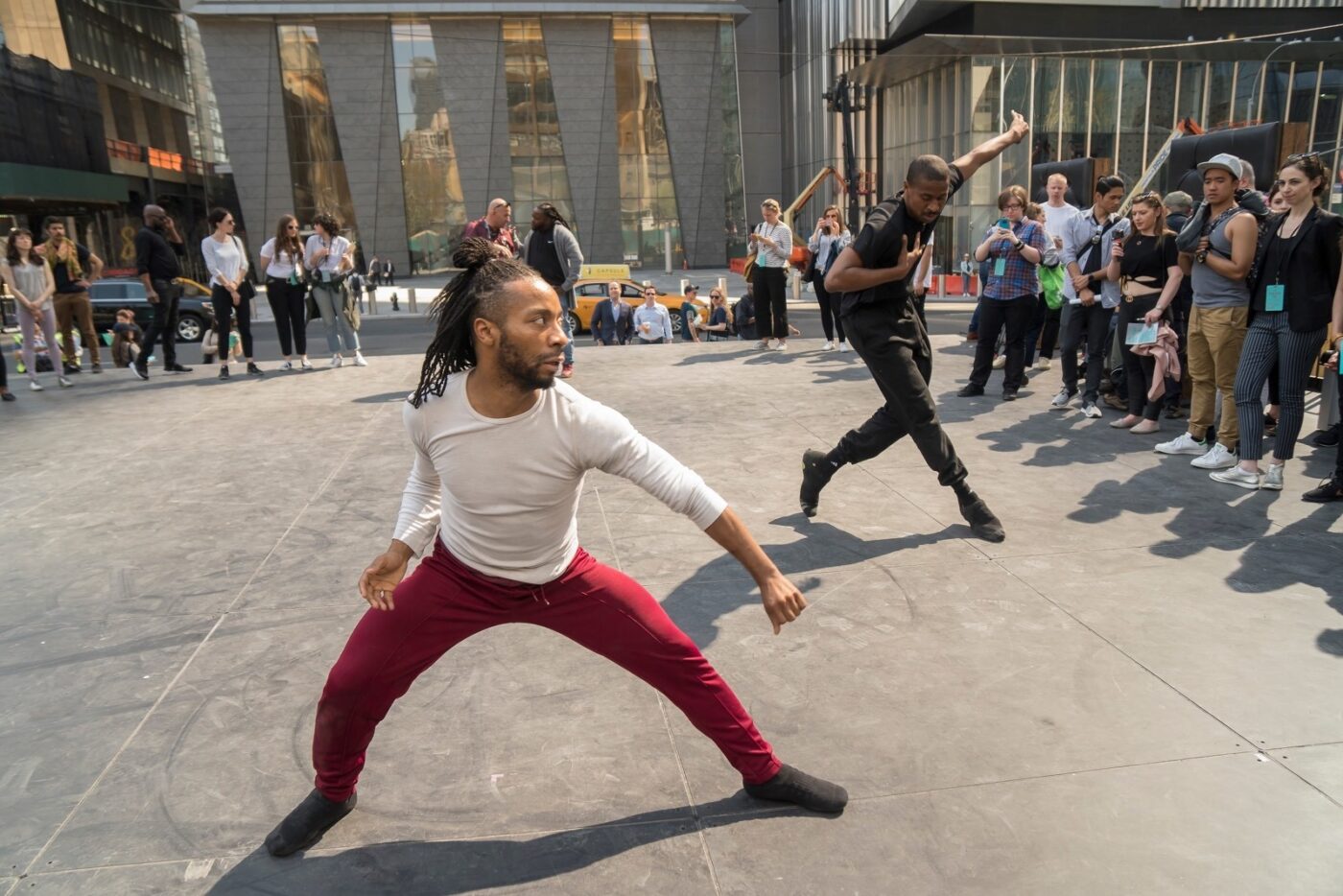 A seamless transition has occurred: from outside to inside, sound to movement, participant to spectator. Roderick George and Josh Johnson peel themselves away from Seghal's performers by way of elastic arabesques and counter-intuitive articulations that are the hallmark of choreographer William Forsythe. Body-music segues into recorded music by ABRA, Atlanta-based R&B headliner, and we are now on a makeshift stage in a concrete jungle. I've always thought of Forsythe's choreography as highbrow embodied literature—work that enters body by way of the head. To be so close and casual with this level of virtuosity—to share an urban stage and sound score I can move to isn't just a change in context but a change in conveyance. It requires that I receive the work viscerally and "on the fly." But this is not the duet I came to see.

Sommer finds me after this performance and tells me that was not Pas de Deux Cent Douze, the re-imagined iconic duet from 1987's In the Middle, Somewhat Elevated—that piece changed the face of ballet by demanding that ballet forms be responsive to the artists performing them. She invites me to stick around because they might perform the duet later, depending on how the dancers are feeling. She tells me the piece I just saw was a brand new choreography that "Bill" wanted to do at the last minute—that the dancers' bodies might respond better to switching up the choreography.
I wander around the outside of the performance cube and sit down on one of the cushy seats attached to its perimeter. Midtown Manhattan is my theater. Architect Kunlé Adeyemi enters stage right. We have an impromptu dialogue about how fluidity can make people nervous, and why. What is this anxiety that's provoked when situations and people become vulnerable to change? Why do we see vulnerability in structures as dangerous? How can we start seeing flexibility in structure as an asset that provides sustainability and humanity? We talked about his hopes for his designs to be a moving metaphor for adaptability. In times like these if you have not learned to be adaptable, "you're screwed," we said in stereo. End scene.
Turns out I did get to see Forsythe's new duet, set to Azealia Banks' "212." The work is thrilling in that it responds, argues, and torques itself against the whole of its environment. The violent duet, once performed by a man and a woman for the Paris Opera Ballet, morphs into a timely statement about violence danced by two men, with the city and gritty rap lyrics as their container. By showing that a groundbreaking ballet from 1987 can still be relevant, the artist makes malleable the structure of time.
The Shed has already commissioned pieces for its inaugural 2019 season. The collaborations scheduled are impressive and surprising with leading artists from all genres and disciplines—I'm particularly looking forward to a project with Quincy Jones, Steve McQueen, Maureen Mahon, and Dion Wilson. The Shed is taking the often-marginalized multidisciplinary work and giving it a home, celebrating and legitimizing its inclusivity and adaptability. This is an exciting development for anyone who hungers to be changed by the art they engage with.
A Prelude to The Shed continues until May 13. Full schedule available here.
Cory Nakasue is a New York-based writer, choreographer, and astrologer. She works as a counselor and teacher by day, and freelances as a performance dramaturg and critic. Her thoughts on moving bodies (in the heavens and on earth) can be found at www.corynakasue.com and http://bodyint.blogspot.com/