Katy Mongeau's Apostasy Reviewed by Naomi Falk
Poems told by a succubus with the thirst to die.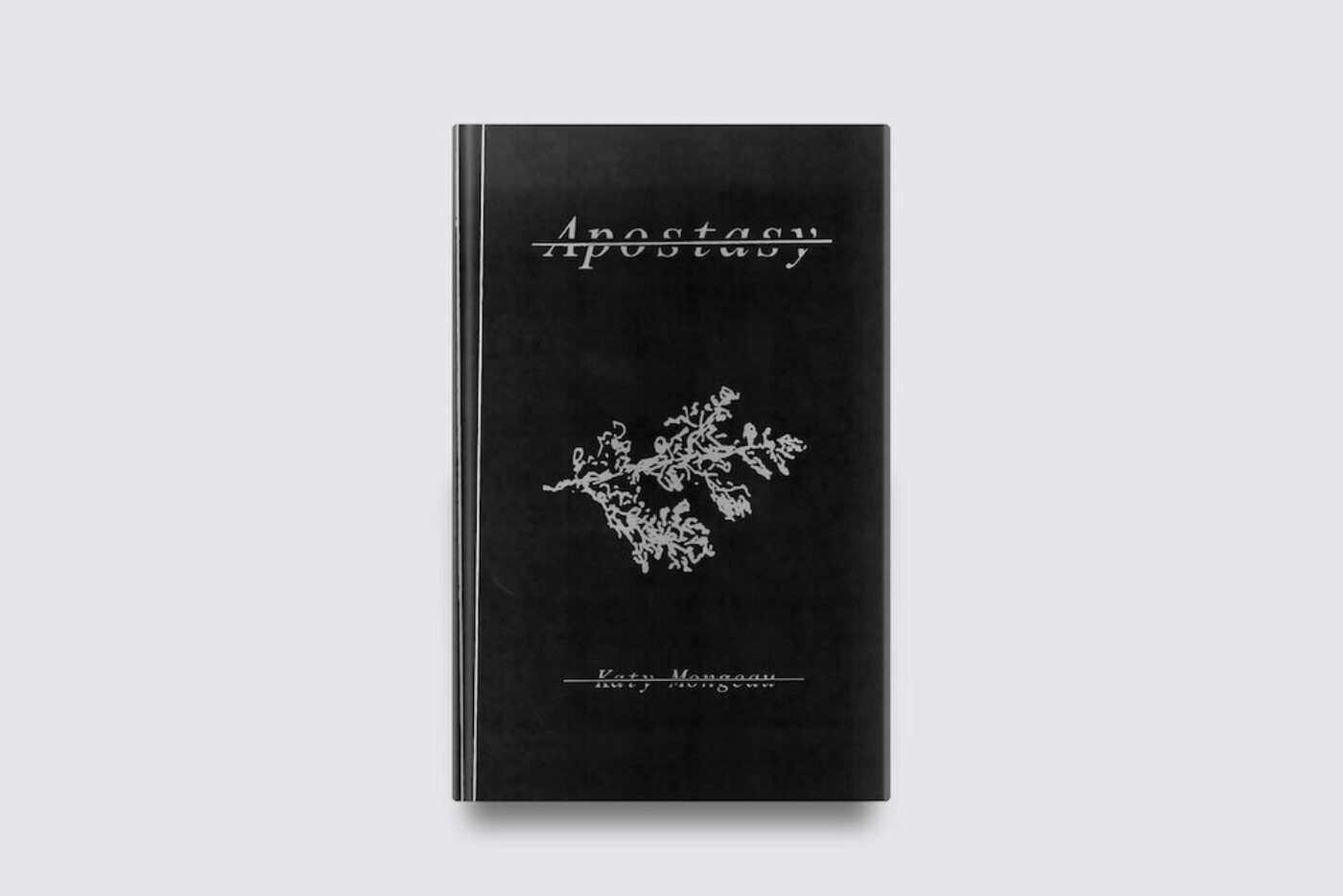 I like to be dangled at the edge, stuck somewhere at a crossroads between the emotional extremes of pleasure and pain. To me, feeling this way is so crucial to reaching the limits of human emotion that I read Katy Mongeau's Apostasy (Black Sun Lit) once a day, every day, for two weeks.
The work is a duet of incantations in poetic form, told in two parts, by a prophetic succubus (a demon in female form who enters the dreams of men to seduce them toward darkness). Our storyteller writhes and pulls as she resurrects herself from the wet decay of the earth: "I am cross / and locking eyes with evil, learning how even a lamb may be wicked." These declarations punctuate the poem, not only so you know with whom you are dealing but so the speaker herself can work toward conjuring a mirror with which to engage. Self-expression is a way to witness yourself. Seeing oneself reanimate from a deathlike sleep must be heavenly and catastrophic: "I am cross / and locking eyes with evil, / learning how even a lamb may be wicked."
Mongeau doesn't give narrative details; she painfully releases them. The poems tell a story that reads like it was told by someone who has not spoken aloud in centuries. We begin by hearing how the succubus, with the help of an unnamed male master, murdered a girl: "The skin would go away, he'd told me, / but there she was, intact." Then, day after day, the speaker is condemned to a limbo between godliness and servitude. In her fugue state, she experiences the power granted only to the elements of nature. Night after night she sets ablaze the hallowed and golden wheat field, acting as the vessel of her own undoing, drawn in by herself.
The succubus promises:
"I lie under unmarked earth
so that you will be consumed by the thought
that my grave could be anywhere
that you must honor me everywhere
the same way that I carry you"
After she kills the master, she says, "I murdered you, but still, / You rot, obnoxious." The word apostasy is the process of losing your religion, which seems to occur here at the rate of exponential decay: half-life. No one dies and disappears. Nothing really goes away; there's just less of everything over time. Because Mongeau offers no possibility for pure redemption, the language truly drags you to the divine, the soil, and what lies below. It's a gorgeous evil that tortures you like a dessert dangling from a string. You feel this in lines like, "I came and never asked for you again….I fell asleep with our innards like a long sentimental rope."
Some pages of the publication barely feature language, like this couplet that sits alone: "We both prayed I would fear your presence / Because we were each afraid of what I could do." The prose is totally controlled, even restrained. Nothing shouts at you; Mongeau whispers up through the floorboard. Then she licks the knife.
As a reader, I've never been one for a story with heaps of unironic resolution. Apostasy's story comes from within the narrator's unraveling, not from outside it, and its pain does not feel preempted. There's an unexpected harmony between the narration style and the otherworldly read as quotidian.
The second half of the book is entitled "Hostia" and is drawn from a memory that I interpret as predating "Apostasy." The succubus is ripened, hung from the meat hook, and force-fed into fruition over the course of girlhood and into her teens, "I still feel the bite of the string tied around my ankles when they raised me foie gras. I have a phantom tube down my throat: forever gagging." There are no doors or windows in this slaughterhouse. As her keepers enter through phantom passages, their identity is never identified or explained. You know what or who "they" are without Mongeau specifying.
What I relish is the explicit delicacy with which the speaker describes her own form as "the blooming age," "brined and gleaming," all "Lemon-bleached for tender." The speaker's body is the meal of a lifetime, according to her own words. Pristine culinary objecthood is her lexicon, and it has sprung from deep trauma but has the devil's potency. That "Hostia" precedes the succubus's awakening in the first half of the book reminds of how our ability to self-memorialize through language is one of power, like a rabid, territorial house cat purring in the crook of your knee. The document is a solid purveyor of agency in a landscape of dynamism, of fury and decaying flora.
Though there are strands of uninterrupted narrative, Mongeau's poetry has this tendency for modifiers: "I stay weeping / open." "I know you live, posed austere, / or buried, crypted, cured." "You rot, obnoxious." The succubus glares at us quietly, constantly rolling her eyes at the weakness of mortality. Her need to tell this story is hindered by this need to redirect attention away from the facts and back to her feelings about the facts.
Of course, the emotional landscape that comes from this carnal formation is even harder to parse than the speaker's objectification of her already-objectified self. The succubus is the hostia, the material of her keeper's consumption. She is the communion wafer and the body of the sacrifice—but once she is sprung into the world, her power overtakes the forces that had previously contained and manipulated her. She grows sideways, away from the light: "I make a compromise with an archangel or two: I will trade my apologies for an entropy that will go on and on."
Pain and loss coil hardest when their hideousness is steeped in beauty; Mongeau's writing is testament to that, but it lacks hope in the usual sense. When you read this work of literature, you're going to find that, at the very end, in the story's most significant epiphany, the author removes a piece from the completed puzzle. The succubus, for a moment, remembers having hit a fork in the road before she became crazed, when she waded out of the stream as "life rushed ahead."
It makes you wonder whether memory offers an entry point or a pitfall. Perhaps in resurfacing the things you've done, you are the purveyor of your own enchainment. The problem in Apostasy is: the desperate thirst to die. Is it possible that this suffering can only result in loss? Then the only way out is through the loophole in your recollections, because if nothing ever really disappears, you can always locate the place of pain, pick up where you left off.
Apostasy is available for purchase here.
Naomi Falk is a writer and editor.