Apichatpong Weerasethakul by Paul Dallas
"I have been thinking specifically about the cave of humankind."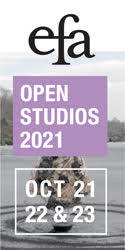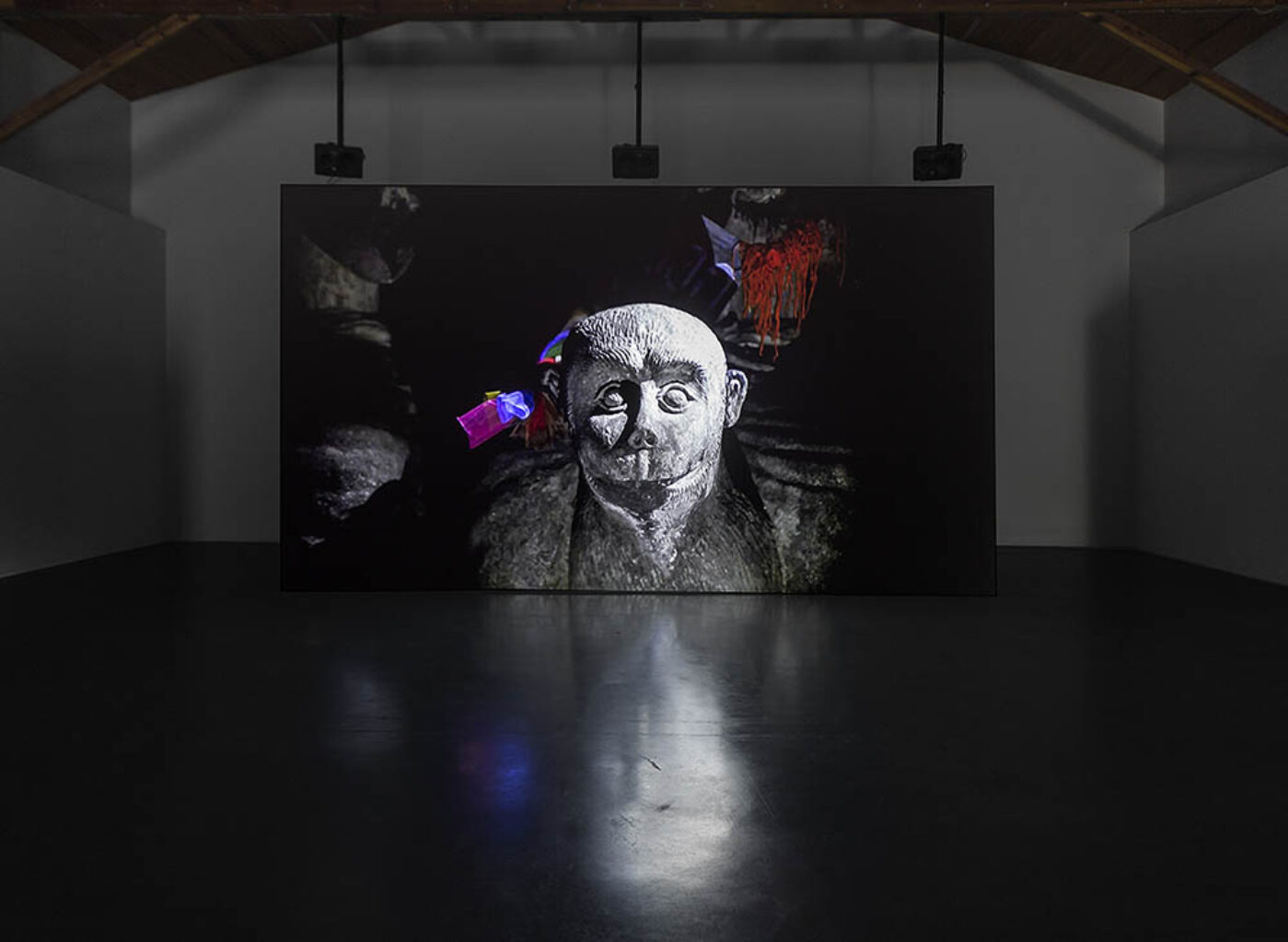 One of the most striking works unveiled at this year's edition of Wavelengths, the experimental program at the Toronto International Film Festival, was not a "film," but a seven-minute installation work by Thai auteur Apitchatpong Weerasethakul. Fireworks (Archives), a one-channel video originally commissioned by Kurimanzutto Gallery in Mexico City and beautifully installed in the Art Gallery of Ontario, envelops the viewer in a sensory experience unlike any other. It is a nocturnal stroll through a surreal sculpture garden lit by pyrotechnics, strobes, and digital camera flashes. Accompanied by a percussive soundtrack of crackles and explosions that merge with the sound of gunfire, Fireworks (Archives) is immersive, unsettling, and deeply hypnotic.
Weerasethakul is no stranger to the art world. Over the last dozen years, his work in video and installation have constituted a parallel practice that often intersects and overlaps thematically with his feature films. His 2009 multi-platform PRIMITIVE project, a constellation of works exploring the political history of Thailand's northeast provinces, inspired his Palm d'Or-winning Uncle Boonmee Who Can Recall His Past Lives. Fireworks (Archives) and Cemetery of Splendor, his astonishing new film, which received its North American premier at Toronto, have a similarly symbiotic relationship. Both continue the director's excavation of the Northeast's psychogeography. This isolated and economically marginalized region, long home to communist and rebel insurgents, was the site of Thailand's most violent military campaigns and occupation.
Made in the wake of the 2014 military coup and its alarming and increasingly despotic rule, Fireworks (Archives) and Cemetery of Splendor can be seen as Weerasethakul's most explicitly political works to date. They confront the darkness head on. Each delves deeper into the filmmaker's preoccupation with sleep as both a form of escape and as an act of protest. Cemetery of Splendor is set in a makeshift hospital where soldiers are waging an ancient war in their sleep on behalf of a long-dead king. It stars the director's longtime muse, Jenjira Pongpas, as a housewife who becomes the caretaker to one of the somnambulant soldiers played by Banlop Lomnoi (Tropical Malady). The film's key scene involves a serene daylight tour of the king's palace, evoked not visually, but through narrative description provided by a woman who's body is temporarily host to the soldier's spirit.
Dialogue-free and set entirely at night, Fireworks (Archives) operates as counterpoint to that scene. It opens with a grainy, black and white slide show of unidentified people before shifting to its single location, the striking Sala Keoku Temple, which is populated by fantastic sculptures of goddesses, deities, hybrid humans, and animals. In this landscape wander Jenjira and Banlop, a ghostly couple visiting the site and taking photos in silence. Surrounded by inanimate forms that appear lifelike, it's no coincidence that the couple's final pose mimics that of a macabre sculpture: a pair of skeletons in a seated embrace. Death haunts Fireworks (Archives), but its real subject is light. The persistent pulsing flashes, which animate the forms and reveal the landscape in fragments, constitute an act of protest against an enveloping darkness that would rather keep hidden the phantoms next door.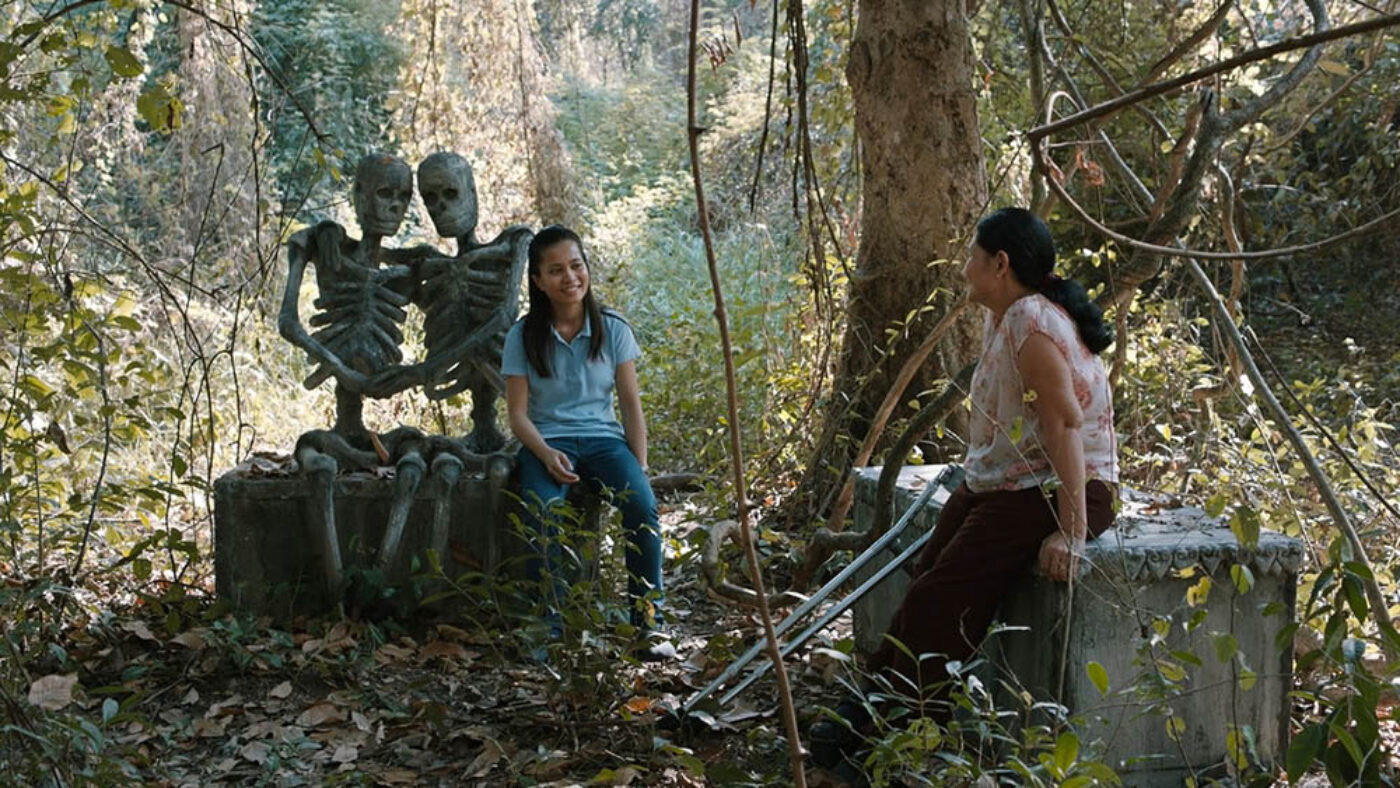 Paul Dallas The title of this piece resonates in a lot of different ways. Fireworks are made of light and therefore inherently ephemeral. They cannot be archived. Yet, the video itself becomes an "archive" because it creates a home for things—ideas, emotions, history, spirits—that would otherwise disappear.
Apichatpong Weerasethakul Fireworks (Archives) is the first in a series of works I'm making that survey relationships between light and political memory. The next will be called Fireworks (Love). Light has different meaning to different people. It can represent fear or beauty. Sometimes the same light can evoke different meanings. In this case, "archive" is related to an archive of memory, of things, and of different states of being. Fireworks themselves have many connotations. They can suggest a celebration of something and express a feeling liberation. But they are also violent in nature and can feel destructive as well. I feel this piece could be a dream or a nightmare.
PD I'm particularly interested in the interplay of darkness and light and the way the piece reveals itself in these fragmentary flashes. We cannot see everything at once, but must follow and inspect what the light reveals about the protagonists and the landscape.
AW In my recent projects, I have been thinking specifically about the cave of humankind. This was the inspiration for Fever Room, my first projection performance piece, which took place in September [at the Asian Arts Center in South Korea]. When people first brought fire into the cave, they were able to draw figures and animals on the walls with shadows. In a way, that was the first cinema, because it involved an interaction with light to create a kind of narrative.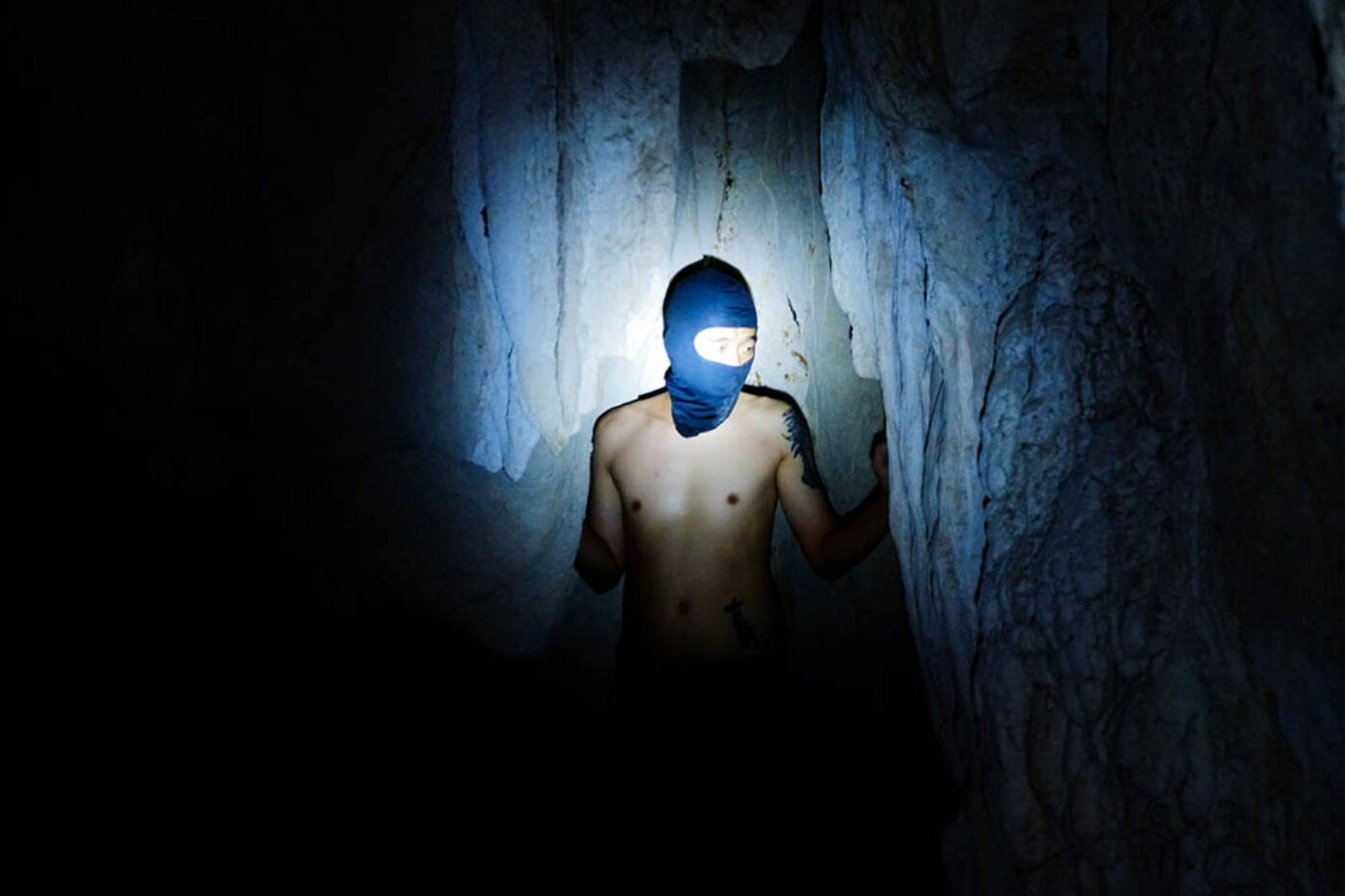 I am interested in light as a source of understanding the world. This goes back to Plato and the allegory of the cave. The people in the cave could only see the shadows and not the source of the light. When one prisoner left the cave, he discovered the real source of light—sunlight. The light hurts his eyes because he wasn't used to it. When he returned, the people in the cave were scared and didn't want to believe that another reality existed outside the cave. It's a classic parable that describes what happened in my country and what happens everywhere: people tend to stick to the propaganda that they are taught. For me, light is also the information received through the camera to create shadows that we understand. But is that enough, is that reality? We know that reality is always distorted through the camera's lens. These are the kinds of ideas that I'm working with and that are inspiring me right now.
PD The setting of Fireworks (Archives) is the spectacular Sala Keoku Temple. In a way, it becomes the central character in the piece. Can you talk about the location and why it is important to you?
AW Sala Keoku Temple is a sculpture garden filled with fantastical concrete sculptures inspired by Buddhism, Hinduism, and mysticism. The artist who created it [Bunleua Sulitat] is very special to me. He was gay and began work on it in 1978, hiring local villagers to produce many of the sculptures, though he designed all of them. At one time, the temple, which is more like a pavilion, was raided by the army because they were convinced it was a hiding place for communists. They destroyed many of the sculptures, thinking there were weapons hidden inside. Today, it's almost like a theme park and has become a big tourist spot, even though it's not officially recognized by the state and cannot be registered as a historic site. If you go there, you will see lots of people taking photos, but behind this, you can see a very political angle. The northeast is a region with a long history of revolts against the government. For me, Sala Keoku represents another kind of rebellion. It's rebellion to religious expression, to beliefs. The state doesn't recognize other religions, so Sala Keoku is like an outcast because it mixes all of these religions together. For me, the place is like an act of protest. That is what I appreciate most about it.
PD You've made feature films, short films, videos, installations, and performance.  I'm wondering what, for you, is the essential difference between producing work for the gallery context versus for the cinema.
AW I always talk about the flash of recognition because I think it applies to installation art and to visual art in general. The relationship between the art and the audience is experienced more personally because they are free to move around the space, whereas with cinema it's about the viewer submitting to the power of the film. That's the difference for me. Cinema often produces a zombie-like state. It is about losing one's self and creating another layer of experience outside of you. With the flashes in Fireworks (Archives), I am trying to stimulate the viewer to interact on a personal level and to trigger a reflection on their own relationship to memory and experience.
PD Fireworks (Archives) begins with several black and white portraits of unnamed people. Who are they, and why did you begin the video with them?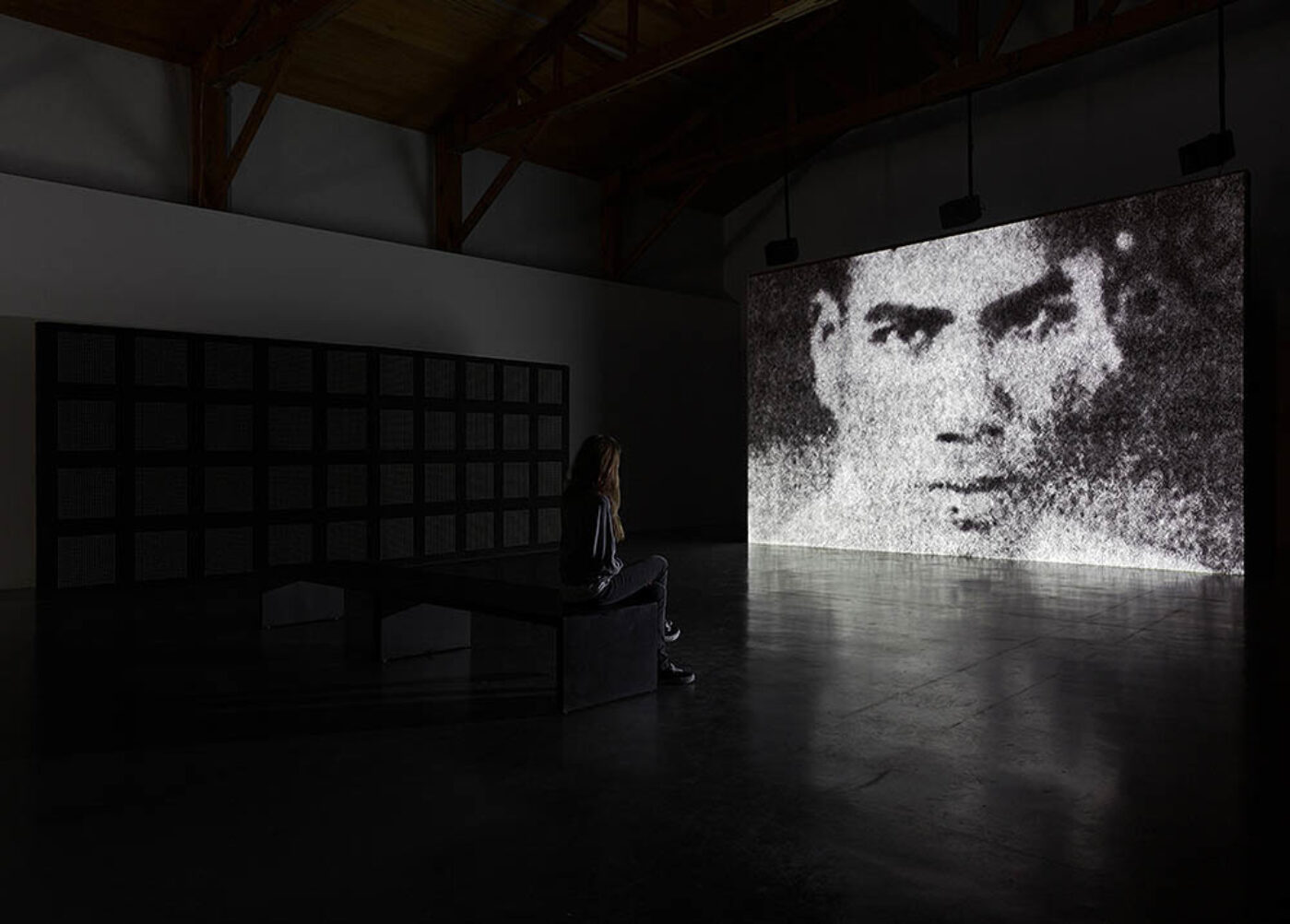 AW They are rebels from the region who were killed during the 1970s. This was during the time I was growing up. So, I am talking generally about the climate of the country, from the 1950s onward, when communism was spreading through the Northeast and Laos and Vietnam and Cambodia. It spread from South Vietnam to Laos and to the Mekong River. People who were very poor and didn't have equal rights were very attracted to the idea of a socialist society. Many villagers became what we call "farmer communists." For me, I'm focusing on the way the Thai and American governments conspired to crack down on these people. The methods they used were very violent, and this is rarely mentioned. Thailand's military, which was boosted by the Americans, has become the country's dominant institution. It's more powerful than the parliament and the government. When the government is weak, it can be toppled easily. When the military took over [in 2014], saying they needed to stabilize the country and maintain national security, they immediately cut down on freedom of expression, just like all the other regimes.
PD Fireworks (Archives) features Jenjira Pongpas, whom you've worked with consistently since the beginning. It's very powerful to watch her evolve through the different collaborations, and to see your relationship with her deepen. It's what gives both this work and Cemetery of Splendor such emotional weight.
AW Jenjira is like my memory bank. Over the years, she's been in my features, my shorts, and my installation works. She remembers everything, whereas I tend to forget. Working with her has become a source of knowledge for me, a way to connect to what happened in Thailand. She is a bit older than me and experienced first hand the period when Thailand and its neighboring countries like Laos were going through upheavals and transitions. So, working with her is a way for me to understand the Northeast. I don't know the reality, but I am interested in her point of view. Through her, I can present a world that keeps changing. We see her body change over time though my films. She is disabled and recently had an operation on her leg and it's getting better. So what's next? I'd like to continue documenting the process.
Fireworks (Archives) was part of the Toronto International Film Festival's Wavelengths program, curated by Andréa Picard. Cemetery of Splendor is screening at several North American film festivals through November, then open to wider theatrical release in 2016.
Paul Dallas is a Brooklyn-based writer and programmer with a background in architecture. His writing has appeared in Artforum, Filmmaker, Cinema Scope, Interview, and Indiewire. He has curated programs for the Guggenheim, Maylses Cinema, Times Square Arts, and Van Alen Institute.