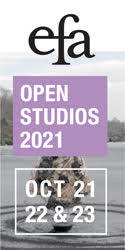 The countertenor Anthony Roth Costanzo began singing on stage at the age of eleven and has since appeared in opera, concert, recital, film, and theater in the US and abroad. This season, Costanzo performs the title role of the Egyptian pharaoh in Philip Glass's opera Akhnaten from 1983. The new production has its North American premiere at the Metropolitan Opera in New York, broadcast live to movie theaters around the world.
Costanzo's recent conversation with friend, mentor, and fellow vocalist, cabaret diva Mx Justin Vivian Bond, inevitably draws parallels between their respective art forms and underlines opera's potential for renewal and inclusion.
Artist and photographer Matthew Placek, who first introduced Bond and Costanzo, gives us a rarefied behind-the-scenes glimpse into one of the final dress rehearsals of Akhnaten at the Met. Placek followed Costanzo, his friend of nearly two decades, from his dressing room to the stage and back.
Anthony Roth Costanzo I think we're merged.
Justin Vivian Bond We're merged?
ARC We've merged with the line that's recording us.
JVB We three are one.
ARC Hello, Justin Vivian Bond.
JVB Hello, Anthony Roth Costanzo. I always think that Costanzo sounds so melodic.
ARC It does. And it means something in Italian: constancy, which is very Taurean. We're both Tauruses.
JVB That's right. We're as constant as the North Star.
ARC Exactly.
JVB Constantly in the darkness.
ARC (laughter) Well, we reign in darkness together.
JVB Of course. I'm sure Joni Mitchell would agree.
ARC No doubt. You're getting ready to perform in an opera. This is so exciting.
JVB Yes, I'm in the world premiere of Olga Neuwirth's adaptation of Virginia Woolf's Orlando, which opens in December at the Vienna Staatsoper.
ARC That's a major opera house.
JVB You tell me! You're the one familiar with the opera world, darling.
ARC You can't get much fancier than the Vienna Staatsoper.
JVB Well, that's probably why they asked me. They were like, Let's just get with it and invite the glamour-is-resistance diva of all, Mx Justin Vivian Bond. (laughter)
The story's about gender transgression. It's adapted into the present and I play Orlando's child, who is a nonbinary performance artist in New York City. I wouldn't have agreed to do it unless I got to improvise. So, I have thirty-five seconds every night at the Vienna Staatsoper to say whatever the hell I want!
ARC I think that's a first for opera.
JVB And the composer, Olga Neuwirth, is the first woman ever commissioned to write an opera for the Vienna Staatsoper. So—
ARC —it's historic.
JVB It'll be a historic moment regardless of how terrible I might be in it.
ARC (laughter) Well, if you're terrible that'll be historic as well.
JVB Why, thank you!
ARC You and I first got to know each other about ten years ago. I came to see your cabaret show at Joe's Pub and was besotted by your voice and your whole way of being. I thought, I just have to get close to this person. Then I wound up talking my way into your show the next week when a special guest canceled at the last minute. And you allowed me to come in and sing. I remember singing opera in your cabaret program, but it felt like we were somehow doing the same thing.
People often think opera's this highbrow, hard-to-parse art form. It's often in a foreign language, which makes it less accessible. But the energy and spirit of opera is so dramatic and full of emotion, and that's how you perform cabaret and everything else you do. So being an opera singer, I immediately felt very aligned with you.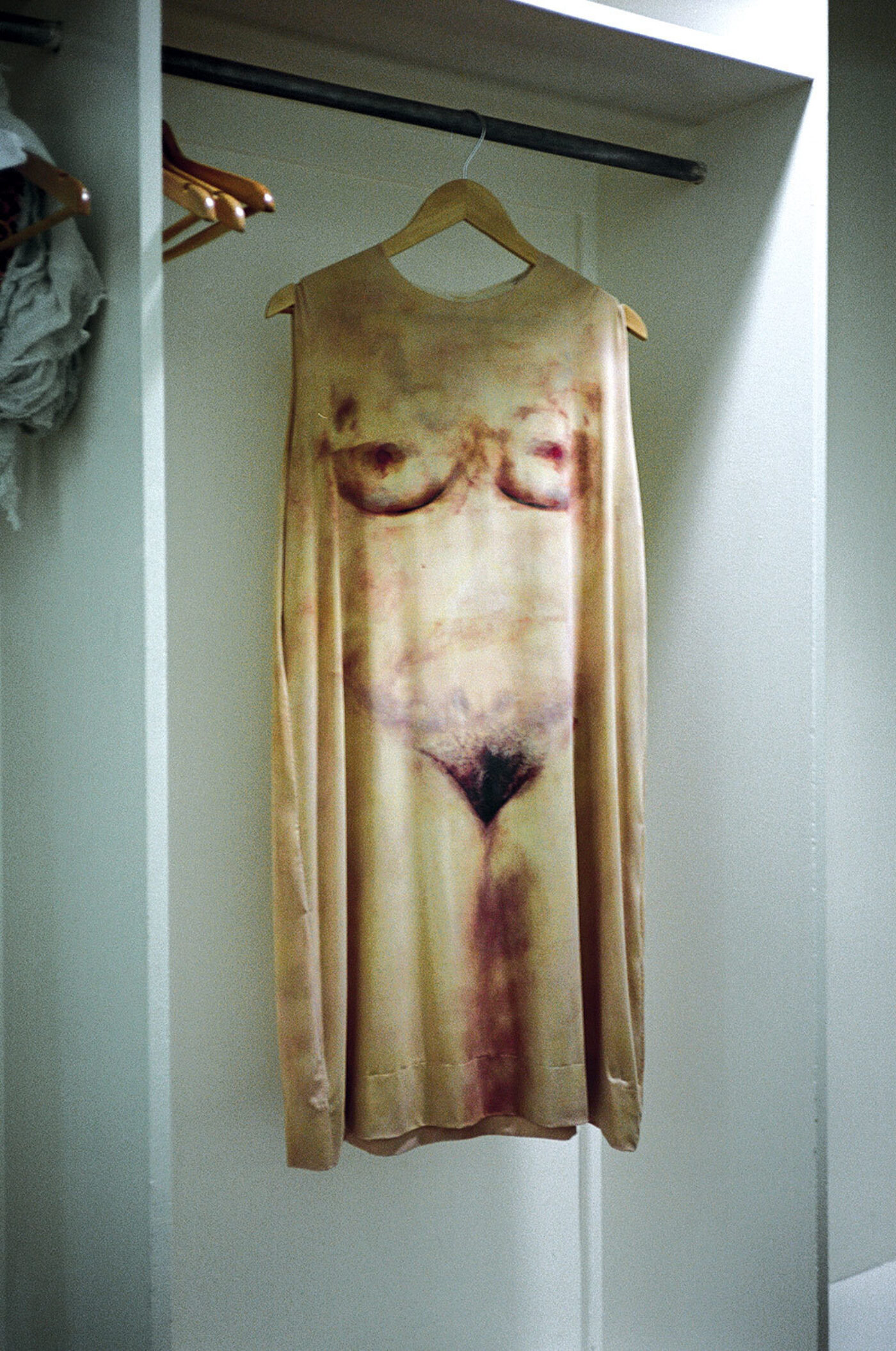 JVB People have a certain antipathy to both cabaret and opera because they think of them as outdated art forms that are all about pastiche or what have you. But—and I'm saying this with all humility—I feel like I've done my part to reinvigorate cabaret. We both chose art forms that were sort of sleepy at best and calcified at their worst. And we're chipping away at that.
ARC Yeah. My goal, much like yours in your field, is to take opera to new audiences and to reveal its versatility to more people. It was the first interdisciplinary art form in many ways: it brought together fashion in the form of costumes, visual art in the form of set design, and music and drama, which are opera's foundation. Therefore, opera can appeal to very different people in our world today—if they are given access.
Of course, "opera time" can seem slow. As my teacher used to groan to me, "Life is short; opera is long." And while that's true, I find that you need that kind of length, that kind of teasing out of human psychology, to achieve full catharsis. We are all so accustomed to operating at the speed of light, zipping between apps on our smartphones, but opera asks you to slow down your racing mind, and in so doing, allow it to reach new highs. Of course, this often takes adjustments, and there are bound to be moments of boredom along the way.
After we performed together at Joe's Pub, I invited you to one of my performances at the Met and you said one of my favorite lines.
JVB "The wonderful thing about going to the opera is that when you wake up, you're at the opera!"
ARC (laughter) I love that because when I'm in the audience I sometimes fall asleep, too.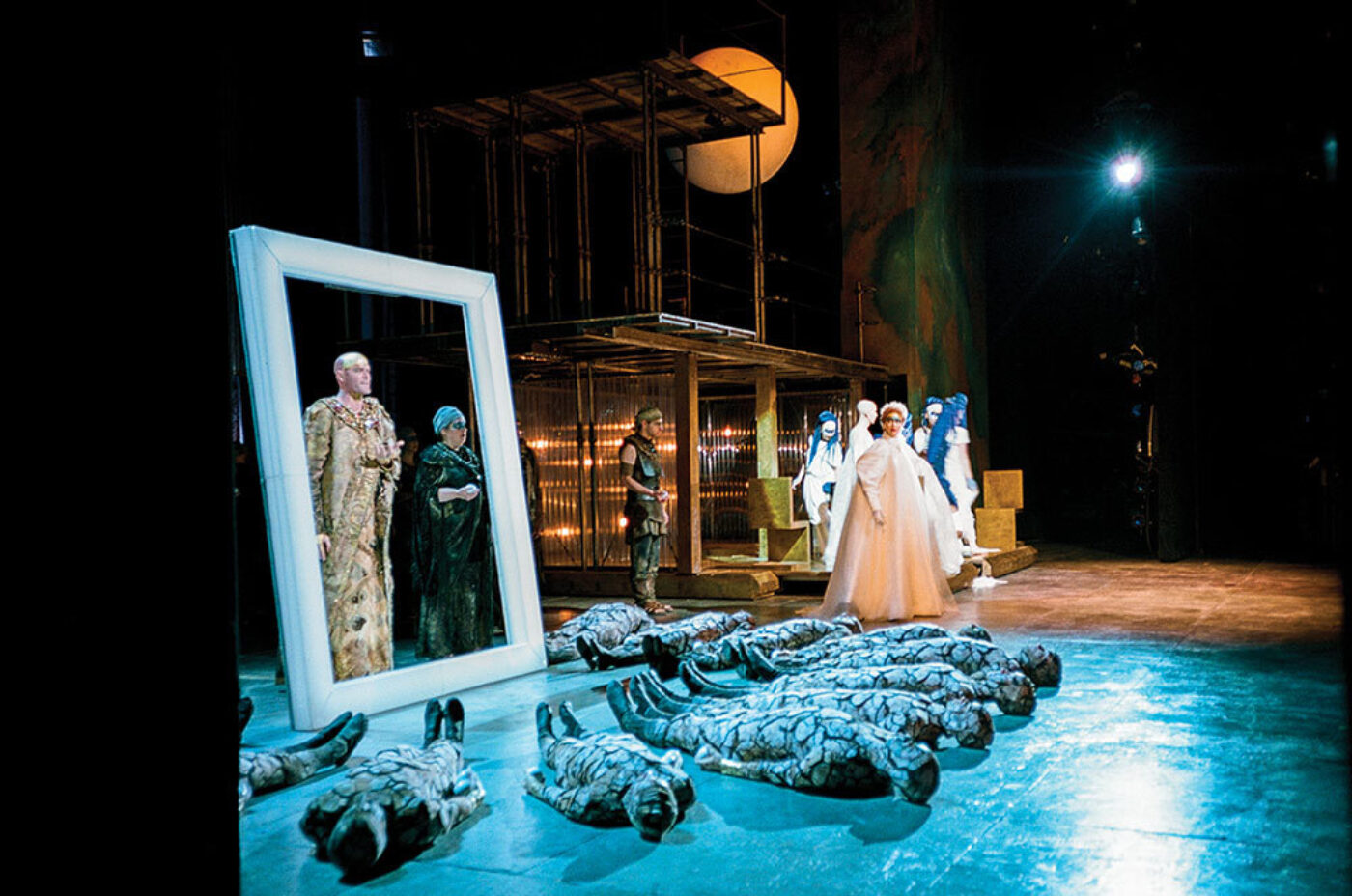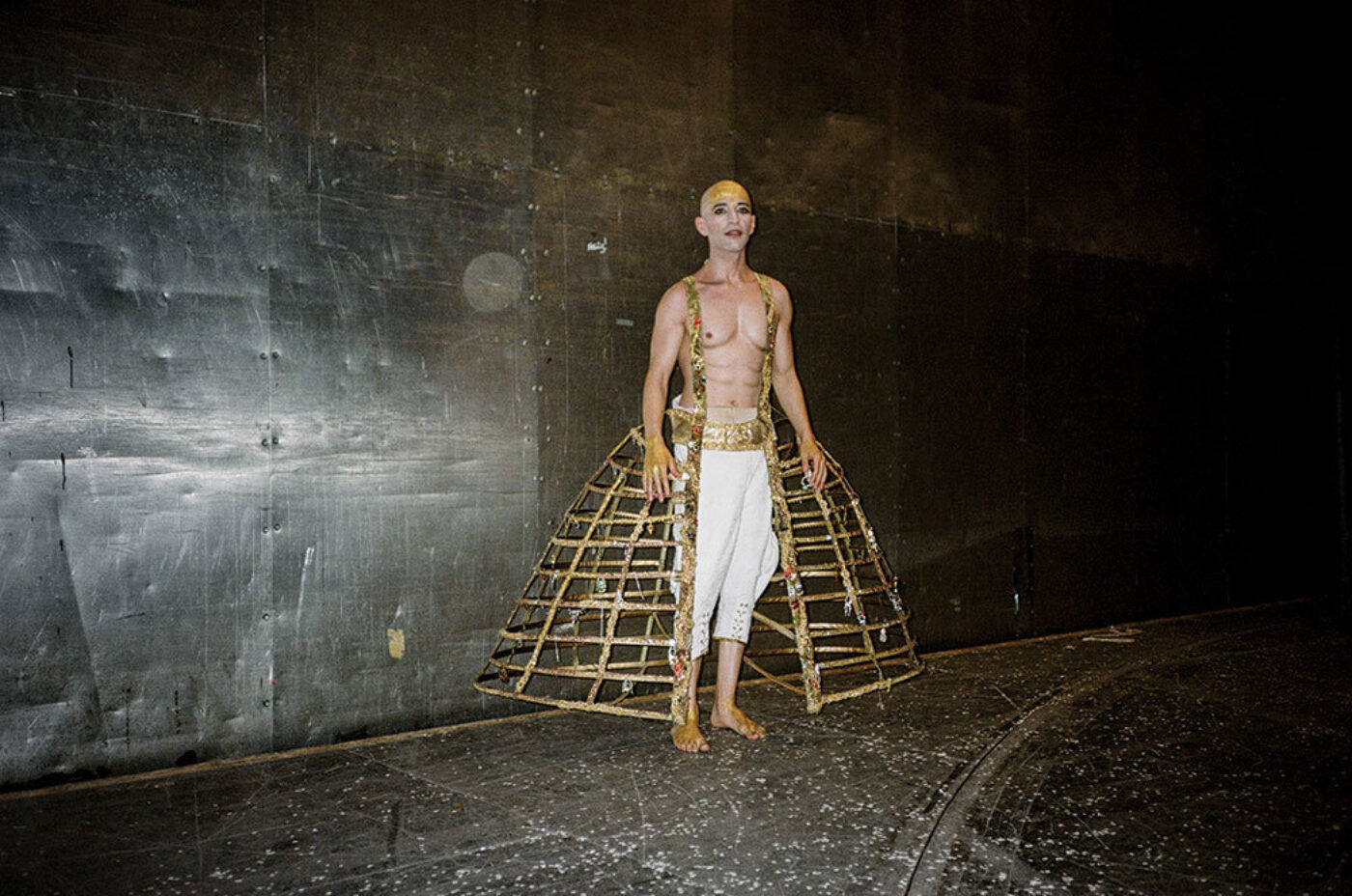 JVB And if you strategize well, you fall asleep during the first act and wake up to the fireworks.
ARC Then you get all the good parts. I was excited that you were able to come to London and see me perform in Akhnaten, the production that's about to open at the Metropolitan Opera here in New York.
JVB It was one of the most memorable, magical, and thrilling nights of my life in a theater anywhere ever!
ARC Oh, thank you! That means so much. You didn't fall asleep in Akhnaten. (laughter) Since the production in London, I've been doing more research on the Pharaoh Akhnaten and thinking a lot about him and about playing him on stage. I wanted to ask you a question, since you're the reigning expert: In some scholarly sources, Akhnaten is portrayed as a hermaphrodite—
JVB Which they're calling intersex now.
ARC Right. I went to Oxford and met with these Egyptologists who showed me old statues and drawings of him, and it looked like he had breasts and hips.
JVB Sort of like me.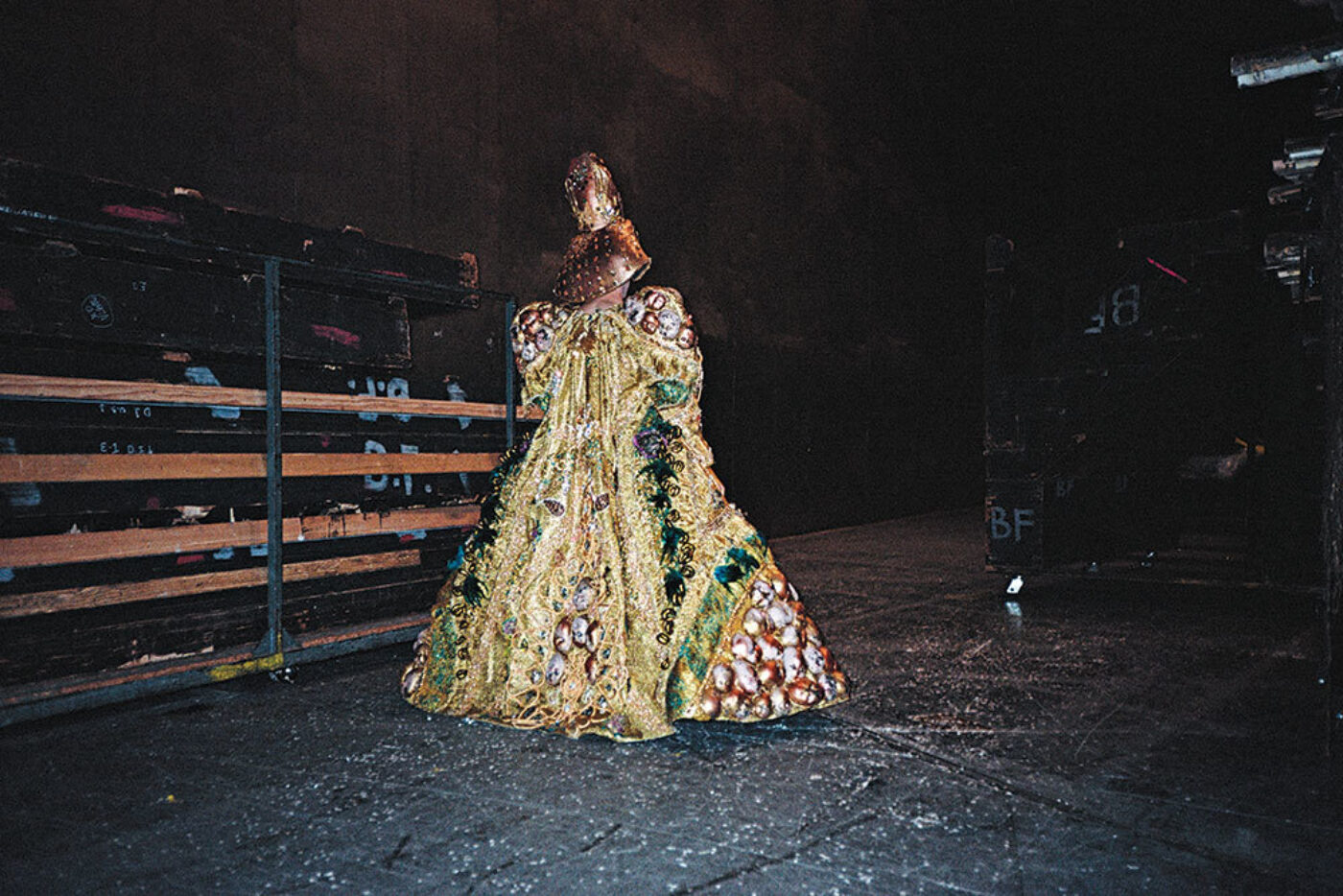 ARC Sort of like you. I asked the scholars if they thought the pharaoh was actually intersex. They said that he had lots of children. So it's hard to know. But then one woman, a wonderful Egyptologist, posited this theory, which really got me thinking. She said that Akhnaten was the first monotheist. He was like, "Let's get rid of these hundreds of gods in Egypt and have just one God—the sun." And he didn't think of the sun as, you know, a man with a white beard, he thought of it as the unification of man and woman. He also changed art and how people were making art—he had men and women on the same plane, as opposed to the man always being elevated.
He saw a pharaoh's role to be between man and God and, according to this Egyptologist, he tried to come closer to God by being the unification of man and woman.
In ancient Egypt, they invented all kinds of ways of changing the body, including waxing. Body hair was considered disorderly, so they tried to get rid of it. Maybe the pharaoh changed his physical appearance to be more like a woman, so he could be closer to God? From today's viewpoint, would it be reasonable to call that trans?
JVB I'm very interested in the idea of trans theology, and I've been trying to study it. For instance, looking at the Christian tradition of the Father, Son, and Holy Spirit, I don't believe that the spirit or the soul are gendered. We are connected as human beings through our souls and spirits. So I do believe it is trans to tranifest that energy in your physical expressions. It's what I do as a nonbinary person who doesn't subscribe to these antiquated essentialist gender roles and that sort of thing.
ARC It's really interesting to me that Akhnaten can be a part of what we now call the trans and queer world because, of course, there are many people who feel him. Philip Glass wrote the opera about Akhnaten because the pharaoh was a visionary. He basically changed the course of religion. There are people who believe that Moses, who came about two hundred years later, got his ideas from Akhnaten. Moses and therefore Judaism, Christianity, and Islam are indebted to the pharaoh.
JVB In which case Akhnaten really fucked things up. (laughter)
ARC Well, he started a trend that got fucked up later.
JVB It went off the rails.
ARC Now, as religious people are railing against trans people, wouldn't it be interesting to turn around and say, "Hey, all the ideals upon which your religion is based began with a trans person." (laughter)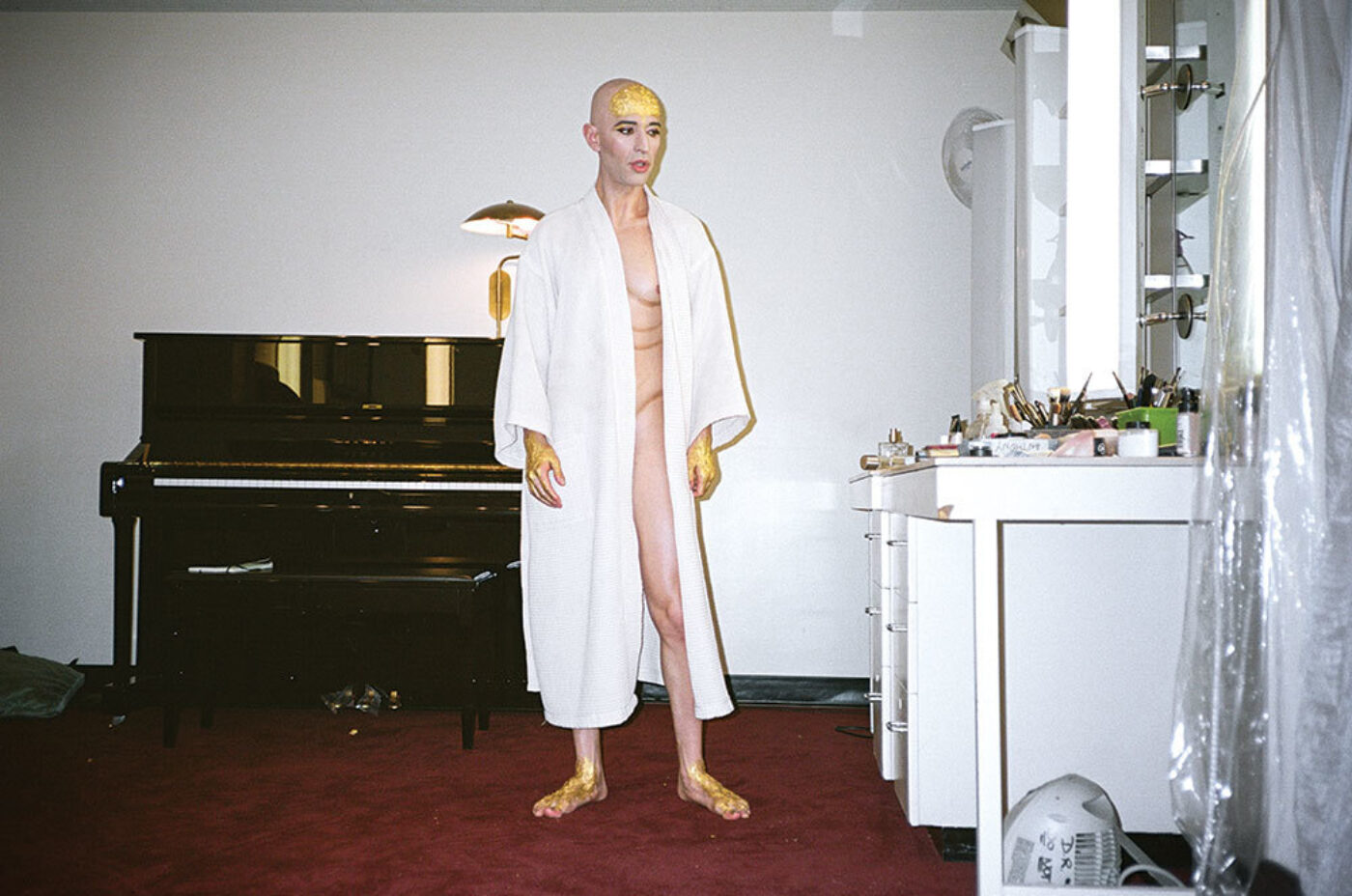 JVB "You've been duped by a bunch of power-hungry idiots, who realized the only way they could have real power on this earth was by subdividing and categorizing people so that they would fight against each other in order to get more of what they want."
ARC But Akhnaten is a fascinating figure. How does someone who took the throne at a young age change the fabric of an entire society? As I get deeper into this role, I realize that sometimes art is about asking questions, not answering them. I keep returning to the same fundamental question: Was he—or they—good or bad? Were they a cult leader forcing an entire nation to follow their idea of God, or a progressive, a revolutionary fighting for what they thought would make society better?
JVB They were trying to unite. But unification doesn't work when it's about power. Once people are unified then there's no benefit for power-seeking individuals to be derived from everybody's unification. That's why that couldn't work.
ARC Well, after reigning for seventeen years in Egypt, Akhnaten disappeared. We believe they were killed, and everything they had changed was reversed. Theirs was an untenable way of operating. It's interesting to think about that in relation to our current existence and to present that artistically on the stage. Like many people, I look at the world around us in dismay. It seems we're regressing and in fact reversing the progress we've made, not just in America, but around the globe. What I love about opera is that it deals with these big themes, both personal and universal, that we don't often have a way to talk about directly in our everyday lives. Through the lens of beauty, we can consider and engage with them in a meaningful manner. The way we do it in Akhnaten has a certain amount of abstraction yet winds up feeling quite visceral and emotional. Even without understanding the ancient Egyptian language in which we sing or the minimalism of Philip Glass, it's a very theatrical experience. And the costumes are beautiful and evocative.
JVB You are also performing in the nude.
ARC Yes, I make my very first entrance in Akhnaten completely naked. I'm rather nervous to appear nude at my home theater, the one I've performed at for the past ten years. It's like the reverse of when they tell you to picture the audience naked when you get nervous. It's like your worst nightmare.
JVB (laughter) That's true. Is it your first title role at the Met?
ARC It is! I've never had a title role in a new production there, and that's kind of the holy grail.
JVB How are the rehearsals going?
ARC I rehearse all day. I get up in the morning and do vocal exercises to get my engine started. Then I have to practice the Philip Glass material, which has all these repetitions, and it's very hard to remember what repetitions occur when.
JVB I can imagine.
ARC It's like running a marathon. You have to get your stamina up because you're going "ah-ah-ah-ah-ah-ah" for like twelve minutes nonstop. So, I work on my stamina in the morning, then I do a full day of rehearsal with the orchestra and everyone involved. There must be around 150 people in the show, if you count the orchestra. Rehearsing all day is physically taxing because I'm moving very slow and in a kind of lugubrious way. It takes a lot of muscle control. But then, after rehearsals, I have to spend my evenings at the gym because if I'm going to be naked in front of four thousand people a night, I want to look my best. (laughter) So it's been an exhausting few months.
JVB We're both carrying the banner of the nonbinary into the opera season. You'll be naked, while I'll be wearing Rei Kawakubo. You'll be chiseled, and I'll be shapeless.
ARC (laughter) You know, they're waxing my entire body and shaving my head. Though at a certain point in the performance, I put on a rather amorphous gown myself.
I'm glad I can take on this role of a pharaoh because it makes me a kind of authority on stage where I can, you know, look at people and they'll do what I want them to do. A control freak's dream! But in all seriousness, this role feels like the perfect storm for me: music I can really sink my teeth into, a subject that is endlessly fascinating and intellectually stimulating, and a production calling upon nontraditional methods of artmaking that are at the highest level but somehow also accessible, if that's not a dirty word.
JVB Not at all. It speaks to your core generosity as a performer.
ARC I have a lot of friends who are performers. But of all the people I know, you've had the most varied and multifaceted career, working in lots of different disciplines and really forging your own path while always being yourself as a performer. You're not just a cabaret singer: You've performed in films; you're active in the fashion and art worlds; and you've written a book. How did you find yourself in all these different scenarios?
JVB Just because it's interesting and fun. I mean, if I was about being rich and famous, I would have stuck with only one thing. Look at the president, if you stick to something and stay on message, people know what they're going to get, and they like that, no matter how awful it is. If you have the right amount of chutzpah, you can go anywhere. Lots of mediocre people who've been doing the same thing forever are rewarded handsomely. But my reward is to enjoy what I do. If you do the same things too often, they're not fun or interesting anymore. So I just keep moving. Keep it pretty, keep it shallow, keep it moving. That's my MO.
ARC Well, I'm in the same boat. I love opera, and I've devoted my life to singing it. It takes a lot of work to do it well. But at the same time, I don't find it stimulating enough to just do opera in the most traditional way, and that's why I wind up collaborating with a lot of different people—like you, or a filmmaker, a fashion designer, or a photographer. I want to think about new expressions of the art form without sullying the tradition. I don't want to water down the actual music or the way it's done, but I'd like to take the power back and inject opera into different areas and wider arenas. And eventually, that will change what we can do in the opera house and who we can bring into it. The culture of opera should align more closely with the culture at large.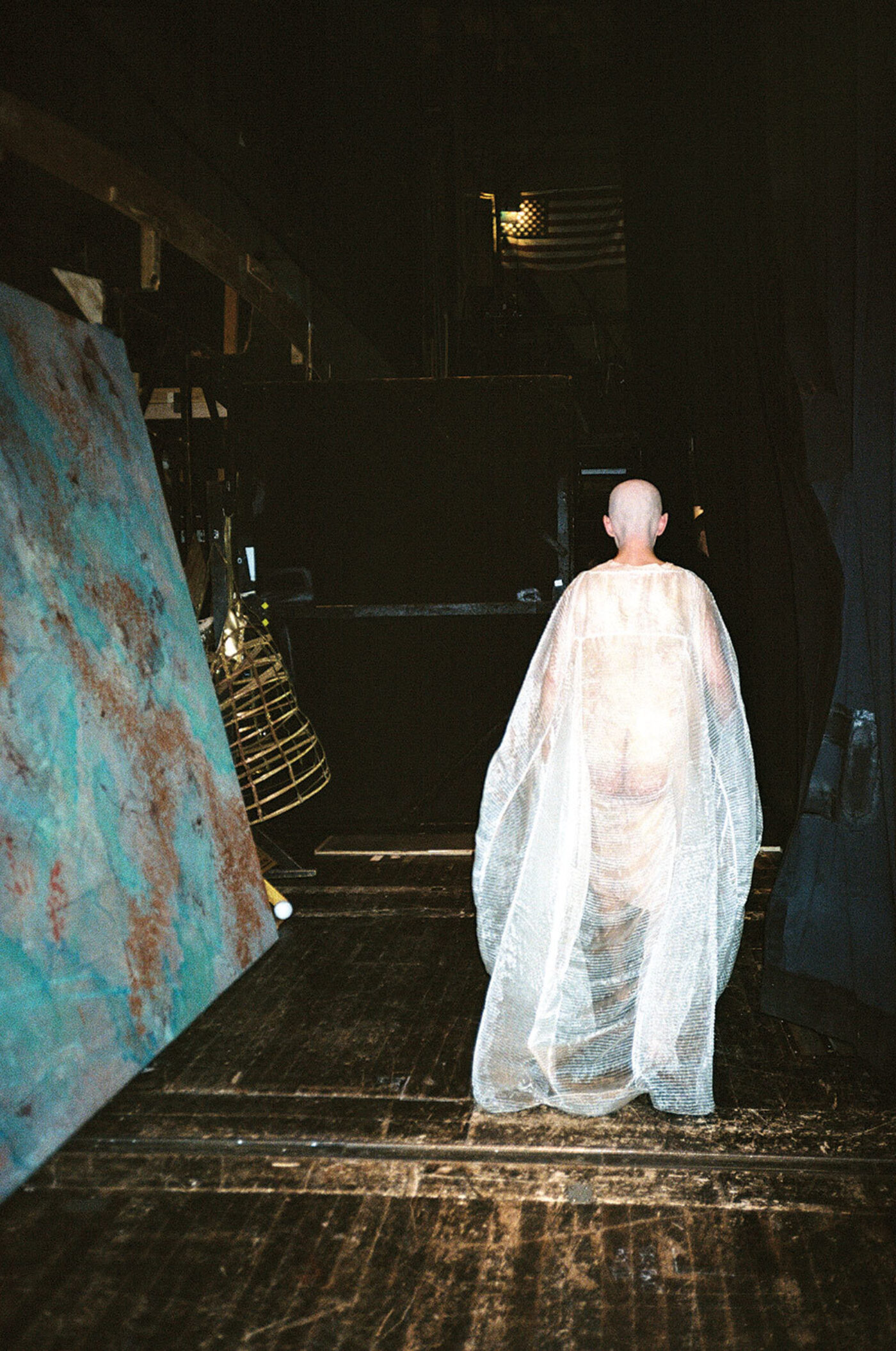 JVB I feel the same way about cabaret. Of all the things I do, I enjoy cabaret the most because it's so flexible and versatile. You can go in and sing anything. You can present yourself as anything. You can wear anything. You can bring visual art into it or whatever else you want to bring. I have total freedom on a cabaret stage, which I wouldn't have in any other genre.
I always say I'm a trans-genre artist, but when things get too precious, they get kind of boring and stultified.
ARC I couldn't agree more. You bring the weight of your experience and versatility to a very varied public. At the same time, I'm going onstage at the Met delivering Akhnaten, the story of a radical visionary through the minimalist music and idiosyncratic vision of Philip Glass and the incredible stagecraft of the director Phelim McDermott. We are bringing this production to a wider New York audience, some of whom are enthusiasts of more traditional opera and have been going for a long time, while others will come for Philip Glass. And hopefully some readers of BOMB or people who've never been to the opera will come. I think it's an exciting moment for opera.
JVB Indeed.
ARC And both of our performances, Orlando and Akhnaten, are about nonbinary identity and gender transgression.
JVB That's right.
ARC So we have these innovative contemporary operas in these traditional settings. Conceptually, the material is extremely of the moment and Akhnaten is also very confrontational. It brings full-frontal male nudity to the Met for the first time; it takes on religion, gender, politics, and history but all with a deep sense of ritual, which makes it seem timeless. I feel that we must make our marginalized art forms more accessible, so their power and their ability to tap into our strongest emotions is appreciated more widely. Both opera and cabaret have that great potential to remind us of the importance of empathy. There's so little empathy among people today; maybe it's because of technology and people being on their phones so much instead of connecting as human beings. When you go to the opera, the music allows you to feel very strongly for the characters, or for this person who seems like an alien and, in my case, sings like an alien.
I mean, you and I are kind of the opposite of each other and the exact same thing. I have a man's body and I sing with what's normally considered a woman's voice. And you look like a beautiful glamorous woman and sing with what many people would consider a man's voice. Our art forms allow people to connect to this person that appears so "other."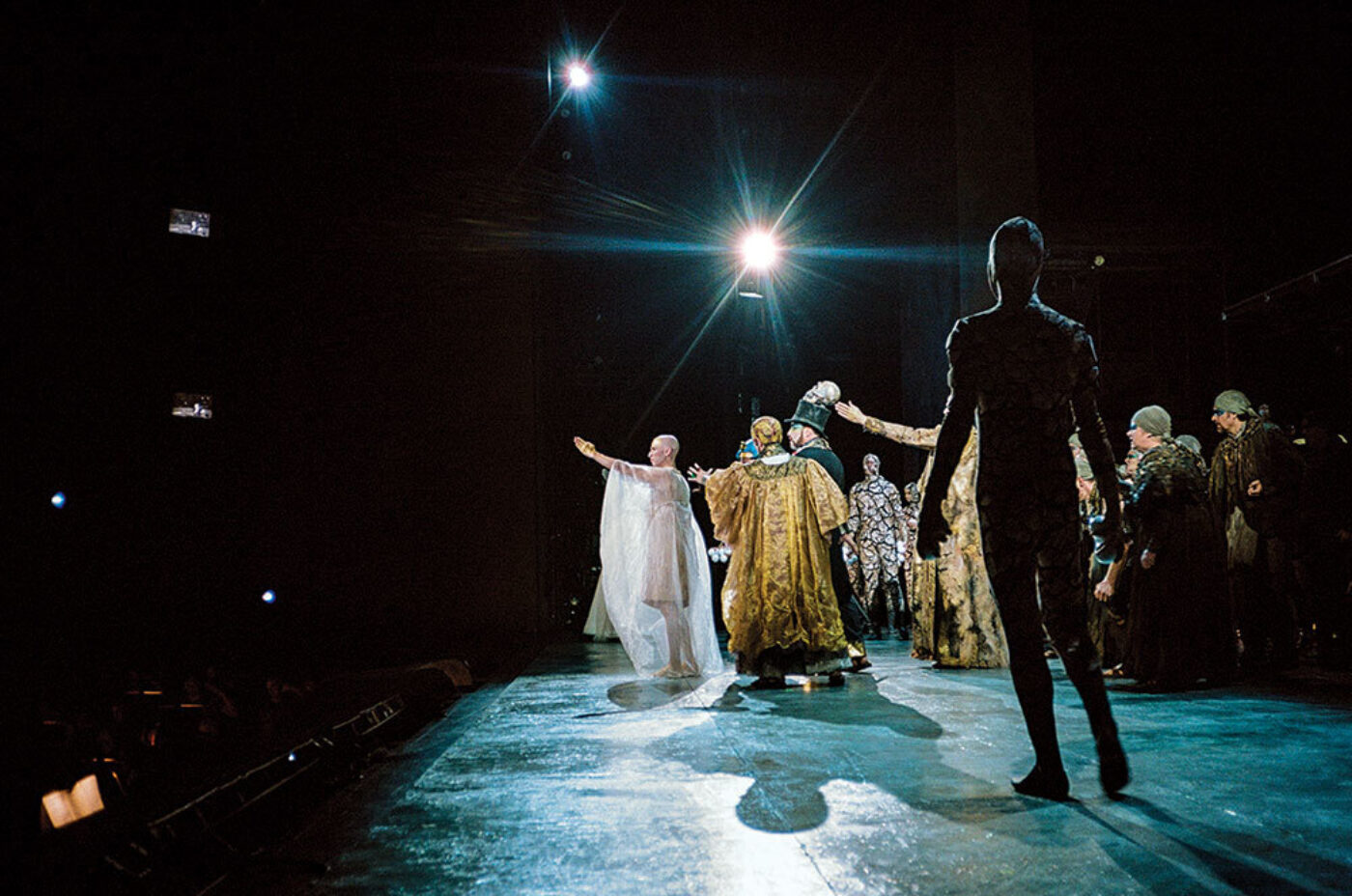 JVB Do you think the audience feels sorry for us?
ARC (laughter)
JVB What you said is right on and I shouldn't be taking the pith out of it, as it were. It's hard to cultivate empathy without being physically present with one another. Part of what generates compassion is feeling another person's pain or suffering. It's not fostered in isolation. If you're just intellectualizing everything at a keyboard alone in some room, you can't feel it. How do you sense your own vulnerability if you're not exposed to others?
ARC Exactly.
JVB So, yes, that's the greatest gift live theater has to offer—not only are you in a room experiencing emotions generated by somebody on stage, but you're with other people who are sharing that experience. That's why churches are so successful—because they bring their congregants together in a ritual every Sunday and condition their minds. The secular alternatives are performance and theater, which balance out a certain essentialist ideology being spread throughout the world that's not always positive.
ARC Boy, you said that well. You know the moment I look forward to most in opera? It's when the whole theater is completely silent. No one coughs, and no one fidgets in their seat. It often happens at the moment Akhnaten dies in our production. The music suddenly stops, and it feels like an entire room of thousands of people is holding its breath—like the auditorium has been vacuum-sealed. That's what makes us human; that's why we go to the theater. To find each other, and ourselves, in the silence between notes.
Justin Vivian Bond is a trans-genre artist and vocalist living in New York City. Besides frequent cabaret performances at Joe's Pub, Mx Bond has appeared in film and television, on and off-Broadway, and most recently in the opera Orlando. Mx Bond is the author of Tango: My Childhood, Backwards and in High Heels (The Feminist Press, 2011).
Originally published in
For our 150th issue, we have redesigned our flagship print magazine. This design reaffirms our mandate to deliver the artist's voice, supporting the vital discourse that appears in BOMB with vivid imagery and innovative juxtapositions that encourage dialogue across the arts—from conversations between artists, writers, and performers to exciting literature. We present exchanges in their formative state: revelatory, fluid, and iconoclastic.

---
This issue features interviews with Bruce Pearson, Anthony Roth Costanzo, Jacolby Satterwhite, Cathy Park Hong, Christiane Jatahy, and Seth Price, as well as fiction from Amelia Gray, Deb Olin Unferth, and Jenny Wu, and poetry from Sawako Nakayasu, Andrei Monastyrski, and Bob Holman.