Another Kind of Living Life (or Those Who Do Not Dance Will Have To Be Shot): Radcliffe Bailey: Travelogue by Jessica Lanay
Art of enslavement and escape.

Discover MFA Programs in Art and Writing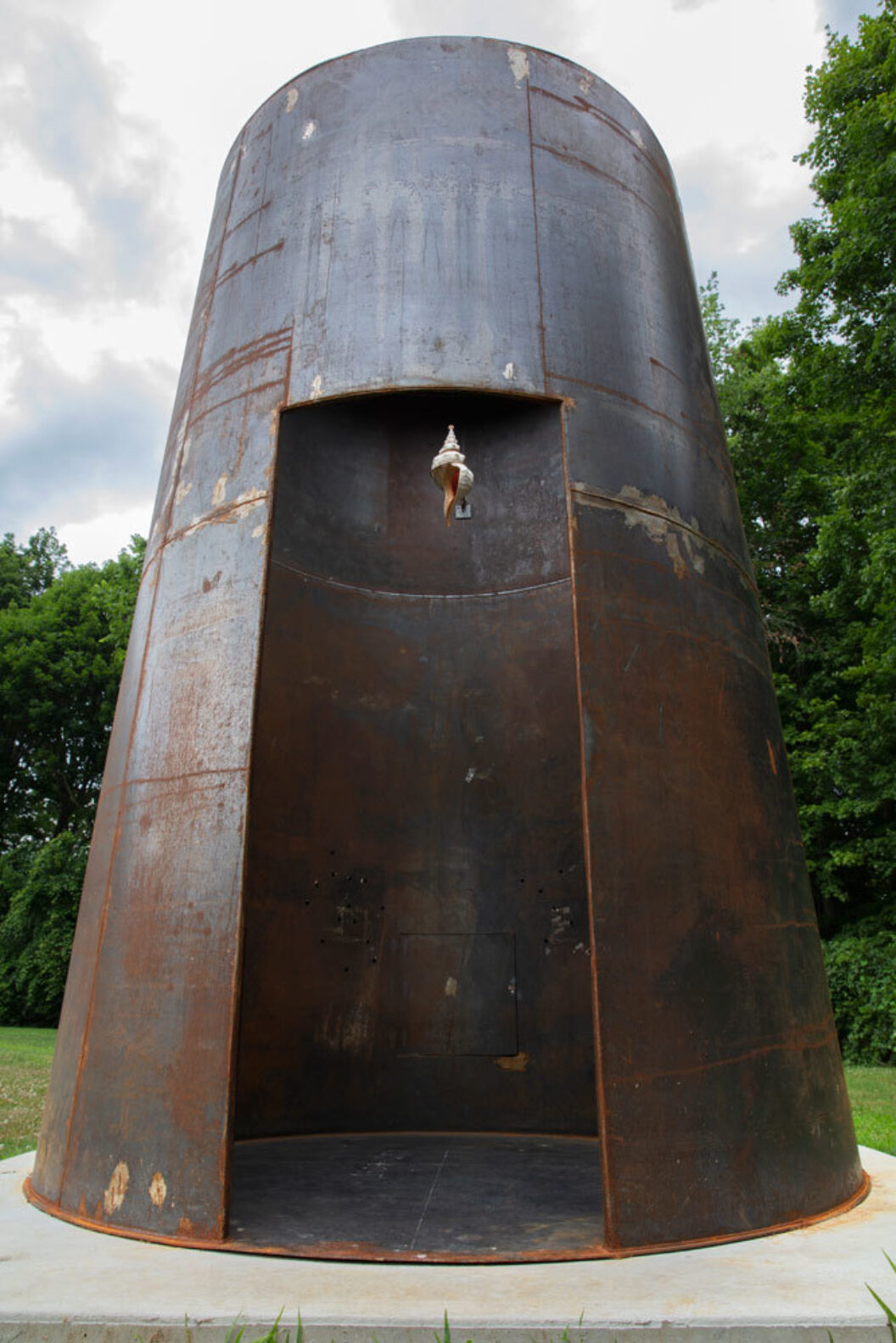 I approached Radcliffe Bailey's Vessel (2017) from the parking lot of Jack Shainman Gallery's interdisciplinary art facility, The School, located in Kinderhook, New York. In an open field, the sculpture stood, an acute peak. The closer I moved to it, the more I could hear the conical steel structure moaning. Heat emanated from Vessel, and I entered what seemed to be a dislodged piece of machinery. Inside I could feel the vibration of the soundscape of banging cello, raucous wind, twittering cicadas, and swelling ocean conducting through my feet, up the ladder of my bones, and through my head. I looked up ten feet to a circular opening of Robin egg blue sky where a pristine conch shell hung. I realized that if the thin door closed, I could be trapped forever in sweltering heat, at the whim of a beautiful yet frightening aural cacophony, only able to see the conch shell and the sky. 
Vessel is the symbolic doorway into Bailey's exhibition, Travelogue. I stood inside of it sweating for fifteen minutes, and as a result the rest of the exhibition expanded in meaning. Travelogue opens a conduit between the historical reality of the Transatlantic Slave Trade and present-day forced im/migrations through the examination of essential ideas of escape, movement, survival, and memory. The works in Bailey's exhibition propose the involuntary immigration or enslavement of black peoples as a model for other modern dispersals.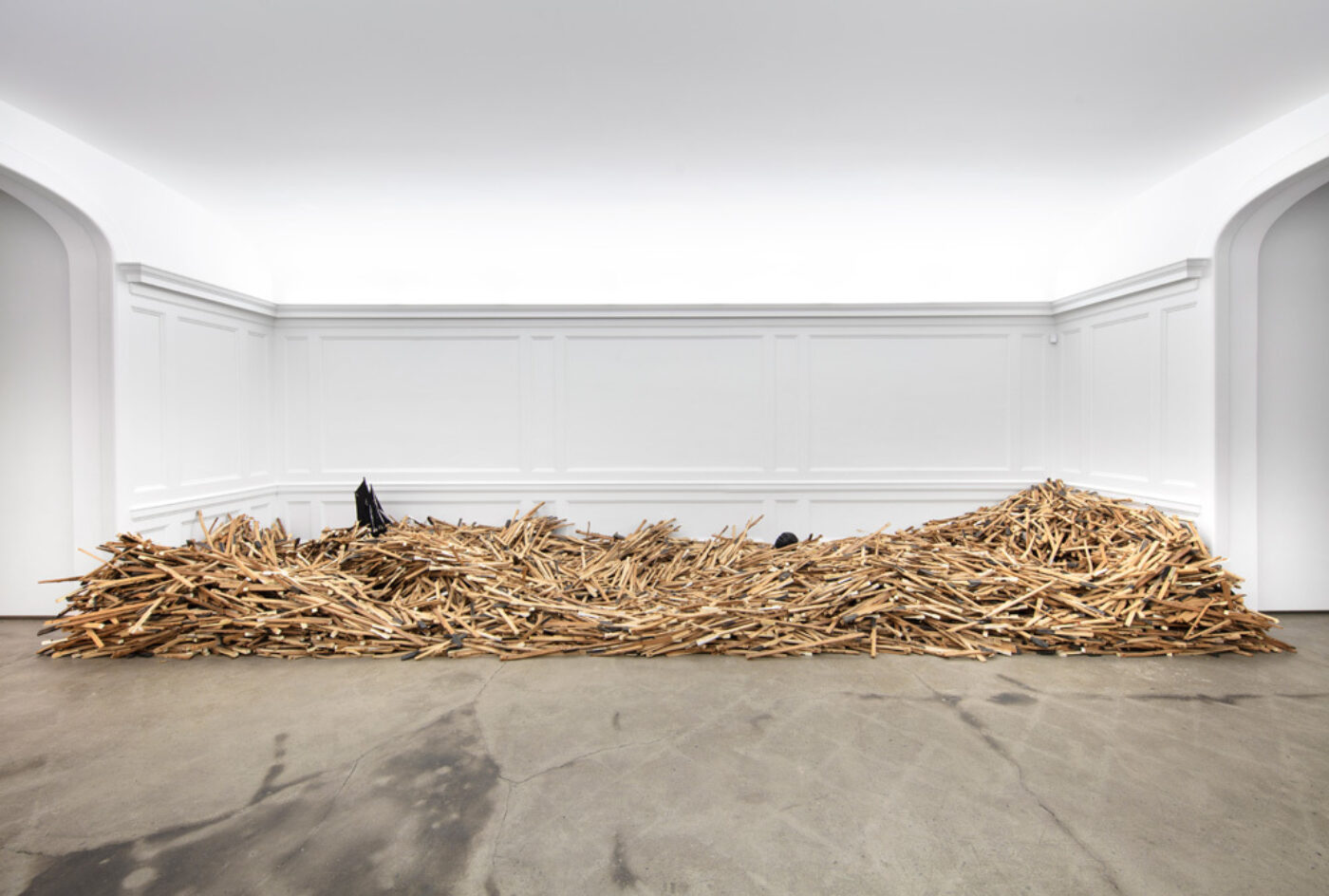 As an artist, Bailey has the methodology of an apothecary: from a storehouse in his mind of beakers and bottles filled with the detritus of global movement and wreckages, he adds what he needs bit by bit, making him adept and fiercely dedicated to any medium he chooses. Windward Coast—West Coast Slave Trade (2009–11) is an unabashed nod (as it should be) toward the earthquake of humanity forcibly carried from Africa into the budding Western world. In a sea of deboned piano keys that undulate like waves are scattered a decapitated head, a ship, and a tiny nkisi statue, all illuminated in black glitter. Windward Coast contains the body dispersed, the method of dispersal, and the memory dispersed. It asserts that there is a main artery shared between memory, survival, and the sounds of a people.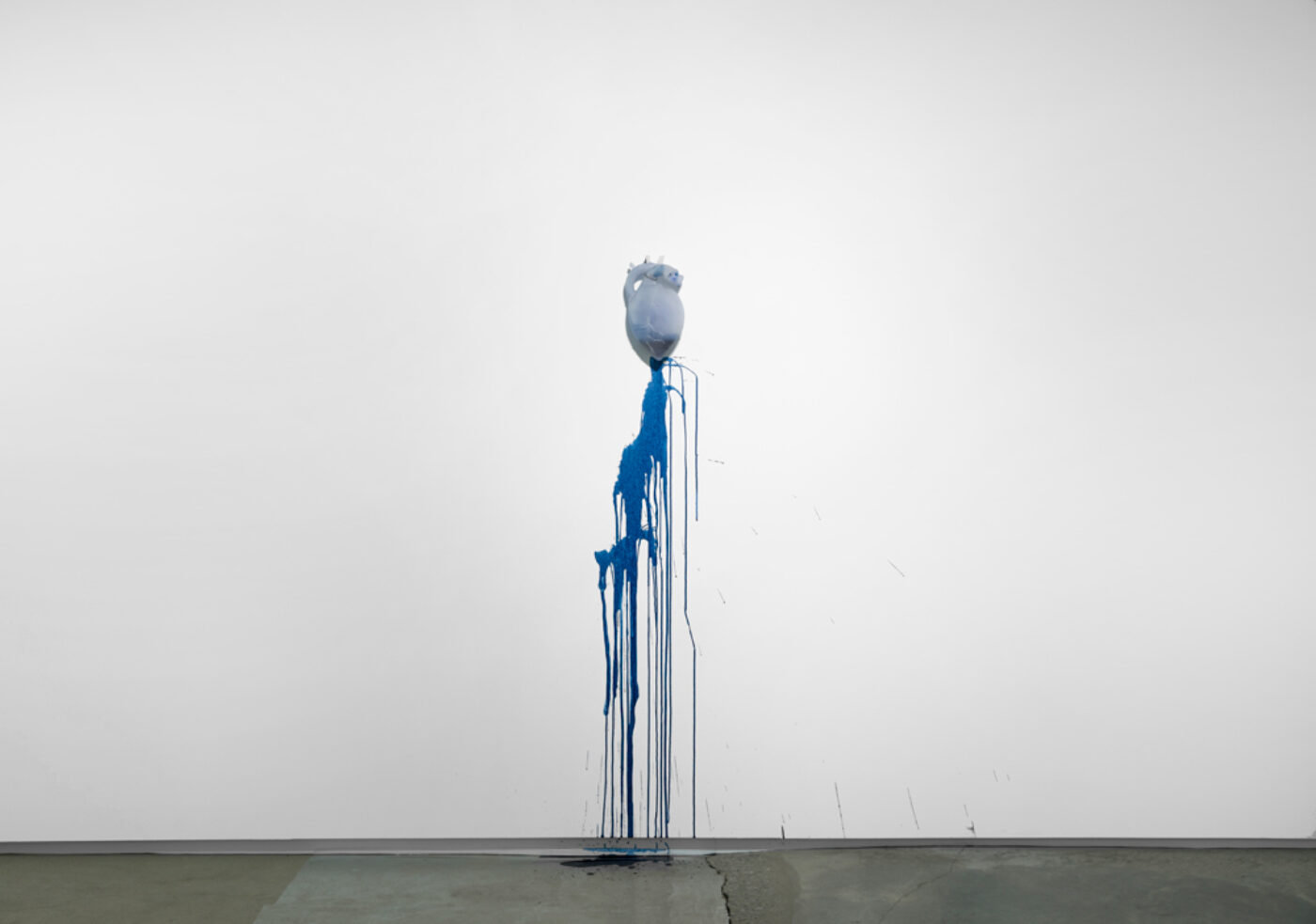 Bailey's repertoire in Travelogue is intense and wide-ranging, including Blue Black (2016), a glass heart dripping luminous blue ink down a white wall; three-dimensional assemblages in picture boxes like 67/68 (2016) and Upwards (2018); and Maroon (2013), an all-black canvas sculpture made from Georgia clay with embedded axe, oars, rope, and ladder—symbols of capture and escape. Many works, such as Lantern (2018), Stir (2016), and Monument for a Promise (2013), are positioned to make the viewer examine these symbols from a different angle. Lantern is a seven-foot steel lantern with a blue LED neon light inside forming the letter "N" for North. Stir is a surreally sized glass container or beaker that contains a glass oar. Monument for a Promise is a concrete mold of a donkey carrying a trunk full of cotton on its back, elevated into the air on a pedestal. These enlarged art objects are tantamount in size to the average human body, changing the relationship between viewer and escape, salvation, and being found as these ideas encroach upon the audience's perception of place and movement.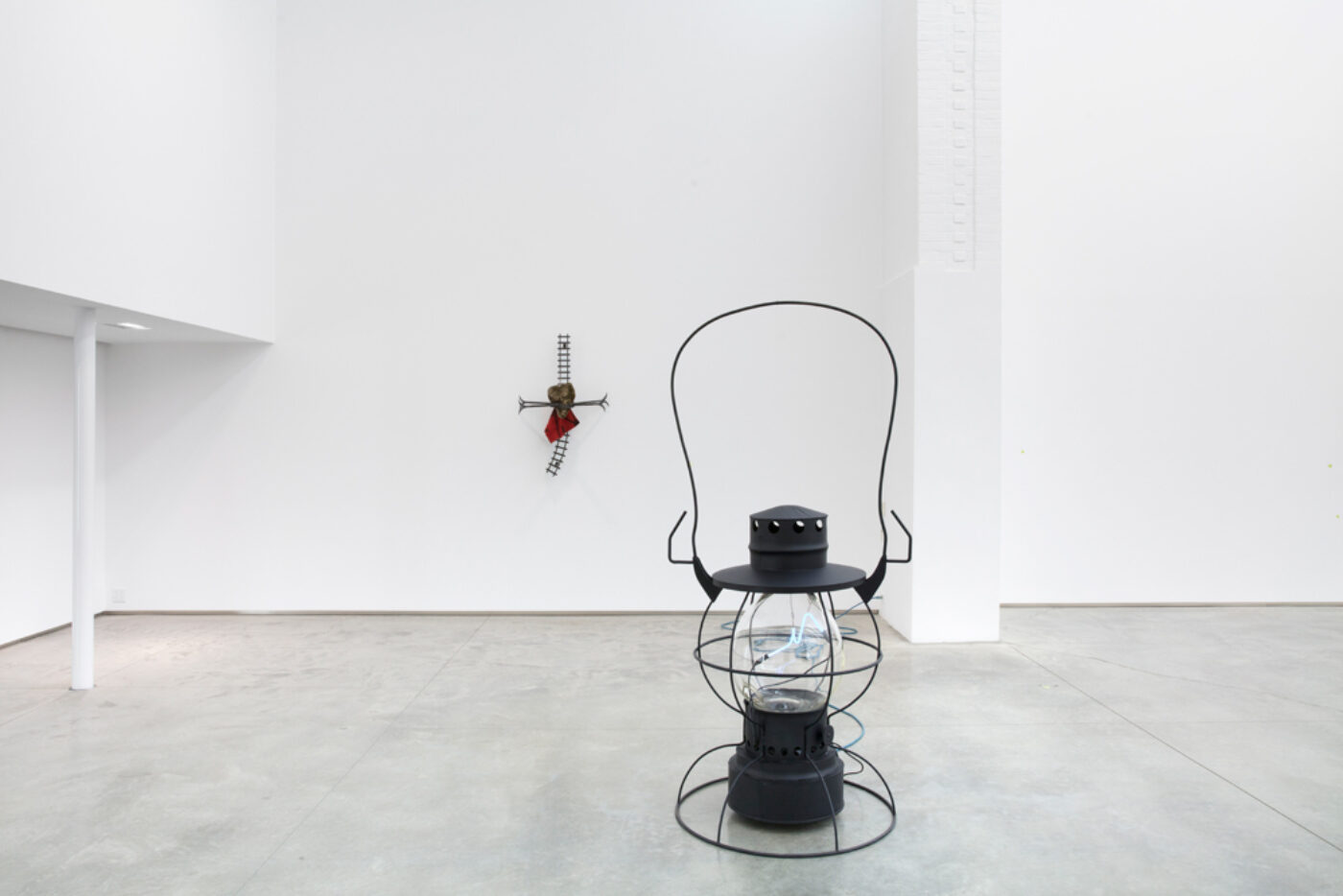 The exhibition takes advantage of the enormous space of The School to allow Bailey's works to reverberate with each other in recurring themes, materials, and symbols. The arrangement of the art does not push or teach, but facilitates the force of Bailey's work. In a conversation I had with Bailey over the phone he told me that, "Music is the first DNA," which conjures for me the idea of intricate repetitions and subtle oscillations spreading toward a symphonic chaos. With African diasporic art, curation often tends toward didacticism as an apology for the subject matter, but not here. There is a specific attention to highlighting form and method that puts the versatile hand of the artist first.
My only real critique is the absence of any kind of accompanying catalogue for such a significant exhibition. Otherwise, Travelogue soaked me with the sensation of having completed a kind of cosmic travel. Bailey's generosity of work in the expansive space of The School is a bracing visual and conceptual experience.
Radcliffe Bailey: Travelogue is on view at The School in Kinderhook, NY, until October 6.
Jessica Lanay is a poet, short fiction, and art writer. Her work focuses on architectures of interiority, escapism, history of psychoanalysis, and Southern culture. Her poetry has appeared in Sugar House Review, Fugue, A Bad Penny Review, The COMMON, Indiana Review, and The Normal School. Her short fiction was most recently published in Tahoma Literary Review and Black Candies. A short autobiographical essay was published in Salt Hill Journal. Her art writing can be found in BOMB and ArtSlant. She is a Callaloo, Cave Canem, and Kimbilio Fellow. Lanay is also a 2018 recipient of a Millay Colony Residency.