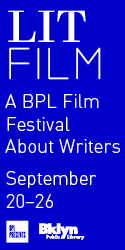 Anne Waldman's poems are like Buddhist koans, riddles she poses to herself, to her family and friends, to society. Her latest collection compiles 18 years of what she describes as her "most dynamic, most feminist, most oral/public interventions that include efficacious possibility": poems designed to rearrange traditional power structures and explode stale modes of thinking.
In the book the poems bounce and build, feeding into each other; ideas circulate, appearing in different contexts and forms. But the real treats of this heavy tome are two previously unpublished works: the book-length In the Room of Never Grieve; and Iovis III: the Eternal War, the third installment of the Iovis epic, a full-tongued thrashing of the war gods. As with its predecessors (sections of which are also included here), Iovis III begins with a brief grounding stanza to prepare the reader for the ensuing poem, which intertwines conversations and mythology, chaotic free verse and long stretches of prose.
With this collection Waldman amasses the strength of lost souls, writing herself into a lineage of great poets. In "Bury the Skull of a Yak," she writes, "My power is my dream cord / My power is my old siren song / My power is my taste of you / My power is melodrama of change." The work she chooses from her books—chants, cantos, sestinas, haibun, elegies—demonstrates her intellectual and creative range and draws on her studies of spirituality, mythology, and philosophy. Many of the poems develop from her Buddhist practice, weaving in Sanskrit and Tibetan terms. At first the language shifts seem to break the rhythm of the poems, but soon they become a part of the music, illuminating rather than disrupting. The book comes with a CD of Waldman reading a selection of her performance-oriented pieces, with musical arrangements by her son, Ambrose Bye. On this 40-minute soundscape, which is meant to be listened to straight through, Waldman sings and chants, voice quavering. In "Spel Against Specious Ones," she rails "that if they perpetrate war & famine they rot in hell / that hell be ferociously hot / that they are no longer recognizable or loved / that they get no more votes … . " Her voice may deliver "specious ones" to hell, but the poems are like gossamer wings sent to carry the reader to a lyrical heaven.
—Leah Greenstein
In the Room of Never Grieve was published in August by Coffee House Press.
Originally published in
Featuring interviews with John Waters, Shirley Jaffe, James Welling, Nuruddin Farah, Alma Guillermoprieto, Olu Oguibe, Hanif Kureishi, Ra'anan Alexandrowicz, and Howe Gelb.