Animation and Abstraction: Jennifer Steinkamp Interviewed by Sean Capone
Connecting real space and virtual images.

Discover MFA Programs in Art and Writing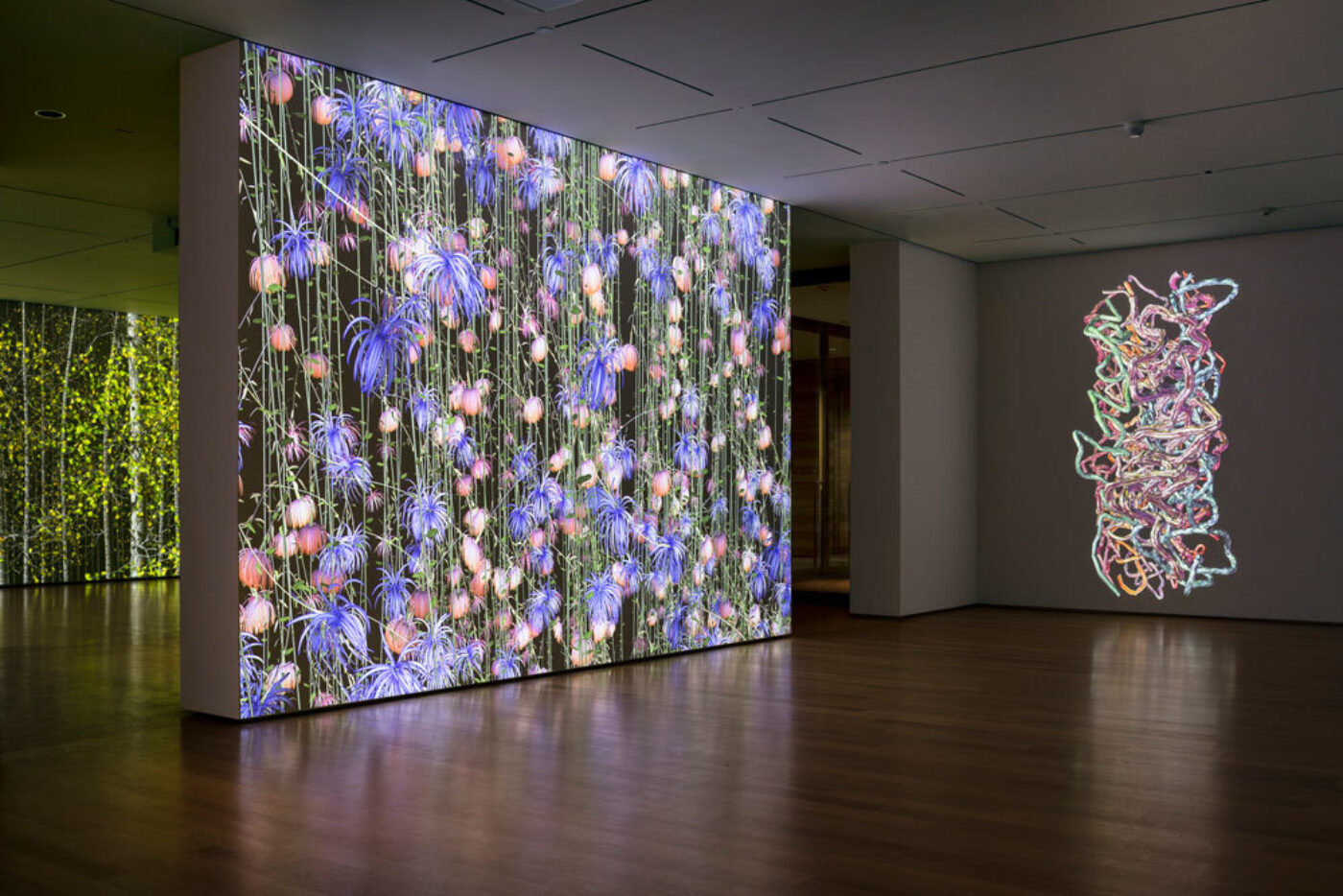 I first learned about Jennifer Steinkamp's animated videos long before I saw one in person; but even without seeing the work in motion, I felt I understood it right away. Her style of looping, optically seductive, computer-generated imagery was already part of the visual DNA of a generation of digital artists and VJs who employed the moving image as an experiential and performative medium. Steinkamp pioneered the use of 3D animated imagery and immersive projection environments at a time when the technology wasn't accessible to most artists … or appreciated by the art world at large. Now, of course, digital flatscreens and projections are all but ubiquitous in the urban environment, allowing video art to expand into the space beyond the gallery and museum walls.
—Sean Capone
Sean Capone Nowadays we take digital imagery for granted, but you started at a time when there was a harder point of entry to animation, especially as an art form. What drew you to animation, specifically the more special-effect, computer-simulation type of imaging, as you moved away from traditional film and video production?
Jennifer Steinkamp I guess it happened when I was in school. I was an undergrad at Art Center College in Pasadena, and they had an exchange program with CalTech. So I took a class at CalTech with a teacher named Gene Youngblood who had published a book called Expanded Cinema. Structuralist filmmakers, including animators, were presenting film in ways that were not theatrical. They were experimenting with what you could do with film as an art form. Stan Brakhage was drawing on film; Hollis Frampton was showing film without film, just the light from the projector. Gene also showed us some of the first computer animation made by artists—Ed Emshwiller, for example. So that's how it started. I dropped out of school and started working in Hollywood, and just landed in the right place, a crazy place that had computers. I kind of learned on the job. I didn't even know what a hard drive was, as there were no personal computers yet. I was just clicking points and typing in coordinates.
SC Yeah, I remember reading that you studied with Gene, whose Expanded Cinema concepts were visionary and of course a part of everybody's curriculum, if you studied video art. So you were able to take those threads—experimental art and Structuralist cinema—and combine it with other ideas happening at the time: California Light & Space, psychedelia, etc.
JS When the Museum of Contemporary Art first opened up in downtown Los Angeles, they had a Light & Space show of those artists. The installations had a profound effect on me. It did take a while for me to figure out how to do it.
SC Were you looking at other animation that was being done? You had to create your own language to enter into this.
JS It was more like … if I watched a Disney film, I would watch how they did the water. Or in 2001, the corridor sequence was really inspirational. Maybe I was looking at Hollywood but from an odd approach. 
SC As an animator working in the vein of "expanded cinema," you aren't concerned with "telling stories." Your work uses loops and non-narrative cyclical action; you treat the image more like a dynamic system. Was this influenced by the projection loops of film artists such as Oskar Fischinger? Because right away you discovered that the loop is a natural structural language for digital animation—it's always "on," with no narrative arc.
JS I began as someone who deeply appreciated abstract art. Loops seemed to be a way to work with abstraction and less representational forms. Non-narrative came as part of the package. Both non-narrative and abstraction are on one end of the spectrum of the real. Perhaps these two forms are less concerned with endings and death.
SC You were creating these overlapping projections, creating these abstract, experiential spaces. Thinking about the image…
JS … the image dematerializing the space.
SC Whereas now, the closer to reality the image gets, the more people want to ascribe a narrative to it.
JS Yeah. My favorite work from my past is this piece called TV Room (1995). It used the architecture, which caused the architecture to feel like it was moving, because the animation was shifting and really made the viewer think about the physical experience of the piece. That's also what I tried to do with Winter Fountains (2017–18), an outdoor public artwork that ran last winter in Philadelphia. The images curve around the domes, so as you experience the scale and your relation to it, there's kind of a feeling. It's like knowing through your body, maybe like a dancer would "know" something. It seems vague, perhaps. But that's what I was really interested in, in the beginning—dematerializing architecture, asking: What is this experience between the real space and the virtual image, and how do we understand that?
SC It makes me think that now, in the years since you've been working, there's risen an entire profession devoted to "projection mapping"—artists projecting effects and loops on facades and at concerts.
JS I know! I've been amazed at that. (laughter)
SC They are all super-proficient technical animators and technologists. Where do you see your relationship to that as the technology has gotten so much cheaper, easier, and accessible? Do you ever feel like the tech is driving the work ahead of the art?
JS I've never felt limited by the technology, ever! We actually learned a whole bunch on this project—so, no. There's so much you can do and learn whenever you need to learn it, whatever you want to be or do. That's how artists work, right? If you want to learn how to be a sculptor, or a painter, you learn about paint and what it can do—it's the same with animation. Artists always think they can just do it, and they figure out a solution, and make it, and do it.
SC People were putting the technology between themselves and the art production method, as opposed to more easily understood art forms that didn't have that kind of mystification.
JS It's funny because I think I've been really lucky. On the technical side, there's a professional organization called SIGGRAPH. They've never really accepted me! (laughter) I'm so lucky! You can get caught up in that kind of world, but it's a whole different mindset compared to thinking about art and what art does. I enjoy both mindsets, and if the "technical" people would have accepted me, grabbed onto what I was doing when I was younger, I probably would have gone in the wrong direction. Who knows? I'm strange enough that probably that never would have happened.
SC I studied new media, video, and animation under the artist Jim Pomeroy. His approach was very kitchen-sink, very guerilla media; the limitations of the technology necessitated that. So my own built-in conception is that tech art is better expressed notionally or metaphorically. You have to work your way around technology rather than through it, and the "slicker" or more "professional" a piece looks, the more suspicious you should be of it.
JS (skeptically) Well … (laughter)
SC But those boundaries are falling apart too, because the otherworldly power you get out of computers now is very seductive. When I saw your Still-Life (2016) at ACME earlier this year, the sophistication of the imagery really blew me away.
JS I got to use the higher resolution, brighter projectors, so you can have a lot more detail … and you have to pay attention to that detail more, too. Before, the older projectors would kind of … wipe that out.
SC (laughter) It would smear out the errors! Putting the technological discussion aside, I am also thinking about the relation of the work to other forms and genres. Baroque decoration, the still life, religious painting …
JS I was always thinking about Dutch painting. 
SC Using animation, you've taken these forms and "released" them, put them in queasy motion. And you've allowed viewers to come into it, to add their own motion and silhouettes into the illusion. An early review called your work a "walk-in painting," rather than an "expanded cinema experience" or something.
JS Early on, I was more related to painters and collected by people who collect painting rather than video art. I think that's great, and all the things that have kept me on this track, somehow …
SC … have been through an understanding of more "traditional" art. Do you feel a connection with this "new" technological art culture, such as virtual reality, interactive animation, etc.?
JS I probably need to know more about it. I just started teaching VR to my undergrads. I've done an augmented reality piece, but I've never done a VR piece. I did it for Seven on Seven for Rhizome at the New Museum. It's not documented. Unfortunately, the eyes of the woman who was running the AR piece for us were wider set than we anticipated. It was really cool, a great piece, but frustrating for me. We didn't have time to rehearse it. Like, she had really wide-set eyes.
SCThe technology is flawless but the body always lets you down.
JS Life goes on! I liked that software. It tracks facial recognition and equates them to different emotions, which is used to control the game engine Unity, which I'm starting to use more now. I'll end up making a VR piece; my students certainly are! A lot of it's too "grunge." "Post-Internet" art, I guess—people making things that are intentionally really ugly in order to make you take it seriously. It's making me crazy.
SC It's interesting to see how this kind of real-time animation takes the literal space of the body and the environment into factor. Your work does adhere to an idea of painterly "flatness" in that it still deals with the surface of architecture. Moving forward, will we start seeing actual spatial environments and actual bodies in your work?
JS I don't know. It's so exciting, but it's kind of annoying that the audience has to wear VR headgear. It's very lonely. Maybe one should use this loneliness conceptually in the piece. Like an Edward Hopper kind of loneliness.
SC In your production process, do you sit down with a preconceived idea, or is there first a mode of exploration where you see what surprises the software might have to offer that inspires a piece?
JS It's always random, it's always a surprise. I work with dynamic simulations a lot.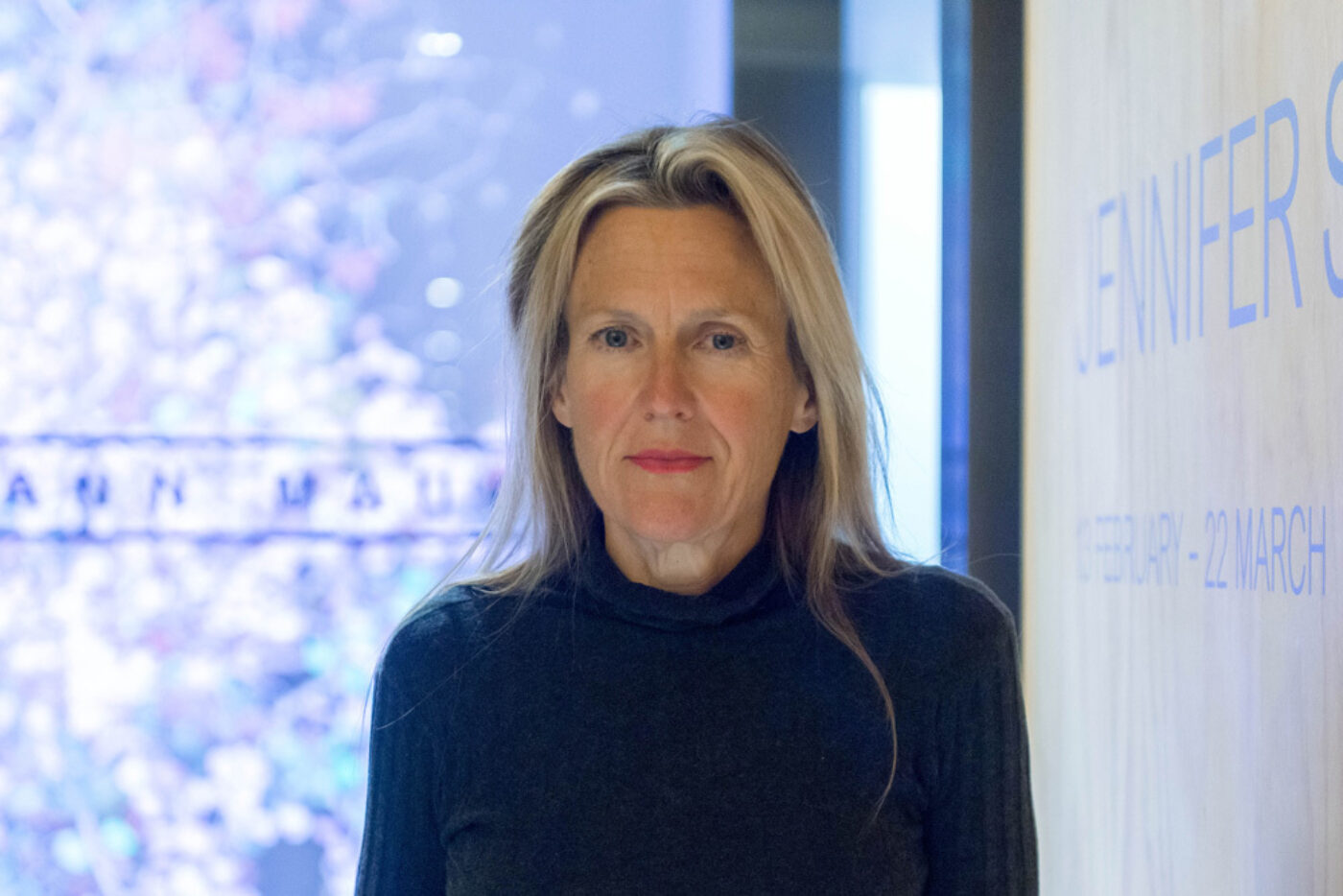 SC What is the "object" that you sell to collectors or institutions?
JS Well, for example, if they buy a "Tree," they get the animation, a computer, maybe some help setting it up, telling them which projector to buy. I'm switching over now, but they get Blu-ray Discs that archive a much higher-resolution file that can be sampled to whatever display device will be in the future. My work is pretty much rendered to 4K. I'm not ready for 8K! There have been points where I've re-rendered all my work, and I'll have to do it again. That's a drag.
SC The responsibility you feel toward upscaling and upgrading the work is interesting to me. I just went through that, with pieces from a few years ago that you can hardly look at on today's high-res monitors. And being 3D and generative, you have that temptation to go in and make it bigger, cleaner.
JS As long as the software lets you! But then when you do that, you end up changing the work. Museums never give a painting back to a painter. I change it, when I rev it up, I can't help it.
SC Doesn't that take it more into conceptual territory? The art becomes a series of instructions that will change form according to the scale at which it's being presented. Like a Sol LeWitt.
JS Yes. Some work can translate, like the "Trees." I'm extremely fussy about where Madame Curie (2011) shows. I've always been an advocate of making the technology seamless and simple. People used to be afraid of technology. I don't know why they're not anymore.
Jennifer Steinkamp: Blind Eye is on view at the Clark Art Institute in Williamstown, MA, until October 8.
Sean Capone is a Brooklyn-based video artist working primarily in digital animation, projection installation, and moving-image based public art. This fall, his work will be exhibited as part of the Loops show at the Visual Studies Workshop (Rochester, NY) and the Supernova Animation Festival (Denver, CO).