Photographer Andy Freeberg on capturing the comical ironies of art fairs, the fashion choices of the female guards in Russian museums, and the heads of white cube receptionists in Chelsea.

Discover MFA Programs in Art and Writing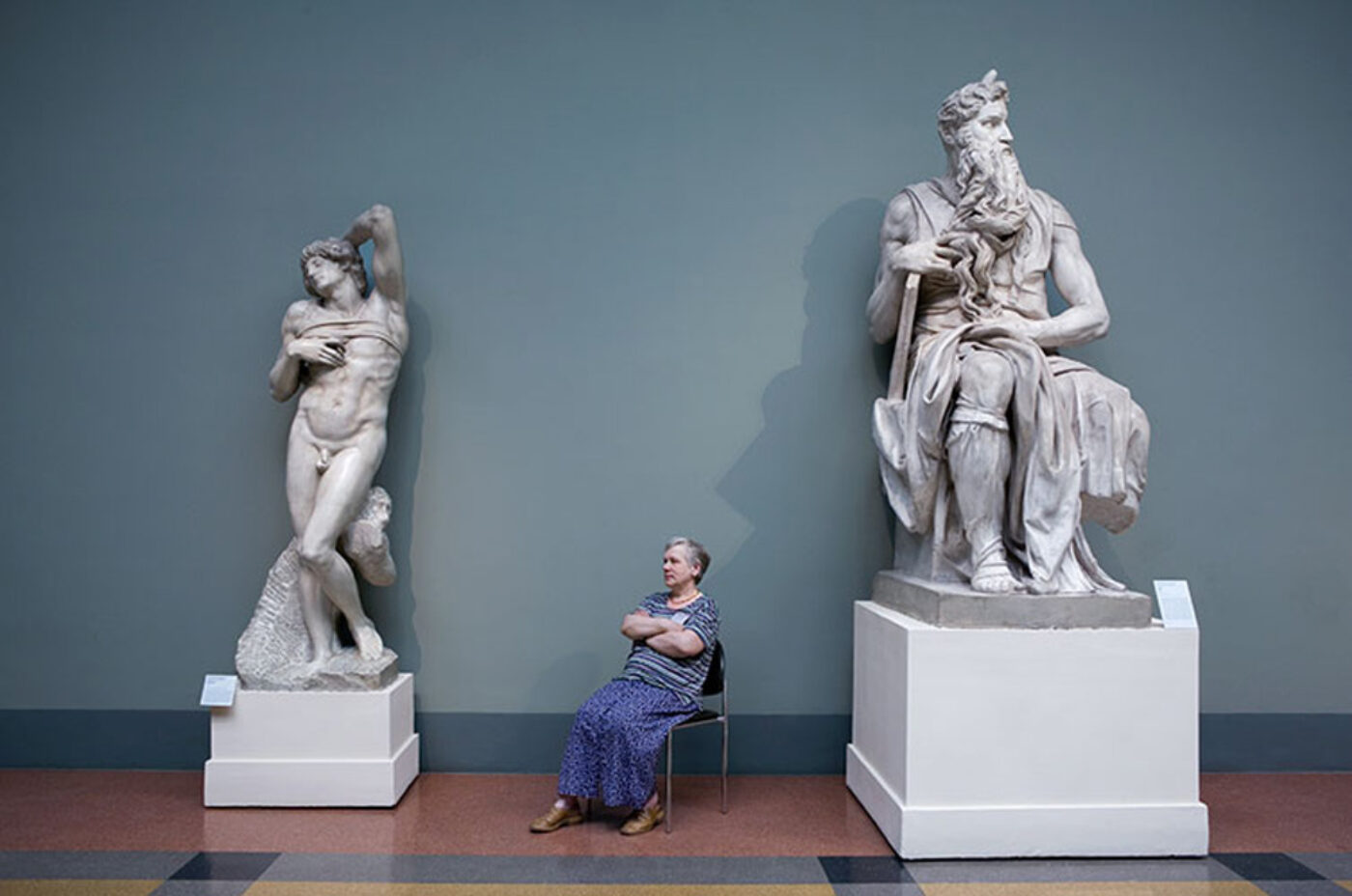 The images came first and there was something uncanny about what I was seeing: female Russian museum guards, who looked oddly like the work they were protecting. Was it a set up? Was it some kind of ironic play on art and life? No, better yet—it began accidentally as artist Andy Freeberg wandered the Hermitage, lamenting a loftier photographic project that didn't work out. Freeberg printed the first set of images from what became known as Guardians and took them to Houston's FotoFest where Evgeny Berezner of the Russian Federation's State Center for Museums saw the images and invited Freeberg back to Moscow, this time with official access. He returned to Russia, noticing that while, "summer has better light, winter has better outfits."
There is a richness to Freeberg's prints, a kind of simple beauty—they are artful and resonant without seeming contrived—and they have the freshness of the accidental, the thing happened upon. He sees us as we are, catching us off guard, delivering us back to ourselves with unexpected irony and a sense of exposure. I called Freeberg in San Francisco where he lives because I wanted to know more.
A.M. Homes Who is Andy Freeberg? And where did he come from?
Andy Freeberg Well, I was born in New York and grew up in New Rochelle. I had started doing photography in high school, and when I went to the University of Michigan I decided to join the student-run daily newspaper there. I had photographed a lot of jazz musicians and another student photographer talked our way into being the official photographers at the Montreux Jazz Festival in Switzerland. So at age 20 we're over there and we got to photograph some great musicians like Dizzy Gillespie, Herbie Hancock, and B.B. King. I also got to photograph authors and scientists, all of which was so much more interesting than sitting in a classroom and reading about it. I left school after my junior year and was able to get an internship at the Village Voice. Then I started to work for magazines like Time and Fortune, moved out to California in 1990 and covered the whole dot-com boom. But all along the way I'd always do my own creative work, which was generally black-and-white street photography along the lines of Henri Cartier-Bresson, Robert Frank, Diane Arbus, Lee Friedlander, and Garry Winogrand. It was pretty traditional work and I at one point I thought I should try to do something contemporary and in color, something that spoke about life today.
AMH It's interesting that you got recognition by turning your lens on the art world. Your eye is an outsider's eye. You are not part of the art world in the classic sense. I love your Sentry series, which captures the front desks of various Chelsea art galleries, the "gates" if you will and the "galleristas and gallerinas" who staff them.
AF In 2006 I went on a trip to New York and while walking around Chelsea, I stepped into the PaceWildenstein Gallery. It was a Tuesday and I was the only one there—facing this giant reception desk with a little head above it. I thought, Well, this is kind of weird. I had this full-frame digital camera and I took a picture. The receptionist never moved her head, never looked at me. I went to another gallery, saw the same thing. Later I showed a photo editor friend of mine the pictures I just made and he said, "This is a series! You've got to do this!" He kind of pushed me, so on a few trips over the next year I went into almost every gallery in Chelsea and it became that series. Eventually, it went up online and the next day James Danziger emailed me and said I can get you a gallery show right away. And so I got that show and then it was in The New York Times and all of a sudden I got attention from the fine art world.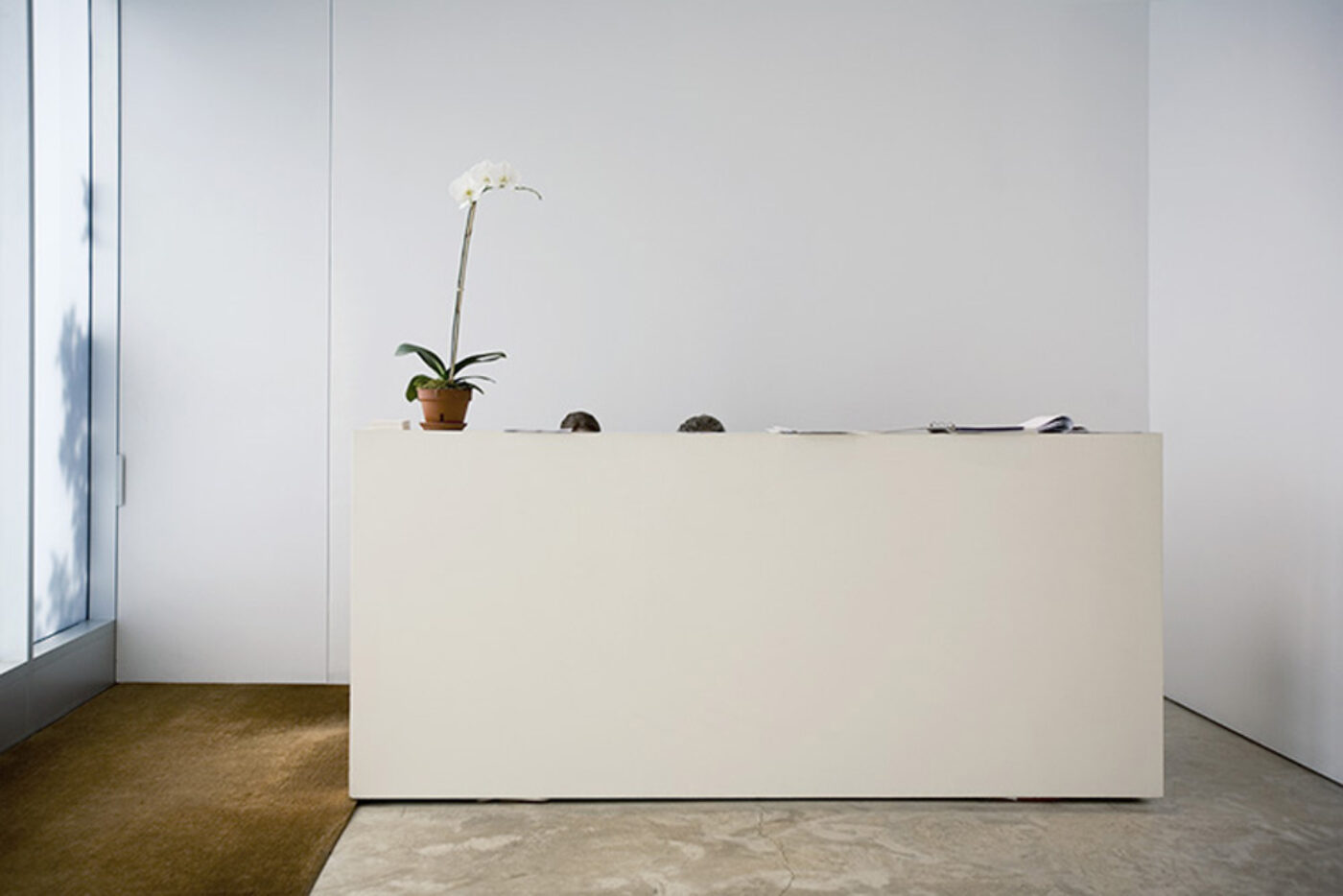 AMH The images are so clear, almost blunt in saying "while art is for everyone, it's also not." The front desk is like a line of defense, decidedly unwelcoming and stark, punctuated by a fancy flower, a solitary orchid, a mixed message. And the people behind the desks never look up. There is no eye contact, no acknowledgement.
AF Walking on the street and having that eye contact used to be a great thing about New York. There was so much coming at you all the time. Now everyone is on their cell phone, with their head down and in their conversation. When I went into the galleries and was ignored by the heads behind the desks, I realized that they were on their computers looking at a screen and maybe connected to somewhere else in the world yet ignoring the people right in front of them.
AMH Exactly. They want to interact, to communicate, but on their own terms not impromptu and publicly and certainly not with the anonymous you-person who walks in off the street, it's as though that interaction is far beneath he or she who lives behind the three-quarter veil of sheetrock. When the galleries moved up to Chelsea, most of them adapted a distinct style and way of working, which was very much white cube.
AF Yeah, in the mid-'90s, they were all going into these gigantic warehouse spaces. I heard that there was one architect that came up with this design for a few galleries and then they all followed that look. Maybe they wanted to keep it clean and keep the wires and the computers hidden. But it does create this wall. And for me, just the top of the head behind the wall was funny. I've always loved Eliott Erwitt's type of humor. Every time I got one of the shots I'd be laughing to myself.
AMH Well, that was one of the things I was curious about in general—the importance of humor or, also, the human perspective in your work.
AF The human element has always been there for me. It's just my take on the world that we humans can be a comical bunch and I think photography can show that. I've had people say, "The contemporary art world is so serious. It's rare that you get any kind of humor, especially in photography."
AMH True. What was the next series after the receptionists?
AF Guardians. After I did the reception desk series, I signed up again for FotoFest, the Photography Biennial in Houston. They have something called the Meeting Place, which is a big portfolio review. They bring critics, gallery owners, and curators from around the world and you get to show your work to people you may never meet otherwise. I knew that the Sentry series would go over well after its positive reception in New York and I thought their first question was going to be, "What are you working on now?" I had these pictures that I shot in Russia in the mid-'80s when it was still the Soviet Union. I had done a series in winter—there was nothing in the stores and, although it was the '80s, it looked like the '60s because of the style of clothing. So I thought, What if I went back to see what it was like 20 years later? When I returned to Russia for a week in February of 2008, the snow had melted and my project wasn't really working out. So I decided to just look at art. When I went to the Hermitage I noticed that the guards were all older women. They didn't wear uniforms but their own clothes and were mostly sitting in chairs placed around the gallery rooms. And I thought, This could be my next series—the sentries of the Hermitage. I got excited and spent a few days walking around, getting these candid shots where I would match up a woman with the artwork.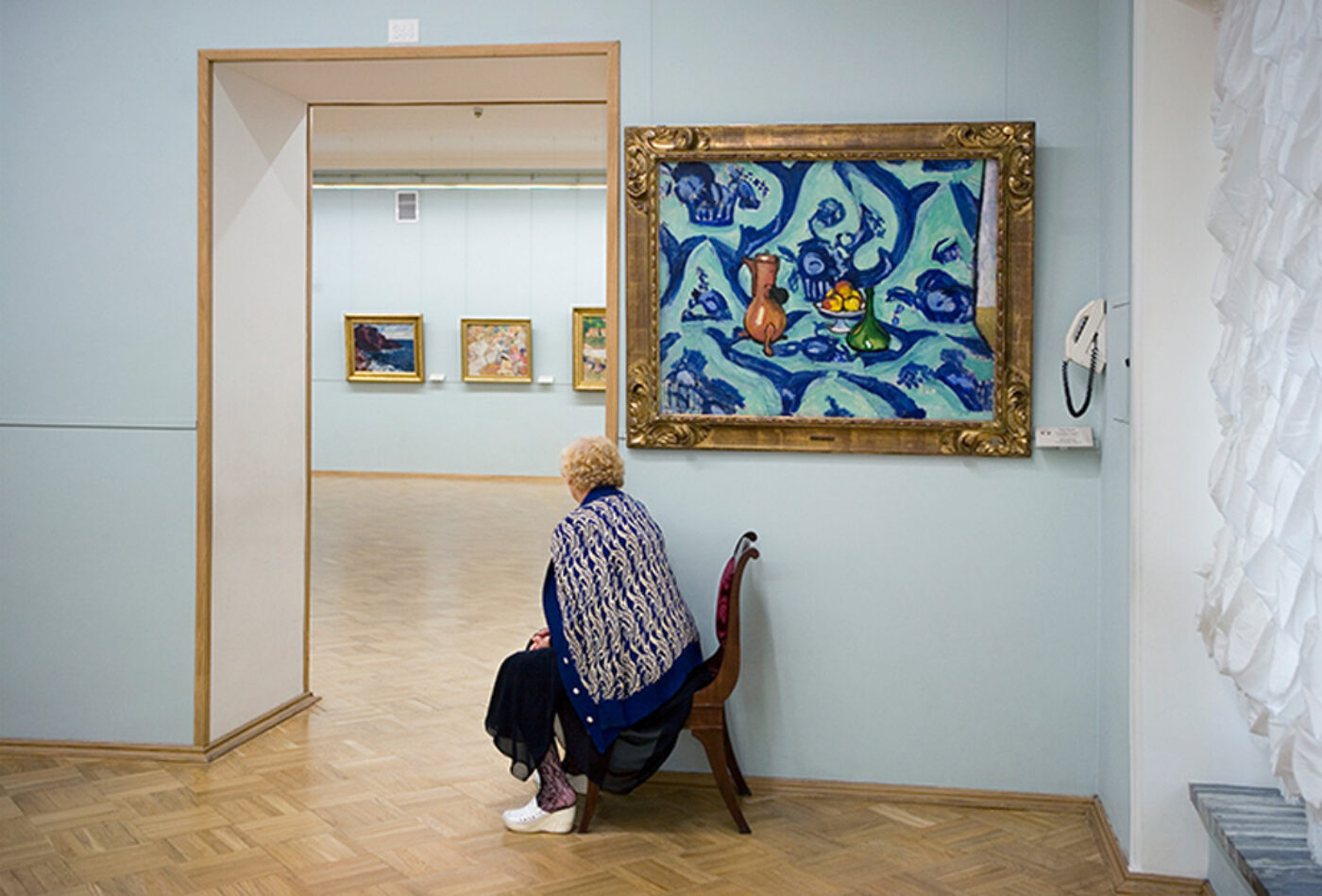 AMH Did you talk to them at all before you took their picture or what was the process?
AF No, not at that stage. I just looked like any other tourist who was taking pictures. The guards sit so close to the art work, sometimes they'd see me and put their hand up or they would move away. But with a wide-angle lens I could aim at the painting and make it seem like they are not included in the frame.
AMH Right.
AF When I went to FotoFest a few weeks later, I brought about eight prints of that first batch of Hermitage pictures. I had the amazing good fortune to meet this Russian guy who was in the Ministry of Culture; he looked at the pictures and he was like, (with a Russian accent) "Art imitates life, life imitates art, this is good. But let me tell you, there are four great art museums in Russia. Yes, you have the Hermitage, but there are also the Russian Museum in St. Petersburg, and the Pushkin Museum and the Tretyakov Gallery in Moscow. Now you must come back and photograph at all these museums." He gave me his card, and I made plans for my next trip. When I got to St. Petersburg, I was granted access to the Russian State Museum and in Moscow I was able to talk my way into the Pushkin through him. I also had a connection to Clifford Levy, who was then the Moscow Bureau Chief for the New York Times and he liked the work. When I was having trouble getting into the Tretyakov Museum, he said, All right, I'm going to lend you a staff interpreter. So he got me into the Tretyakov and I was able to interview the guards through the interpreter. That gave me a much broader prospective of who they were. The women I spoke with were almost all retired professionals; we met a former dentist, an economist, an archivist, a dancer… They just loved the work they were doing, they were really proud of the art, the culture.
AMH Did they realize at all that they were dressed like the paintings they picked out?
AF I don't think so. Also, they don't necessarily get to choose their rooms. For a couple of the pictures in my series I asked the women to move to another chair in the room or to sit by another painting, but most of them were exactly as I found them. On my third trip back I brought prints for everyone I had photographed during the first two trips. One of them was the woman at the Hermitage sitting next to the Matisse painting wearing this shawl that matches the color of the painting and I asked her, "Did you choose these clothes because you knew you were sitting next to the Matisse? And she was like, "Nyet!" I don't know if that's what they all thought. I guess it sort of happens subconsciously.
AMH I found myself repeatedly drawn into the photographs by the physically intimate relation of the guards to the artwork—which then made me look at the paintings they were guarding differently. Were there any surprises for you along the way with that series?
AF It wasn't really a surprise but I was very impressed by how proud they were of their culture. And not just the visual arts, but also their poets. In St. Petersburg alone there are 21 statues of Pushkin. How many statues of poets are there in the States? Maybe a few Walt Whitmans here and there.
AMH Maybe. I don't think we invested deeply in statues of artists and writers. I am curious how you conceptualize or how you describe the differences between work that you do that's commercial or for hire and the work that you are compelled to make in some way.
AF Now I'm not really doing much commercial work, the whole industry has changed anyway. When I look back to the time when I photographed for the Village Voice, the approach was to make it artistic. Then, as I got jobs for the business magazines, I felt like I was working for them. I had to adjust to give them what they wanted. Often they would use the least interesting pictures. I was making a good living for a while but I had no illusion of making great art. It's a craft. I was able to hone my skills in terms of being able to go out under difficult conditions and come back with a picture. It used to be a lot more difficult with film rolls—you had to be very precise with your exposures. Nowadays, you know what you're going to get because you don't have to wait for a Polaroid or until your film is developed. So it's a little bit easier in that sense.
AMH Right.
AF With my older black-and-white work, I was just trying to make a cool picture. I wasn't necessarily thinking in terms of a series or a story. Now I like to work in series because I can tell a story without having to write too much about it and people can interpret it in whatever way they want.
AMH I was going to ask you about scale. I know there are some photographers who used to make one size work and now are quite purposefully making very large work, I think because it somehow deems it more of the art world as opposed to of the world of photography. I struggle with ideas of scale in photography—with yours in particular the large scale is very important.
AF Yeah, I've had people urge me to just go big. With the Sentry series though, by going large like that, the viewers really get the feeling of being in front of that desk and in that room. It could not have been done with film. With the digital technology you can see closer to what the eye sees. With half of those shots, the people behind the desk didn't even know I was there and to the other half I said, I'm doing a series on desks and they're like, Okay, whatever. But if I had walked in with a tripod, I would have been turned away. The pictures would have been very grainy—it might have worked small but you never would've been able to blow them up and get the detail that you can get with a digital camera.
AMH I think about the Guardians in terms of being painterly and of capturing the scale of those paintings in relation to the human body.
AF Yeah, it gives you that size and it gives you the sense that you're there. With the Art Fare series you get the sense of walking through an art fair.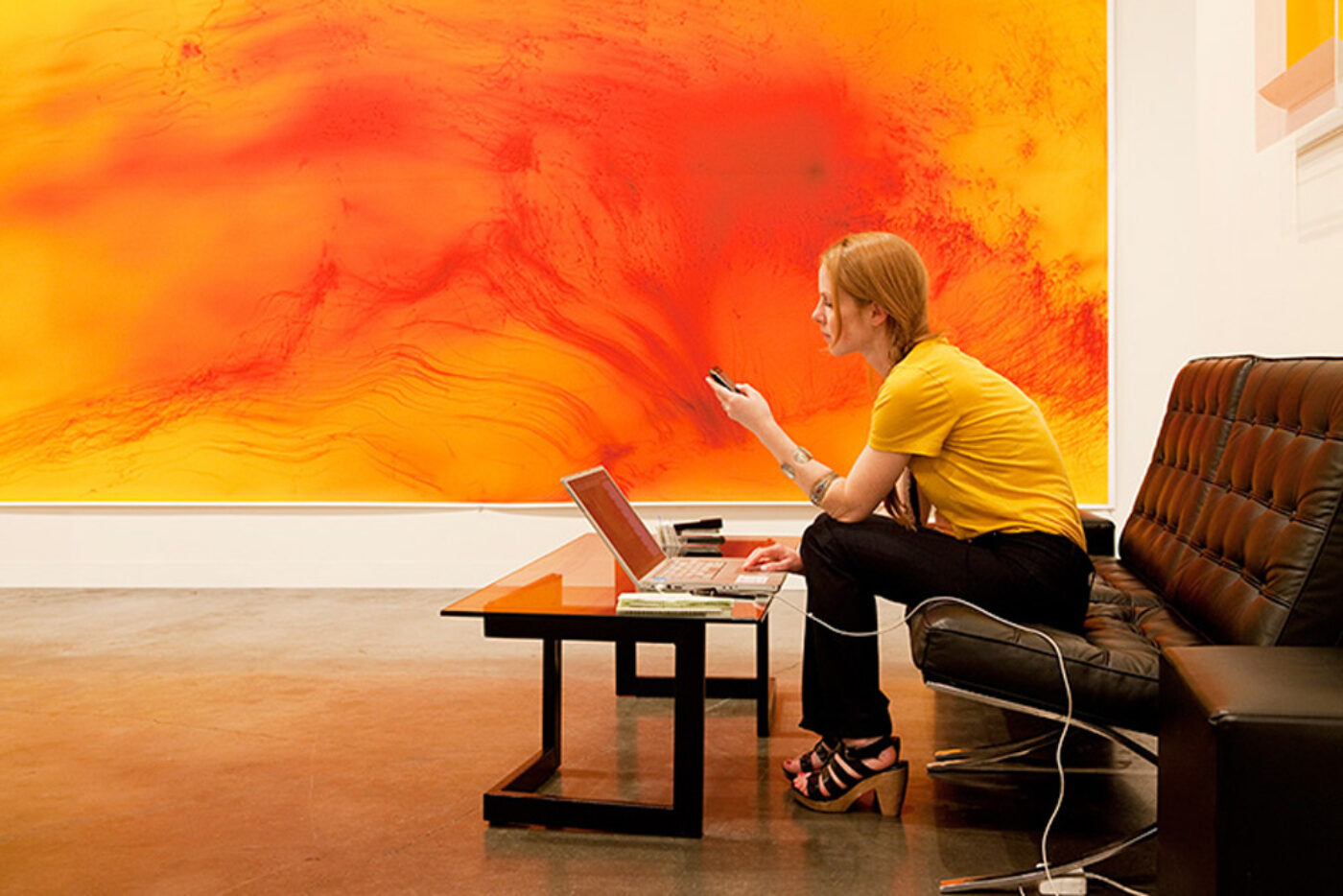 AMH When did you do this work?
AF The first fair was Art Basel Miami 2009 and then I went to the Armory Show in 2010. I went to Art Basel in Switzerland in 2010, then again to Miami at the end of 2010 and Armory Show 2011. The series is from those five art fairs. There are also elements in these pictures about the technology of the day. When I started, the iPad didn't exist and by the end everybody had multiple iPads.
AMH Isn't that so weird? Elaborate a bit.
AF The speed at which things are going brings in that journalistic layer for me—I'm trying to find situations that have multiple issues going on. It's not just the dealer or just the art—it's the relationship between all of the elements.
AMH What have you been doing since the Art Fare series?
AF Well, I started and I'm still trying to get another series rolling about the dealers and their back rooms—the places that only big clients of big galleries get to see. I started with the Haines Gallery here in San Francisco.
AMH What about the auction houses?
AF That's another thing that I've thought about. I've never been to an auction. Have you?
AMH Yes, I think they're interesting. It's a little bit like a rave—it's just crazy. They are their own world. They have their own vibe—some people are physically there and others are bidding on the phones, so you can't see them. There is intensity and showmanship and I think there are interesting things there, photographically.
AF I have to take a look.
AMH Do you collect artwork yourself?
AF I have a couple of paintings and different objects and I have photography books and some prints. But I didn't know that much about the contemporary art world going into it. I've learned, and learning is interesting to me.
AMH What have you learned?
AF I think if you look at the pictures—
AMH (laughter) Yeah, I know. I was going to ask you what you feed on for inspiration? What do you look at or what do you do to help you think about what's coming next for you?
AF You know, I come from old-school media, so I still get two newspapers a day.
AMH You found the two that are still printing?
AF (laughter) Yes, The New York Times and the San Francisco Chronicle. I find stories in there. I realized that, when I was working for the business magazines, I used to read the business section because I wanted to know about these people so I could have conversations with these guys. I now notice that I don't read the business section anymore, I'm reading the art section. I'm just coming to understand what grabs me, which is what I think art is about—how individuals react to it, that it's instinctual and can be different for each person. You don't necessarily have to go with what the critics think, but it's interesting to learn what they have to say, too.
AMH I really respond to your work. I like that you didn't come at it from inside the art world but came from the outside looking in. It has freshness to it. There's irony in the work, but it's not terribly judgmental. It's taking it for what it is—whether it's the juxtaposition of the desks and the heads or the guardians and the pictures or the art world, who's there and what they're literally up against, in the art fairs.
AF It's interesting to see how my work is now becoming part of what art world people love to hate, the art market.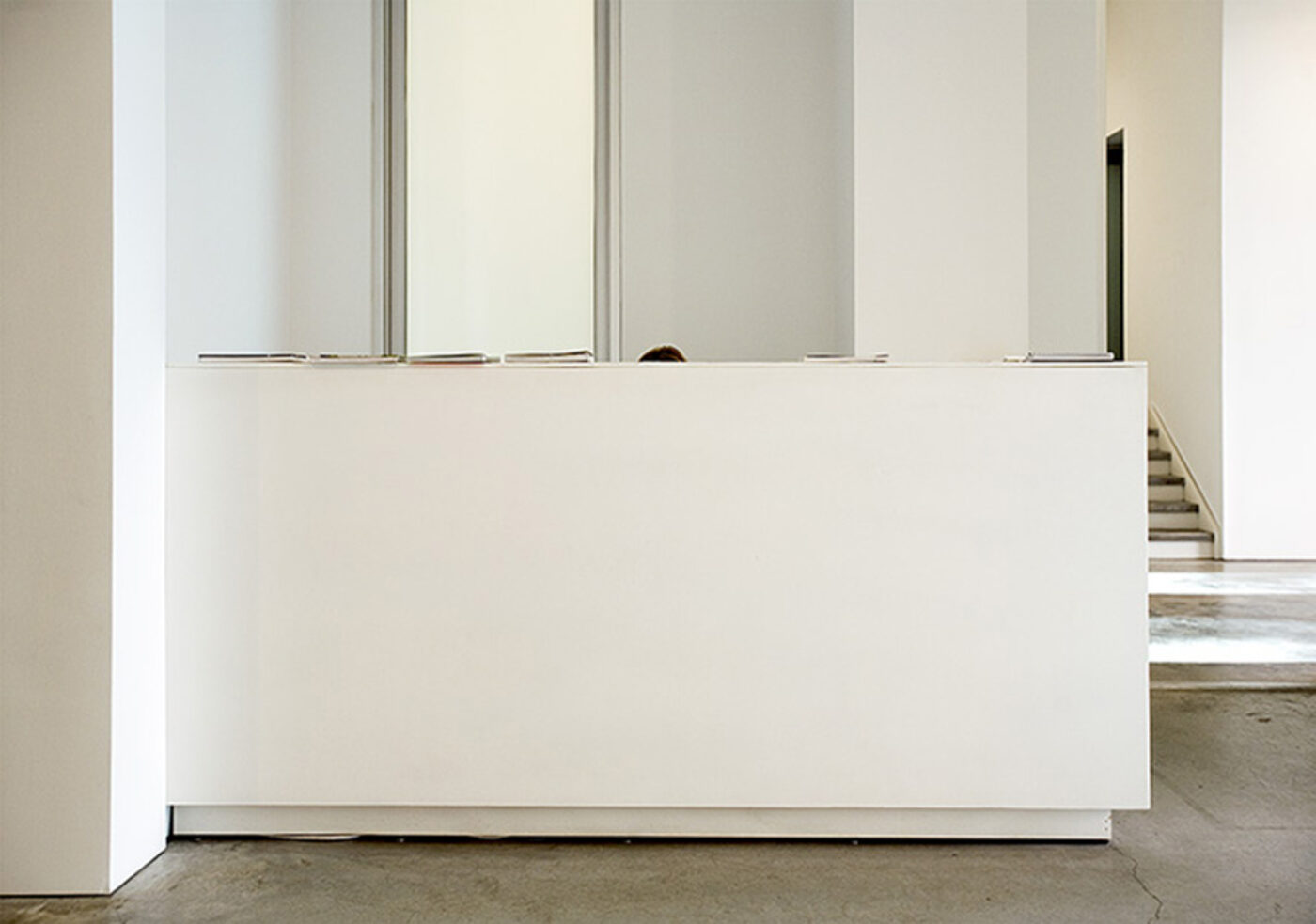 AMH When you first started going to Russia was it for fun or was it for work?
AF I had a girlfriend in Finland so it was an easy trip over there. I was drawn to it because at the time, during the Cold War, it was sort of forbidden to go to Russia and we only knew about it through the cartoon characters of the Reagan era. I do have Russian ancestry, although I'm third-generation American. It's a really interesting country because there is that great history of art and literature, and then you have this crazy political history.
AMH Do the Russians see you as one of their own?
AF Um, I don't think so. I don't speak Russian. So it's a little hard for me to evaluate how I am perceived. I think they see me as an American photographer. You know there's also the fact that I'm Jewish and although I'm not religious, it's a cultural thing for me. I was always a little bit wary. There's been persecution for a long time and there is still. I didn't want to say "Oh yeah, my ancestors were run out of Russia, back in the 1880s." When you're there and working on something you don't want to rock the boat too much.
AMH Of course. Do you have that feeling ever when you're in other places, like Basel or anywhere else? When I go to Berlin, I feel all of a sudden everything turns black-and-white and I hear this weird marching sound. I can't tell if it's just me or if other people feel the same.
AF I haven't been to Berlin but I remember going to Dachau as a teenager, and there was certainly that sense of unease. There was a stretch when I was working for a lot of German magazines, which meant dealing with the next generation in Germany.
AMH The generation that doesn't know what happened?
AF They know. I think there's an inherent guilt and trying to infiltrate that is interesting. I feel guilt sometimes when traveling and people ask about Reagan or Bush and I'd say I didn't vote for them. It's part of journalism—you have to get in there. I've been with many rich and famous people in the world, and in order to interact with them on a personal level you have to find some commonality. That's part of what goes into this work about galleries and fairs too. Who am I to be commenting on the high-end art world? They're all just people. There's a lot of showmanship and posturing in the art market. I want to take some of the air out of it but also not misrepresent it since it is a part of what's there. I like to have a little bit of fun with it without going over the line. I think I've been walking the line of being respectful but also conveying my opinion. I think it's easy with photography.
AMH Photographers, like the street photographers we talked about earlier, are not documentary photographers per se—while they're capturing what's happening on the street, there is clearly, for lack of a better word, a point of view to what they are doing. Traditionally, I think people have pretended that photography can't do that, that's it neutral, but we know it's not. There is a comment and a real sensibility to your work.
AF Yeah, I think my point of view is informed by my knowledge of other photography and understanding that when I frame something, I can see it. It's instinctive too, like, Okay I'm just going to take this angle, then the juxtaposition of the artwork and the person and where they're sitting—it's all about where you're positioned. Then the moment you take the shot is about expression and posture of the person. I'm not photographing anything that's not there.
AMH You're photographing what you're seeing. I've been at some of those same fairs, those same days and I haven't seen these things. It's interesting how your eye finds the repetitions or the on-going irony. It's not one ironic, funny thing—it's 15.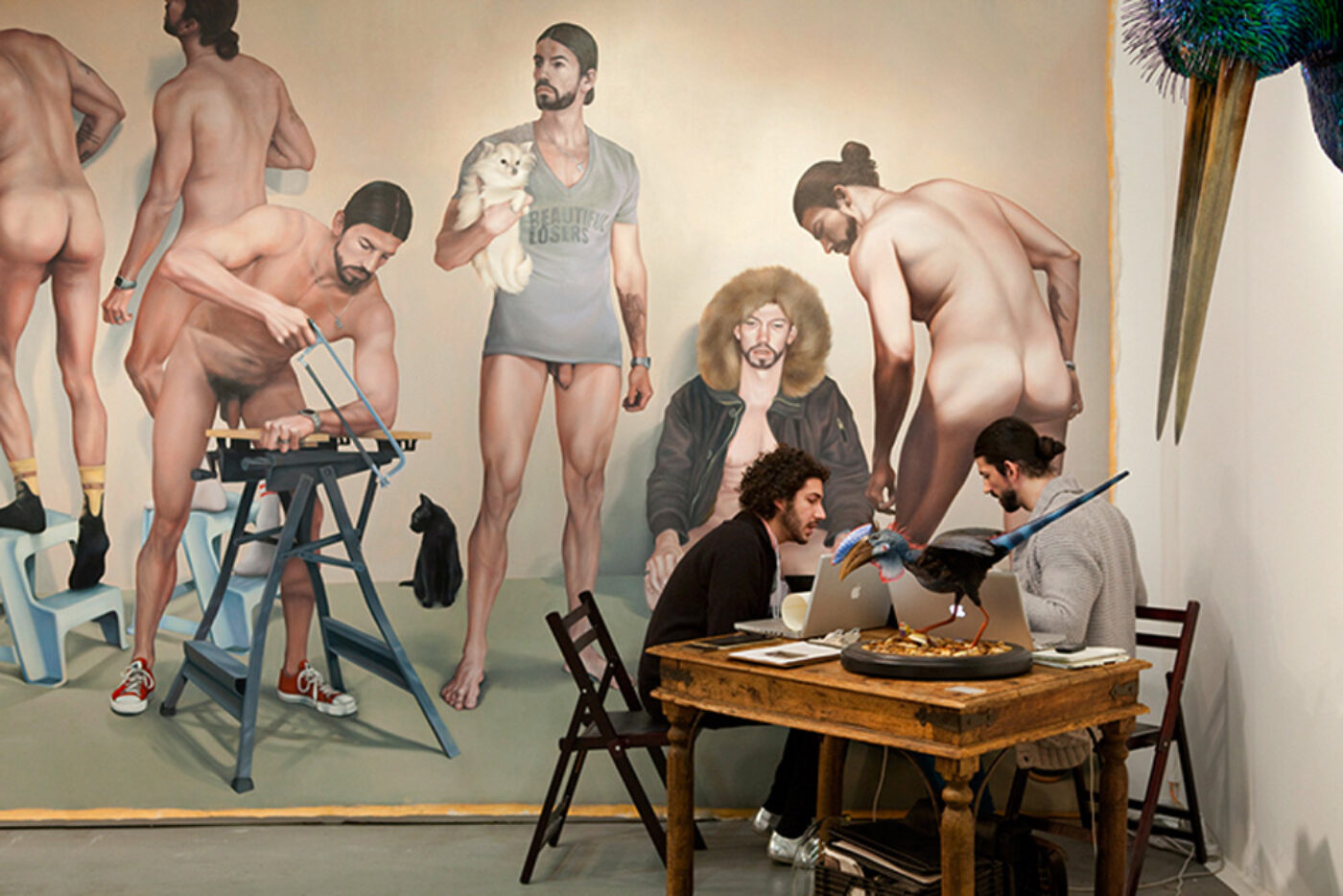 AF When you come across those moments you can just feel the adrenaline or the dopamine shooting through you. For instance, at one of the fairs, I came by the booth of Spinello Projects, which had works by this artist who paints himself naked larger than life-size, and there was a young woman sitting at the desk underneath. I was like, Oh my God! Look at this! Here are these giant naked guys and here's this young woman. She looked up and glared at me and I was like, Okay, a lost moment. When I came back around 15 minutes later I saw the artist sitting at the desk talking to his dealer, and they're face-to-face and he's sitting right under his own butt and my heart just started racing—I mean, this is just too good. (laughter) I never could have set this up because I would be too embarrassed to ask, "Would you sit there, please?"
It's about being ready for moments like that. I guess it's part of the street photography thing, Cartier-Bresson's "Decisive Moment"—that precise moment where things come together. It is about your eye being able to see and to look for those things. At the last fair I went to, I found it harder and harder to find those great images and that's when I felt, Okay I've done this and I can move on.
I've never read anything that really nails what it is that photographers do that goes beyond just instinct. I'm not telling myself, I'm going to go out there and look for a funny picture. Things come together on their own, and that's how I would see the world anyway if I didn't have the camera.
AMH It's good you have the camera. With some of the images you need that very quick reflex—when a person just happens to be there and in that particular position.
AF For some of the shots you have to work a little harder, but sometimes you are lucky and it's all there. For instance, with the Andrea Rosen booth, where the gallery worker wore this orange and yellow shirt, beautifully playing off the Wolfgang Tillmans piece behind her. I didn't have to do anything. That picture was just sitting right there for me.
AMH Do they ever say anything to you like, What did you just take a picture of?
AF Only a few times people got annoyed. One guy yelled at me (laughter). I can get a little sensitive—it's funny. There's a picture that Robert Frank took of an African-American guy in San Francisco where he's glaring at him. It's a pretty well-known picture, from The Americans. The guy was pissed off and Frank said that affected him because he's sensitive and that can upset your whole day. Yet you need that sensitivity or you wouldn't be able to take these pictures. There's times when people have yelled at me and it ruined my day or I have to stop working because somebody got really upset because they thought I was—
AMH —Stealing their soul?
AF Yeah, or just making them look bad. They get all nervous, but then you just have to tell yourself, Okay, well, this is what I have to do to make this happen.
You want to be a photographer? Stop being a wimp and get back to it.
A.M. Homes is the author of 10 books, most recently the novel May We Be Forgiven, which she discussed with artist Jane Fine on this website in 2012.