Discover MFA Programs in Art and Writing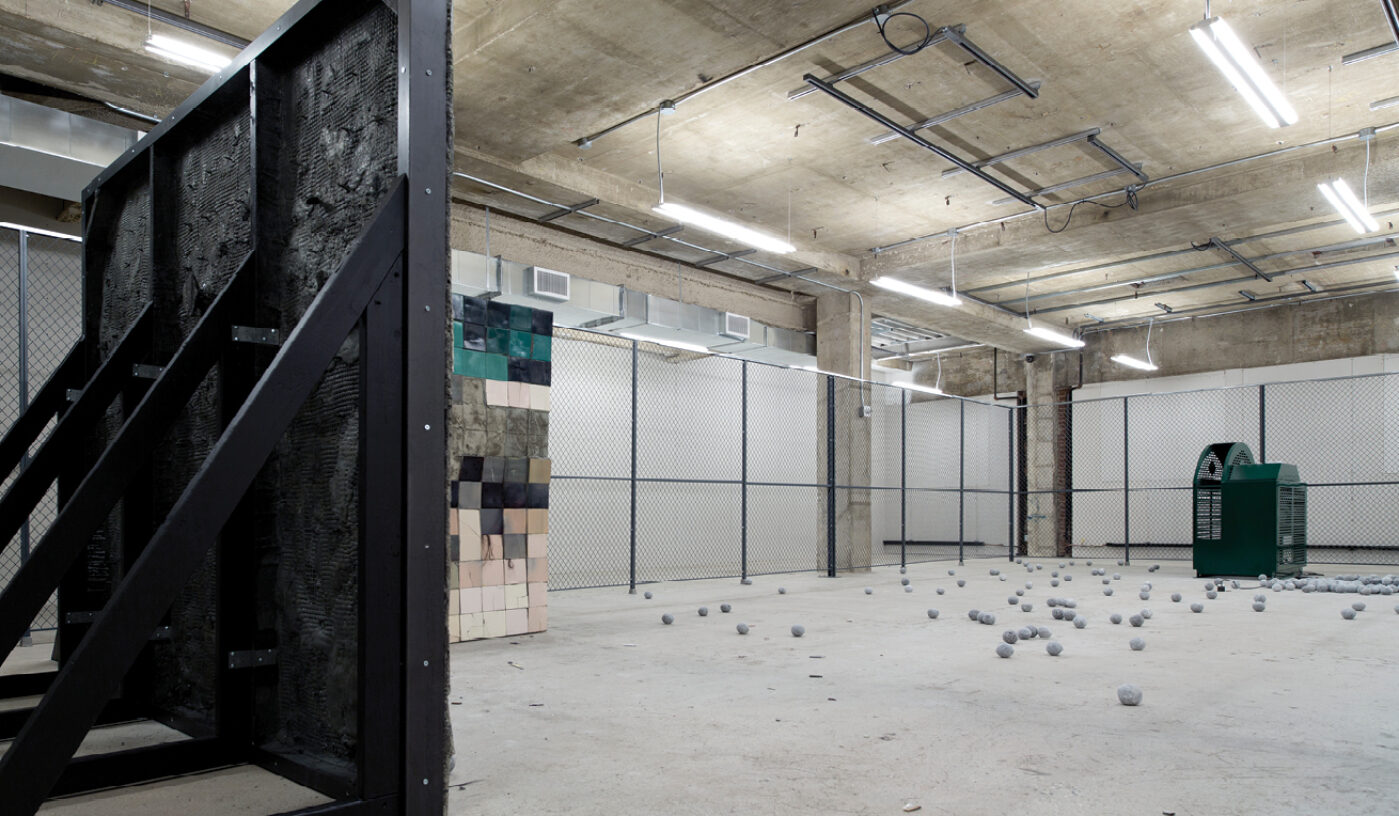 I first encountered Andra Ursuta's work at her show Solitary Fitness, at Venus Over Manhattan, in New York City, in 2013. Walking into the gallery, the first sensory experience I had was a loud, constant pounding. All I could glimpse was an iron fence surrounding a space inside of which stood a propped-up tiled wall and strewn about ball-shaped stones. At the far end, a batting-cage pitching device continuously hurled stones at the wall, slowly chipping away at its tiles and producing a thumping sound that echoed throughout the gallery. Viewers could only circle the piece's outer periphery. There were no figures inside the closed-off area, although hair seeped through the wall's tiles. What exactly were we meant to witness—an absurdly futile game or something brutal in nature? Stoner (2013) is the work's title, and it was inspired by the diabolical use of a crane in the hanging of an Iranian woman.
Ursuta's sources range from current social and political events, as well as personal memories; her work filters them through a contemporary lens and creates new narratives from them. Thanks to social media and the Internet, visual images of occurences anywhere in the world can circulate infinitely for all to witness. There seem to be no more secrets, and yet, how much of this overflowing information can we really process? We don't need to know the details of the political incidents Ursuta references to sense where the gravitas of the work lies—without having to be specific, it leads us back to something familiar, something shared. Call that collective memory. Somewhere in the outer edges of our consciousness, we associate the flesh-colored tiles being stoned by the machine with a violent event. By removing any overt references, Ursuta connects us to it purely through auditory and visual effects. We are only allowed to witness this in the way we observe most events, on the sidelines. We become the witnessing body.
For Scytheseeing, her exhibition on view at the Kölnischer Kunstverein in Germany this past summer, Ursuta recreated, in intricate detail, sparsely furnished spaces in her Romanian childhood home. Kitchen, Nutria Room, Pantry, and Sleeping Room are miniature replicas tenderly made of wood, metal, glass, fabric, and paint, all set on pedestals. These dioramas are also devoid of figures, and they invite the viewer to gaze into dollhouse-like sets that are at once macabre and playful. Their meaning is personal, yet they present us with objects we can relate to—a bed, a religious icon, a chair—all signifiers of home. Not everything in history has equal significance. Many events get crushed under the weight of others. But every occurence, no matter how relegated, is a link in the continuity of history, and Ursuta provides those bridges in her work.
Veronika Vogler is a New York-based artist and poet.
Originally published in
Featuring interviews with Moyra Davey, James Hoff, Claudia Rankine, Matthew Weinstein, Ben Lerner and Ariana Reines, Valeria Luiselli, Tyondai Braxton, and Nicole Cherubini.