Ancestor from the Future: Allison Akootchook Warden Interviewed by Katherine Brewer Ball
Iñupiaq futures, language, and the spaces between performance and installation. 

Discover MFA Programs in Art and Writing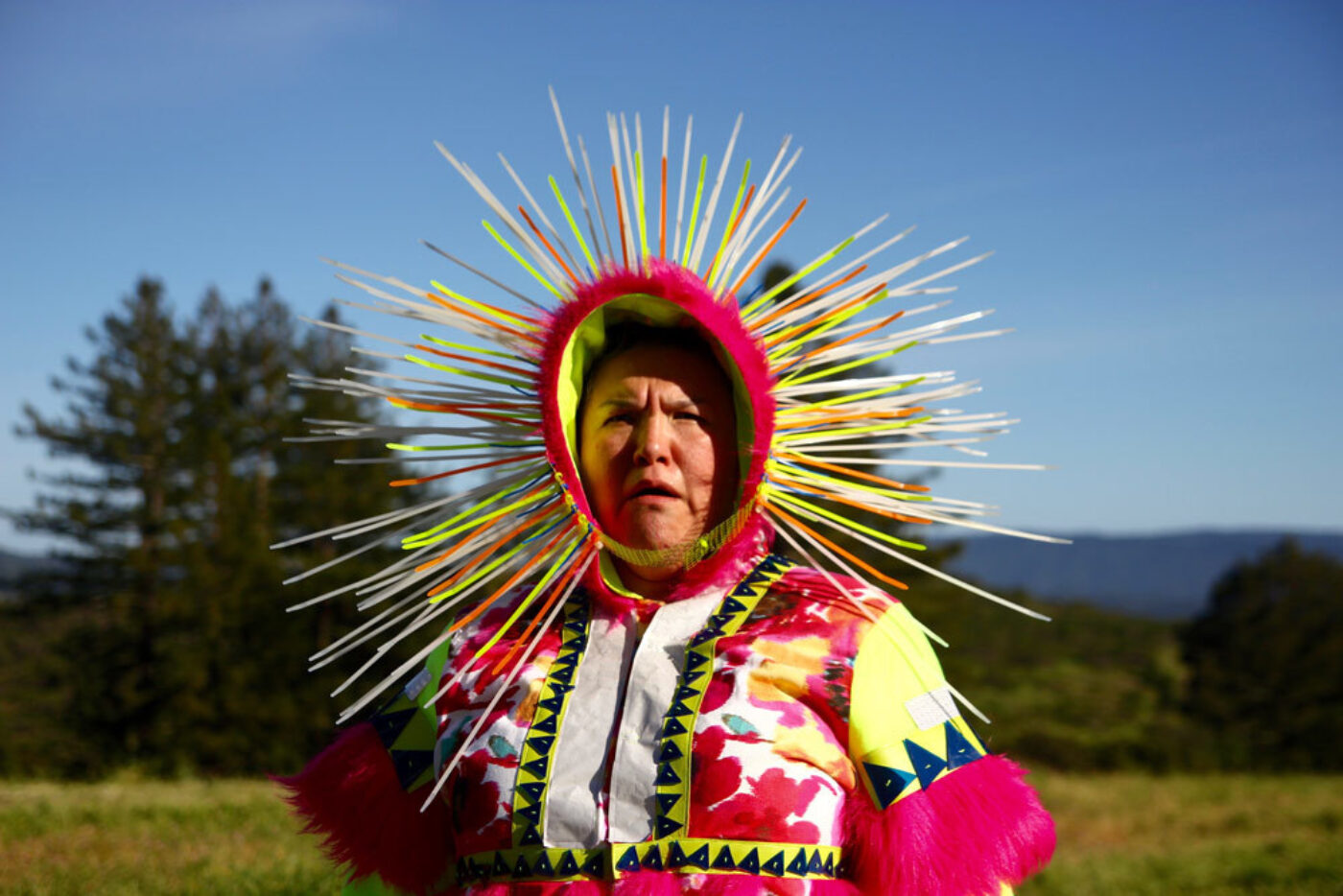 Allison Akootchook Warden is an Iñupiaq artist and tribal member of the Native Village of Kaktovik. Based in Anchorage, Alaska, Warden works across performance, installation, hip hop, and dance. When she raps, her rhymes might come from the perspective of a bowhead whale generously giving itself to the whaling captain's wife so the community can eat, or they might recount intergenerational colonial trauma in her mother's story of being adopted away from Utqiagvik (Barrow, AK). In her 2016 solo show Unipkaaġusiksuġuvik (the place of the future/ancient) at the Anchorage Museum, Warden created a qargi [community house] installation full of futuristic, indigenous, archival neon objects, photographs, and recordings. She spent over four hundred hours in the space performing, hosting, and organizing public conversations with invited Alaska Native artists. Warden's artistic approach is grounded in an Iñupiaq worldview and language, a knowledge system in which time is cyclical, and land and sea belong to future ancestors.
—Katherine Brewer Ball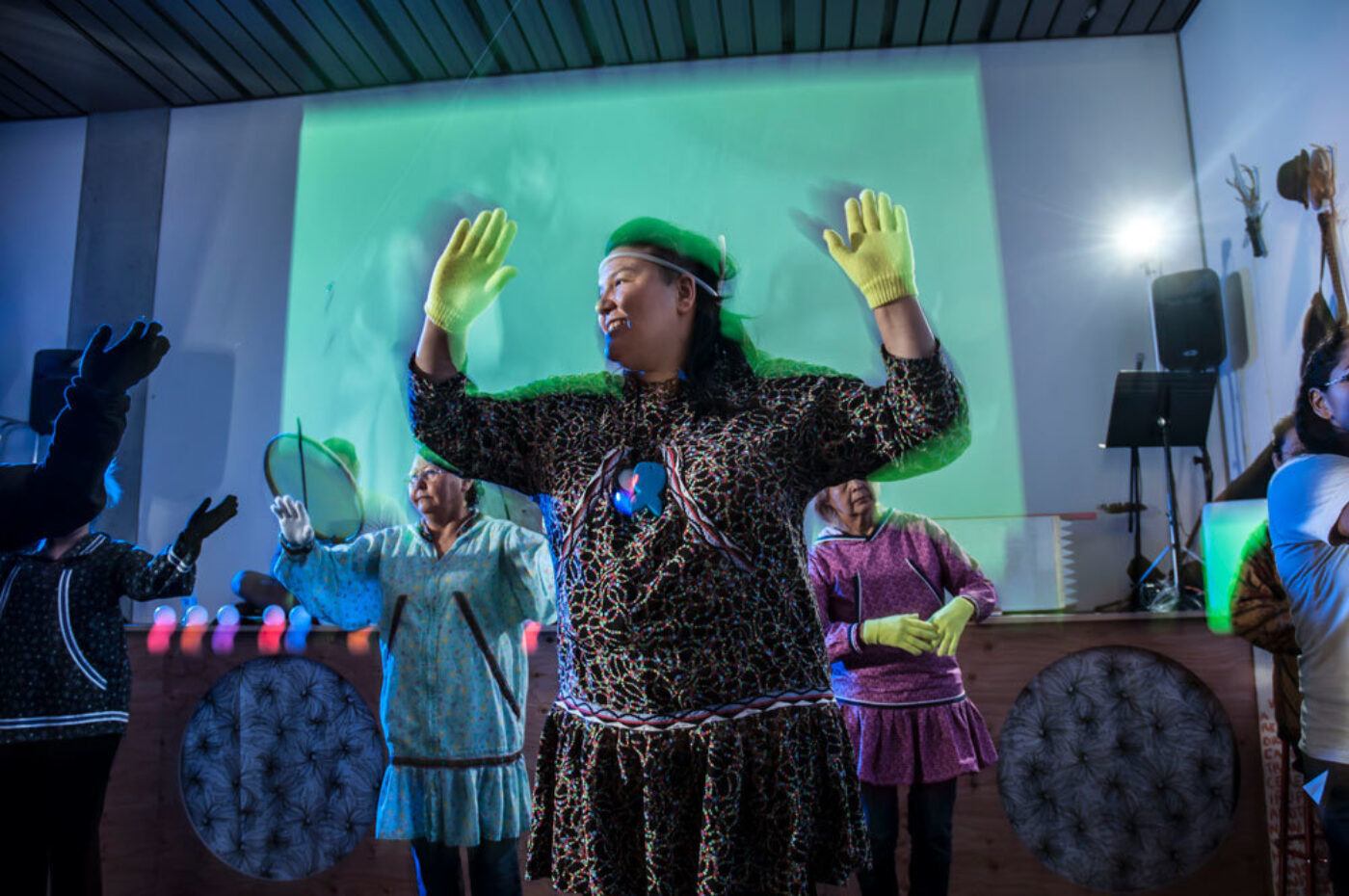 Katherine Brewer BallWhen did you first start making art?
Allison Akootchook WardenFrom a very young age I started looking toward the arts. I was a natural performer. My grandmother, my biological grandmom, was a performer too. And so I watched her entertain the crowd; they would tell me I was just like her and I had what she had. So I was encouraged at a young age. I was in a commercial and a play, and then I had piano lessons, and I drew a lot as a kid. I won an art contest as a little tiny being, in third grade or something. So I think the arts have always been with me. And I just turned forty-six, so it's been a while; it's been a journey.
KBBYou have said that your artistic genre is "Iḷuqavsi nakuuqsisitchi avanmun," which is Iñupiaq for "everybody heal yourselves." Could you say a bit more about genre? I know you've done a whole slew of different kinds of things.
AAWI see genres as different tools in my tool belt. I wouldn't want anyone to be limited to any one genre. I was trained in the theater. I say "trained," but I was just involved in the theater since I was sixteen. I performed in more traditional plays and even wrote a play of my own. Also my mom directed a choir when I was a little girl; she would record us with microphones hanging from the ceiling, make tapes, and send them to the radio station to broadcast. Once a year there would be a live show, and she would direct a play all in the Iñupiaq language.
Once I decided I wanted to pursue art full-time, I went to school for audio engineering, but I really wanted to do performance art. Of course, I had always privately been drawing and doing visual art. Later I felt like installation really could encapsulate what I wanted. So I started to learn these languages. Like social …
KBB—social practice?
AAWLike when the audience becomes your medium. Through my education I also realized that this cross-genre approach really does have a connection to my ancestry, to my bloodline and my traditional practices. I think a lot of indigenous artists are more interdisciplinary and more unabashed about it. It's easy for us to be fluid in many different ways, to see something and say, "Oh this is the tool I need for that problem … This is the tool I need for this … This is what I could do for that." I was raised in a traditional way and am learning my language. All of the genres are a way for me to express my Iñupiaq worldview to people and to share the knowledge that was shared with me. And so, whether it's through dance, or text, or little Twitter poems, or doing installation art, or performance, or having a sit-down theater production, or rapping, all are different vehicles to express the same truth. I don't see separation. But I can see how it's hard for funders, venues, or audiences sometimes to understand.
KBBI like this term Nicholas Galanin and Will Wilson use, "trans-customary," as a way of talking about indigenous interdisciplinary or cross-genre approaches as neither "traditional" nor "contemporary" but rather as something that moves through that false distinction, as customary.
AAWMy mom is an elder, and I talk to her about my work and ask her: "Is what I am doing traditional?" And she says, "Yes, it is traditional."
There's no break in the fabric of who we are, as if all of the sudden we stopped being traditional and became these contemporary people. We're the same people, we're just living in 2019. So of course I am going to use Twitter, but I'll shape it, I'll mold it to my Iñupiaq worldview. Fifty years ago it might have been a mask or a piece of wood, but it was the same. So within my own people, especially Iñupiaq, there's a really open-minded perception around these things. There are certain things that are not flexible, like the old ceremonies, where there's protocol and specificity. Especially around the whale and hunting there are specific protocols and ways of dealing with animals that remain unchanged. But this shouldn't stop us from making new ceremonies. Galanin was actually supposed to perform at the National Museum of the American Indian as part of Indian Agent, but because of the government shutdown it was canceled. He and I have had conversations around this too.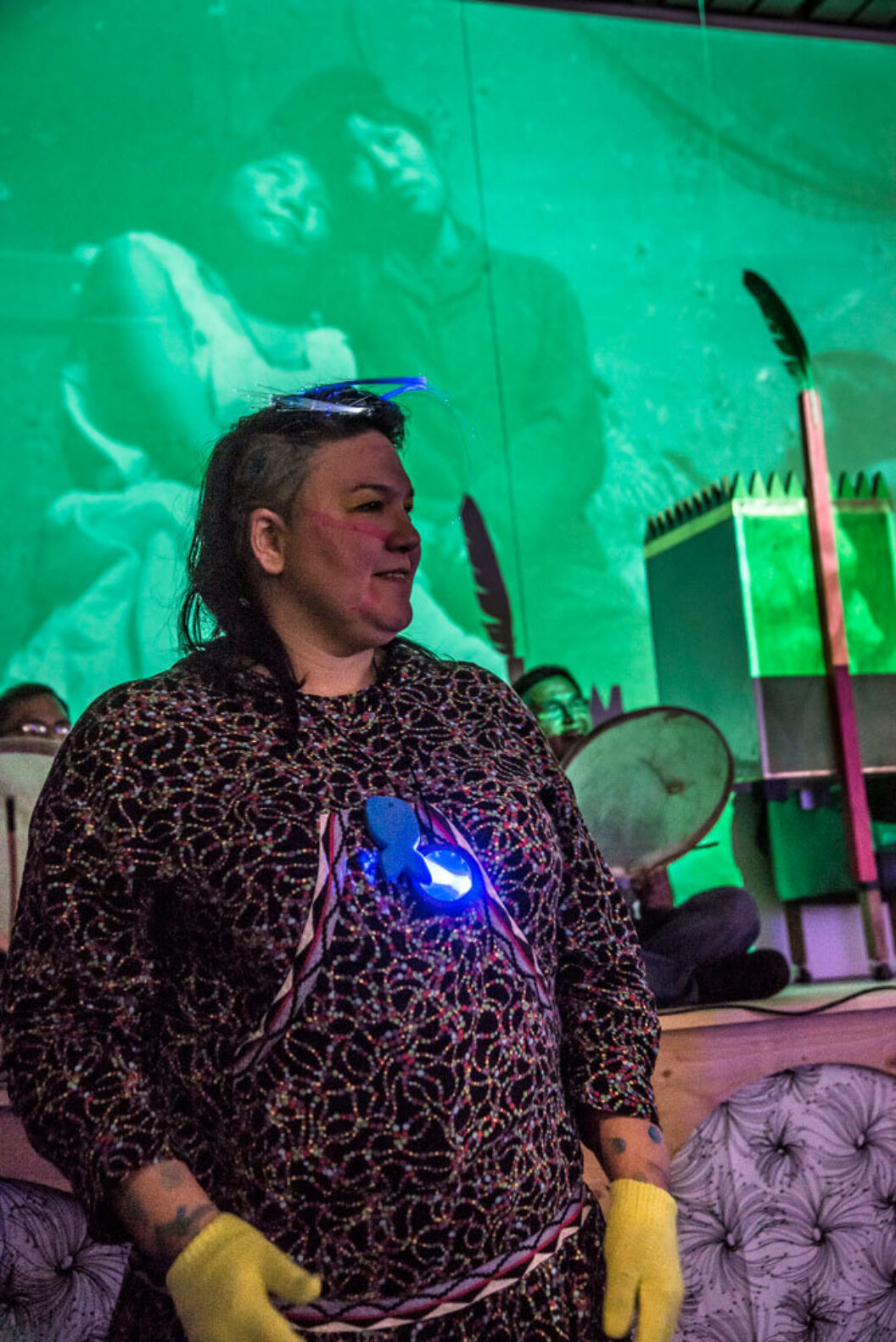 KBBI want to ask you about your 2016 durational performance and installation show at the Anchorage Museum of Art, Unipkaaġusiksuġuvik (the place of the future/ancient) and this idea of being an "ancestor from the future." I know part of your work is about revitalizing the Iñupiaq language, and I am wondering if you could talk a little bit about that.
AAWI am part of an Iñupiaq language apprenticeship, and I am not fluent in the language, but I grew up hearing it, so I am very good at speaking, reading, and singing it. There is so much wisdom in the language. So much of our worldview is the language, our Iñupiat way of seeing the world, and it doesn't translate into English.
For me, I was born Iñupiaq, so bringing the language forward is both a gift and a responsibility. I've been working with the linguist Dr. Edna Ahgeak MacLean and others, making it a commitment. I've also been striving to put more Iñupiaq language into my work. For the album I've been working on, about a third of it is in the Iñupiaq language. And I've been encouraging everyone to learn Iñupiaq, whoever they are, as long as it's not taxing an elder who's overworked. I've just been encouraging people who feel the call to learn a language to learn my language. It kind of feels like, "Make Everyone Iñupiaq!"—which is kind of an impossible task.
KBBMy mom was raised in Utqiagvik (Barrow, AK), so I actually grew up with a few Iñupiaq words: qimmiq [dog] , natichiq [seal] … and tiipak [prissy] was my favorite. She would call the annoying kids tiipak.
AAWHow long were you in Utqiagvik?
KBBMy mom grew up there. She's non-native but went to Bureau of Indian Affairs schools and moved down to Juneau for high school. My grandpa Max Brewer was a permafrost scientist; he ran the US Naval Arctic Research Laboratory where he worked with Iñupiaq elders Kenny Toovak, Harry Brower Sr., Pete Sovalik.
AAWTo us, when you live like that you become Iñupiaq. I mean, you don't become all the way, one hundred percent Iñupiaq, but you're ours; you're like us except maybe a little tiny bit. Once you've been hugged that hard, we never un-hug you. When we see you, we see you differently because of how you were raised.
KBBI like that.
AAWSo my goal is to become fluent. If we were having coffee right now, I would talk to you in Iñupiaq and translate myself. For non-Iñupiaq speakers, talking to me would take twice as long, but I want both to use my language and have people still understand me. I want to make this my new norm, and people will have to adjust. The language is the most important thing to bring forward.
KBBSo it's a way of prioritizing the Iñupiaq language and Iñupiaq-language speakers?
AAWYes, in my dreams I have ancestors who are encouraging me and talking to me, so I feel like it's my responsibility, and I love putting it in my art. Being an indigenous artist we have cultural responsibilities, and with that we have to take ideas that don't always mesh and make them sing together. And that's okay; it's a gift, but it is challenging.
KBBAnd you are performing on January 9 at Abrons Art Center in New York as part of Emily Johnson's ongoing project Kinstillatory Mappings in Light and Dark?
AAWI'm very excited about Emily's project and this gathering of indigenous performers. I think it's an important project, and she sacrificed a lot of her own artistic time to do this administrative work and connect people across the world. I really support her in that vision and am glad to be included. It feels very natural to be included in indigenous-led spaces, but I'll be performing twice at the Association of Performing Arts Professionals, which is not an indigenous-led space, which usually requires a lot of education, misconceptions that need to be addressed—there's just a lot of layers that you have to sort through to be seen. It's more the presenters and helping them to understand. I think there's a lot of fear around working with indigenous performers, so there's a lot of work that needs to be done on the side of presenters, and it feels heavy. But I'm excited and I am really thankful to be part of the Western Arts Alliance's Native Launch Pad program. It's their first time doing it, so we're just trying to get our feet on the ground and figure it out together. We've been having those conversations that should have happened twenty, thirty years ago. We just have to be super patient.
KBBSo, what's next for your new Iḷuqavsi nakuuqsisitchi avanmun genre?
AAWI want to develop that piece, everybody heal yourselves, for non-installation where people are sitting in their seats in an audience. I haven't done that kind of work in a while. I am also writing a novel that takes place in New York and working on my albums. I chose hip hop because my Iñupiaq young people are listening to it, so I wanted to put our voice out there too. It's different because I rap as animals and use a lot of performance-art techniques and humor. People tend to think hip hop or rap lives in a very specific box, but it actually branches out into more areas. Social practice? I like that word. It's interesting to try to do everything all at once, to live omni-directionally.
KBBRight, and that's why you are inventing and naming a new genre.
AAWYeah, which will always be a really long Iñupiaq word. That's what I love about the language, it's fun.
Allison Akootchook Warden is performing on January 9 with Dåkot-ta alcantara-camacho and Thomas E.S. Kelly in the Abrons Art Center courtyard as part of Kinstillatory Mappings in Light and Dark (curated by Emily Johnson), and the indigenous-led First Nations Dialogue Lenapehoking/New York.
Katherine Brewer Ball is a writer based in Brooklyn. She teaches Performance Studies at Wesleyan University and is currently at work on a book project that traces contemporary black, latinx, and queer performances that break from the language of freedom to theorize escape. Brewer Ball curates performance and art events, including the New York City performance salon Adult Contemporary.