An Unavoidable Gaze: Amy Sherald: "the heart of the matter…" Reviewed by Re'al Christian
Portraits that capture the everyday.

Discover MFA Programs in Art and Writing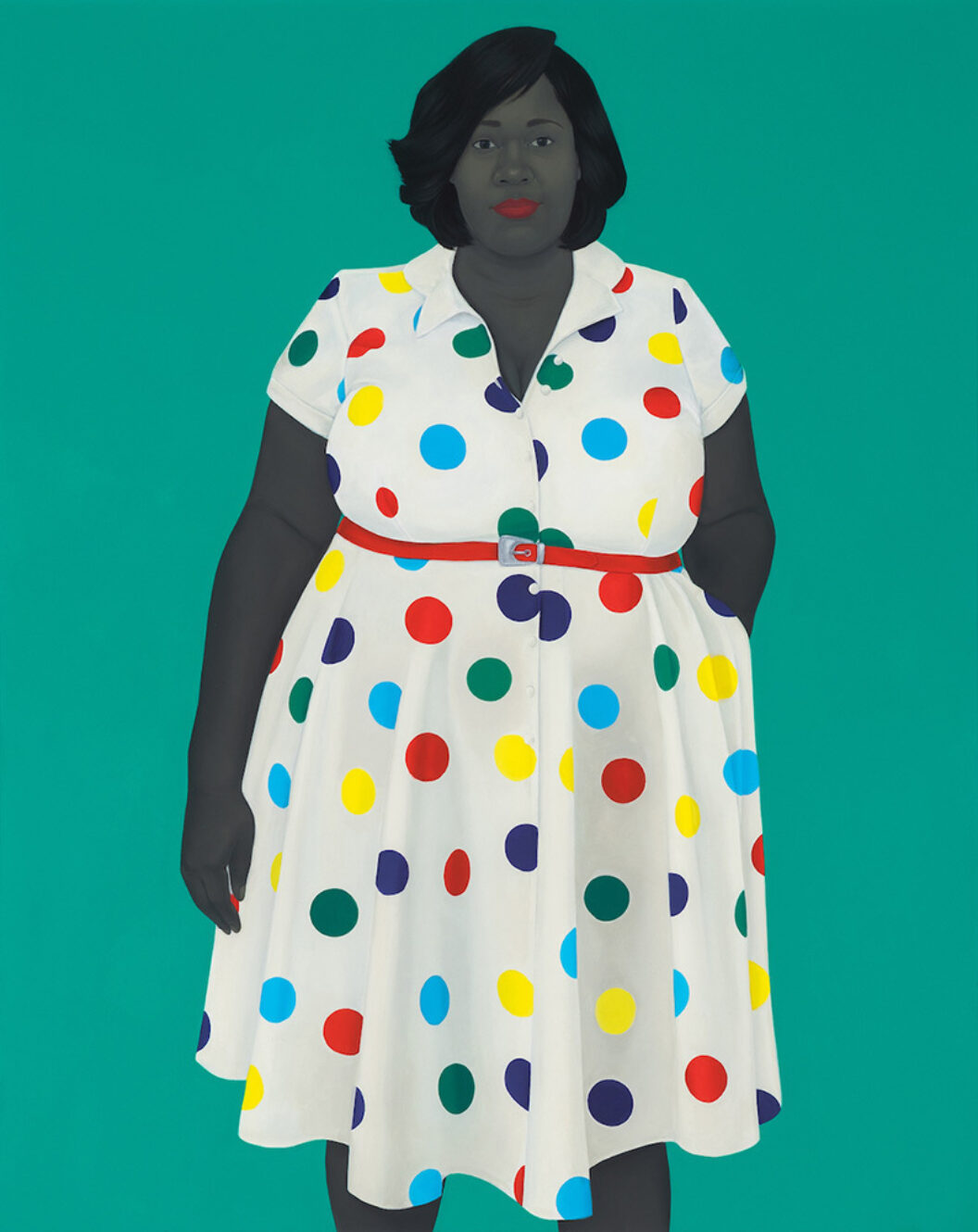 Since the unveiling of her portrait of former First Lady Michelle Obama in February 2018, Amy Sherald has not been far from public attention. Her exhibition "the heart of the matter…" at Hauser & Wirth is her first since joining the gallery's roster. Eight new paintings, all but one from this year, are included in the exhibition, which takes its title from the first chapter of bell hooks's pivotal book, Salvation: Black People and Love (2001).
Few artists working today emphasize the figure in the way Sherald does. She pushes her subjects to the forefront by eliminating other compositional elements, seemingly dismissing the latter as visual noise. The stoic frontality of her subjects echoes the aesthetic of classic portrait photography, which is one of the many ways in which Sherald references art-making traditions to subvert the art-history canon. In the candy-colored glow of her canvases, stripped of most context, the viewer is forced to engage with each subject's captivating, unavoidable gaze. The variation in their expressions is almost imperceptible, leaving room for viewers to project their own interpretations of the subject's feeling and identity.
Six of the paintings on view are characteristic of Sherald's work. They feature three-quarter-length portraits of beautiful, youngish, impeccably dressed, and naturally coifed African Americans, each rendered with gray skin and thrown against a brightly colored background. The other two paintings are monumental, incorporating more complex compositions and scenic details that place them in vaguely narrative environments.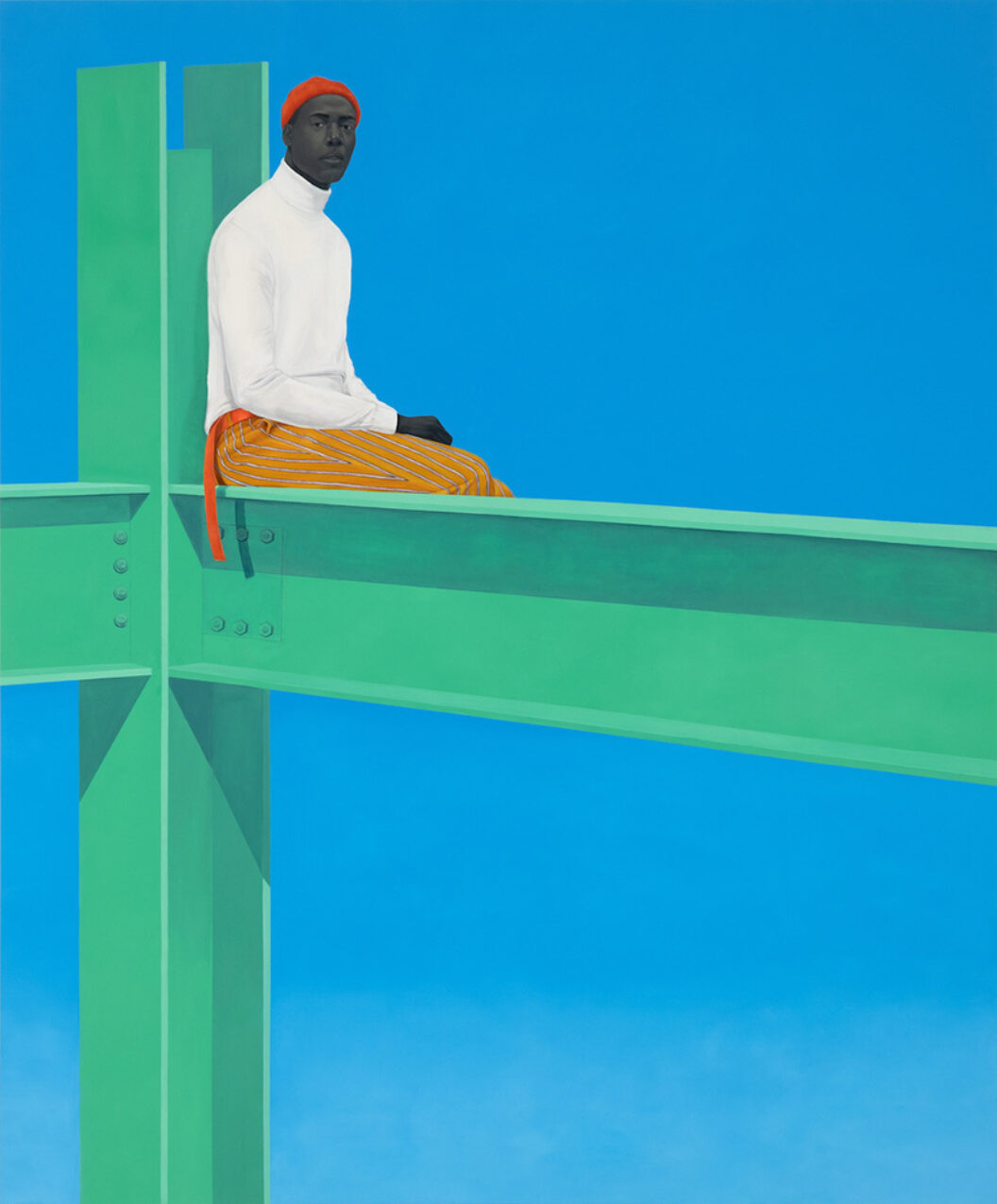 One of the large-scale paintings, If you surrendered to the air, you could ride it (2019), draws its title from another literary source, Toni Morrison's novel Song of Solomon (1977). It portrays a young man sitting on scaffolding, his crisp, white turtleneck and vividly colored pants, hat, and belt vibrating against the sky-blue backdrop. He looks out at the viewer, composed and at ease in his seemingly precarious position on the shallow beam. The painting was inspired by Charles C. Ebbets's well-known photographs of iron workers building New York City skyscrapers. As Sherald observes in an interview posted on Hauser & Wirth's website, photography, especially for black Americans in the nineteenth century, "gave people who once had no control over the proliferation of their own image the ability to become authors of their own narrative."
The smaller paintings are all the same size, with slightly larger-than-life figures looking down at the viewer. With saturated palettes and sumptuous yet simplified clothing and bold prints, the tactility of paintings such as Handsome (2019) and The girl next door (2019) is significantly diluted in digital reproductions of Sherald's work, thereby diminishing the delicate details and subtle tonality of her technique. Ultimately, the work begs to be seen in person. There is no false naiveté to Sherald's handling of paint; she, just like her subjects, compels viewers to look closer.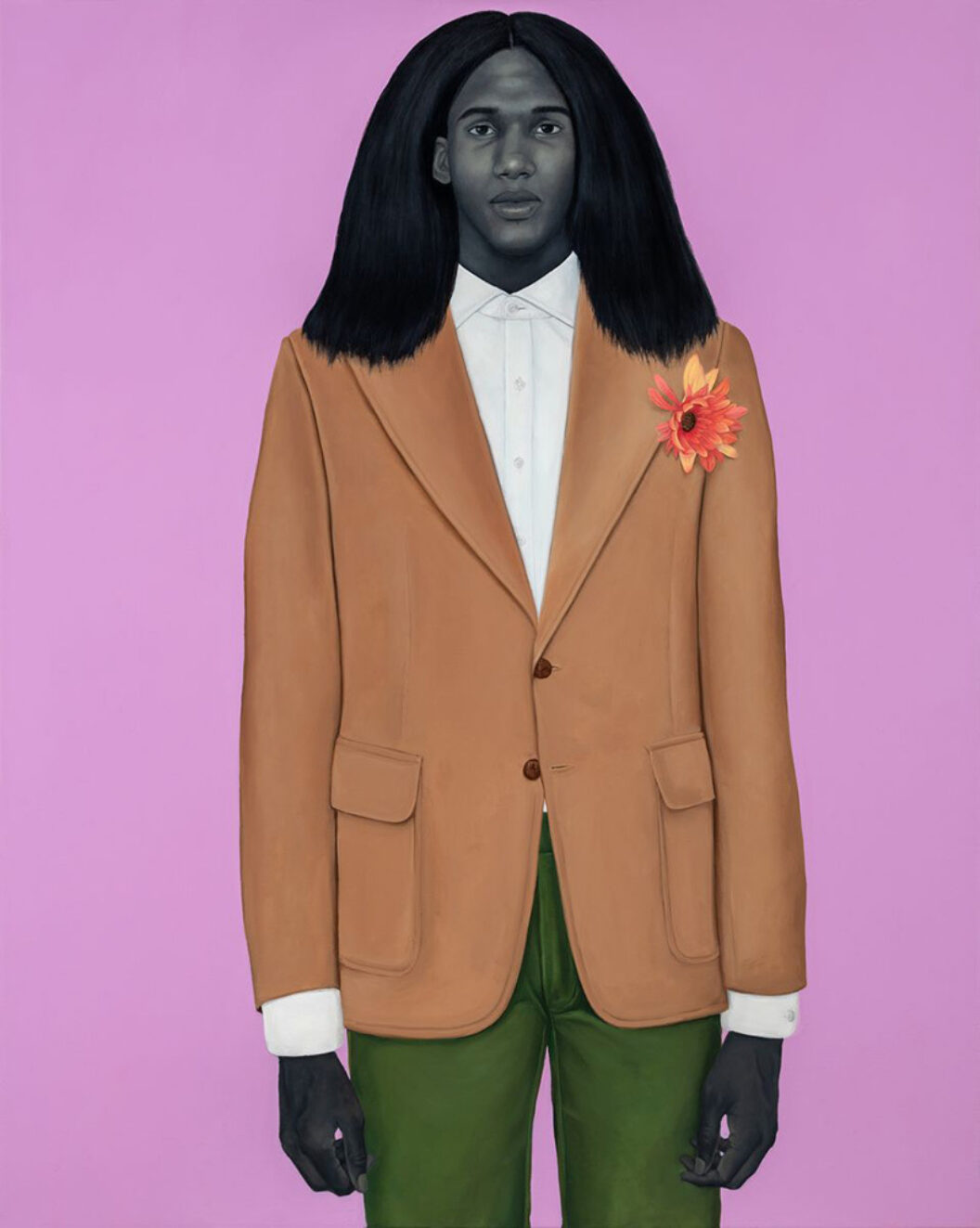 Putting aside seductive hues and sleek figures, the deceptive banality of Sherald's work is what makes it exceptional. What she does so well, and perhaps why her work is so resonant, is to present black Americans removed from the burden and context of racial prejudice. She depicts, according to a 2016 interview with the National Endowment for the Arts, "Americans doing everyday American things." These are images that seem somehow both nostalgic and separated from our lived experience. She represents black identity for what it is, not what it's thought to be, a sentiment captured in the title of her painting When I let go of what I am, I become what I might be (Self-imagined atlas) (2018), from a quote by the ancient Chinese philosopher Laozi. The central figure—a young man in an ochre blazer, dark green pants, brilliant white shirt, and boutonnière—gazes intently at the viewer. His expression seems somber, though the frazzled orange daisy in his lapel, his long, flowing hair, and the lilac backdrop might suggest otherwise. He, like all of Sherald's subjects, doesn't give too much away, but demands to be seen.
The subtle profundity of her work is that these black bodies do not need to be blatantly politicized or radical to call our attention. As regular people with interior lives, they have the agency to simply exist.
Amy Sherald: "the heart of the matter…" is on view at Hauser & Wirth in New York City until October 26.
Re'al Christian is an independent writer and art historian based in New York City. Her writing has appeared in Art in America, Art Papers, Art in Print, and the Studio Museum of Harlem's Studio magazine. She is an MA candidate in Art History and Curatorial Studies at Hunter College, and she earned her bachelor's degree in Art History and Media Studies at New York University.