Creating family and language through dance.

Discover MFA Programs in Art and Writing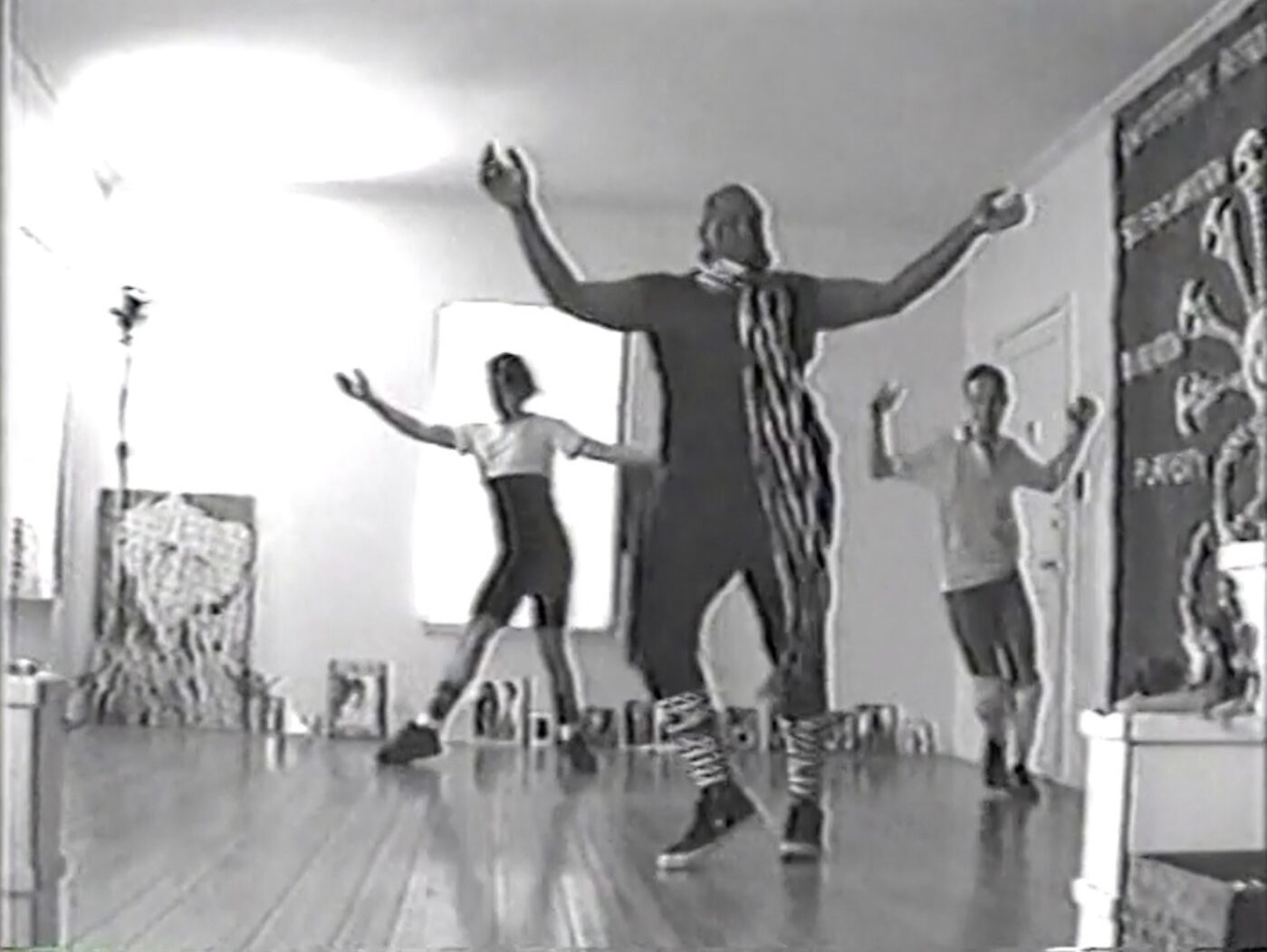 Vaginal Davis is the mother we don't deserve. In her first solo exhibition in Portland, OR, Davis has utilized the storefront space at Adams and Ollman to produce a tender and charming insight into the histories of dance, the familial dynamics of forming a "company," and opportunities for communal love and joy as a resistance tactic against other forms of instability. The exhibition, titled An Invitation to Dance, is a concatenation of inventive paintings, wall drawings, and an over two-decade old video. The "no-budget" Voodoo Williamson: The Dona of Dance, anchors a gesture of maternal care in the beauty of feminine imagination and the accidental politics that accompany it.
Made in 1995, Voodoo Williamson, is a seventeen-minute performance on VHS featuring Davis (as Voodoo) introducing the dancers in her "extemporaneous contemporary dance" company of Lynwood, CA. The dancers—Davis's friends, collaborators, and "children"—have been recruited to train in the art of dance as a collective mechanism for combatting the various environmental uncertainties they each face. With a humor that can only be manifested by an extreme amount of grace and ingenuity, Voodoo anecdotally reveals several manner of emotional and financial struggles within the familial unit of the company, from houselessness to drug addiction. Each dancer is briefly interviewed and encouraged to explain how the "thrillisity" of dance has catalyzed hope in the everyday workings of being and surviving. One company dancer makes mention early in the video that dance (and specifically Voodoo's dance company) has provided "some place to get up and go."
Throughout Voodoo Williamson, Davis's keen attention to maternal gesture is most prevalent in her tenacious desire to teach. The company employs its own playfully critical vocabulary, animated by Davis, to articulate its mode of working and the stakes behind it. Davis enthusiastically explains the "purpisity" of dance (its purpose and value) as being both a structured outlet for enacting queerness as well as a readymade container for familial interaction and support. Davis exclaims "Purpisity Propels!" with a vigor that catapults the phrase into consideration for the company's mantra. She also proposes a thoughtful examination of "higher modes" of makership through the phrase "uncooperative reproduction." The term is stitched into a banner hanging on the wall of the dancers' practice space (which was also Davis's apartment at the time). Here, she positions music, dance, and art as defiant alternatives to the types of production to which racialized and queered bodies are often subject.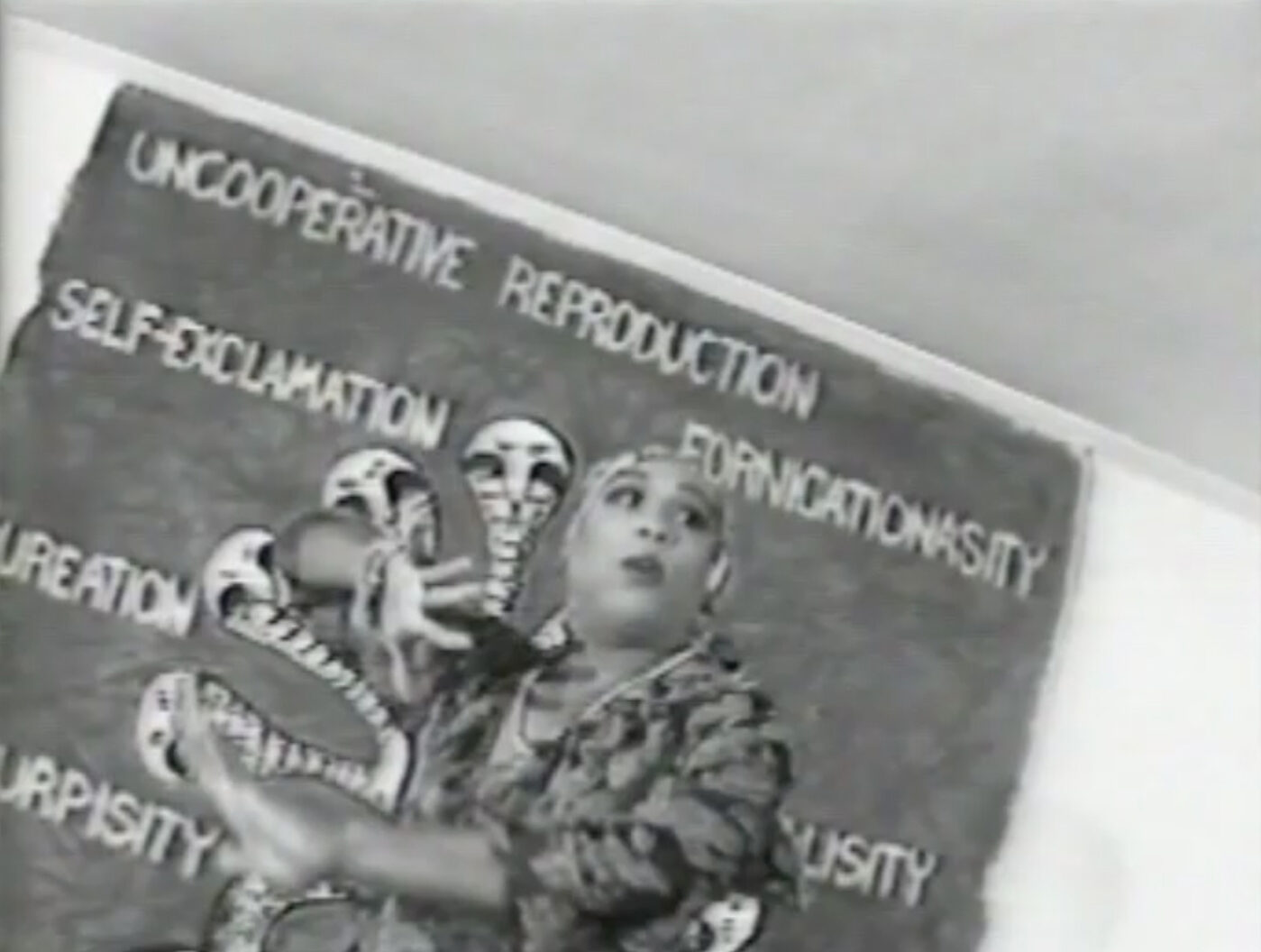 Davis's mentorship extends beyond her subversive jabs at the language of self-help and Eurocentric dance terminology. Her work as Voodoo is also a bodily proposal for other ways to inhabit space in the face of insecurity and volatility. The video is peppered with charmingly awkward exercises of sensuality, tenderness, and rhythm. The company, in their informal studies of ballet, hip-hop, and ballroom techniques, find solace and joy in the music of dance club artist Shannon. They bicker over the appropriate music to move them in faux-dramatic confrontations that prefigure the styling of reality television, but are more pointedly meant for a laugh.
An Invitation to Dance overspills the temporal frame of Voodoo Williamson to present several current interventions in the space of Adams and Ollman. The gallery, whose empty center is like an invitation to dance itself, is also home to a selection of Davis's recent works on found paper and site-specific wall illustrations.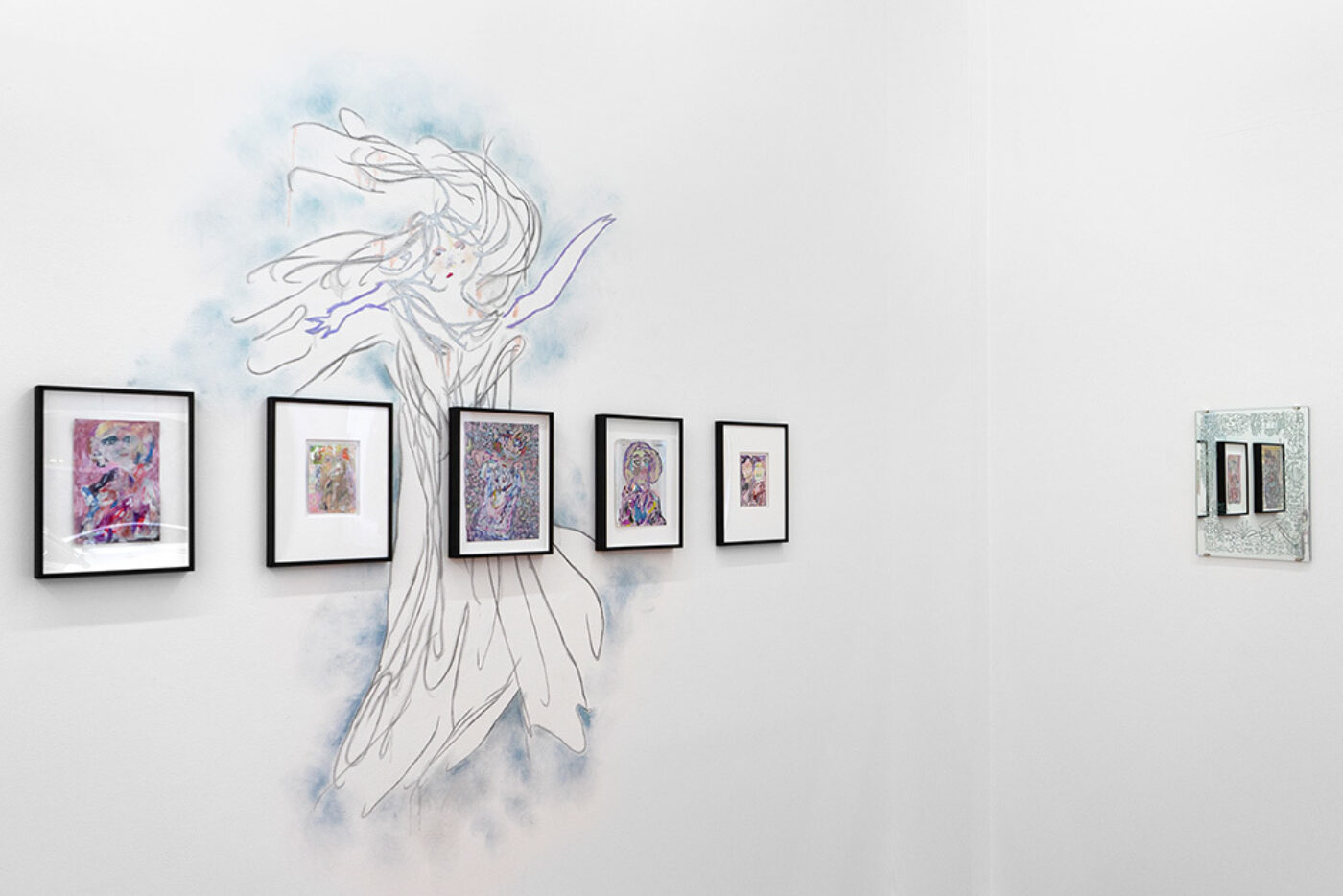 Named for notable women throughout the history of dance, the framed works that occupy the gallery walls are loosely rendered interpretations of Maya Deren, Jane Avril, Mary Wigmans, and Misty Copeland, among eight others. Davis's chosen media is anchored in graphite, but delightfully departs into dexterous application of eye shadow, rouge, coconut oil, and nail lacquer. A few are accompanied by larger drawings made directly on the gallery walls, providing a fairy-like sense of galloping and spinning between works. An Invitation to Dance at moments is less a modest invitation than rigorous coaxing. Davis has scribbled the term "Choreatium" above the doorframe, a winsome designation of the space as one of dynamism and buoyancy (with the name borrowed from the Léonide Massine ballet). The title is a nod to Davis's own dance teacher, "Miss Denise," who danced in the production in her youth. The sparseness of the Adams and Ollman installation, alongside that of the company studio in Voodoo Williamson, are earnest propositions for the pregnant moments before beginning anew and the inventive utility of working with less. A void—of possessions, roots, the accoutrements of heteronormativity—can also be acknowledged as the potential for otherwise.
Davis's "breasts are full with the milk of the dance." She says as much in her performance of Voodoo's philosophies. Her energy, multiplied and split between her children, is used to feed an imagination for what this mode of work can engender. An Invitation to Dance is the nourishment required to imagine new structures for communal care and networks of feminized labor.
Vaginal Davis: An Invitation to the Dance is on view at Adams and Ollman in Portland, OR, until October 20.
Ashley Stull Meyers is a writer, editor, and curator. She has curated exhibitions and public programming for a diverse set of arts institutions along the West Coast, including those in San Francisco, Oakland, Seattle, and Portland, OR. She has been in academic residency at the Bemis Center for Contemporary Art (Omaha) and the Banff Centre (Banff, Alberta). She is currently Northwest Editor for Art Practical and has contributed writing to BOMB Magazine, Rhizome, Arts.Black, and SFAQ/NYAQ. In 2017, Stull Meyers was named Director and Curator of The Art Gym and Belluschi Pavilion. She is based in Portland, OR.