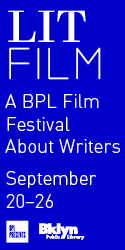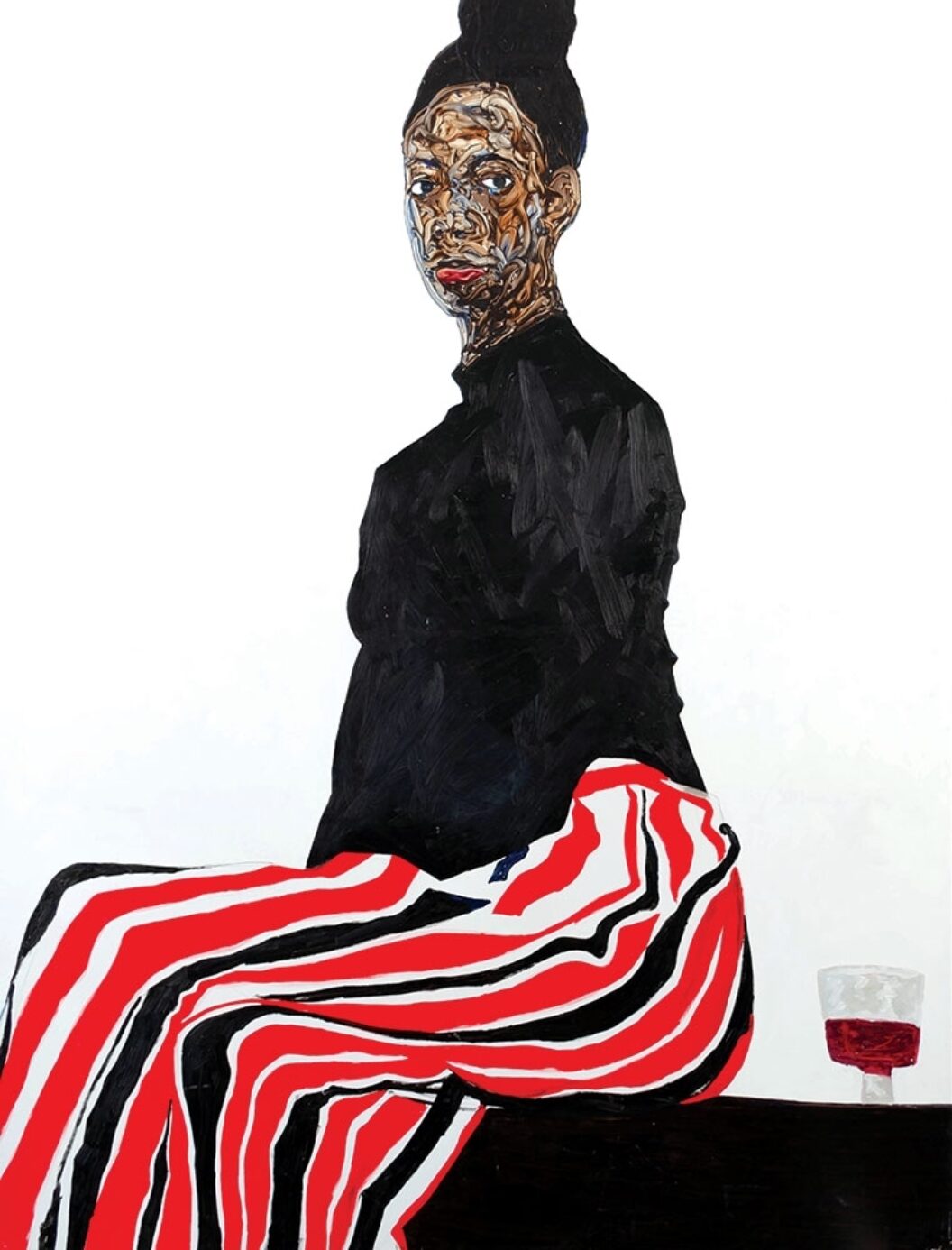 It's been one and a half months that I am back from Accra. Amoako Boafo, a longtime friend and collaborator and—above all—an outstanding painter who has been attracting a lot of attention in the last two years, is one of the reasons I can continue my research in the city. I got to know Amoako through a close friend—somehow, we black art students at the Academy of Fine Arts Vienna just happen to come across each other quite quickly… Soon after, I saw the first paintings he did in Vienna. Painted on reused cardboard, declinations of German verbs splattered across the image, centering a portrait of a black subject—himself—strikingly set apart from a monochrome background.
Here was someone determined to communicate his fate unapologetically. And every day, he followed the same routine: Preparing a new canvas for the next painting. Photographing and sketching. Continuing to work on what he had started the day before.
It's 2020. Ghana is also experiencing a lockdown due to COVID-19. I am back in Vienna; Amoako Boafo is in Accra. His trips to Los Angeles, Chicago, and London have been canceled. The overall pace has slowed down, at least for some of us. The last two years for Amoako have been a lot of traveling, even more exhibitions and art prizes. He is represented by Mariane Ibrahim Gallery in Chicago and Roberts Projects in Los Angeles. His works can be found in private and public collections and institutions, such as the Albertina and Rubell Museums. Some people consider his success the result of a whirlwind career, but the ones around him know better. When I call to record this conversation via Skype, I am not surprised to find him in the studio. He is busy sketching as usual.
—Belinda Kazeem-Kamiński
Belinda Kazeem-Kamiński I just came back to Vienna from seeing you in Accra last week. I really enjoyed the city, and it was very nice to meet you there. How are you doing these days?
Amoako Boafo Well, we all know about COVID. Accra is not suffering like other countries, but we have a few cases, so we are starting to see restrictions.
BKK What does being at home feel like?
AB It's a mixture of childhood memories, coming back and seeing friends. It's a place where I can be supportive and I can work at the same time. It's a safe zone for me.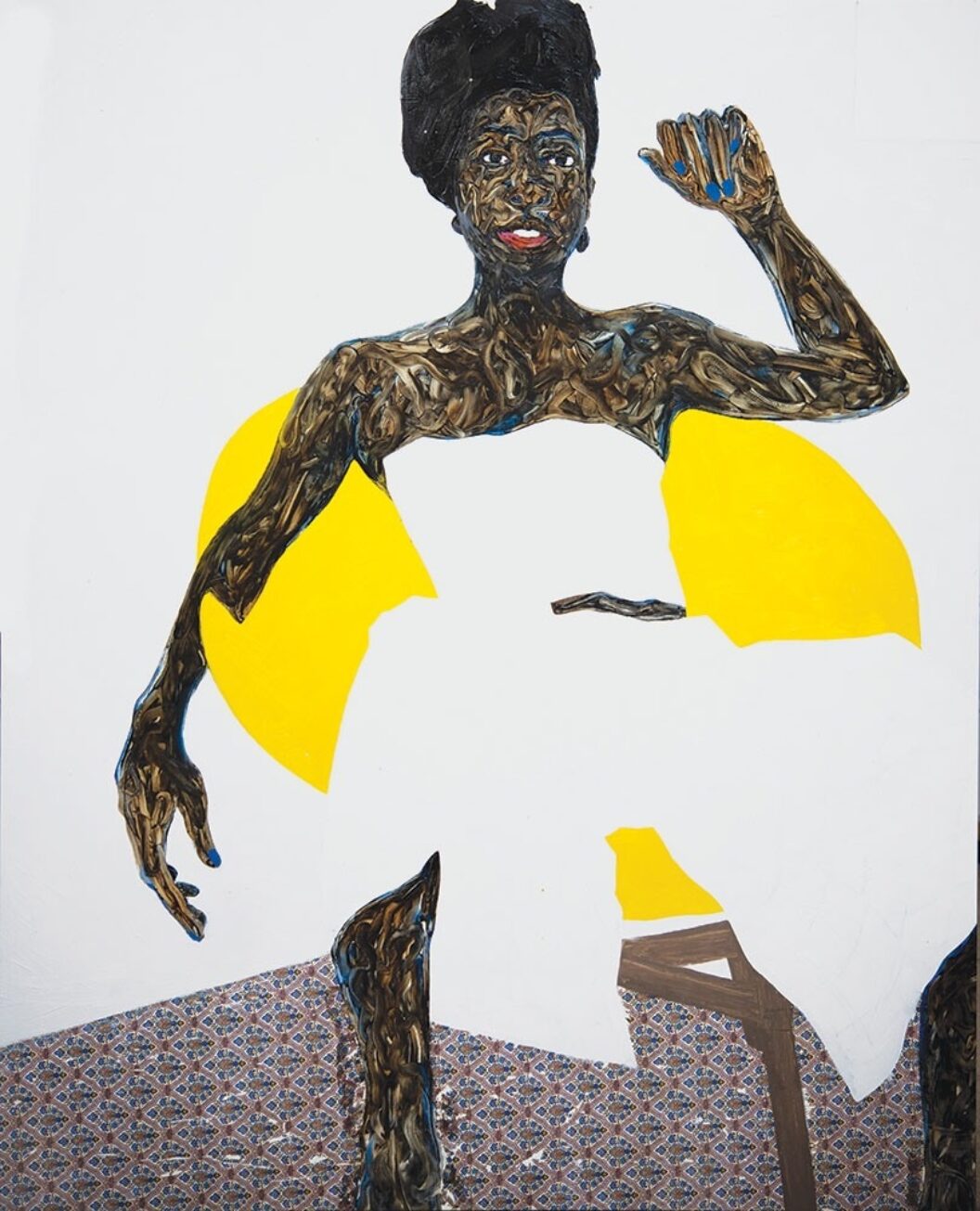 BKK I'm struggling a bit with coming back to Vienna. Accra and Vienna are very different cities, from the way people navigate the streets to the lights and the food. As someone who has been going through this transfer on a regular basis in the last years, where do you see the main differences?
AB If I'm preparing for an exhibition and need full concentration, I prefer Vienna.
BKK Why?
AB Because I have more privacy there. In Accra, everyone can go in and out of every house. So there's not that much privacy. It's the way the community functions—everybody knows everyone's whereabouts. Plus, in Vienna, I'm not that active in sports.
BKK Ah, you play tennis, right?
AB Yeah. In Accra, I don't even have to make an effort; people just come to pick me up to go play tennis or football or go running.
BKK What do you miss about Accra when you are in Vienna, and the other way around?
AB Well, I mean, I like being in Vienna and having all the privacy, but then of course I don't get the great food, the fresh fruits, and the friendships I have in Accra.
BKK I can relate to that, even from the short time that I was there—mangoes or bananas in Vienna just don't taste as good. Is there a part of Accra that you go to if you just want to stroll around the streets?
AB That would be the beaches, like Labadi, for example. Taking a walk there can give you a break from the busy Accra-ness. In Vienna, I like to just stay indoors and focus on my work, and try to not get myself into any kind of trouble.
BKK What do you mean?
AB Well, it's a different space and language, I don't know my way around as I do in Accra and most times trouble just finds you. I haven't really explored Vienna the same way as Accra.
BKK But what do you mean by trouble?
AB Having to be controlled in front of everyone. I like to stay away from that kind of humiliation. There is a way in which I have to consistently compose myself as a black male to make sure I am not making anyone else uncomfortable. That I hate, since in a lot of those public spaces I am the only one who looks like me or has the same cultural understandings.
BKK I understand. It is a shared experience of black people in the city, I think.
You've been quite busy in the last months. What are you working on?
AB I'm working on new works for a planned show in Chicago later this year at Mariane Ibrahim.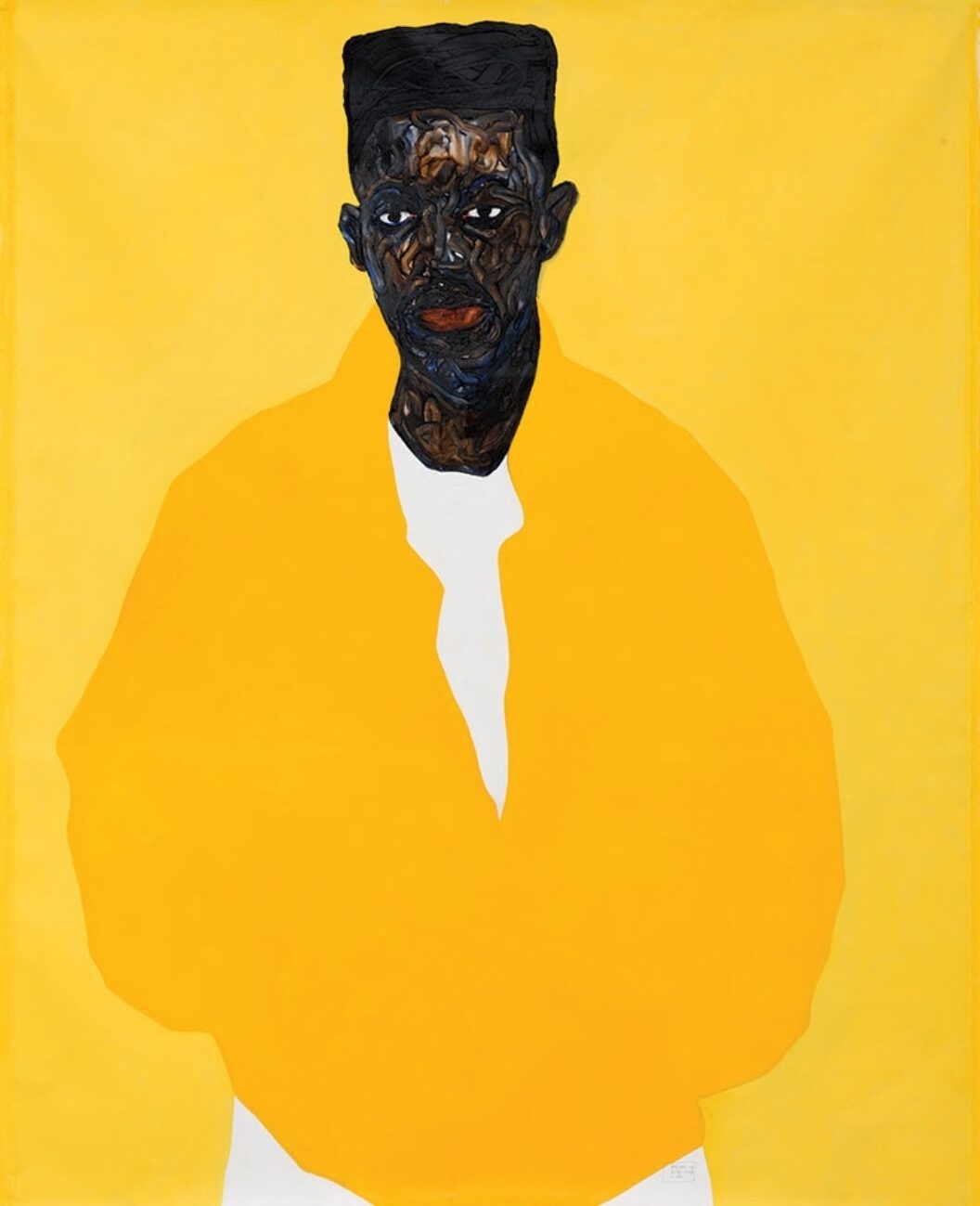 BKK I understand that you are building up an artist residency and a gallery in Accra. That sounds like a lot. Does this leave you studio time?
AB In Accra, I cannot really be so strict on schedules and time. I'm much more flexible, and I do things more spontaneously. Like today, I went to the land commission to have some documents signed. And then I had a meeting at a studio and then spontaneously I decided I wanted to paint for a few hours, which I did and then I went home.
BKK In Vienna you have more of a quite strict schedule, no? Committed to painting every day.
AB Exactly. That's what I'm saying. In Vienna, there's no distraction. It's just work for me there. I like routine, but I also like doing spontaneous stuff.
BKK On social media, you've posted videos from the studio. In one you were painting and dancing. Is there a relationship between your painting and the dancing? I mean, you have a very particular style of dancing when you paint.
AB (laughter) Well, the thing is that I don't have a lot of moves. I mean, I get the rhythm, but when I go out, I don't really dance.
BKK Isn't it difficult to paint and dance at the same time?
AB Yeah. I mean, it's just me. When I'm happy with the results of my painting, it just comes naturally—it's just moving to one beat for a few seconds and that's it. It's to show appreciation for the painting.
BKK What type of music do you usually like to listen to while painting?
AB It depends on the mood and where I am. When I'm back on the continent, it's always Afropop.
BKK Let's share some music that you listen to.
AB I have been listening to Burna Boy, and Asa. I listen a lot to Fela Kuti, Pat Thomas from Ghana and a few other Ghanaian musicians. I listen to a lot of artists worldwide; these few always set the mood right for my studio sessions. Regardless of what may be happening, music keeps me focused while painting, to achieve whatever target I set.
BKK You mostly paint portraits. You often start your paintings with photographs, no?
AB That's right. Photography is a very important part of the painting process. I use existing photographs that speak to me and speak to the nature of the subject. The composition of the body is very important. Everything is determined in the photograph—the colors, the composition, the expression of the subject. Once everything is right in the photo, the painting is near completion.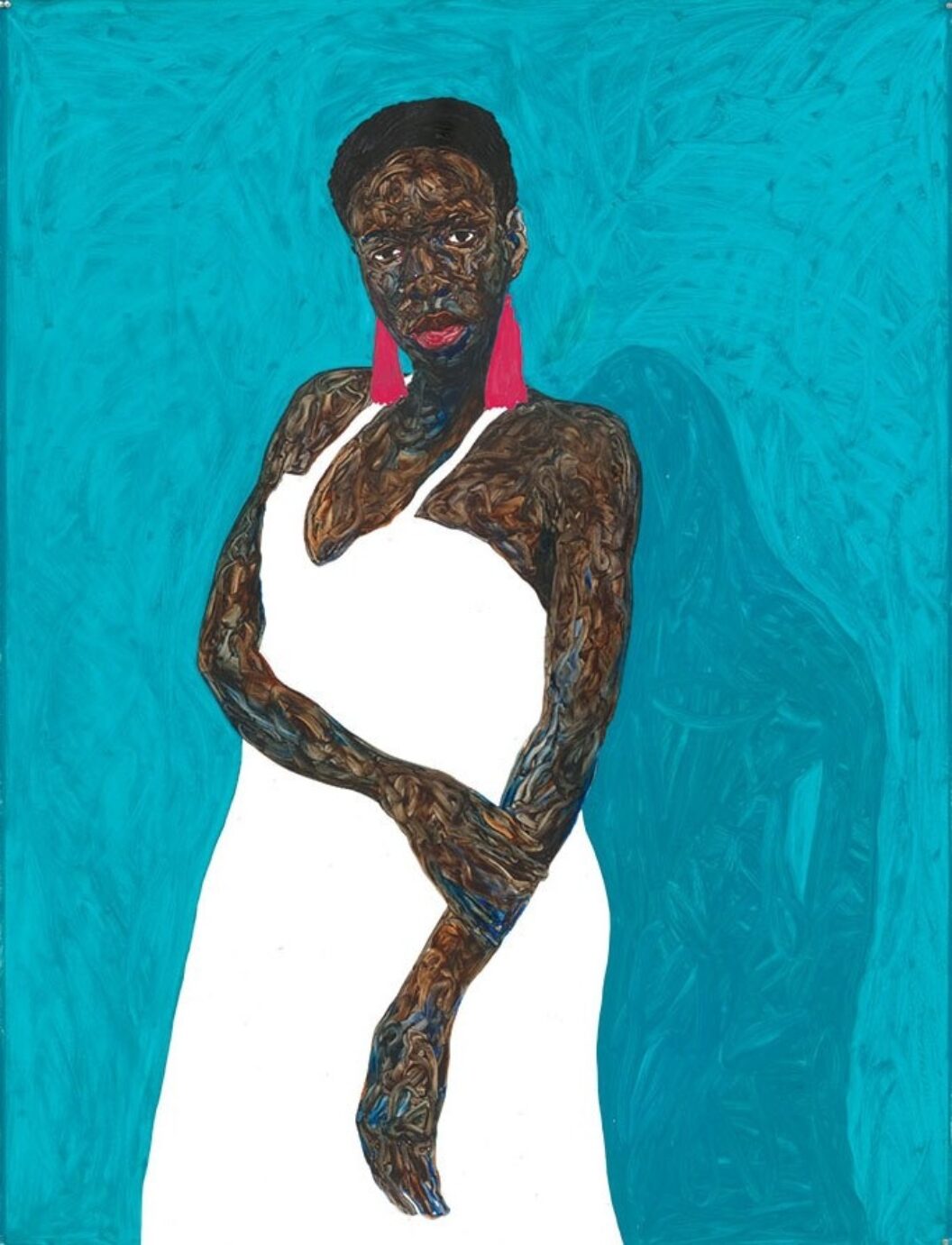 BKK Can you share more details about your process? How do you start working on the image? Do you work with other photographers, or do you arrange everything by yourself?
AB Sometimes I just have the image in mind, and the colors, the composition, but I just don't get the angle. So I work with actors to get the lighting and the perspective correct. Sometimes I use friends who are free to come and model for me, but I try to find people who look closest to how I envision the final painting.
BKK What do you think about African studio photography? For example, giants like Malick Sidibé or James Barnor, Malian photographer Seydou Keïta, Felicia Abban…
AB These are all very inspirational. I wouldn't want to use the word "steal," but there is a lot I learn from these artists to use in my own work, such as capturing the moods and moments as they are able to capture with photography.
BKK What catches your attention in a photograph? Looking at your work, I'm often wondering, what made you paint a particular painting.
AB Photography captures a mood and a moment vividly. For me, that is powerful and intense. Although I am able to capture some moments while painting from life as I do, the expression wears off a bit and loses some of its intensity. With photography, you capture it all at once; it is striking. My work is always about representation—documenting, celebrating, and finding new ways to approach blackness. This is what draws me to a particular painting—including its composition, colors, arrangement, facial expression. I am always looking for new ways to celebrate and tell the story of the characters I paint. Photography has always revolved around the concept of evidence. The photograph serves as proof that the photographer's eye once saw the exact same thing and that it exists in the material world. I want my paintings to show the world for what it really is, and that is why I work with photography.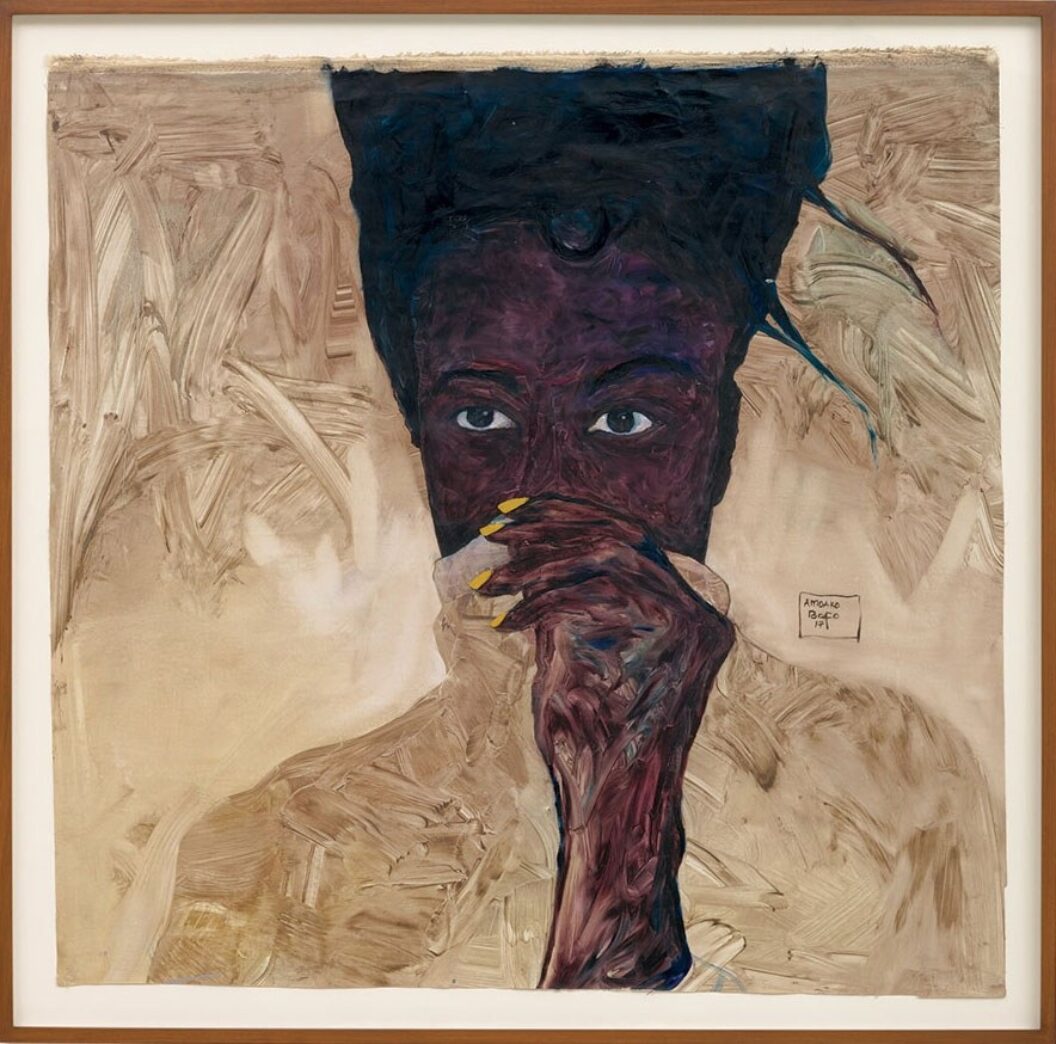 BKK How would you describe the people you like to paint? What do they radiate? What do you get from them, with regard to what you are trying to communicate with your works?
AB First, there has to be a connection in terms of how I was raised. I grew up in Osu, a community in Accra, and from a less fortunate background, so I attended the not-so-fancy schools. It so happens the people, like myself, from these communities are not recognized and are looked down on. These are the people with beautiful stories of their struggles to share, and hence they are the people I mostly paint. For example, I painted the artist Otis Kwame Kye Quaicoe. Otis and I grew up together in the same community and attended the same art school [Ghanataa College of Art & Design]. He now shows with Roberts Projects, the gallery I show with in Los Angeles.
I also paint people from beyond my own context, whom I admire for what they do in and for the community. Or people whom I respect for how they go about their lives or how they celebrate themselves.
BKK You made a painting of Toni Morrison. It's part of a series.
AB A Black Diaspora (2018). It's the series where I paint people that inspire me.
BKK I find it a very nice gesture to spend all this time making their portraits. So while you were, for example, making a painting of Toni Morrison, or another person, did you also spend time with their work?
AB I have a process before I start painting, depending on the subject: I delve into their music or practice or writings. When I did Tupac Shakur, for example, I was listening to his music while painting. This gave me a better understanding of the kind of person he was from the issues touched on in his music. This set me in the right mood to capture him as I did. With Biggie I was also listening, and with Toni Morrison I was reading some of her works. With Basquiat I watched his movie before and a few things inspired me—you know, the way he just worked and how he kept pushing. And then I thought, Oh, I need to paint him too. So it's always something that moves me.
BKK When you paint, is there a phase that you love the most?
AB I've always thought about getting someone to do the sketches for me because it's a pain, especially when you're not getting the proportions right. But then I also thought, that is the work. Like, it's the only thing that makes the difference. So why would I get someone to sketch for me?
BKK Yeah. (laughter)
AB So in a way, I enjoy the whole process because you have to struggle to get what you want. I struggle with doing the sketch because I don't want to change what I did from the beginning. I do this sketch. It's a freehand sketch. And then I start painting. Once the sketch is done, the painting is done, because the painting is all in my head already. I know exactly what I want and how I want it.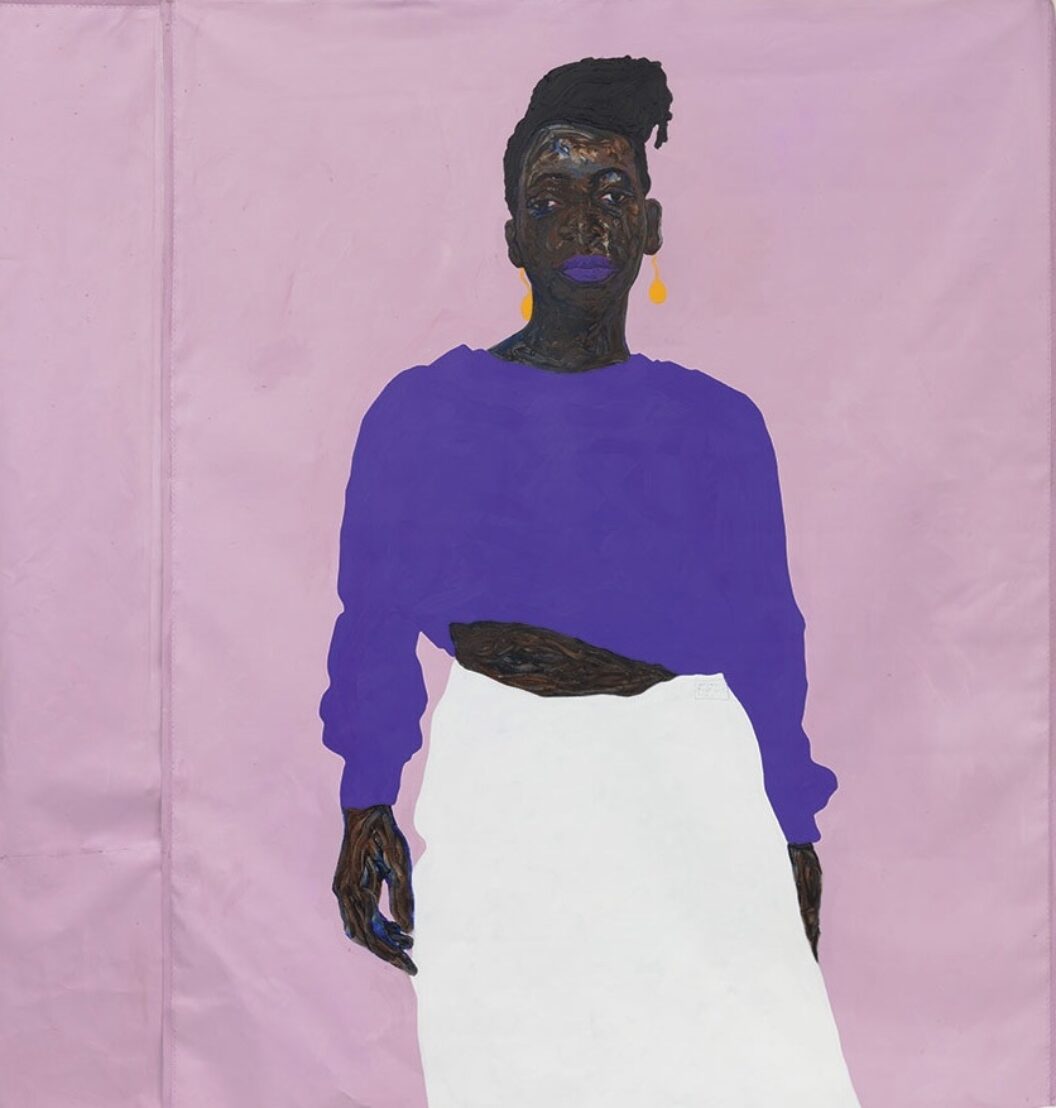 BKK Do you go to the studio to find inspiration? Or do you go to the studio when you are inspired?

AB I go to the studio every day, inspired or not, because there's always something I am working on. I usually have four or five paintings ongoing at a time, so I always get inspired when I get to the studio to complete my paintings. Also, one painting may inspire another, and hence I move from one work to the next.
BKK Would you say there's an element of play in it?
AB I am very passionate about painting. I consider it my greatest hobby because it is always a way for me to relieve stress and explore my creativity. It's my safe haven to escape to. Pursuing this passion is even more fulfilling when I see the results and how much joy it brings to people.
BKK Yeah. But at the same time, it is work.
AB It's peer pressure, that's it. Yeah. At some point it becomes work. (laughter)
BKK And at which point does it become work?
AB When there's money involved, that's when it becomes work.
BKK You trained in both Ghana and Austria. What do you think is the most important thing you learned in these art schools?
AB When I first got to the Academy of Fine Arts in Vienna, I thought it was a waste of time. I thought I already knew how to paint and that the program couldn't offer me much. But now I understand that I learned something different and very important from each place. In Accra, for example, I learned how to follow certain rules and focus on the technical and formal aspects of painting, and the discipline to get something done. And then in Vienna, I learned how to be free to experiment and incorporate the more art historical and conceptual aspects of artmaking into my practice. And these are the two most important things for me as a painter—to be able to follow my studio training and to be able to experiment.
BKK What would your advice be to a younger artist?
AB That's a tough one. People say whatever they want to say to get what they want. So it's hard, because you don't know who is telling the truth. And you definitely have to trust someone because it's all new and you never know what to decide. So I think people just have to follow their intuition. You also have to see that what you're doing is right and not because someone said, "This is the right thing to do."
BKK When you initially told your mom that you wanted to go to art school, how did she react to that?
AB Well, she said, "You're going to get a job when you're done with art, right?" And I said, "Yeah, I'll look for a job." She knew I wasn't going to get money from it, but she was just willing to support what I wanted to learn.
BKK That's big, I would say. And what does she think now?
AB (laughter) Now she's happy. Sometimes she questions why someone would pay such exorbitant amounts of money to buy a painting. She just doesn't get it.
BKK Yes. I mean, in a way it is unbelievable.
You are now able to meet some of the artists you have been following for some time, no? And those who have influenced you?
AB Yes, I have access to galleries, museums, collectors, and many other artists. But the most important thing for me is that I have power over my vision and one hundred percent freedom to decide what I want to do, where I want to do it, and who I want to work with—unlike most artists, who were controlled before they even made it anywhere. But lucky for me, I had agency over my practice from the beginning of my career.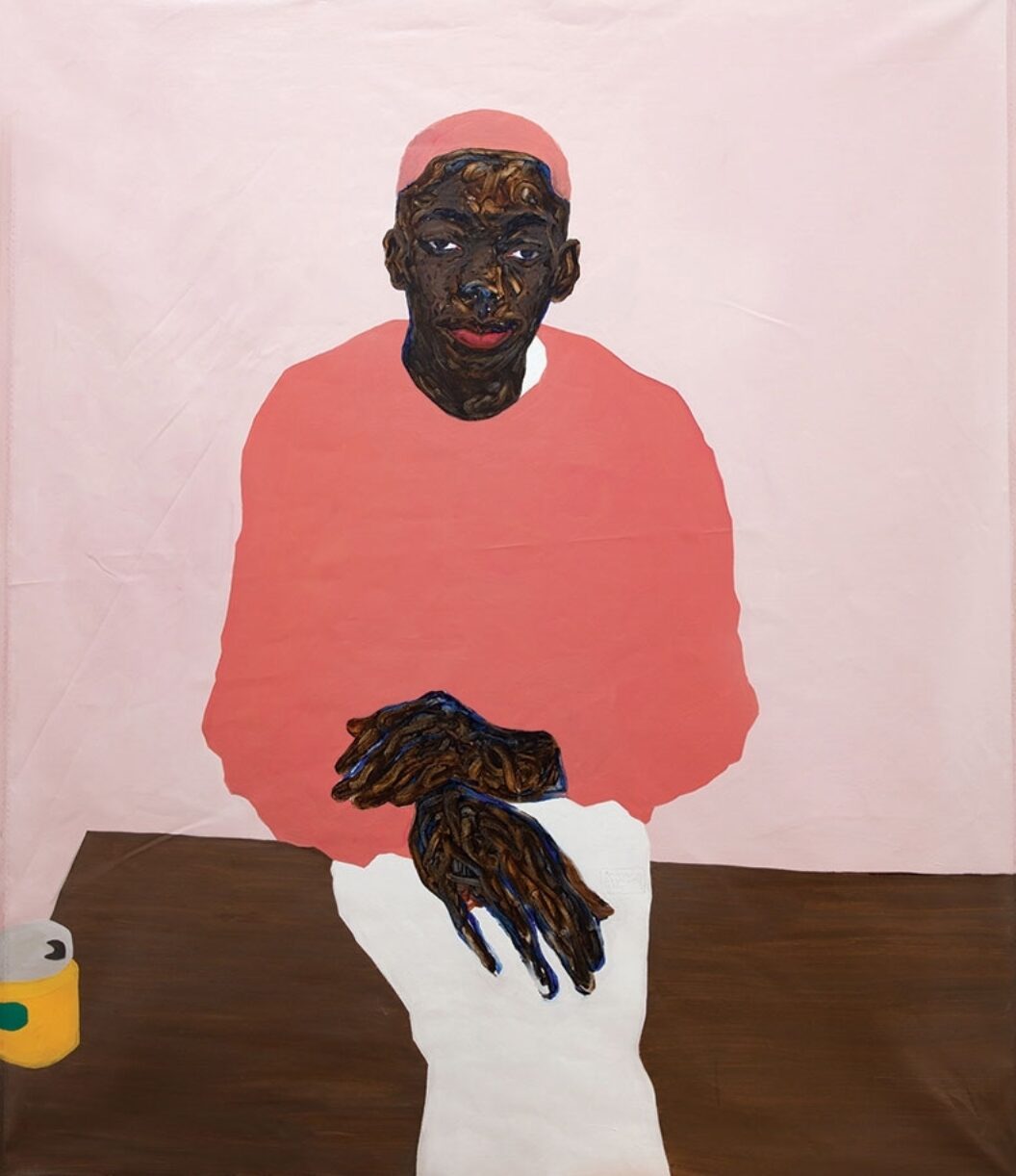 BKK When people see your work, so many talk about Egon Schiele as an influence. Or Kerry James Marshall. Who are the artists that have been most important to you?

AB I take inspiration from many painters, mostly those who use simple imagery in a momentous way, referring to light and tone at the forefront of their practice. Of course I've looked closely at Kerry James Marshall, and I also enjoy Schiele and the way he plays with colors and brushstrokes. I enjoy how effortlessly Lynette Yiadom-Boakye constructs her works, how simply she paints them, with minimal and muted tones.
BKK If you could exhibit with one artist from the past, who would that be and why?
AB It would definitely be with Egon Schiele. His work is noted for its intensity and its raw sexuality and his many self-portraits, including his nude self-portraits. I love his way of painting figures. His sharply drawn angular lines and combination of color, which rejected typical conventions of beauty and introduced beautiful ugliness and exaggerated emotion into art. He painted freely and did not conform to the norm. I like to paint freely too, and the finger painting technique gives me that feeling. I am curious about how my work would look next to Schiele's.
BKK You mostly do portraiture. Is there something specific about portraiture, especially the images that focus on black subjects, that makes it suitable to say something about the specific times and circumstances we live in?
AB My work is about documenting the beautiful lives around me who have not had the honor of being included in art history. It's also about portraying blackness in new ways. My work is not necessarily about building an archive of human expression, but it captures that also, because portraiture depicts a lot more than just the human expressions.
BKK When you look at your own paintings, what comes to your mind?
AB I see the satisfaction sometimes. I see some expressions of how I feel; I get it out and see that it's okay to also feel a certain way. There's a sense of safety in looking at a painting. Sometimes you question yourself, if you're allowed to feel that way, and then you see certain characters and expressions and you know it's okay to also have that face or that expression or that emotion.
BKK When I look at your works, I see a lot of beauty and uniqueness. It feels good to see these huge portraits of black people.
AB Human faces and expressions are the things that get me to paint. Looking at someone, trying to interpret what they are thinking—I enjoy that.
I use painting as an instrument to navigate the complexities of human experiences and to depict a sense of each subject's presence in the world. I place my subjects at a higher recognition, in size and in terms of their gaze at the audience. Each gaze in my subjects functions to disrupt viewership. I want to bring to light sentiments of how black people are constructing identity.
Belinda Kazeem-Kaminski is an artist and writer in Vienna. Rooted in Black feminist theory, she has developed a research-based and process-oriented investigative practice that often deals with archives and ethnographic collections, specifically their gaps and blank spaces.
Originally published in
Our summer issue includes interviews with Amoako Boafo, Jibz Cameron, Brenda Goodman, Odili Donald Odita, Jenny Offill, Nicolas Party, Rowan Ricardo Phillips, and Craig Taborn; poetry by Safia Elhillo and Nathaniel Mackey; prose by Lydia Davis, Marie-Helene Bertino, and Saidiya Hartman; and more.