Discover MFA Programs in Art and Writing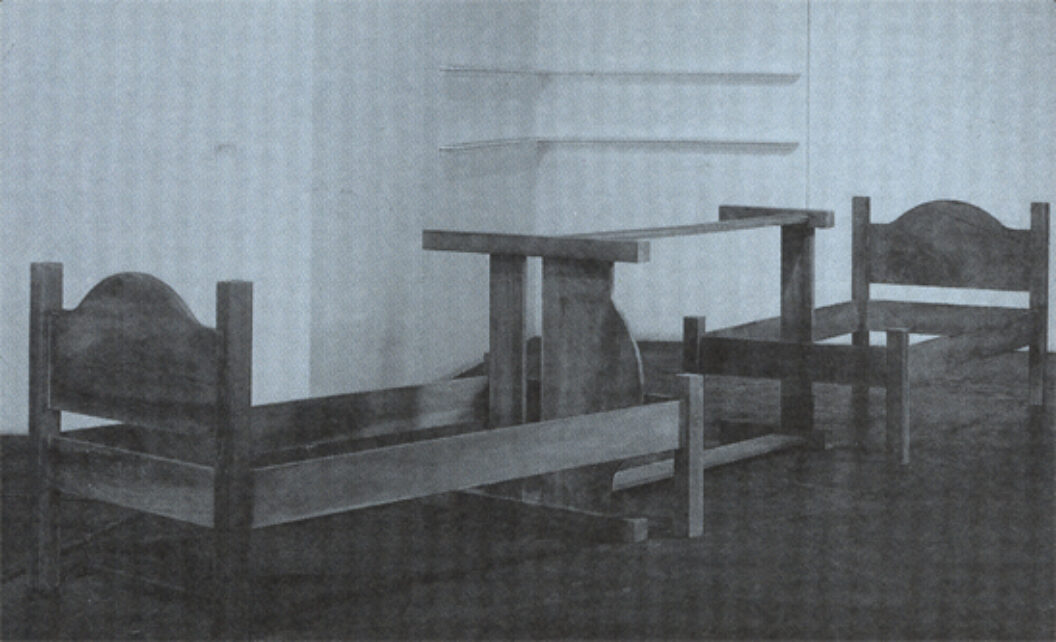 In "Utopia of a Tired Man," one of Jorge Luis Borges's fabulations set in an unnamed time and place, a sylph-like beauty lures her victims to their death in the ovens. Nothing is remembered about the origin of the ovens except that they were created by a man whose name was Hitler. Like Borges's prescient story, Amnesia, an exhibition of 16 South American artists, transcends time and place and calls attention to the chilling consequences of a civilization's historical memory disorder.
Now showing at the Christopher Grimes Gallery and Track 16 at Bergamot Station in Santa Monica, Amnesia was curated by Grimes, who immersed himself in Latin American art to assemble a mix of artists whose style and substance come together to make a formidable statement. Implicitly, the artists—hailing from four countries—have their particular histories, diverse artistic styles and personalities, but the theme of loss is the binding force.
José Antonio Hernández-Diez's Camas is the centerpiece of the installation. Two spare, wood-carved bed frames are interlocked by one horizontal frame. Yes, we are all linked—by the bed, its familial and sexual connotations—but from our perspective the piece also intimates a three-dimensional gene sequence, representing a collective memory and history, both conscious and subsumed.
Disappearance is given a more literal form by Colombian artist Oscar Muñoz's Aliento. In a room of small mirrors fixed to the wall, the viewer is asked to breathe on them. From this act of giving ones life force appears the images of the dead and missing. Slowly, ones own reflection becomes enmeshed with the images of the many lost to social and political turmoil.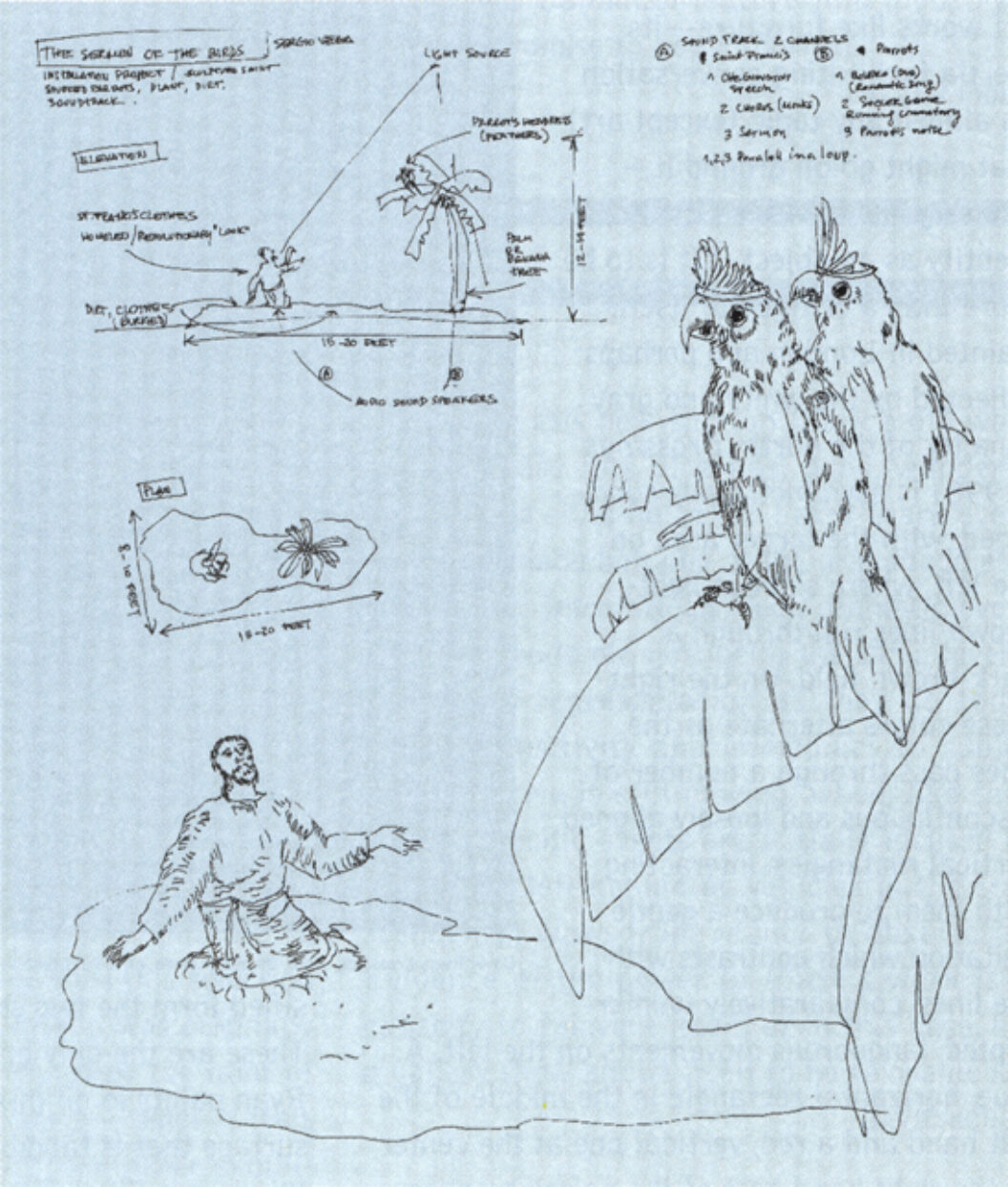 Sergio Vega's Sermon of the Birds takes a more ironic tilt at lives prematurely lost. Vega's piece emphasizes that a distant, disaffected pose without tragedy is nothing more than art as nihilism. Vega, an Argentine who now lives in New York, plays with the pillars of South American culture: Catholicism, soccer, revolution, and exotic flora and fauna. A voice-over presents a mélange: St. Francis of Assisi, a soccer game announcer, Che Guevara, and the babblings of parrots. Two stuffed parrots with regal plumage stand atop a plastic banana tree while a beatific monk marked with stigmata blithely preaches over a mound of dirt, the shape of which brings to mind an unmarked mass grave.
Loss of a different form is explored in the Venezuelan artist Alfredo Ramírez's Kisses. Set in a darkened room, it's a sensory blast of romantic dissonance. The kiss and the act of kissing are devoid of all sentiment. Ramírez has placed minute cameras inside the mouths of the kissers, resulting in a video which could easily be misinterpreted as the insides of a vagina or a pumping heart. But the video has the sensuality of a frog dissection.
Heads without bodies, especially decapitated heads, were a recurring theme that astounded curator Grimes as he crossed South America. An image that predates the invasion of European culture, it harkens back to the native ritual of beheading an enemy as the ultimate form of degradation. The Brazilian artist Tunga used a cast of his own noble head for a video made in 1987. For this exhibition he took four black and white stills from that video. In it his severed head is tossed into a tempestuous sea; then, Tunga walks at the water's edge pondering his cast—an almost Shakespearean presence.
The themes of remembering and forgetting, of the palpable and ephemeral, emotional and intellectual, political and personal, are given striking form in this exhibition, and the loss will be ours if the work of all 16 talented artists included in this show is not carried into the future. As Borges did, they poignantly let us know that history and the future depend as much on what we forget as what we remember.
—Bruce Bauman
Originally published in
Featuring interviews with Janine Antoni, Yayoi Kusama, Jenny Diski, Michael Cunningham, Simon Ortiz, Petuuche Gilbert, Simon Winchester, Gary Sinise, Thomas Vinterberg, and Marc Ribot.