Altering the Perspective: Joan Semmel Interviewed by Erik La Prade
Groundbreaking paintings of the female body and sexuality.

Discover MFA Programs in Art and Writing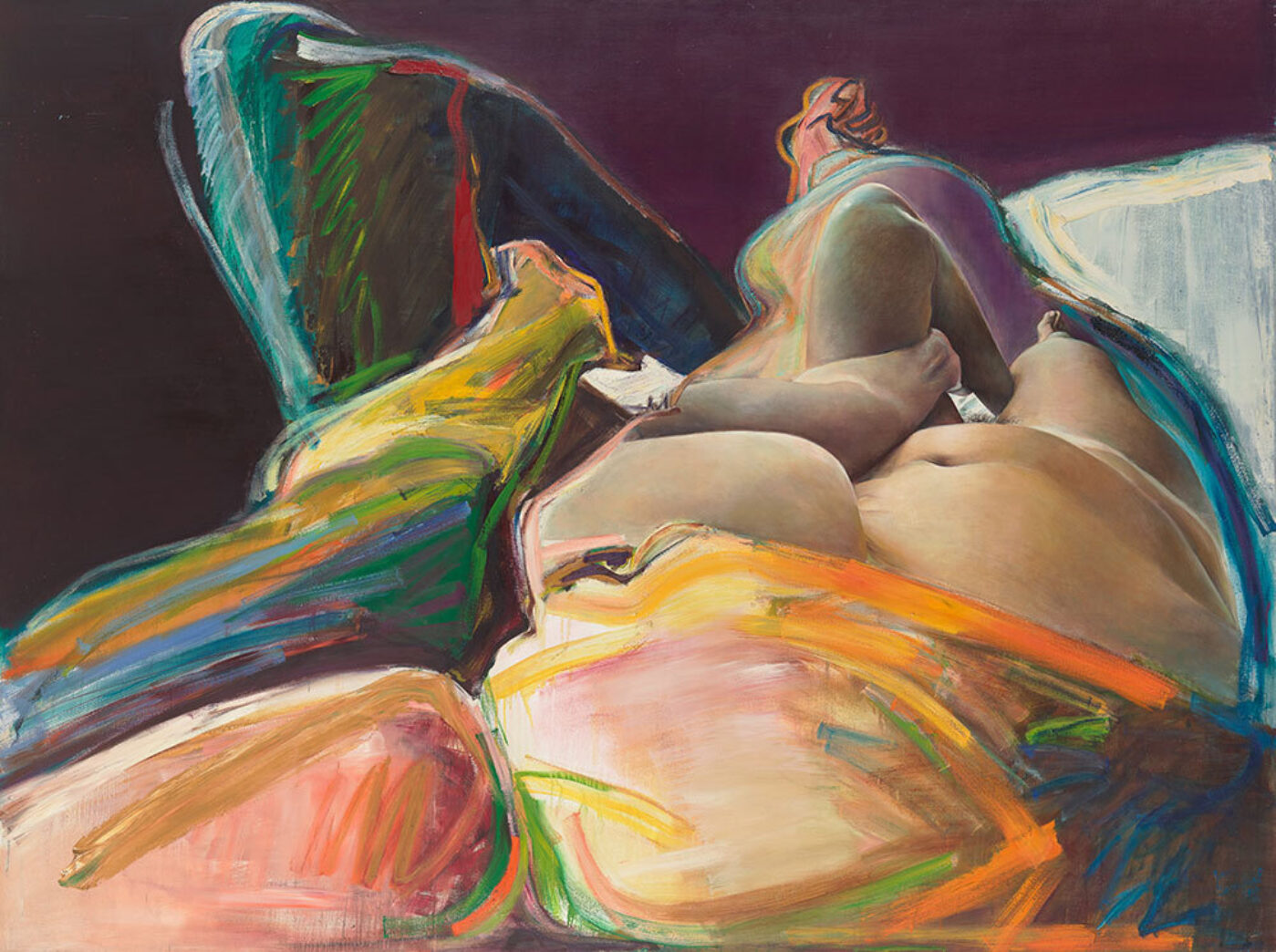 With a solo exhibition in 1973 of a group of paintings entitled Erotic Series, Joan Semmel began showing provocative and engaging work featuring sexually explicit imagery. A year later, Semmel commenced her Self-Images series in which her paintings disrupted and reoriented the viewer's gaze toward the female nude.
In her more than five-decade career, Semmel's work has ranged from landscapes and portraits, to individual nudes, to an ongoing series of self-nudes. Semmel's work continues to alter personal and historical perspectives on the sexual nature and physical aging of a woman's body, whether young or old, alone or with a partner.
I was introduced to Semmel's work through mutual friends and was lucky enough to spend a few days visiting her daughter, Patti, and her husband in Springs, Long Island. There I saw some of Semmel's early abstract paintings and nudes. I was drawn to her work by the provocative intimacy of the images, and I began to look at and read about her work.
—Erik La Prade
Erik La Prade The idealization of beauty in your work points to an irony, namely, how the work falls in the middle of a contradiction between an ideal of beauty and an anti-ideal of beauty. Can you talk a little bit about the evolution of your approach to depicting the female body?
Joan Semmel Back then, I looked at the body, but I thought abstractly. I was formulating my images rather than just what I was seeing. That's why, very often, those paintings were seen as landscapes. Formulating them abstractly gave them their dynamic power. Then there is the overlay of what I was trying to say in terms of myself as a woman, not just what the abstraction was, and that's what you're talking about in terms of the contradiction. Right?
ELP Yes.
JS So, my looking at what I was seeing was to formulate it as an abstraction, which gave it its aesthetic virtues, so to speak—an aesthetic essential that made it art. But I didn't want to lose the non-idealization of it. I wanted it to stay true to the specificity of a body rather than to the idealization of a body in terms of making it a fetishistic, seductive object. The paintings are erotic in a certain sense, but they're erotic because of the sensuality of them as art objects more than because of that particular body. It isn't the turn-on of that body; it's the sensuality of that object.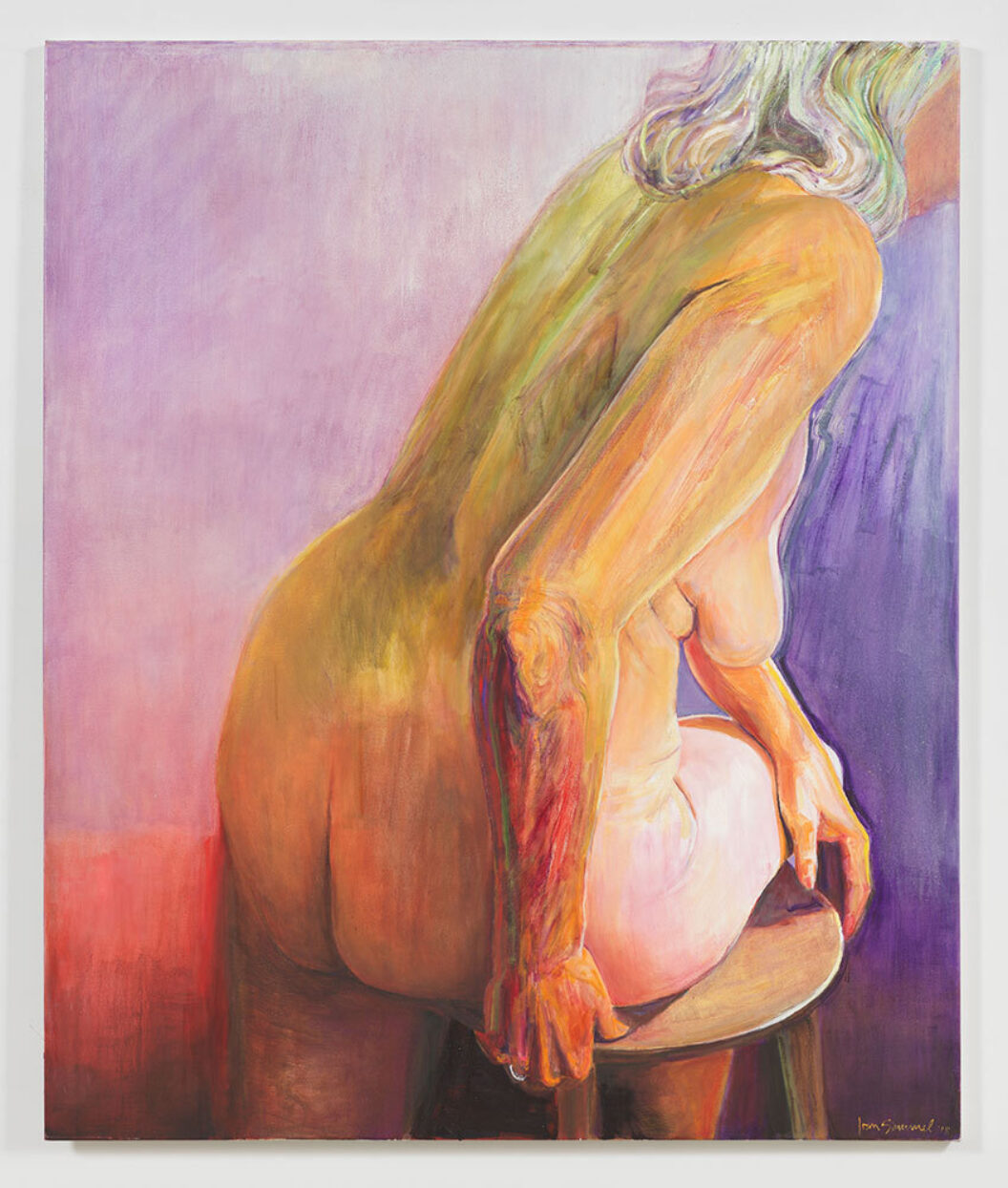 ELP It seems the subtext of a number of your painting series concerns the passage of time, starting with the Self-Images (1974–79), to Echoing Images (1979–81), to Locker-Room (1988–91).
JS When I'm concentrating on a particular idea for a particular length of time, I stop and then move on to the next idea. A series isn't an artificial construct. The time element in these series of works isn't proscribed.
ELP At some point, the political element in your work falls away, but your work loses nothing of its strength. You've extended the tradition of painting while still challenging the viewer's perspective.
JS That was my intention. The whole feminist idea of why I was doing what I was doing was important to me at the time. I wanted the work to exist with that but also independently of it.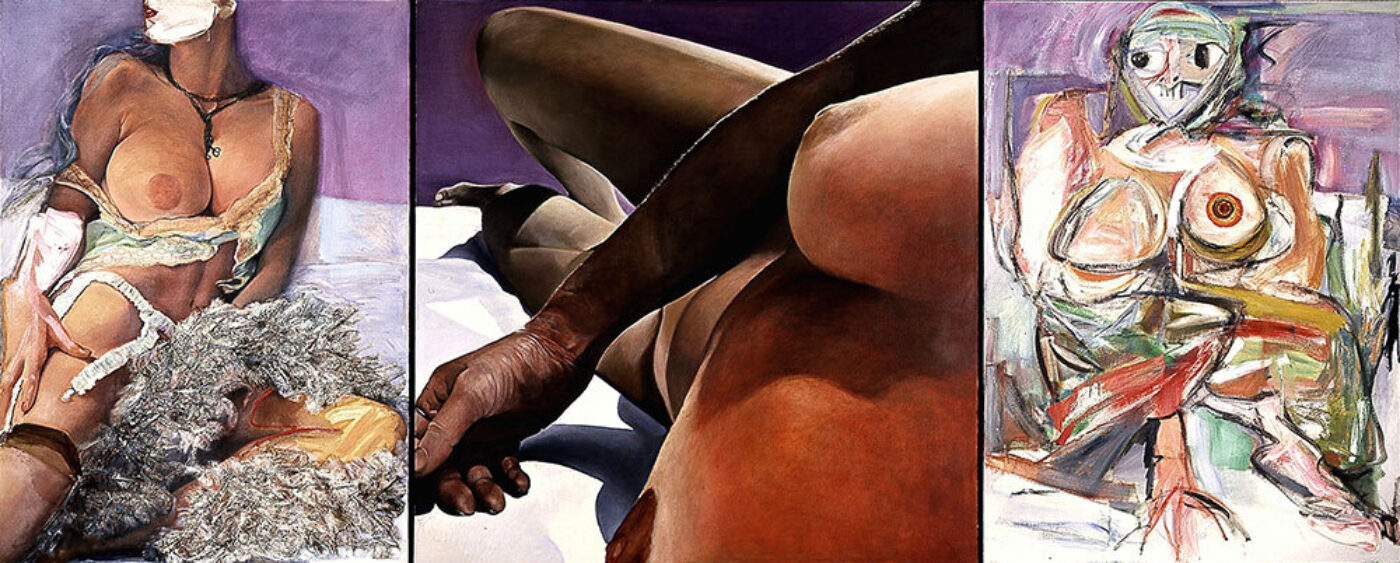 ELP How did you come to paint Mythologies and Me (1976)?
JS I was in the Lerner-Heller gallery at the time, and Richard Lerner was going to do a group exhibition in 1976 entitled A Patriotic Show. It was meant to be critical of the United States. I was doing the self-images at the time, and Dick Lerner said to me that it was a political show, but they didn't want to show my painting. He said he would have to stand up and give a lecture on why my painting was political. But nobody would understand it. I said, "Okay, I'll paint you a diagram of why it's political." So, I took one of my self-image paintings and added a panel on each side. One was a parody of a high-art image, specifically a Willem de Kooning, and the other was a parody of a pop-art image, one from Playboy magazine. And I called it Mythologies and Me.
ELP The statement those panels make overrides parody.
JS I am criticizing the attitudes in those images. That's why I called them parodies. I present my self-image as a counterpoint, a criticism of what that image is about: how they don't relate to me as a woman, and this is who I am. So, I made that work in response to a situation. I think it still resonates because now the message is more accepted. At that time, a critique of how a woman is portrayed in popular images or in art history wasn't even considered a problem; those images existed that way. That's the way things were. People didn't criticize that.
ELP Did people criticize you for putting de Kooning's work in there?
JS I don't remember receiving criticism for taking that kind of liberty. It was interesting to me to include the de Kooning and the pop image because it was the first time I used that kind of painterly gestural mark together with three-dimensionality and representation in a more realistic form. That idea led me to being able to make paintings with a double image in which one is realistic and one is very painterly and gestural. I called that series Echoing Images. The idea was derived from that painting; I didn't think of it particularly. But when I did it for the first time, I thought: I'd like to do that.
ELP Would you say that your more current work is just as political as your earlier art?
JS I was on a panel once, and somebody asked, "How long will we have feminist art?" And I said, "As long as we need it." Even though my work came out of my feminism and I wanted it to project the ideas of my feminism, I never wanted it to be pedantic or like agitprop. I always wanted it to stay in the tradition of "high art." I never wanted it to be pop or collaborative, or photography—none of those kinds of things that were considered specifically feminist. I was always working in the painting tradition, and I was committed to it. I wasn't willing to give it up for any of those other ideas, even though I accepted those ideas were perfectly valid. Personally, I was committed to painting because I liked doing it more than anything else. I had control in painting because I knew what I could do. And I felt I always learned so much from what I was doing, and I wanted to continue doing that.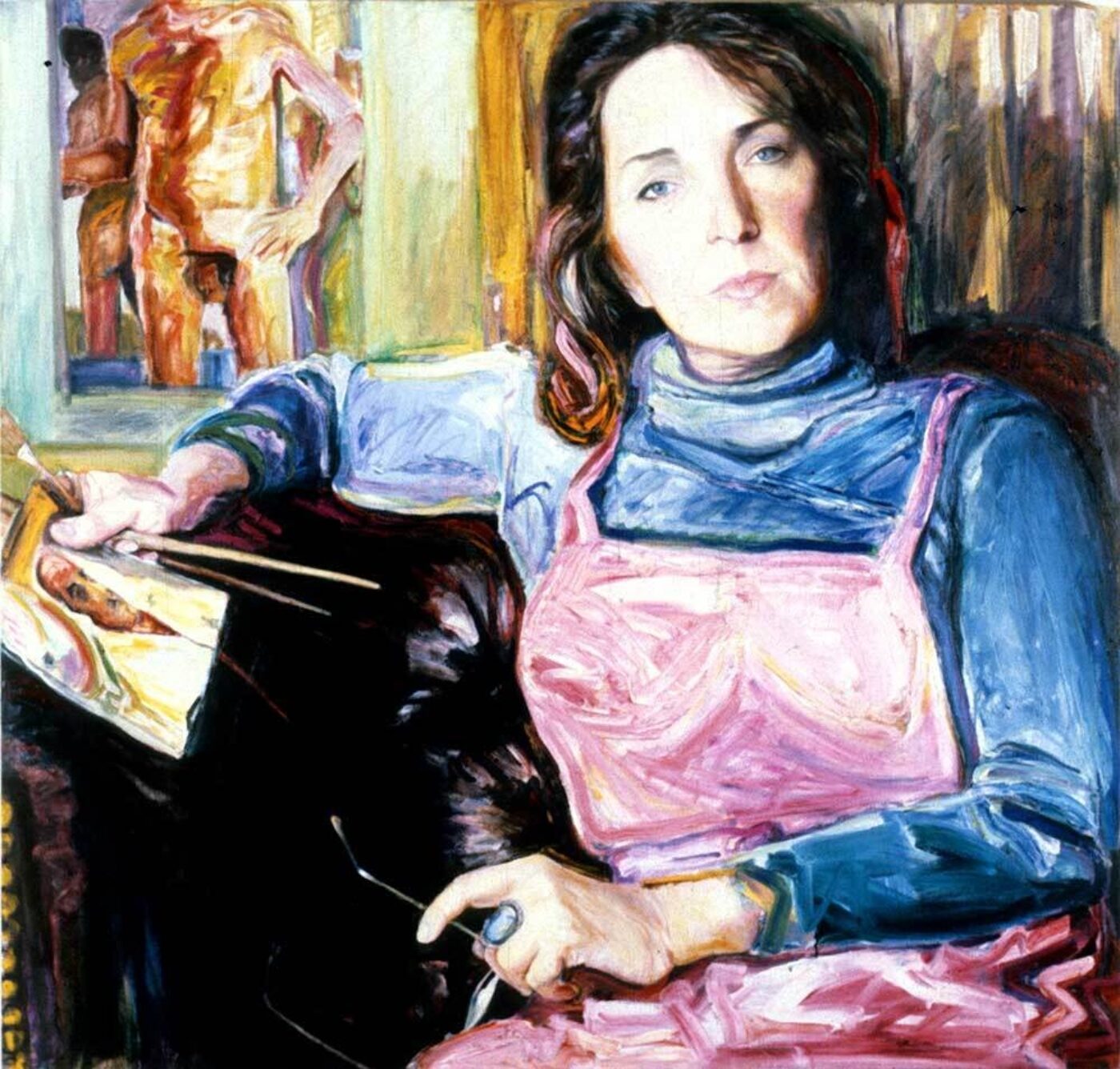 ELP A large, double portrait in a recent series of yours takes on the theme of the couch.
JS The theme of the couch is visual, but it is also symbolic in a lot of ways. I used it in one of the first portraits that I did of myself. I called it Self Portrait on the Couch (1983). So, the couch is a symbol of psychological analysis, but it is also sexual because women are always posed on a settee kind of thing. The double image of two women aren't portraits; one of the figures is almost a burlesque of the seductive pose. The other is in a kind of defensive, almost non-sexual pose. They sort of play off of each other.
ELP How do you consider the women's art scene now?
JS I'm still part of it. It has been resurrected after having been ignored and so on. The #MeToo movement has been very important in elevating a whole spectrum of women's issues. That's where we are right now, but I don't know what it means for young people because I'm not teaching. I do know that young women come up to me all the time and thank me for having done what I've done, which to me is amazing. I say, "How do you know my work?" They say, "We saw your slides in school." So, I have to say that art historians have done a great service. Because when we were educated, many women went out into art historical areas. They became curators, writers, and schoolteachers, and they have taken our message across the country; and people know the work even though it hasn't been shown. That to me is amazing. They created an audience for us!
Joan Semmel's work can be seen in the online exhibition Transitional Positions at Galerie St. Etienne in New York City until September 11.
Erik La Prade has a BA and MA from City College. His book Breaking Through: Richard Bellamy and the Green Gallery, 1960–1965 was published in 2010 by Midmarch Arts Press. Some of his articles and interviews have appeared in Art in America, The Brooklyn Rail, Art Critical, NewsWhistle, and other journals.