The famous poet bombs while bombing.

Discover MFA Programs in Art and Writing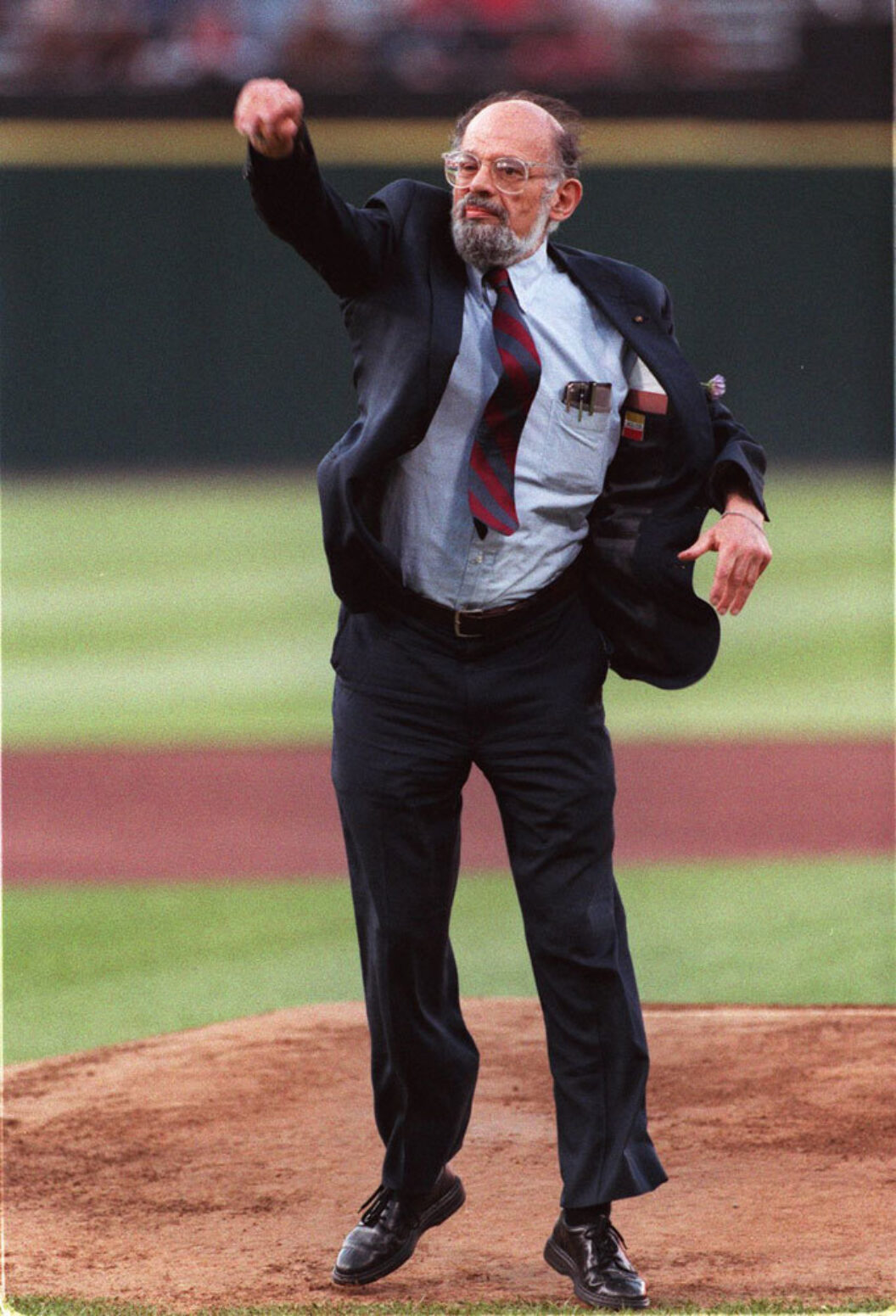 On June 1, 1994, Allen Ginsberg gave a poetry reading to nearly 30,000 people—without question the largest audience of his entire career. Then firmly ensconced as the most recognizable American poet alive, Ginsberg read one poem, was booed throughout the entire performance, and walked away. But somewhere between finishing his final line and disappearing down a tunnel, Ginsberg, in perhaps the greatest poet mic drop of all time, stepped onto the pitcher's mound of Candlestick Park in San Francisco and fired a near-perfect strike over home plate, much to the amazement of the 28,208 half-soused fans officially in attendance. Peace out. Ginsberg has left the building.
Ginsberg bombed that day. And he didn't. And he did. The sly, sixty-eight-year-old poet had chosen to recite "Hum Bom!"—his highly repetitive sound poem that lasts nearly four minutes and consists mostly of various arrangements of hum and bomb, typically incanted by Ginsberg in zesty, emotive screams. To many Giants fans, likely more attuned to the metrical subtleties of an off-color limerick than the nasty pops and snarls of Ginsberg's atonal, unrhymed, stutter-stepping verse, it must have been a surreal show. Imagine the die-hard fan on that cool San Francisco night; he finds his seat, settles down with his beer, hot dog, and scorebook, and impatiently waits for the various pre-game rituals to end. Someone is announced—the guest of honor—and a small, scraggly haired man wearing a blazer and a well-stocked pocket protector approaches the mound. None of this particularly intrigues the fan. But not what happens next. Before throwing the ceremonial "first pitch"—a time-honored ceremony in baseball—this little man begins screaming queer phrases, which boom and echo through the stadium's massive PA system. What confusion must have reigned while fans and players alike were subjected to 124 lines like the following:
Whom bomb?
We bomb'd them!
Whom bomb?
We bomb'd them!
[…]
Saddam said he hadda bomb!
Bush said he better bomb!
Saddam said he hadda bomb!
Bush said he better bomb!
[…]
Armageddon for the mob
Gog & Magog Gog & Magog
Armageddon for the mob
Gog & Magog Gog & Magog
Writers have long found something lyrical, if not downright metrical, about baseball. Walt Whitman, Ezra Pound, and William Carlos Williams all poeticized the game. Marianne Moore was obsessed with the sport, so much so that she was invited to throw out the opening-day first pitch at Yankees Stadium in 1968. Yes, there is a strange concordance between poetry and baseball. For Moore it was mostly about equating the perfect athletic body with the perfect literary form—a kind of pure, nonverbal language, a lyricism of the flesh. But there is also something inherently metrical about the game itself, which unfurls with a rather poetic flourish in its carefully measured segments (i.e., innings) that are themselves each open to infinite manipulation. Baseball, really, is a strange, performance-canticle. It blends a pure, structural rigidity with the aleatory and the competitive; it's a poetry slam inside a Petrarchan sonnet. Ginsberg recognized this, and he made his intentions clear to a local reporter on the field. He wanted to drop bombs in people's minds—to "penetrate through everyone's skulls." So the poet, ostensibly honored with throwing out the first pitch, walked up to the mound and started to bomb. And then he bombed.
For four minutes, Allen Ginsberg held 30,000 baseball fans hostage. He bombarded this unsuspecting audience with his message, whether they liked it or not. But what exactly was that message? Ginsberg admitted that day that he had never been inside a baseball stadium, except once for a Rolling Stones concert. "I'm just a four-eyed sissy," he remarked that day. But is that all this was? A merry prank, so to speak? Some delicious jock-payback sixty-eight years in the making?
When Ginsberg unleashed his volleys of aural bombs across Candlestick Park that day, they shattered baseball's rather conservative protocols and shocked its unliterary sensibility, but each volley also became a unit in a much larger conversation. Ginsberg admittedly cared very little about baseball, but he cared a whole lot about the human body and its relation to capital, and his invitation to Candlestick Park happened to come during the final desperate weeks before the great Major League Baseball Player's Association strike, which cut short the season, cancelled the World Series, and became one of the most high-profile and significant labor disputes in recent American history. Ginsberg's pitch, therefore, was something more than a merry prank, or a four-eyed sissy's shock-and-awe campaign against jocks and jock-idolaters. It was, in fact, something much more nuanced, and nearly opposite. Along with being an explicit critique of the U.S.-led First Gulf War, it was a performance of political solidarity with union laborers, and a castigation of the consumers who were ignoring the plight of these workers while demanding that they continue to entertain. In other words, Ginsberg was classic Ginsberg.
So this late October, as the leaves change, and the air grows brisk, and the World Series unfurls itself like some strange blood-sonnet, we should remember to give thanks: thanks for poet-athletes and four-eyed sissies—for the great American voice, and the great American pastime.
The World Series is on right now.
Matthew J. Abrams is a writer living in New York. He was a 2016 nominee for the PEN/Robert J. Dau Short Story Prize for Emerging Writers, and he holds a PhD from Yale in art history. His work appears regularly in magazines, monographs, journals, and exhibition catalogues, and he runs an experimental art-criticism project on Instagram.