All Pleasures Fulfilled: Samantha Nye Interviewed by Cassie Packard
Remaking the '60s as a queer playground.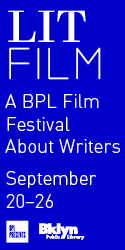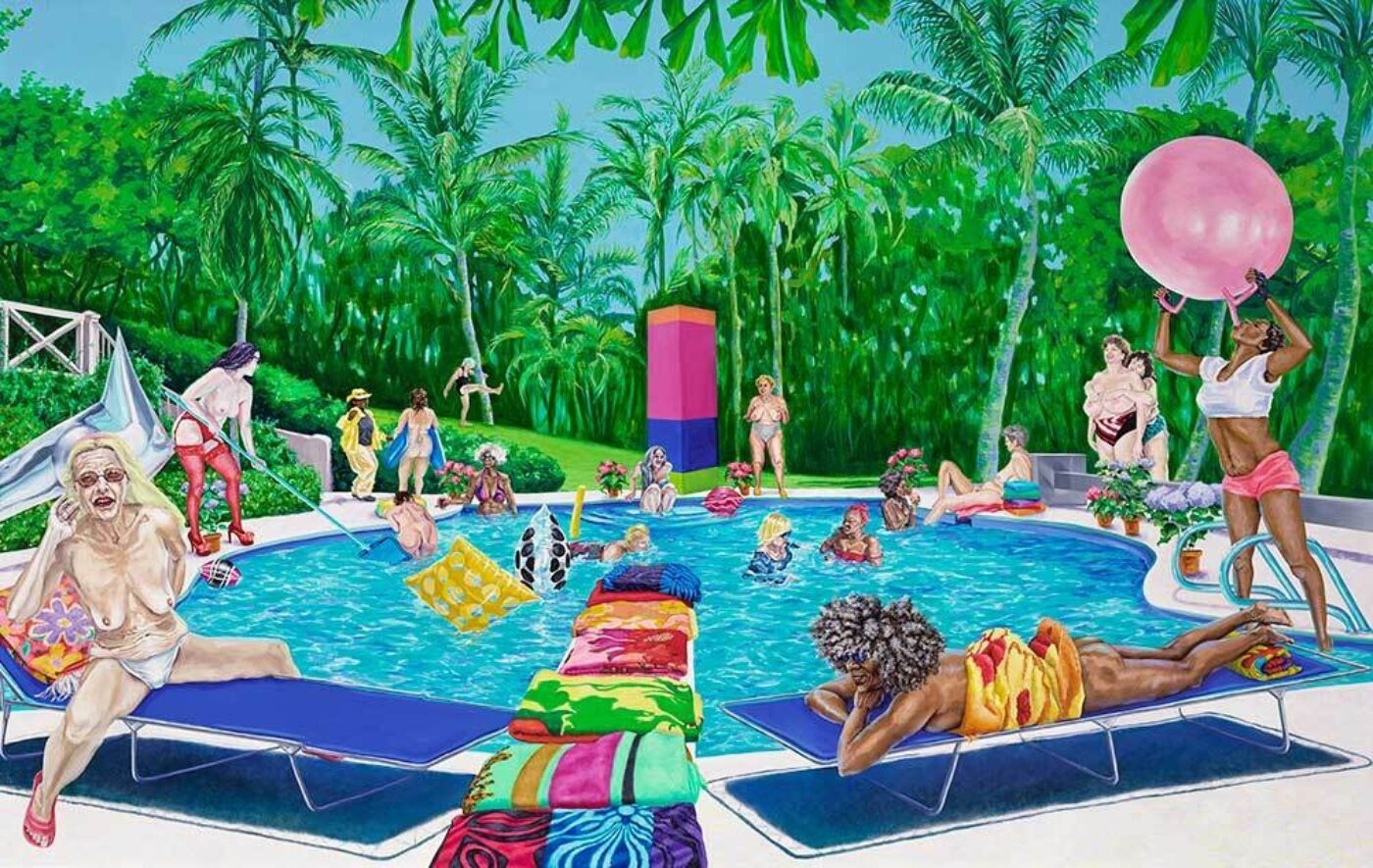 When I first met Samantha Nye in 2018, we were navigating by flashlight at the opening for a pitch-black group show in the former Pfizer factory in Bed-Stuy. Nye's contribution to the exhibition, a large, fuzzy structure dangling with handcuffs, blazed such a hot pink that it cut through the darkness. Later on, I would see the sculpture again: this time Nye—donning bubblegum-pink, thigh-high fetish boots—was shackled to it, flirting with a parade of butch lesbians as her mother lip-synched in the foreground.
This memorable scene hails from one of Nye's remakes of 1960s Scopitone films, the campy, candy-colored forerunner to today's music videos, which were played on 16mm video jukeboxes installed in bars and nightclubs. Rife with gyrating women and heteronormative plot lines, these films are ripe for the queering. Nye's versions, recast with matriarchs and queer elders, offer up an alternative—gloriously messy, radically inclusive—past. Her elaborate Boschian paintings run on parallel tracks, enlivening mid-century aspirational lifestyle photographs with joyful orgies of aging lesbians.
On the occasion of her exhibition My Heart's in a Whirl at the Museum of Fine Arts, Boston, Nye spoke with me about celebrating the sexuality of her elders and reclaiming aspirational imagery in service of queer utopias.
—Cassie Packard
Cassie Packard You'll be happy to know that I took a deep dive into YouTube's Scopitone archives in advance of this conversation. Can you talk a bit about what Scopitone films are and how you first learned of them?
Samantha Nye It was Susan Sontag's essay "Notes on 'Camp'" that originally introduced me to the word "Scopitone," which she includes in her "canon of camp" without elaborating on the term. Scopitone films were short musical films often performed on sound stages with background dancers in the '60s. These films were watched in nightclubs on Scopitone machines that were part jukebox, part film projector. Scopitone film narratives are performatively heterosexual but come across as fantastically queer. For example, in Donna Theodore's Scopitone, "Femininity," she sings "My femininity … seems to bring out basic masculinity," and suddenly three men prance into view, each as femme as she is. The first Scopitone film I ever saw was Neil Sedaka's "Calendar Girl." In it, Sedaka, who was rumored to be gay, theatrically parades women through a calendar-themed set to prove he has a different date "each and every day of the year." He is not that convincing!
CP In your Scopitone remakes, you replace the conventionally sexy, young women performers with older women, including your mother and grandmother as well as queer elders. Why?
SN I choose Scopitones as symbols of the sexual consciousness of my mother's youth and my grandmother's sexual prime. It's a way for me to retroactively queer both the reference and my own matriarchs. Simultaneously, I am attempting to offer the queers of that generation a fantasy past, providing escape from the brutally policed night clubs and bathhouses of the '60s. I want to create a world that gets sexier with age. I've always spent a lot of time with elders, and, let me tell you, they still party and fuck and flirt. One of my favorite memories is of helping my grandmother pick out lingerie before a weekend with her new boyfriend when she was just entering her eighties. I view this moment as the origin of the series.
Something I cherish about parts of lesbian culture, at least the lesbian culture that I was raised in, is how revered the silver foxes of the community are—though even within the queer community these figures are underrepresented today. In some ways, my work is about celebrating queer elders while imagining my own future.
CP Can you speak about starring in the videos alongside your fabulous matrilineage?
SN Visual Pleasure/Jukebox Cinema (2014–18) started with a familial cast of women, made up of my mother, grandmother, and their closest friends—all women who have held some sort of mothering role for me. An underlying thread of this work is a desire to exploit Freudian fears in relation to queerness. The series plays with that in more and less subtle ways, including the omnipresent "daughter figure."
In my remake of Julie London's "Daddy," I cast my mother as the lead and a group of "lesbian Daddies" as co-stars. In my reframing of the original narrative, my mother is seeking her most desirable Daddy and must choose according to how the contenders perform on her daughter. Throughout the video, my mother is singing to her Daddy while I am there being spanked or swung on a sex swing in the background. In this example, it feels important that I be featured. Now as I begin pre-production for future videos, I feel less certain that I will continue to cast myself.
CP When you appear, it is often as your mother's double or vice versa. I'm curious about the intent behind this doubling or splitting.
SN First, it's a visual way to poke at the symbiosis that is expected in mother-daughter relationships. Idioms such as "you are the spitting image of your mother" or "like mother like daughter" are so fraught and funny to me. Playing with a queer psychoanalytic lens, I was thinking specifically about falling in love with one's own image and taking that to a theatrical extreme. I am my mother and her love interest; she is me and mine.
I covertly filmed a remake of Joi Lansing's "Silencer" at a "romance resort'' in the Poconos with champagne hot tubs and heart-shaped pools inside the suites. Expanding upon the original's femme fatale thrust, I drew upon tropes of '90s erotic thriller films, specifically Single White Female, which used doubling to symbolize queering, obsession, familial likeness or sameness, and hysteria.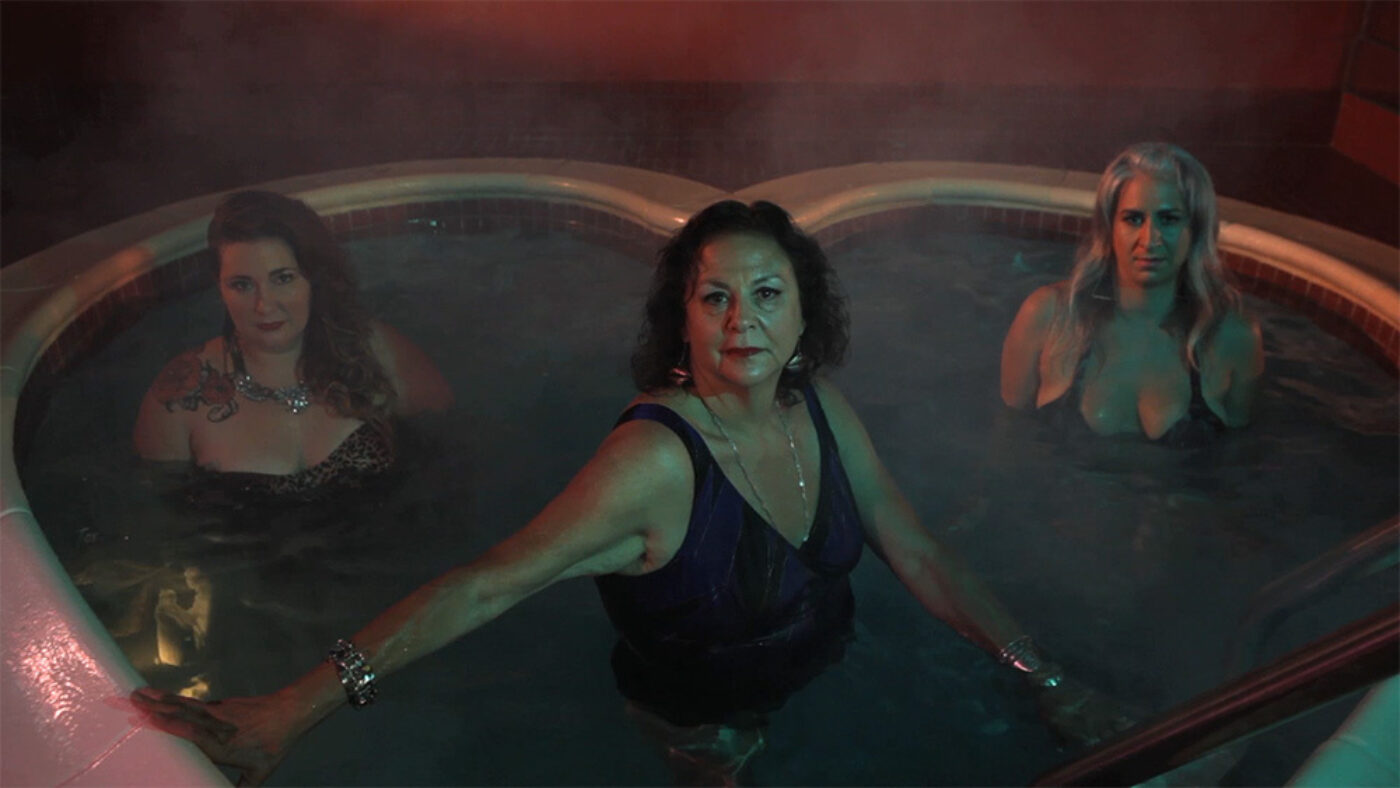 CP Tell me about your new video installation at the Museum of Fine Arts, Boston.
SN My Heart's in a Whirl (2021) is a peep show for aging lesbians, a dance party, and a DIY honeymoon suite. Although I am in awe of the technology, when I imagine Scopitones in a nightclub, I can't get past this image of people huddling around a machine instead of dancing. My immersive installation uses glittery pink materials found at fetish clubs and Bar Mitzvah parties to reinvent the Scopitone-viewing experience, making dancing and intimacy possible. Music is a key element as well. Three Visual Pleasure videos play on a loop, each one featuring a cover of the original Scopitone song commissioned from queer musicians such as Justin Vivian Bond, JD Samson, and Emily Wells.
The installation's centerpiece is a heart-shaped hot tub from the 1980s. While installing, we quickly realized that the hot tub would not fit through the front doors of the gallery. To access the wider back doors, we had to cart the lipstick-red tub through the neighboring Claude Monet exhibition. The high-low clash was intoxicating. It was as if the 1880s had a dance-off with the 1980s.
CP That is an amazing visual. Speaking of painting, I'm curious about the relationship between your video and painting practices, and where the two might deploy parallel or divergent strategies. Your paintings similarly queer mid-century source material, replacing the socialites in Slim Aarons's iconic lifestyle photographs with elderly lesbians.
SN Aarons's photographs and Scopitone films share the same preoccupations with youth, leisure, wealth, and white, bikini-clad, cis women. They both feel like clear markers of where culture and marketing hung the aspirational goals of the '60s, and so for me they become really generative places to critique and remake. That's the exciting edge because I love them both, and I recognize their failures so clearly.
In many ways, I see my video and painting practices as similar projects with different executions. All of my work stems from the desire to reenact or recreate. I titled my series of Aarons revision paintings Attractive People Doing Attractive Things in Attractive Places (2018–), which is pulled directly from a cringey line Aarons once said about his photographs. My paintings repopulate Aarons's poolsides with queered visions of "attractive people" and subvert the "attractive things" they might do.
While there's overlap between the casts of my videos and paintings, my paintings also reference images of older queer women that I have never met, sourced from internet searches such as "Lesbian Granny-Porn" and "Trans-Inclusive Lesbian Senior Softball Leagues." Most of the interactions are composited; some of the figures are as well. In one painting, I might keep Aarons's mansion; but in another, I will replace his opulent architecture with a now-defunct lesbian resort. Everything is painted so that one might, momentarily, believe in the scene's viability; and yet there are many clues, formal and conceptual, that prove this gathering to be a fantasy.
The real-life impossibility of all of these women meeting in an Aarons landscape is part of what makes the paintings exciting for me. The barriers of access to these leisure locations have disappeared or been rewired. Is it a feminist re-ordering of wealth? A queer storming of Connecticut mansions? Or perhaps an economy based on the pleasure of queer elders?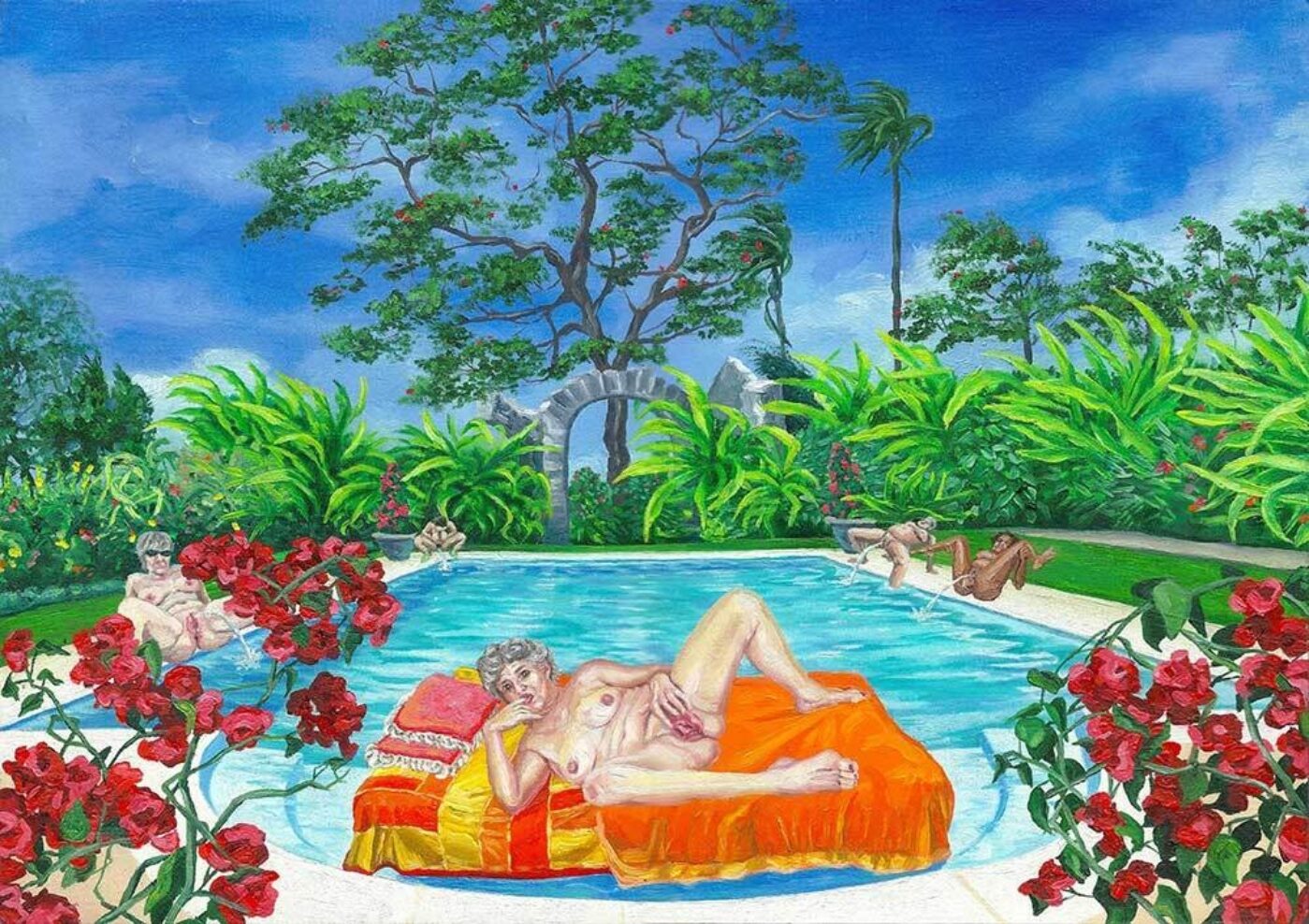 CP I love the Rabelaisian quality of some of these paintings. For example, in Attractive People Doing Attractive Things in Attractive Places—Island in the Stream (2020), an older woman sprawled on a pool float masturbates while four women urinate into the pool, a collective act that reads as simultaneously humorous and quite charged.
SN My paintings really need to make me laugh in order for me to believe anything else they are trying to say. I love thinking of those women peeing as a form of synchronized swimming and simultaneously a type of kink baptism. Peeing in an Aarons pool is a pretty direct way to de-sanitize his "attractive place" and delight in the messiness of bodies.
CP Looking at your work which to me reads as heterotopic, I'm wondering what a utopia might look like to you.
SN At different times, I see the work as both. It's a love letter to queer and lesbian spaces across history and an acknowledgment of lesbian failures, particularly when it comes to TERFy attempts to create separatist spaces. My utopic dreams are of age-, race-, and trans-inclusive lesbian communities where elders have access to all pleasures and all necessities. I am basically picturing the middle panel of Hieronymus Bosch's Garden of Earthly Delights, and inside all of those domes are queer dance clubs, massage spas, and endless fruit salad buffets.
Samantha Nye: My Heart's in A Whirl is on view at the Museum of Fine Arts, Boston, until October 31.
Cassie Packard is a writer and cultural critic with bylines at publications including Artforum, frieze, Los Angeles Review of Books, and VICE, and is a contributing writer at Hyperallergic. She was previously a Researcher at Hauser & Wirth in New York City.