On the 50th anniversary of 9 Evenings: Theatre and Engineering, an intergenerational concert series celebrates the technological innovations of the 1960s New York avant-garde. Times have changed.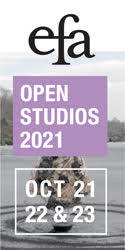 "I really don't like your performances, but I love your sound checks"  —David Tudor to a young Nicolas Collins
The nine concerts of 9 Evenings + 50 —which ran earlier this September at Fridman Gallery on Spring Street—were an homage occasioned by the 50th anniversary of 9 Evenings: Theatre & Engineering which took place at New York's 69th Regiment Armory in 1966 at the incredible price of $3 per ticket. The fundamental idea of the original series was to bring art and science together to see how various musical and non-musical components, i.e. radios and TV monitors, could literally be taken apart—"deconstructed" as the Fridman catalogue states—and put back together to create new means for artists to create "sound." Some of the original participants were David Tudor and John Cage (both represented at Fridman with performances of their work), as well as Robert Whitman, Robert Rauschenberg, Yvonne Rainer, and Lucinda Childs. Billy Klüver, an electrical engineer at Bell Labs, developed the 1966 concerts and invited the artists to perform.
What links these two series is their combination of dance, visual art, and first and foremost, sound—at times, "raw edges of unproduced sound." Patterns. Impulses. Responses. Often colliding together. 
But what sets the series in 1966 and 2016 apart?
There's a major difference in the size of the venue. The gallery is much smaller than the Armory, and therefore the musicians and dancers were more confined, without enough space for audience involvement, which was so important to the original series.
Also, technology has moved on. At the original 9 Evenings, all types of gadgets and gizmos became works of art themselves. My own initial experience with electronics was seeing Cage, Tudor, and Merce Cunningham. The entire length of a large stage was covered with such equipment, and Tudor and Cage kept running from one end to the other, manipulating the "music." Today, most artists rely on laptops and other small devices to generate sound, which sadly diminishes the intensely visual aspects of the performances. What was once hands-on now leans more toward the finger-touch keyboard.
Back in 1966, folks were trying new approaches, making breakthroughs, exploring territory that was wholly new, and actually trying to enrich and ensure our futures. The context of 9 Evenings was about exploration and the possibility of bettering the planet. 9e + 50 certainly grew out of that world, but technology today is more about exploitation and effect, less about feeling and responsibility. This change was best exemplified by participants Andrew Dimerjian and Kenneth Kirschner, who offered the immersive Echoes from the Black Box, an experimental doc consisting of a camera-view floating above the now-empty, ghostlike Bell Labs. Demerjian's statement at the end of the film sums up the entire dilemma: "How will we know what we won't know?" For as technology changes, so does its purpose. As things are made easier for both the listener and artist, we are, at the same time, enslaved into a capitalist consumerism that demands we change our shoes as well as our software at a moment's notice. The original fest marked the first time television was projected and that an infrared camera captured total darkness (something only the military had developed at the time and that the participants luckily got hold of from a New Jersey shop owner dealing in techno goods). Now, we chase Pokémon and have bigger, flatter TVs. Though there are always new ways to expand sound—a vast frontier everywhere around us—most artists and musicians rely on commercial technology, which limits the tactility and untapped realms of live performance. But then again, as Calvin Coolidge said, the business of America is business. So it was, and so it shall always be.
But the 9e+50 concerts were, in fact, intergenerational. Younger participants performed alongside innovators at the forefront of the techno boom—like Alvin Lucier, Christian Wolff, and Pauline Oliveros. I enjoyed seeing and hearing what each generation literally brought to the table. Sadly, what hasn't changed enough is the diversity of those involved. This scene was and still is mostly white and male. Certainly more women now appear, but there are still so few people of color.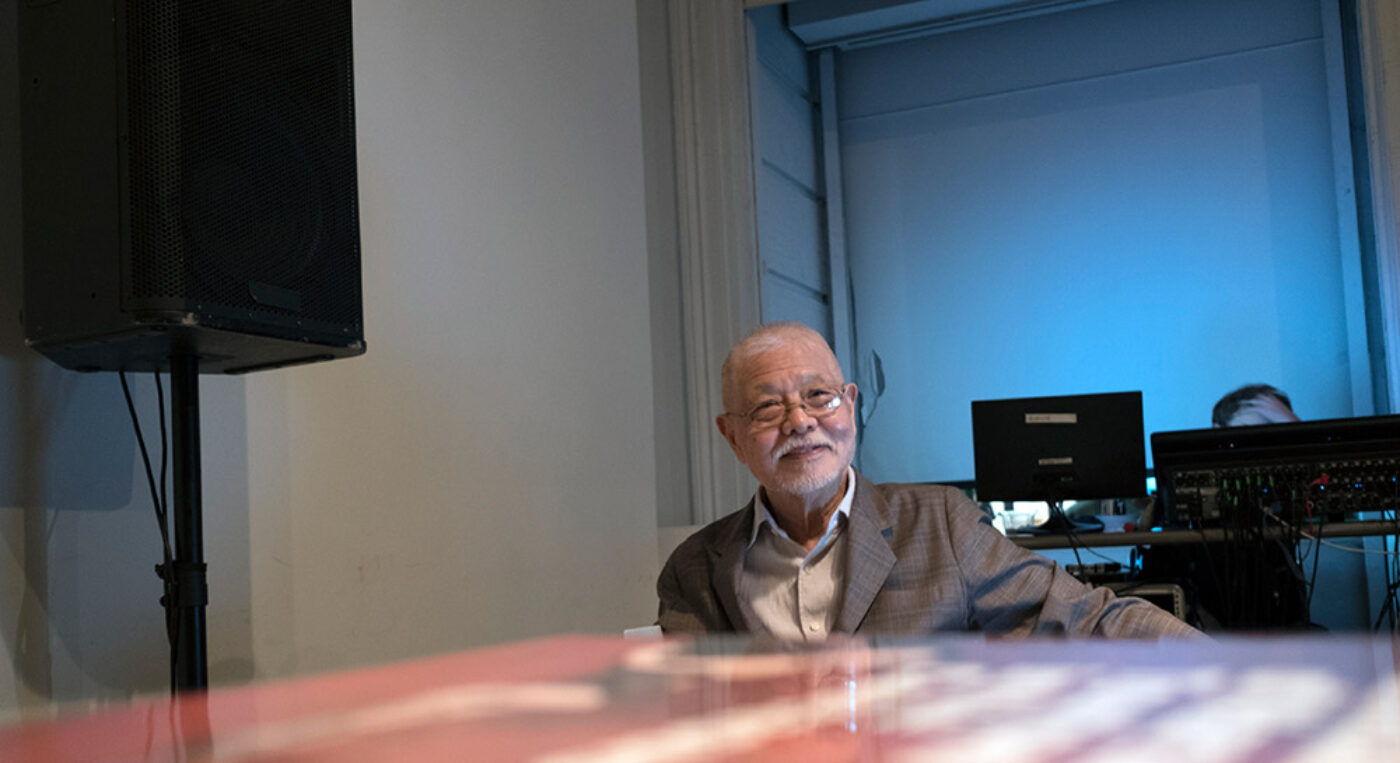 On night two, Paula Matthusen, the youngest performer of the evening, played tapes and computer with dancer-choreographer Abigail Levine. Later, Stephen Vitiello, whose equipment was propped up on two huge books—a Gutenberg Bible-sized tome about Italy and WAR & Tourism in the CAUCASUS—presented a very painterly, though incomplete, sound collage. The evening ended with elder statesman Yasunao Tone, whose mind-blowing set of noise and algorithms made me feel submerged in a pressure tank of crushing water, listening (in the best sense) to the unintelligible babble of the entire Looney Tunes cast, all on steroids and crystal meth. Th-th-th-th-that's all folks.
Night three began in reverse chronology, with David Behrman reviving his 1967 piece Runthrough (a sonic rainforest of sorts), which originally featured homemade analog electronic instruments and flashlight-activated photocells. The flashlight was there, but most of the sound came from a laptop, swapping circuitry for software. Zeena Parkins came next—a full-out assault and just what I needed. With her electric harp, Parkins managed to cover incredible amounts of territory in her half-hour set, wah-wahing the evening onward. Every color. Every sound. Every gesture. Every genre. Carver Audain ended the night with a video and laptop presentation that concluded with him playing Brahms's Lullaby on music box.
Night four brought 85-year-old Alvin Lucier together with one of his students, Nicolas Collins. First, Lucier premiered Ricochet Lady, a new work played on glockenspiel by Trevor Saint. The instrument was flat against the wall so, as Lucier pointed out later in a truly delightful and insightful interview, the sound would bounce and literally fly around the space. His second piece was Bird and Person Dyning, from 1975. Lucier stated he was not completely happy with how it worked in the space, and Collins pointed out something Lucier had said many years before: "Why doesn't sound do what you want it to do?" Collins's pieces were both thought-out and free. The first, The Royal Touch, used a "homemade circuit to reanimate a dead circuit," creating what he called "a chaotic multi-voice oscillator." The second piece employed a candle to generate the sound.
Night five included one of my favorites, Christian Wolff. He performed Or 4 People from 1994, which was originally written for four people. But he played it solo on melodica, along with an assortment of bells and other little tchotchkes with Daniel Neumann manipulating a prerecorded tape of violin and other sounds. It was a magnificent scored piece that involved instruction, choice, and improvisation. The evening also included a performance for voice and homemade amplifiers by Lesley Flanigan, aptly titled Amplifications, which, she states, "exposes the physical side of electronic sound."
Simone Forti was not in attendance on night seven. In her stead were two films and a live performance of her work by Cathy Weiss and K.J. Holmes. That evening began with the multi-layered Tristan Perich piece Parallels, played by the Meehan/Perkins Duo in what was described as a work exploring "the nature of pitched and unpitched percussive sounds." Jacob Kirkegaard played on night eight, and Pauline Oliveros rounded out the nine-evening event. Oliveros performed first with Seth Cluett, both manipulating small metal objects on top of an amplified apple box. Next, she improvised on bandoneon, accompanied by Cluett on electronics and Maria Chavez on turntables.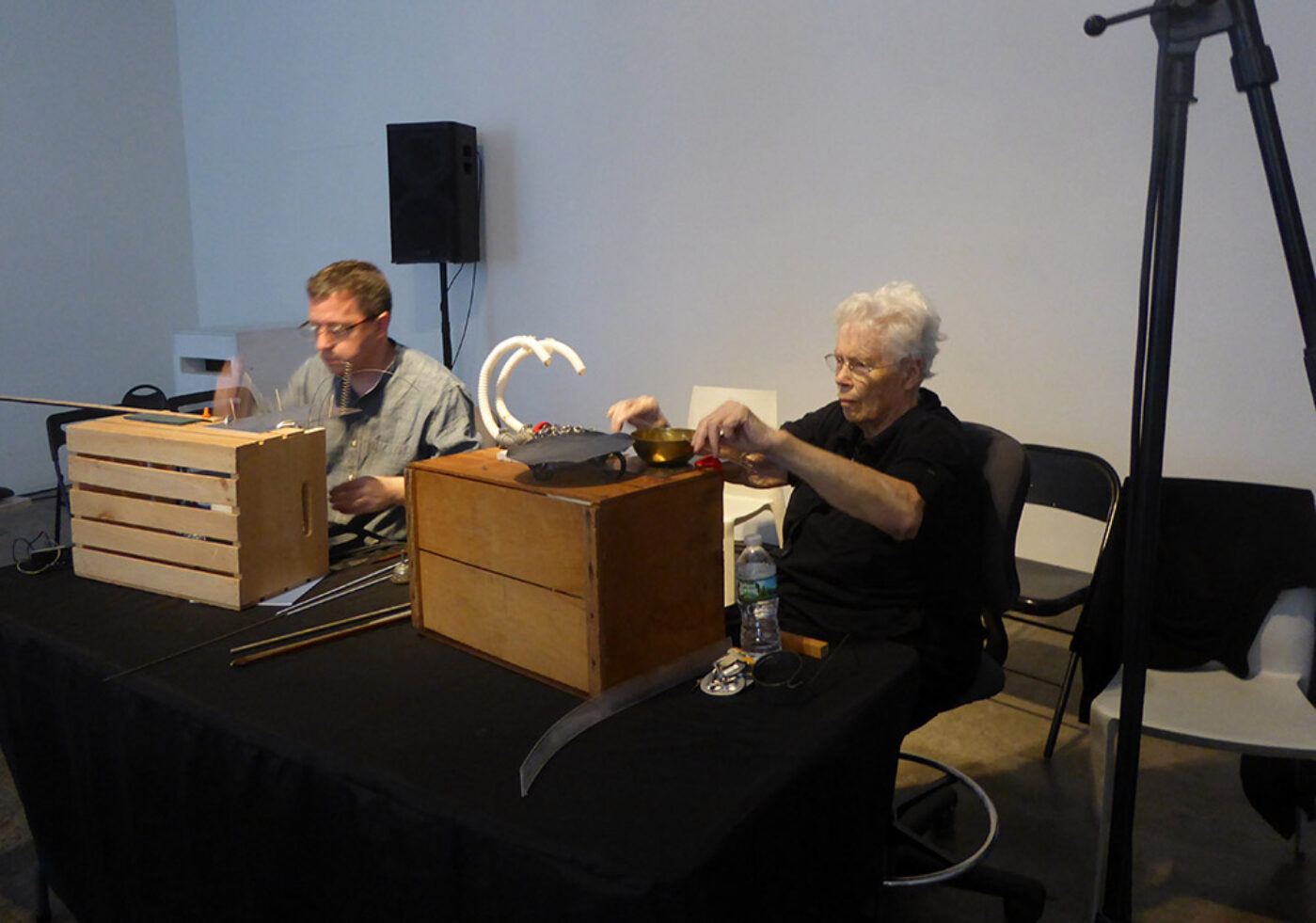 One lovely afternoon during this series Charlemagne Palestine, my wife Yuko, and I were sitting in Washington Square Park. I asked Palestine if he had seen the original 9 Evenings to which he answered (and I paraphrase), "I think I did. I remember talking to a woman in a wheelchair, who turned out to be Cage's mother. She asked if I knew her son, and I said I did. Then we entered together." Palestine had just come from the exhibit A Feast Of Astonishments: Charlotte Moorman and the Avant-Garde, 1960s–1980s at Grey Gallery, which I too had seen. I can't think of a better accompaniment to this brave celebration at Fridman Gallery.
Just as the original 9 Evenings linked the present with the future, 9e + 50 linked itself to the past. If the events of 1966 looked forward to 2016, that future remains lost somewhere within the gray area between the two. I'm not quite sure, however, if there will be any future. By this I mean: What advancements are still to be made? iPhones replacing laptops? Eyes replacing hands? Thoughts replacing eyes?
But as Cage told Lucier (and here I misquote), "Nothing works the first time. If you make a piece that doesn't work, what's the big deal? Try again… There are millions of pieces out there."  
9e + 50 was curated by Julie Martin, Regine Basha, and Daniel Neumann. As a continuation of the series, Issue Project Room presents After 9 Evenings: a 50th Anniversary Celebration curated by Chris McIntyre and Lauren Rosati, which involves screenings, discussions, and performances by Andrew Lampert, Marina Rosenfeld, Morton Sobotnick, Ed Bear, and others.
Steve Dalachinsky is a poet/collagist born in Brooklyn. His most recent books are Fool's Gold (2014, The Feral Press), A Superintendent's Eyes (revised and expanded 2013/14, Unbearable/Autonomedia), and Flying Home, a collaboration with German visual artist Sig Bang Schmidt (2015, Paris Lit Up Press). His latest CDs are The Fallout of Dreams with Dave Liebman and Richie Beirach (Roguart, 2014) and ec(H)o-system with the French art-rock group, the Snobs (Bambalam, 2015). He has received the PEN Oakland National Book Award, both the Kafka and Acker Awards, and is a 2014 recipient of a Chevalier de l'Ordre des Artes et Lettres. The Invisible Ray is forthcoming from Overpass Press with artwork by Shalom Neuman.