Discover MFA Programs in Art and Writing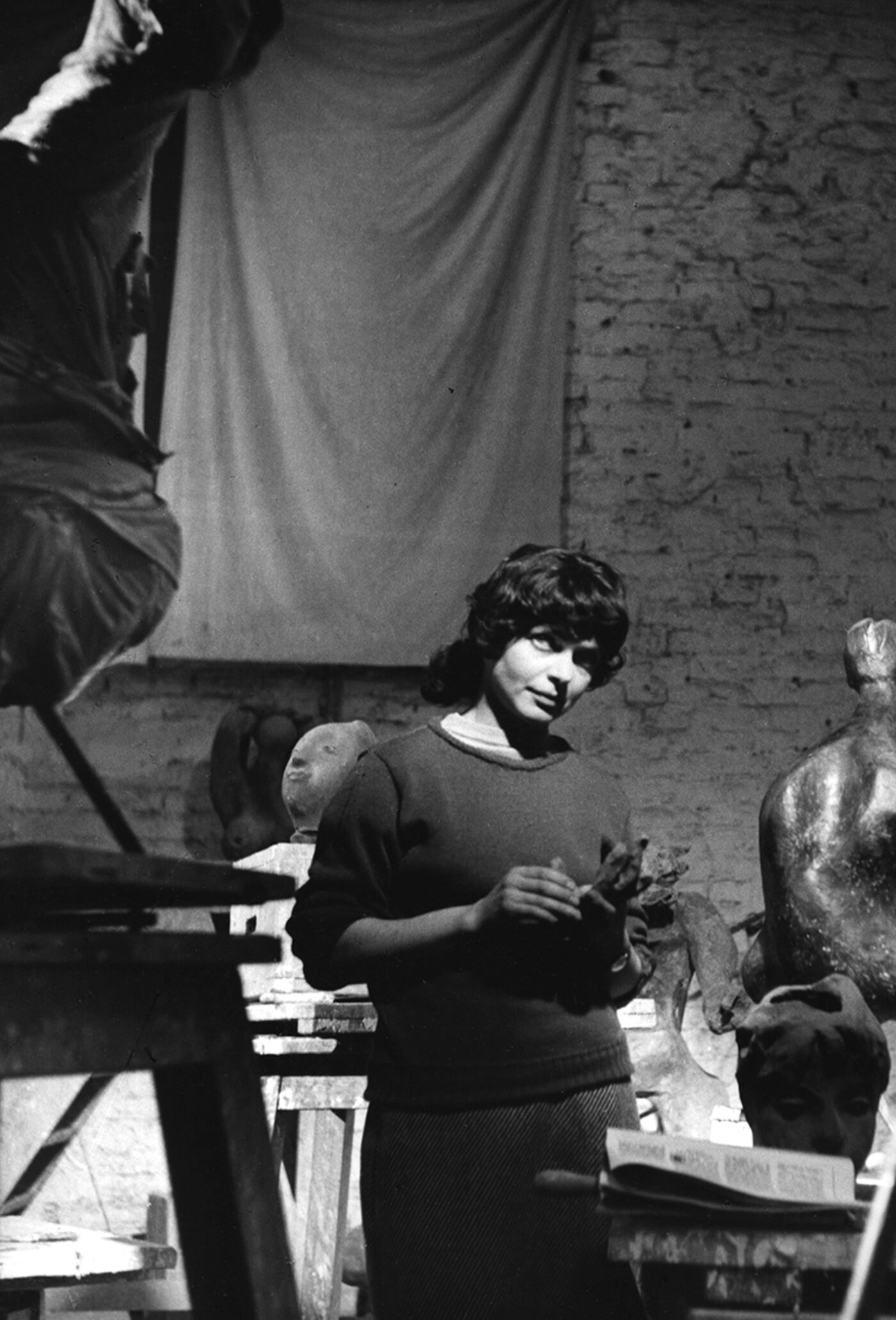 Sculpture Undone, 1955–1972
Museum of Modern Art, New York City
October 7, 2012–January 28, 2013
Lovely, Human, True, Heartfelt: The Letters of Alina Szapocznikow and Ryszard Stanisławski, 1948–1971
Museum of Modern Art in Warsaw, 2012
She had existed in the back burner of my consciousness for decades as the mythical artist's artist through badly reproduced, barely decipherable black-and-white photographs on newsprint in last century's Polish art history textbooks: Szapocznikow, the maker of decadently delicious yet ironic and abject breast desserts who survived extermination camps yet not the cancer that prematurely claimed her life. On top of it all, there was surrounding her a crust of mandatory national pride and reverence for being a woman and one of the relatively few awe-inspiring, exportable Polish artists. I didn't know her too well until now, and perhaps now I feel even more confused and perplexed.
My first reaction to her much deserved show at MoMA was: Where are the monkeys? Can't hear them. I expected the painful biographical highlights, so intricately woven into every cell of her sculptures, to be diluted and belittled by the bittersweet allegories. Instead, I see the primordial (anthropomorphized), the before and the beyond describable with words, the lava in the slow cooker with various anatomic fragments emerging from petrochemical formlessness. There is no choice made between pop kitsch and unquestionable beauty, between carefree sensuality and the metastasizing violence of the elements. I'm guessing the role of Kahlo's monkeys has been assigned to the acidic yellow gallery walls, reminiscent of the tasteless home decor of the Eastern Bloc in the 1960s (perhaps to cheer things up a bit).
Days later, in the middle of a sleepless night, I can't stop thinking about her. My initial hypochondriac fear of tumors surrenders to visions of the mythical Mr. Kurtz, of the hearts of someone else's darkness—nylon stockings immersed in clumsy tar shapes reminiscent of volcanoes. These are the types of exotic territories that vanish as soon you hear garbage trucks and other symptoms of civilization.

Next time I visit the show I'm with a friend who shares a confession about the shock she felt upon, at age 16, encountering Fiancée folle blanche (a white, ethereal female figure leaning on a pink, grotesquely large penis that occasionally glows). I burst into laughter, disturbing other more solemn visitors to the show. A probable light and humorous take on the inescapable tyranny of biological functions delights me. Could it be true? Is it possible that the artist fossilized by historians into the Madonna of darkness was joking? The female torso nearby with candy-colored breasts (glowing in 20-minute intervals) answers this question. I hope one day there will be a Guerilla Girl named after Alina.
The lyricism of Difficult Age, the socialist realist head with a pony tail, the machinelike Goldfinger, the semi–art nouveau lip lamps, the dark side of bachelor's ashtrays, and decapitated limbs and bellies, when contemplated chronologically, paint an evolving portrait changing the show's moods. This portrait's subject is someone astonishingly flexible when experimenting not so much with polyester resin or fiberglass but with whatever life throws at her.
There is yet another portrait to be uncovered in a thick book of letters between Alina and Ryszard Stanisławski. It almost contradicts the former in its endearing and lovingly mundane details about the contents of refrigerators, money, spools of wool, the state of socialism in Poland … If Alina the sculptor belongs in the category of acquired taste, Alina the letter writer is the dream friend we all yearn for. A quote from Rilke collaged inside Kaddish for a Child Not Born by Imre Kertész, another extermination-camp survivor, sums it all up: "Because Mr. Kappus, the world is not against us… . If dangers are at hand, we must try to love them."
Joanna Malinowska is an artist from Poland based in New York.
Originally published in
Featuring interviews with Verne Dawson and Genesis Breyer P-Orridge, Stanley Whitney, Katrín Sigurdardóttir, Federico León, Stan Allen, Rachel Kushner, Enrique Vila-Matas, and Coleen Fitzgibbon.