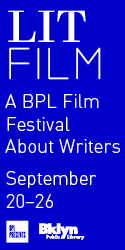 In 1981, Alice Notley published two superb, groundbreaking collections of poetry, How Spring Comes and Waltzing Matilda. These books illustrated how a poet can absorb her influences (in this case, mostly male) and assert her own complex, unique, and deeply experimental sensibility. A prolific "process" poet, Notley has published numerous volumes since the early '80s, including a dark epic poem, The Descent of Alette.
In her latest, Mysteries of Small Houses, Notley undertakes an investigation of the self, using her own self as an example. She draws from a lifetime of rich experience—her childhood in the Mojave desert, her "outlawish poet's life" in the '60s and '70s (moving from San Francisco to England to New York), her marriage to poet Ted Berrigan and their life in the St. Mark's poetry scene, and her life now in Paris. Progressing chronologically, the poems convey, through idiosyncratic mental shifts and leaps and utterly natural line breaks and phrasings, the poet's ever-evolving emotional, artistic, and spiritual personality. Most of the poems seem to spring directly from Notley's inner core, their origin dreamlike, otherworldly.
Some of the more memorable pieces include "The Future May Contain Me More," about young Notley's thirst for literature ("I'm way down the left wall looking—this / book looks interesting, woman in Shakespeare's times / becomes lover of Christopher Marlowe—who's he?"); "As Good as Anything," about Notley's graduate studies at the University of Iowa ("You can write your first poems / thinking you might as well / since the most stupid people in the universe / are writing their five hundredth here"); and the chilling "I Must Have Called and So He Comes," in which Notley has a dialogue with the dead Ted Berrigan. Notley recounts the deaths of her father, brother, husband, friends—all from alcoholism—and the scenes of her grief and turmoil are searing. Throughout, Notley peels away layer after layer of experience. By the end of the experiment, having stripped herself bare, she uncovers the true nature of the self—poverty—and is freed from both the past and material restrictions. It's a profound, liberating conclusion.
In a time when most so-called experimental poets were born yesterday, Notley is, and always has been, the real thing. Mysteries of Small Houses is the result of decades of dedication and hard work, of risk-taking and continual reinvention. Her endeavor has brought something remarkable to light.
—David Trinidad
Mysteries of Small Houses was recently published by Penguin Books.
Originally published in
Featuring interviews with James Hyde, Mary Heilmann, Alan Warner, Scott Spencer, Catherine Gund-Saalfield, Cassandra Wilson, Revenge Effect, Elevator Repair Service, Zoe Wanamaker, and A Day in Brasilia.