Algorithms, Antibodies, and Automatons: Lynn Hershman Leeson Interviewed by G. Roger Denson
Working on the cutting-edge of science and technology.

Discover MFA Programs in Art and Writing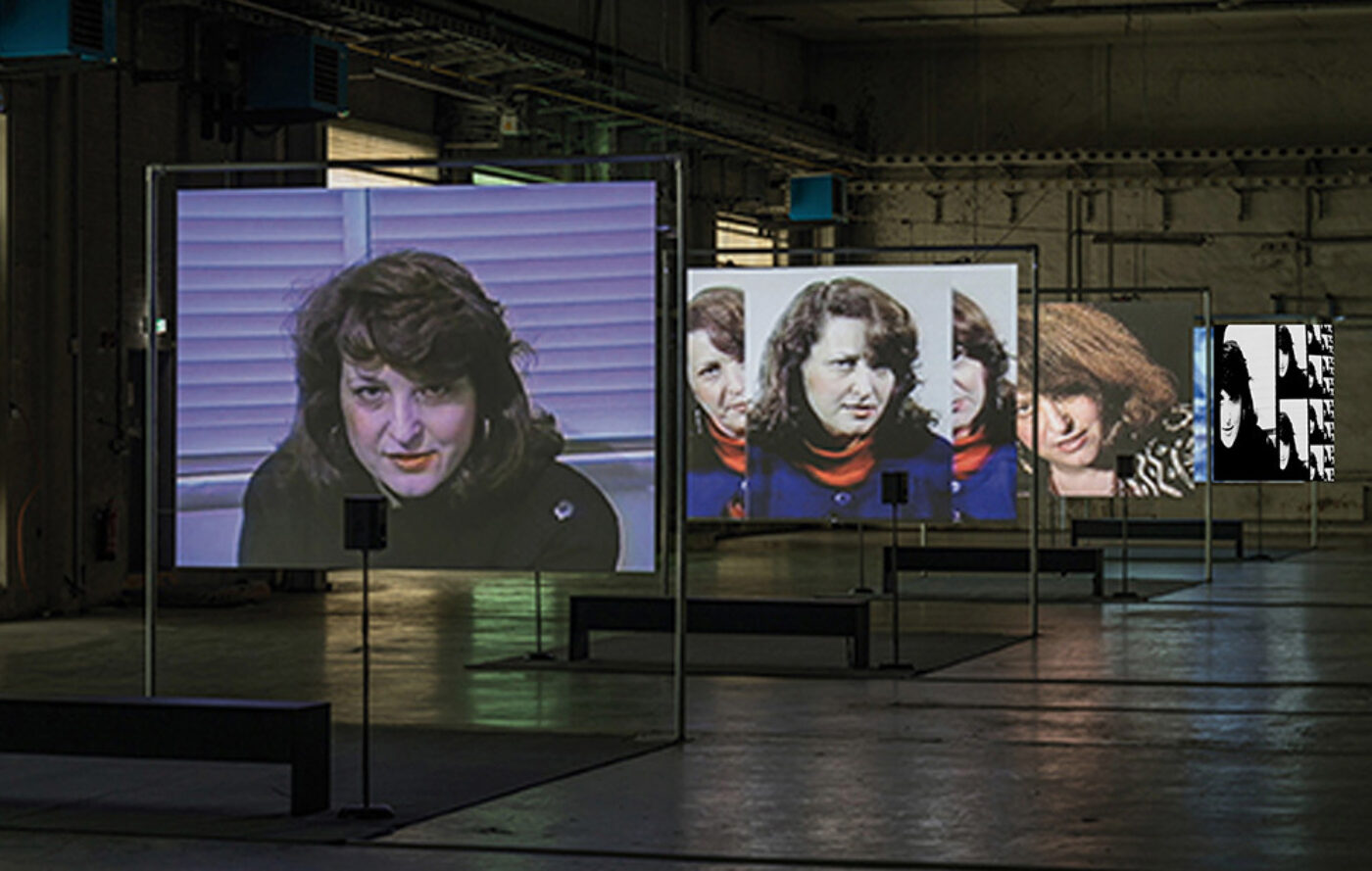 For nearly sixty years, Lynn Hershman Leeson has been overturning oppressively imposing personas, institutions, ideologies, technologies, and systems through a diverse range of sculptural objects, collages, performances, videos, films, internet chats, and healing antibodies extracted from her body. More than any artist I can think of, Leeson's work has embodied what Melanie Klein described as the fusion of fantasy to science in an effort to psychically exorcise cultural and personal aggressors. In the process of her liberation, she became fiercely determined to leave her imprint on the world through art as proof of her healing and liberation. Today she is triumphantly exhibiting and screening her art around the world, with The New York Times listing her career survey catalogue, Civic Radar, and the book Lynn Hershman Leeson: Antibodies as Best Art Books of 2016 and 2019, respectively. This year she was awarded the Prix Ars Electronica Award of Distinction for her interactive installation Shadow Stalker (2018–21).
—G. Roger Denson
G. Roger Denson You've consistently amplified issues the art world once silenced: surveillance, racial and sexual profiling, domestic violence, cloning, gene sequencing, suicide. What can you disclose about your highly informative art?
Lynn Hershman Leeson All my work erupts as acts defying oppression and censorship. I'm airing outrage to counteract the silencing of critical issues swept to the edges of culture. I'm turning the body of society inside out so that its outer edges develop the ability to grow an organ of amplification. Cultural motion is like an amoeba that advances one foot at a time, then has to wait for the rest of the body to catch up. The most prescient ideas are swallowed by moving pods until they get digested and become viable.
GRD Now that's mythopoetics evolving. You're fusing and reshaping the nature-culture boundary where the likes of cyborgs, artificial intelligences (AI), infinity engines, DNA replicates, and healing antibodies are evolved.
LHL I'm struggling to dissect "humanness" in general and my life in particular.
GRD That's been evident since the 1960s, with your Breathing Machines (1965) and Suicide Machines (1962–68) morphed as female-identified heads.
LHL They're cyborgs I grew into biologically edited performances twenty-two years before cyborgs were a glint in Donna Haraway's eye. And not just heads. Some were full bodies.
GRD There's a pathos about the cyborgs signifying suicide by fire. Given that their melted heads were exhibited in 1964, one year after poet Sylvia Plath died with her head in an oven, I associated them with Plath and other women suicides.
LHL The Suicide Machines are deeply spiritual about life, death, rebirth, transience. I melted their wax forms, then showed them with a picture of what the sculpture had been. They were my defiance of the doctors who diagnosed me at the time as dying from cardiomyopathy.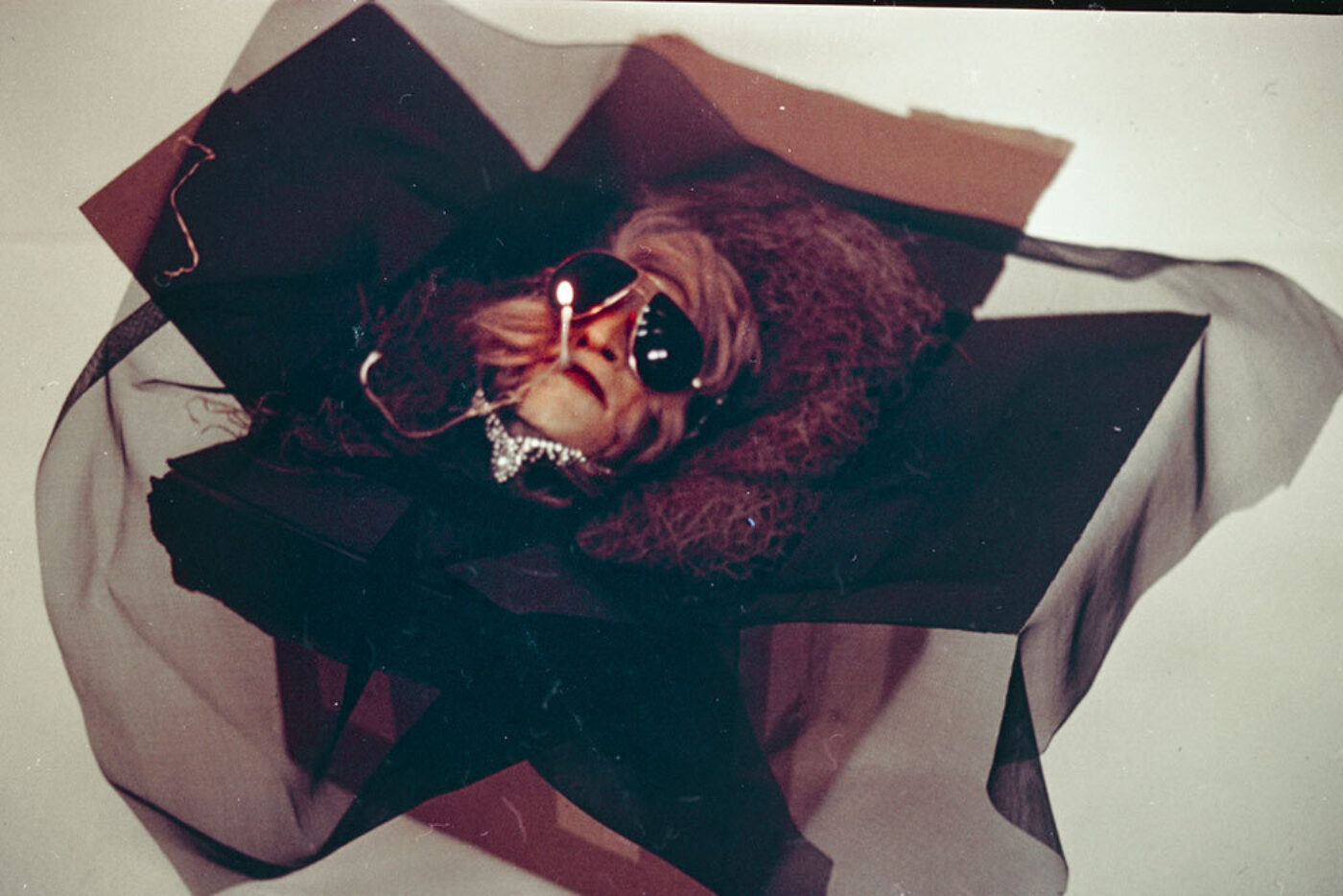 GRD Just as you defied the abusers you recall in Electronic Diaries (1984–2019). As I watched Diaries last winter at The Shed in Manhattan, I was shocked to hear your history of child and spousal abuse.
LHL Most women have been raised to be victims, having experienced violence early on. Many suffer the rest of their lives with PTSD. We're linked by our scars. Electronic Diaries was made so I could understand myself, my wounds, and scars. My generation had no microphone. No #MeToo. Repression saturated everything.
GRD You're also countering the misogyny disseminated by media entertainments, especially rampaging, male-avatar, shooter-and-rape games such as Grand Theft Auto, Modern Warfare, and RapeLay. Your film Teknolust (2002) and your interactive multiuser programs Agent Ruby (1998–2002) and DiNA (2004) talk back to misogynistic media. In Teknolust a feminist backlash plays out among your three biogenetically engineered, female-identified, self-replicating automatons, all played hilariously by Tilda Swinton as unimpressed investigators of things male.
LHL But I don't try to get even. It's more dignified and fulfilling to experience my extraordinary crew and cast. And I saw Agent Ruby and DiNA intertwined as a double helix illustrative of the core of most interactions.
GRD Since you made Teknolust, AI has become a global obsession. This is in contrast to the 1990s, when, except for a brief flirtation with Jean Baudrillard's theory of Simulation, the art world ignored AI.
LHL Even in 2002, no one knew what to say or write about Teknolust.
GRD Perhaps people didn't know what to say because your work portrays the inexplicable anti-logic in life. Just as the inexplicable forces of Nature thwarted societies that sought and crafted mythic deities and heroes to mend the rifts of intolerable uncertainty, programmers today are finding that even algorithms have within them voids that can't be filled or corrected, causing machines to break down. These voids inspire dissent and anarchy among sci-fi writers, which makes me wonder if you're informed by the cyberpunk novels of William Gibson, Bruce Sterling, or Pat Cadigan? The cyber lit crit of Janet H. Murray?
LHL Not Janet. But for sure Bruce and William. Also Timothy Leary, Allen Ginsberg, Bruce Conner, Dennis Hopper, Francis and Eleanor Coppola—the guys I knew in the '70s were influential in a million ways.
GRD Your film Conceiving Ada (1997) challenges the histories of computer programming and engineering that still don't credit Ada Lovelace as the inventor of the first algorithmic computer program.
LHL I tell them all the time, but they won't report the truth.
GRD Such biased lapses remind us that even the industry of synthetic systems is modeled after the dominant patriarchal faiths with their creator gods forming human males first and foremost. You, by contrast, defiantly descend from such mytho-gyneco outlaws as the chthonic goddess, maenad, oracle, wiccan.
LH There is hope in being an outlaw, in finding the glitch in the laws of expectation.
GRD Am I right in seeing Conceiving Ada, if not the Ada Lovelace of history, reconciling both male and female myths in Ada's pursuit of a traditionally male-only vocation?
LHL The male is the myth. Ada was authentic. Her voice, her art were the uncredited female genius defying Charles Babbage's male, mythic genius appropriating her ideas. In the end she triumphed, but died early.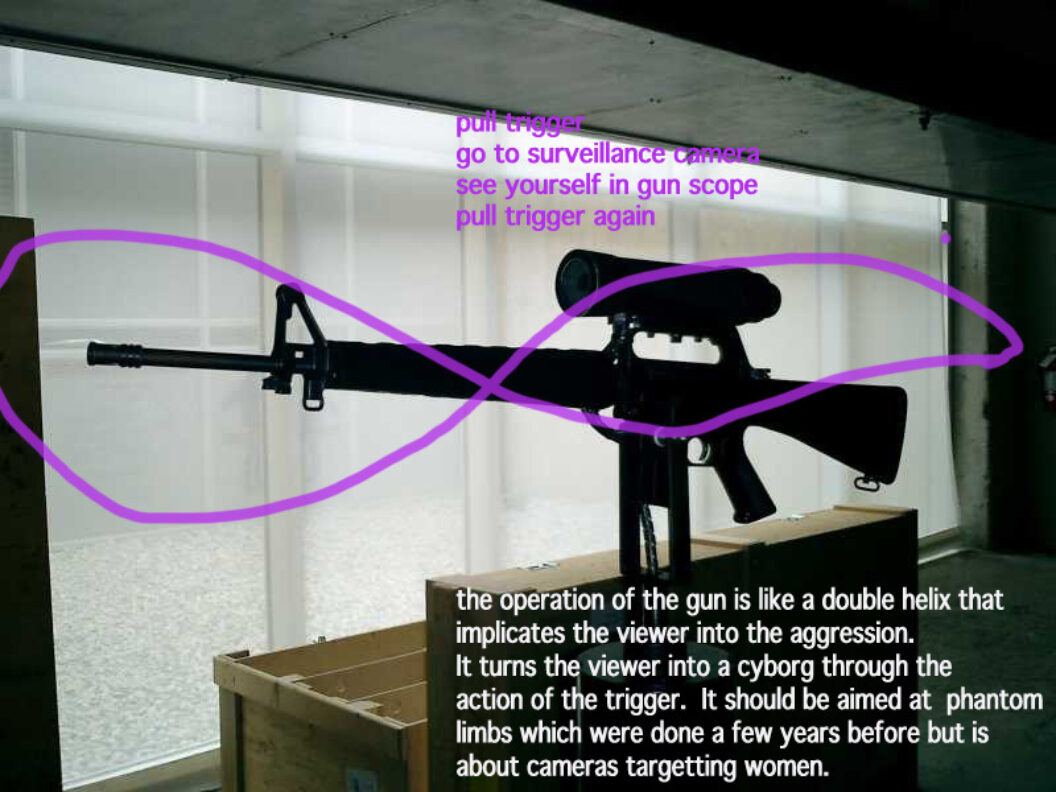 GRD Your Ada dreams of shaping the future. She is aided when contacted by Emmy, a twenty-first-century woman-engineer-inventor, and her invention, the time-traveling "chat bot," Sharlene. As in Teknolust, with its three female-identified automatons, in Conceiving Ada you've constructed three female oracles that together are every bit as prescient as Shakespeare's three witches, but without the narrative need for a Macbeth.
LHL Why, thank you. I can hear him turning over in his grave, but I love that thought.
GRD Did you see yourself invoking such a lineage of myth and literature when writing the scripts for these films?
LHL Yes, I did see it, and thank you for seeing it too. I don't think anyone else did.
GRD I always saw Shakespeare's three witches as the Greco-Roman Three Fates banished from their altars and temples and driven into the woods by the early Christians, where they lived as outlaws. Now they inhabit your feminist trios.
LHL Here. I wrote this in 1996. I think it tells you what you want to know:
The computer, as Sadie Plant tells us, emerges from the history of weaving. Using Jacquard's inspired application of punch cards to create woven recall, Charles Babbage attempted to implement a mechanical means of memory. But it was Ada Lovelace, the Enchantress of Numbers, who was concerned with the soul of the machine; the motivation for its internal drive. Perhaps it was because of her influence that motherboards and reproductive systems became submerged deep within the terminal casings where within their concealed womb-like spaces, as if by internal passion, they erupt into streams of ones and zeros with progeny so fertile they connect global web streams into interlacing networks of twisted polarities like the physical and the virtual, privacy and surveillance, liberation and censorship. These self-arousing cybernetic machines will breed our future. Artificial memory and synthetic intelligence plait together into rebellious mutations that resist a central will and defy a singular voice.
GRD Resistance certainly is central to your 2007 film, Strange Culture. This time in recounting the real-life arrest and four-year-long harassment and incarceration of artist Steve Kurtz by Homeland Security.
LHL The arrest occurred when the sudden death of Steve's wife coincided with preparations for his bioscience-inspired art installation at the Massachusetts Museum of Contemporary Art which were mistaken by the medical response team as evidence of bio-terrorist activity. I was so outraged by Steve's arrest that I felt people needed to know, and I needed to help in the most obvious and expedient way. Steve will tell you that my film was responsible for helping to get his twenty-three-year sentence dropped.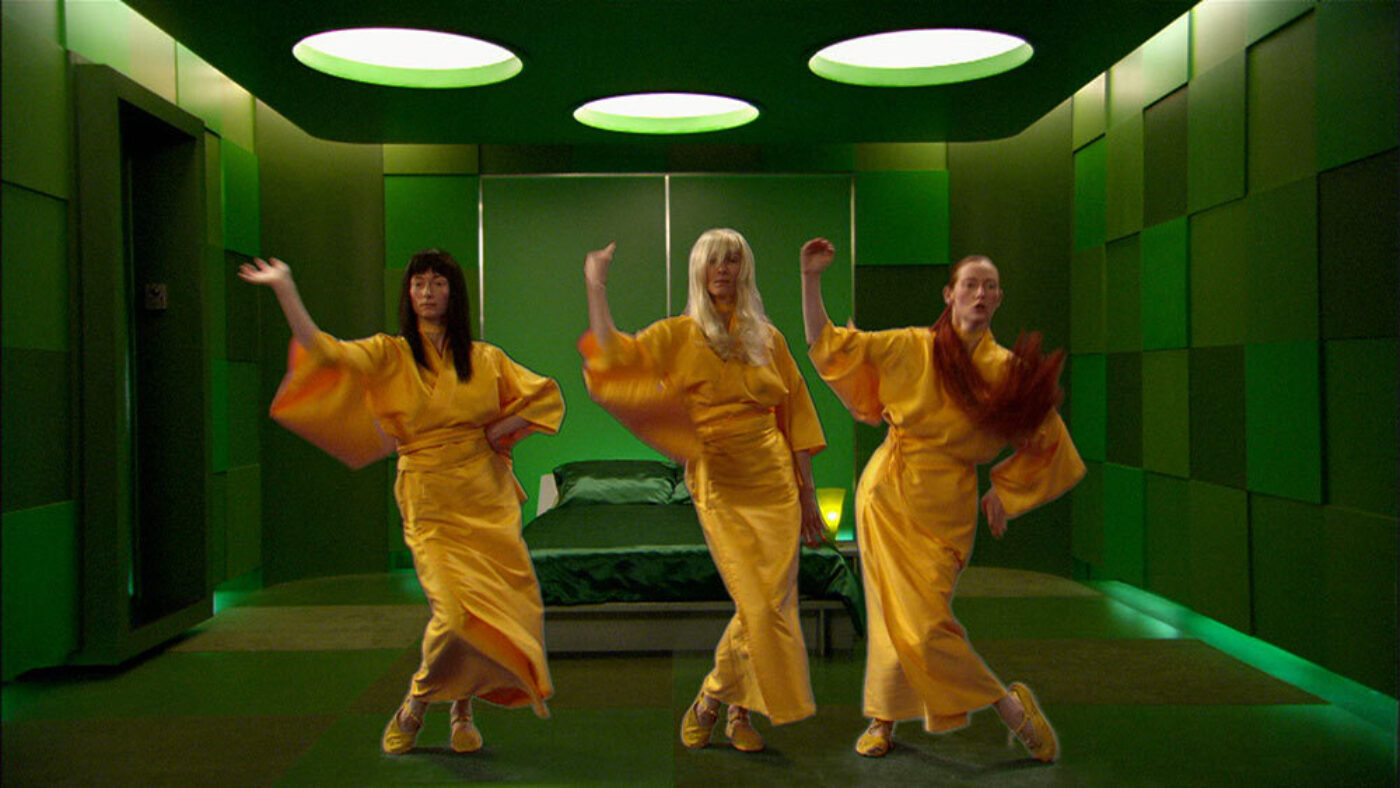 GRD Strange Culture also reoriented you toward the biosciences. In your 2014 installation, The Infinity Engine, currently on view at the ZKM Center for Art and Media Karlsruhe, you collaborated with Dr. Thomas Huber, leader of the therapeutic antibody research group at Novartis Labs in Basel, to replicate a genetics research lab. Visitors enter a "capture room" in which reverse facial-recognition software captures their images while disclosing such intimate data as their DNA origins. Your Antibody Room exhibits artificially engineered antibodies from your own genomes.
LHL Antibodies seek out toxins in a body. If successfully neutralized, they kill them and cure disease. I see artists as the antibodies of the cultural body who weed out the poisons crippling and diminishing humanity. The antibodies and DNA I extracted from myself with Dr. Huber supply an infinity of hope. I also extracted an antibody named for my 1970s performance persona, Roberta Breitmore, to use in cancer research.
GRD So your antibodies became infinitely reproducible essences of you-as-artist, and you-as-artwork Roberta, plus therapeutic essences that sustain life by combating disease.
LHL Poetic, don't you think? A haiku of essence. You get reduced to something invisible, with the weight of a millimeter, if that.
GRD Your antibody is uploaded online, accessible to any search for vaccines. But even in contributing to medical advancement, is it ethical to impose experimental genome editing to "enhance" living animals and humans? Who defines "enhancement"? Whose genomes are or aren't to be replicated?
LHL Everything you say and more are questions I've grappled with for ten years, at least. The struggle itself is part of evolution, and if done consciously can become an enhancement, I believe.
GRD You're expressing the utopian euphoria of the 1960s. But today we're facing global dystopia, an anxiety unable to preempt such environmental and social collapse as the Amazon in flames and the COVID-19 virus. What the young today fear as imminent reality, we forty and fifty years ago only entertained as overwrought popular fictions in 2001: A Space Odyssey, Blade Runner, and Alien.
LHL All enacted these days. Minority Report, too.
GRD Minority Report: pursuing murderers before murders occur. You're now broaching the subject of your video exposé The Red Square Algorithm (2019) and your interactive installation Shadow Stalker which are both critical of algorithms purporting to predict crimes before they occur when they may be little more than racial and class profiling. Aren't these reflective of the new social malaise?
LHL I don't share the malaise of this generation. I don't know if they really do at the core. Sometimes malaise becomes fashionable, but generally it doesn't represent solutions or deeper-than-surface complaints. Works such as Shadow Stalker, America's Finest (1993–94), Strange Culture, Women Art Revolution (2010), Teknolust, Water Women (1978), and especially the newest, Room #8 (2018), all run counter to dread. They provide solutions.
Lynn Hershman Leeson's work is currently on view in the group exhibitions Uncanny Valley: Being Human in the Age of AI at the de Young Museum in San Francisco until October 25 and Writing the History of the Future at ZKM Center for Art and Media Karlsruhe in Karlsruhe, Germany, until March 28, 2021.
G. Roger Denson is a cultural critic living in Manhattan who specializes in global art issues intersecting media, sciences, politics, ideologies, and cultures. A former curator of contemporary art, media, performance, and dance, and a founding instructor of the School of Visual Arts Graduate Program in Criticism, he has written features and reviews for Art In America, Arts, Artscribe, Artbyte, Parkett, Bijutsu Techo, Flash Art, Duke University's Cultural Politics, Journal of Contemporary Art, Kunstlerhaus Bethanien, M/E/A/N/I/N/G, and the original Huffington Post. He is co-author, with the late Thomas McEvilley, of Capacity: History, the World and the Self in Contemporary Art and Criticism (Routledge, now in its 15th edition).