Probing the Finished Work: Alex Strada Interviewed by Simon Wu
The artist embraces revision, contradiction, and fallibility in a culture that prizes singular genius.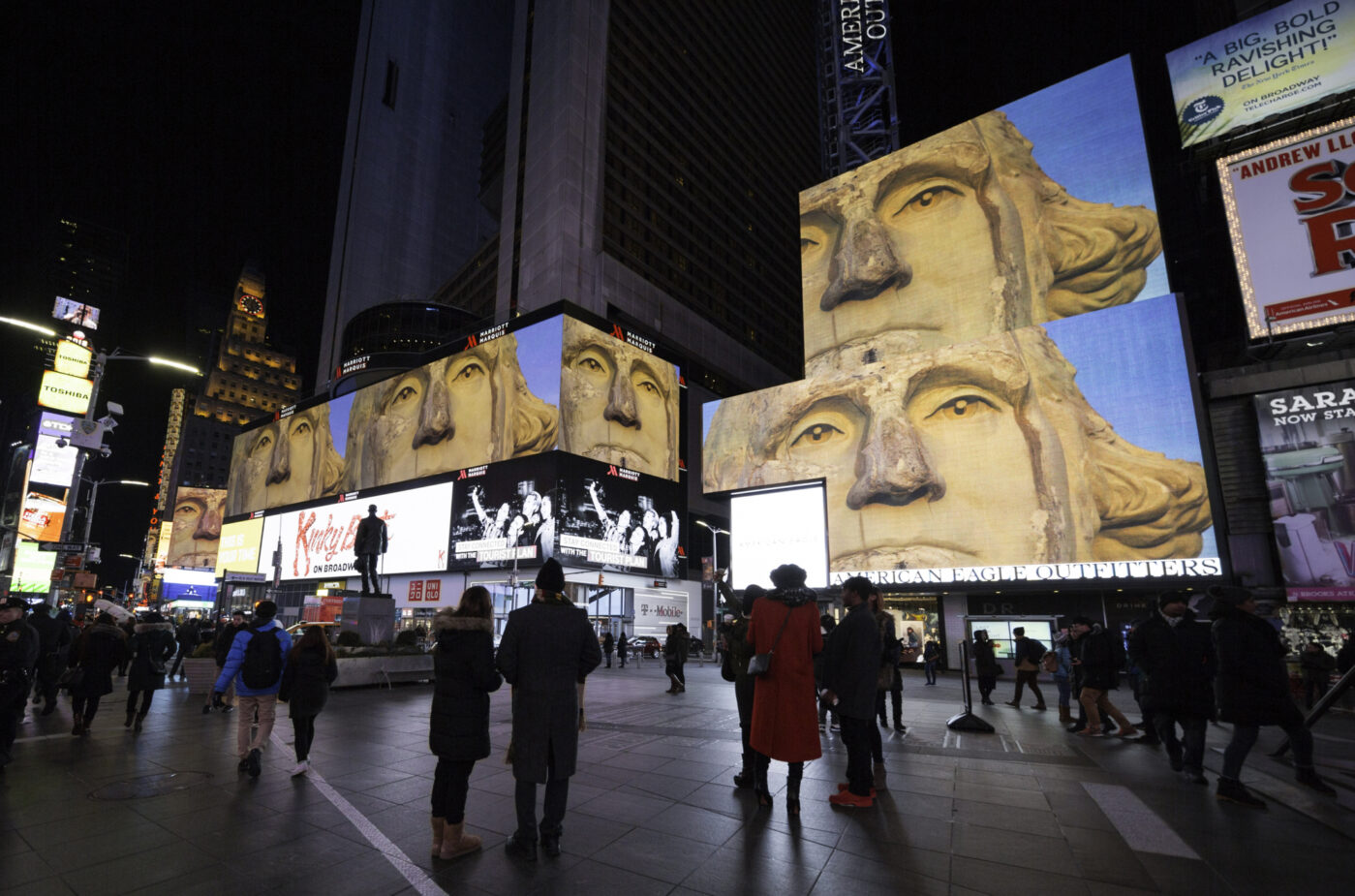 How do we live under capitalism? How can we make art that challenges its constraints? These questions have fueled many of my conversations with Alex Strada, a visual artist, filmmaker, educator, and good friend. In her films and multidisciplinary projects, she asks us to work through proposals to some of these questions.
Strada's films and conceptual projects are often only one node in a network of ongoing activities that unfold over a period of time. In Fictive Witness (2018–), an ongoing series of lecture-performances at the Goethe-Institut, Strada and her collaborator, Tali Keren, invite speakers to produce narrations set over their 2017 film Save the Presidents. Structured over the course of a day, the film centers on a field of eroding presidential monuments in rural Virginia and the manual labor that surrounds them. This project has taken many forms including an occupation of the screens of Times Square, a multimedia sculpture for Socrates Sculpture Park, and, now, Fictive Witness.
The subjects addressed throughout this series span the histories of property rights as they relate to personhood and race, Indigenous erasure through the erection of presidential monuments, and proposals asking what it would mean to "abolish the presidency." In Artist Contract, a legally viable contract based off of Seth Siegelaub's The Artist's Reserved Rights Transfer and Sale Agreement (1971), Strada seeks to redirect the flow of capital, stipulating that the proceeds from any future sales be reinvested in an "emerging" "female-identifying" artist. Both terms are intentionally open-ended and left undefined in the contract. Together with Strada's avid pedagogical practice at private and public institutions, these projects convey a body of work—and a life—committed to finding more just ways of being together. We spoke together on the occasion of her upcoming Fictive Witness lecture-performances.
—Simon Wu
Simon WuI wanted to ask you about the ongoing, open-ended nature of your projects. Your most recent lecture-performance series, Fictive Witness, stems from a project you have been working on with artist Tali Keren for many years. The description of Save the Presidents describes this continual revision as "fissures of opportunity to unpack oppressed American histories and to politically imagine what else might be possible." What is the importance of this continual, collaborative form? Is it tied to a particular political project?
Alex StradaCentral to my practice is a probing of the finished work. I try to make projects that question their own mastery, that point to the limits of my knowledge as an individual maker while also continuing to expand a given work's meaning. This porousness allows space for viewers and collaborators to be part of the (in)completion of the work. It is a political project in and of itself to insist upon artmaking as, one, a collective practice amid late capitalism and, two, an embrace of revision, contradiction, and fallibility in a culture that prizes singular genius.
In terms of process, I try to make works that follow their own logic. Sometimes this takes a long time. The work might exist in many iterations, or the work might not be sellable according to art-market standards. This way of making can be seen as a push back against the capitalist desire for a finished product. Discomfort arises from staying with a project, but there is also a lot of depth, surprise, complexity, and pleasure.
Fictive Witness is a project made in collaboration with Keren and is based upon Save the Presidents, a film we made together. In this new iteration of Fictive Witness, we continue to plumb Save the Presidents so that a multitude of voices can unearth the oppressed narratives that live within the cracks of these decomposing white, male presidential monuments. We are interested in using this experimental documentary as something that is tied to a real place and time—a field and worksite in rural Virginia—while functioning as a space for collective political imagination.
SWIn Professor Kendall Thomas's Fictive Witness performance, he speaks about the construction of visual whiteness in those monuments. How do you think about whiteness in relation to this project?
ASWhiteness has to be dismantled. Rejection of whiteness entails an unraveling of mastery and a rejection of wholeness or any silencing of difference. The enormous white monuments that America has reproduced over and over in a false interpretation of Greek and Roman greatness, as Kendall talks about, in many ways function as a shorthand for white supremacy. In the context of this project, we show these white, presidential monuments as cracked and unwhole and as requiring continual collective labor to surface the oppressed narratives they erase. Through this ongoing work, we aim to point to whiteness as a historically produced construction that must actively undo itself.
SWThere is also an interesting contrast between the extremely phallic, monumental nature of the works you're documenting and the ongoing work of their maintenance mirrored in the ongoing work of your project. In a way, you are telling us to continually revise the concept of democracy. It reminds me of the maintenance work of Mierle Laderman Ukeles.
ASI couldn't say it better myself. But unlike Ukeles, there are two of us making this work. Nonetheless, I think we share with her a certain dedication and exhaustion that comes with this kind of artistic labor.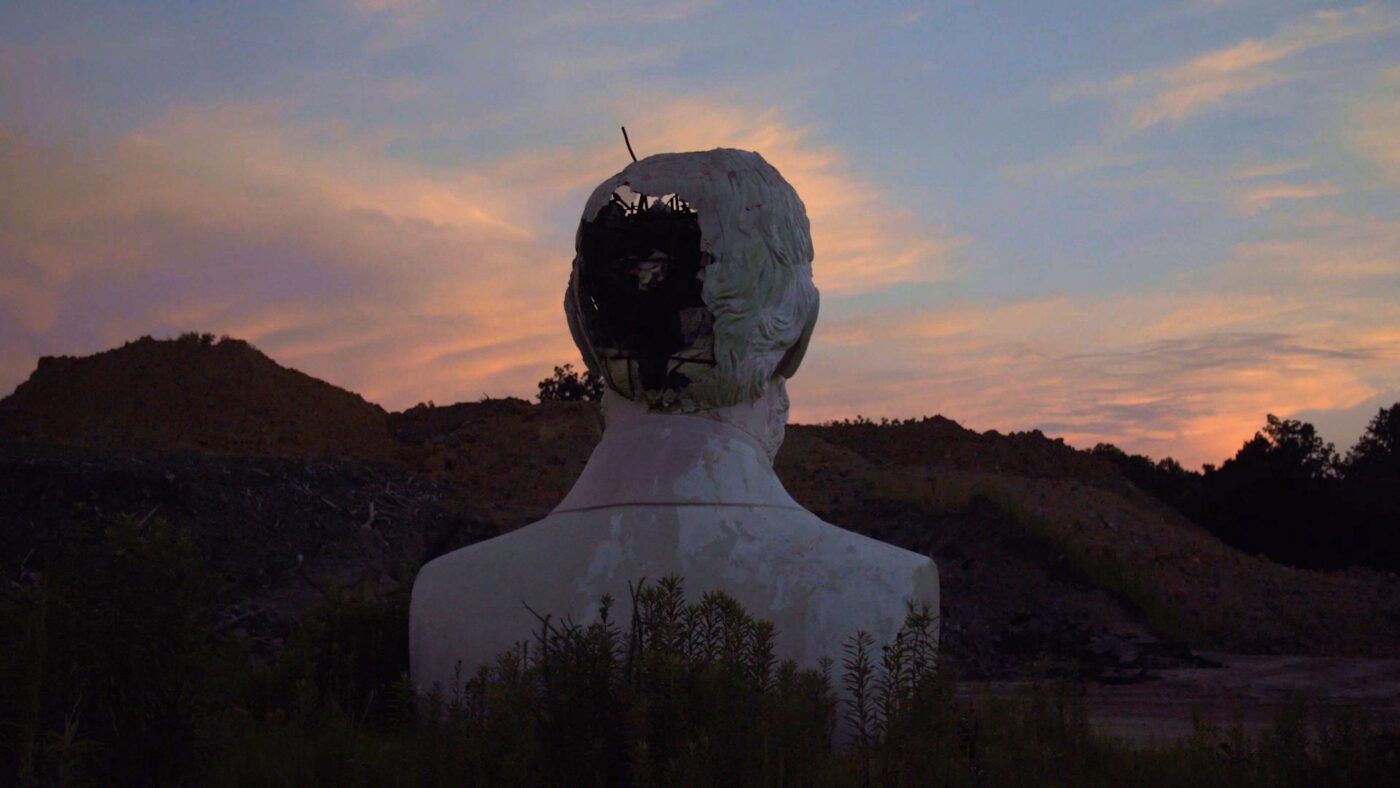 SWYou must be not only tired of looking at this kind of imagery but also tired of having to deal with all the administrative minutiae of organizing these events. You're also not selling and making money from this work in a traditional way, denying yourself the compensation you might be afforded under a capitalist market.
ASEvery artist needs to figure out how to support their work financially. For me, this happens through teaching at different levels—kindergarten-age students through graduate students—in both private and public schools. I do not rely upon the art market, and in the instances when I do sell my work, I use my Artist Contract with the goal of reshaping it.
SWCan you speak more about the model of redistribution that your Artist Contract proposes?
ASThe contract stipulates that, rather than permanently owning an artwork, any collector in collaboration with the artist agrees to sell said work in ten years. All accrued value must be reinvested in a new work by an emerging female-identifying artist. The model challenges the idea of an artwork as an investment in which collectors make income off the work. Instead, they are asked to reinvest that money in an artist who needs it to sustain herself.
Another aspect of the project is that the contract must always be made visible in a format that is collectively agreed upon by the artist and collector. In this way, the contractual agreement is also about making visible the labor and exchange that is inherent to display. With this project I am trying to make the politics of my practice become part of the life and trajectory of the work.
Recently I talked to Lauren van Haaften-Schick and Kenneth Pietrobono for their REDISTRIBUTION project. Kenneth framed the contract as both an intervention but also a means of pointing to what isn't possible for so many artists, namely the ability to make a living wage off of their artistic practice or finding enough collectors who would agree to use a contract in this way. There is possibility embedded in the contract—cultivating feminist artistic lineage, supporting collaborative relationships between artists and collectors, shedding light on overlooked labor—but there is also the potential of failure, and I think that is also important to reflect on.
SWCan you elaborate on what you mean by failure?
ASThere is potential for failure, because the dominant model of buying and selling work fails so many artists as it currently exists. Most artists cannot live off of that model, or they are excluded from it for many reasons, often because of race, class, and gender. At the same time, there is potential that this project, which tries to address some of those inequities, might fail too. Artist Contract only works if other people use it or some version of it. The project might not catch on at a large scale. Resisting nihilism, you push it forward anyway. You create space for an alternative.
Practicing failure also means welcoming a kind of thinking that exists outside of the tyranny of success that is so fundamental to capitalism. Jack Halberstam writes about this in the Queer Art of Failure, where they describe a queer understating of failure that can serve as a rejection of patriarchal and heteronormative systems of value.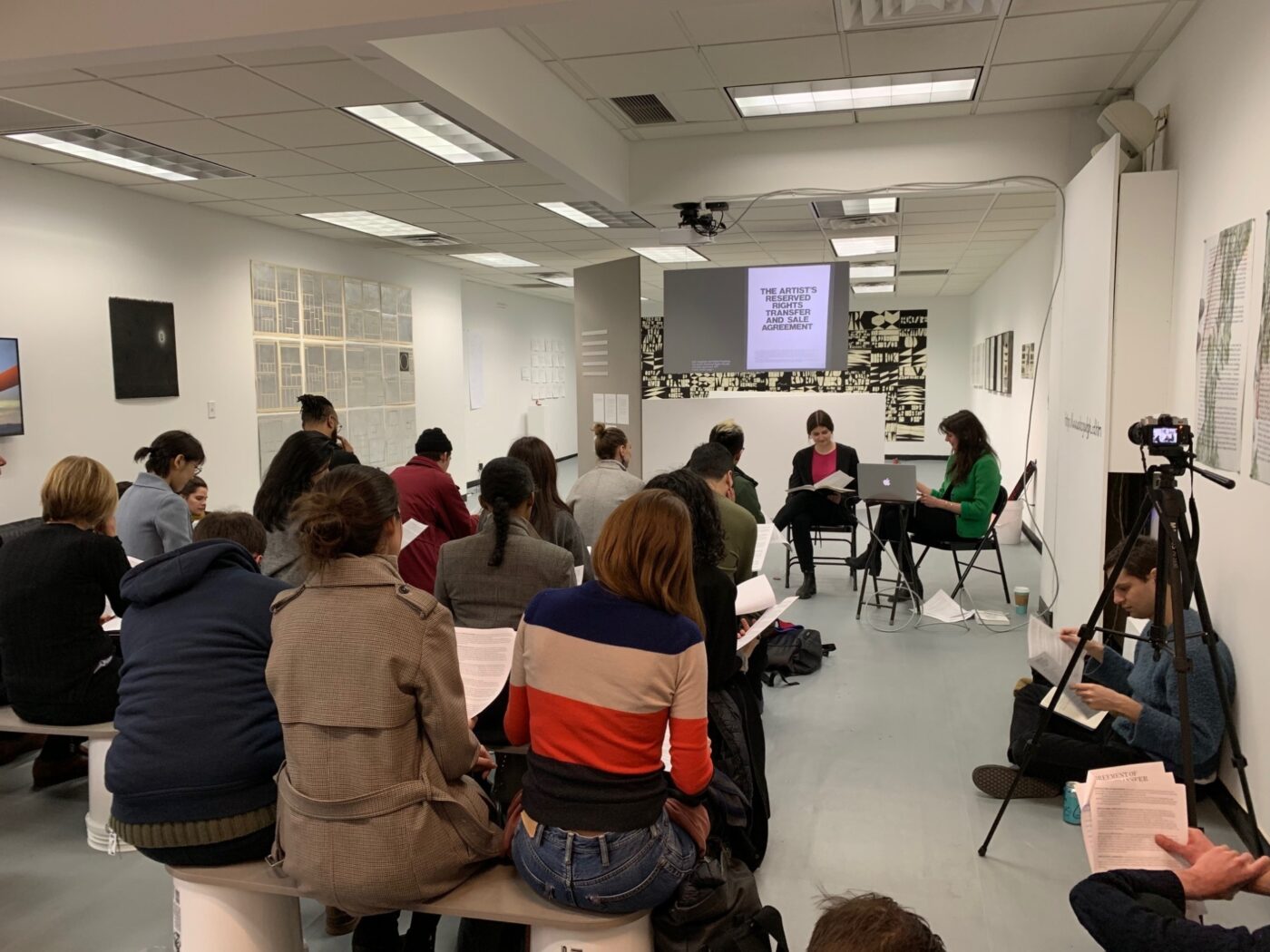 SWYour contract has been an important guidepost for me as a curator as well. It feels like a way to imbue the radical politics that are proposed in a lot of art into the everyday operations of art institutions and markets. How do you think about the audiences that your work reaches?
ASAs both an artist and teacher, I often think about a statement I heard Fred Moten say: "Take the staplers and run from the institution." Within every institution where I'm employed, or an artist-in-residence, or showing work, I continually ask myself, "What do I have access to, and how can it be redistributed?" For example, I made Artist Contract while participating in the Art & Law Program and while working with a lawyer who helped me find the right language to execute the idea. This agreement is a living document that now exists in the public domain and is free for anyone to use or adapt to befit the politics of their practice.
When Save the Presidents took over the screens of Times Square as part of Midnight Moment, it was both a spectacle as well as an earnest representation of our project and my interests as an artist. Here the work functioned as a rupture, or counter-monument, by puncturing the flow of advertisements. Passerbyers moving through the city were invited to reconcile what these eroding presidential monuments meant to them amid a hub of consumerism.
SWRight. And I see access in a continuum across your work, from your work in public schools to the screening of Save the Presidents in Times Square.
ASGregg Bordowitz talks about radical art as the art that brings together groups of people who might not otherwise occupy the same room. I couldn't agree more. In Fictive Witness, we strive to work toward this through transdisciplinary collaboration and exchange. For the most recent lecture-performance, we worked with the sociologist Alex S. Vitale and historian Nikhil Pal Singh to create an accessible public event that explored the histories of policing and its relationship to the presidency. Our upcoming performance is with education scholar Noliwe Rooks and student activist Whitney Stephenson of Teens Take Charge. This performance will focus on the origins of the US public school system and the role of integration while creating a platform for different generations to politically imagine what the public school system could look like. All events are followed by an open conversation with the audience so that the discussions can expand to reach the varying perspectives of everyone in attendance.
SWHow do you think about this in relation to your in-progress film that stems from Bertolt Brecht's "Writing the Truth: Five Difficulties"? Do you envision future projects that engage more explicitly with organizing or activism?
ASIn this project, I am using filmmaking to weave together different voices, spaces, and forms of labor to think with and against that essay that Brecht wrote in 1935 amid the rise of fascism in Europe. Though brilliant in many ways, Brecht had a notoriously fraught relationship with women, with some historians arguing that many different women helped write his plays but received no credit. Consequently, I've been interviewing a range of different femme and non-binary people whose professional practices relate to the idea of truth, including poets, neuroscientists, teachers, activists, philosophers, and art conservators. Participants include Claudia Rankine, Eileen Myles, Clarasita Zambrana, Gayatri Spivak, Erin Cloud, Silvia Federici, and Sarah Schulman, among others. The questions I ask stem from notes I wrote down in the margins while reaching Brecht's essay, like, "How do you recognize an idea as truthful?"
I use film as a medium because it easily circulates and can create a space and dialogue among different voices through the magic of editing. I could see the project growing to extend to a book of transcripts, workshops, installations, or who knows at this point. I'm still trying to finish the film. I'll listen to the material, and I'll let it tell me what to do. I do know that the project will be accessible. This is not the same labor as activism, and that is an important distinction to make. I am trying to broaden and contend with what is possible in an art context.
Alex Strada and Tali Keren will be presenting Fictive Witness at the Goethe-Institut in New York City on November 14 and December 12.
A PDF of Alex Strada's Artist Contract is available here.
Simon Wu is an artist based in New York City. He serves as the Program Coordinator for the Racial Imaginary Institute and is an alumnus of the Whitney Independent Study Program.