Discover MFA Programs in Art and Writing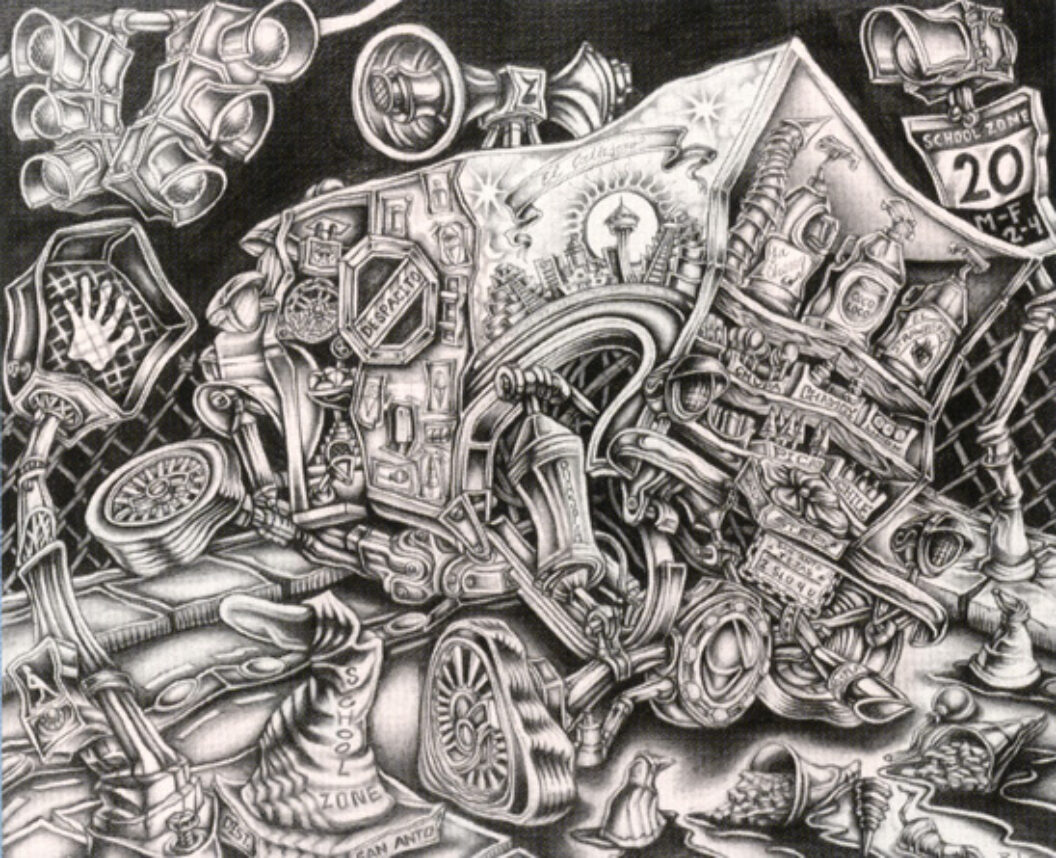 As I drove to the West Side of San Antonio I hoped to find Alex Rubio in his studio. He doesn't have a phone or a computer and it's always a dice roll to reach him. I found him in his apartment where he was working on the cover for this borders issue of BOMB—a painting of a lowrider Humvee rearing up onto its spoked hind wheels. The US Border Patrol uses several Humvees, and Rubio decided that his tricked-out version would be an appropriate image for the issue on border crossing. Even as the US grapples with trying to stem the endless tide of illegal immigrants from Mexico, and Hispanic "minorities" in the Southwest are fast becoming the majority, Rubio's drawing merges an icon of American authority with textural aspects of Mexican-American culture in a satirical inversion where the hunter becomes the hunted.
Rubio was born in 1968 and grew up in the Marisol public housing project in the largely Latino West Side of San Antonio. As a teen, he spray-painted drawings on the project walls, but his pieces differed from the tagging that was found everywhere in the neighborhood. They were much more painterly and figurative, owing more to the rich Mexican-American mural tradition. The West Side barrio is home to very hardworking men and women, vatos with their incredible lowriders, Chicano gangs, drive-by shootings, Tejano musicians, raspas, and tattoo artists cranking out images of spiderwebs and Virgins of Guadalupe. It also is a fervent ground for neighborhood murals celebrating Aztec Warriors and Mexican-American imagery like sacred hearts, crowns of thorns, and Milagros symbols.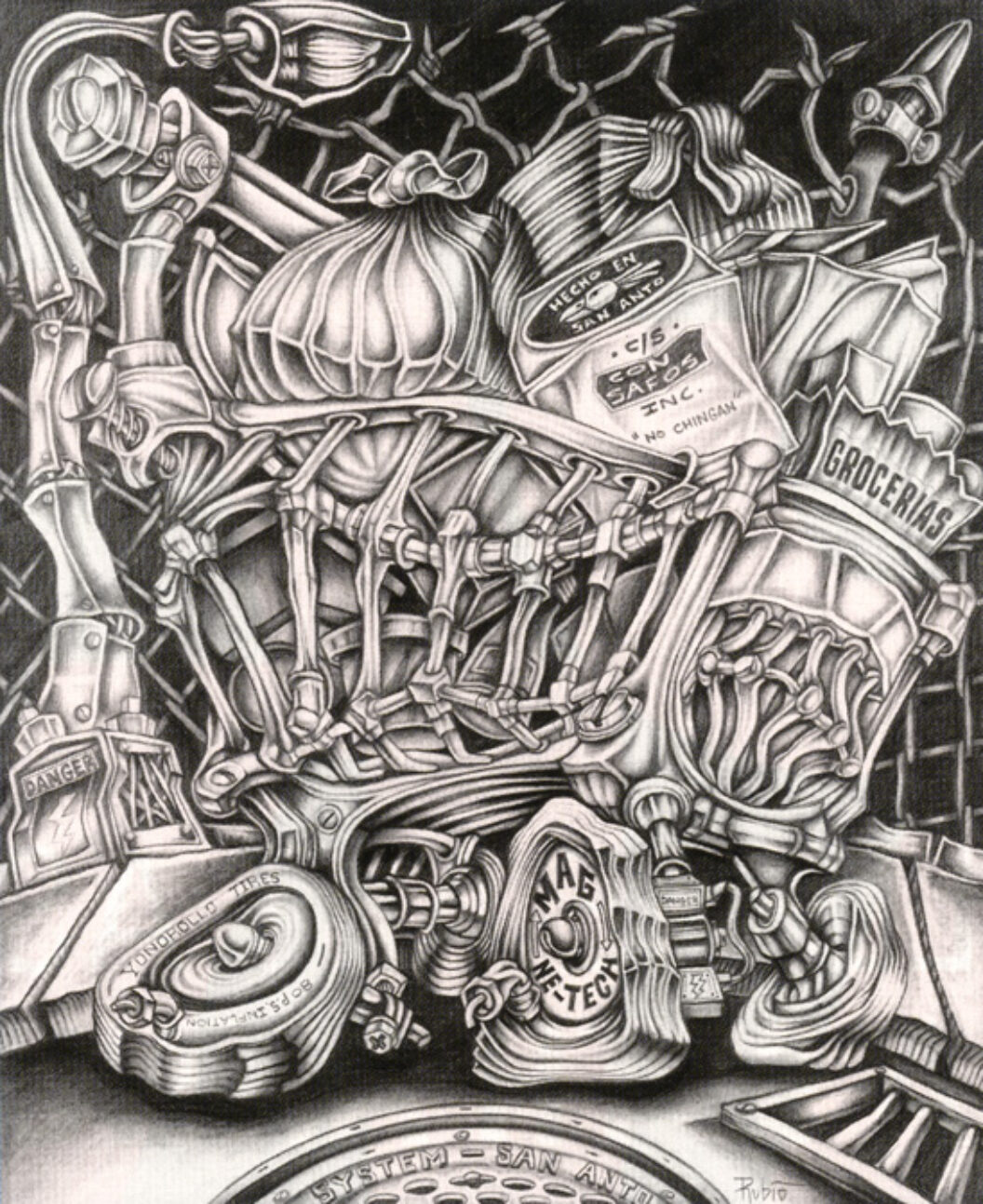 In 1987, the director of a community cultural arts organization saw Rubio's artwork and hired him to paint murals throughout San Antonio on a variety of business and housing project walls. He went on to become artist-in-residence for the Inmate Creative Arts Programs at the Bexar County Jail and was an art instructor at the Guadalupe Cultural Arts Center. Working with inmates allowed Rubio to observe prison art culture—especially the painting and drawing of family names and secret symbols on bandanas—and incorporate its codices in his own work.
On Christmas Eve, 1986, Rubio was at the Veramendi housing project partying with friends when he heard his name called and fell to his knees. He thought that a firecracker had hit him. His friends were still partying and singing Christmas carols as Rubio realized he'd been hit in a drive-by shooting. The bullet entered his chest and exited his side, missing his vital organs by a fraction of an inch. This near-death experience two decades go still informs Rubio's paintings: he regularly paints barrio images such as the ubiquitous Raspa Man roaming the West Side, populating a disturbing and threatening world of chain-link fences with concertina wire and gnarly characters packing heat. What makes Rubio's art distinct is the expression, a celebratory tornado of color and vigor that swirls around a pastiche of his barrio past and current experiences.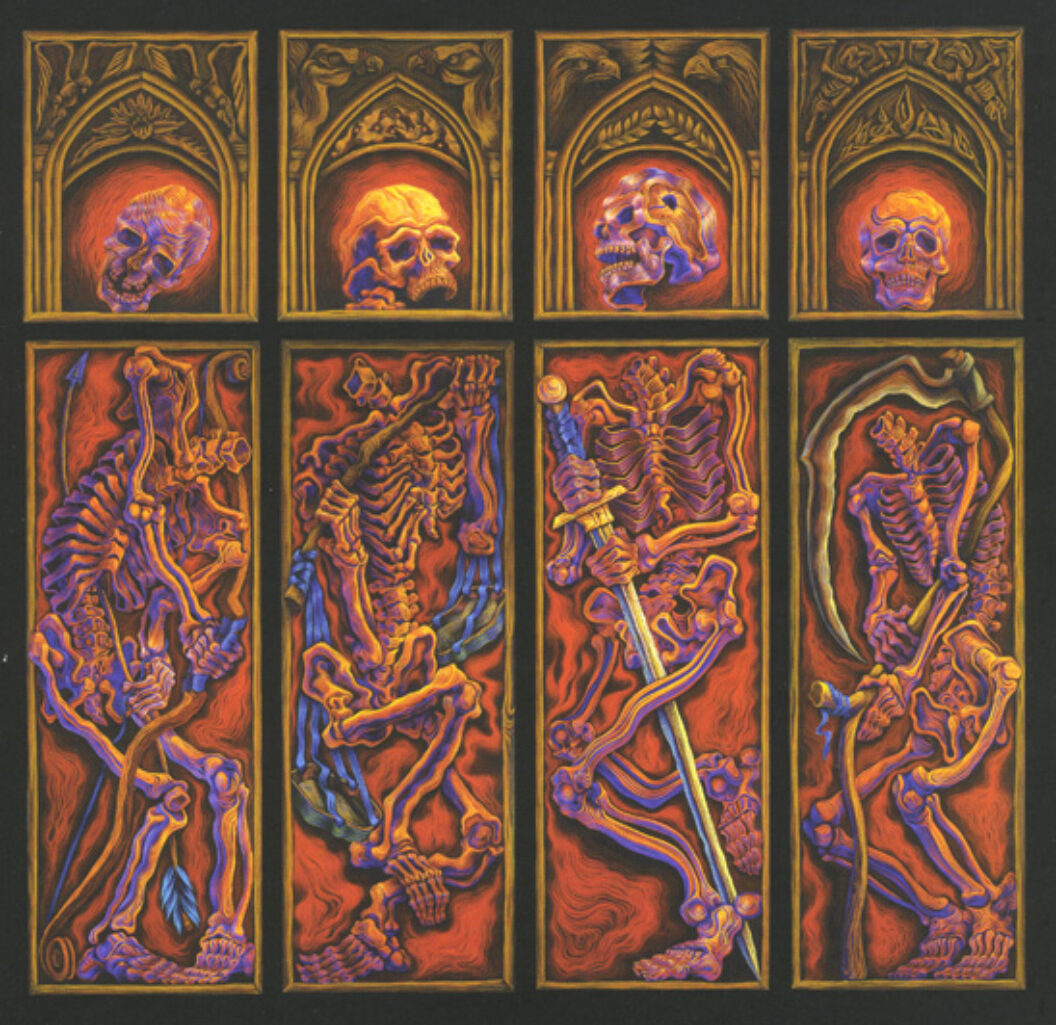 —Bill Fitzgibbons
Rubio's work is currently traveling throughout the US in Cheech Marin's Chicano Visions: American Painters on the Verge and Joe Diaz' Arte Caliente exhibitions.
Originally published in
Featuring interviews with Gabriel Orozco, Gronk, Virginia Fields, Margo Glantz, Salvador Plascencia, Jorge Hernandez, Cherrie Moraga, Doña Julia Julieta Casimiro, Alberto Kalach.