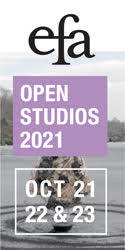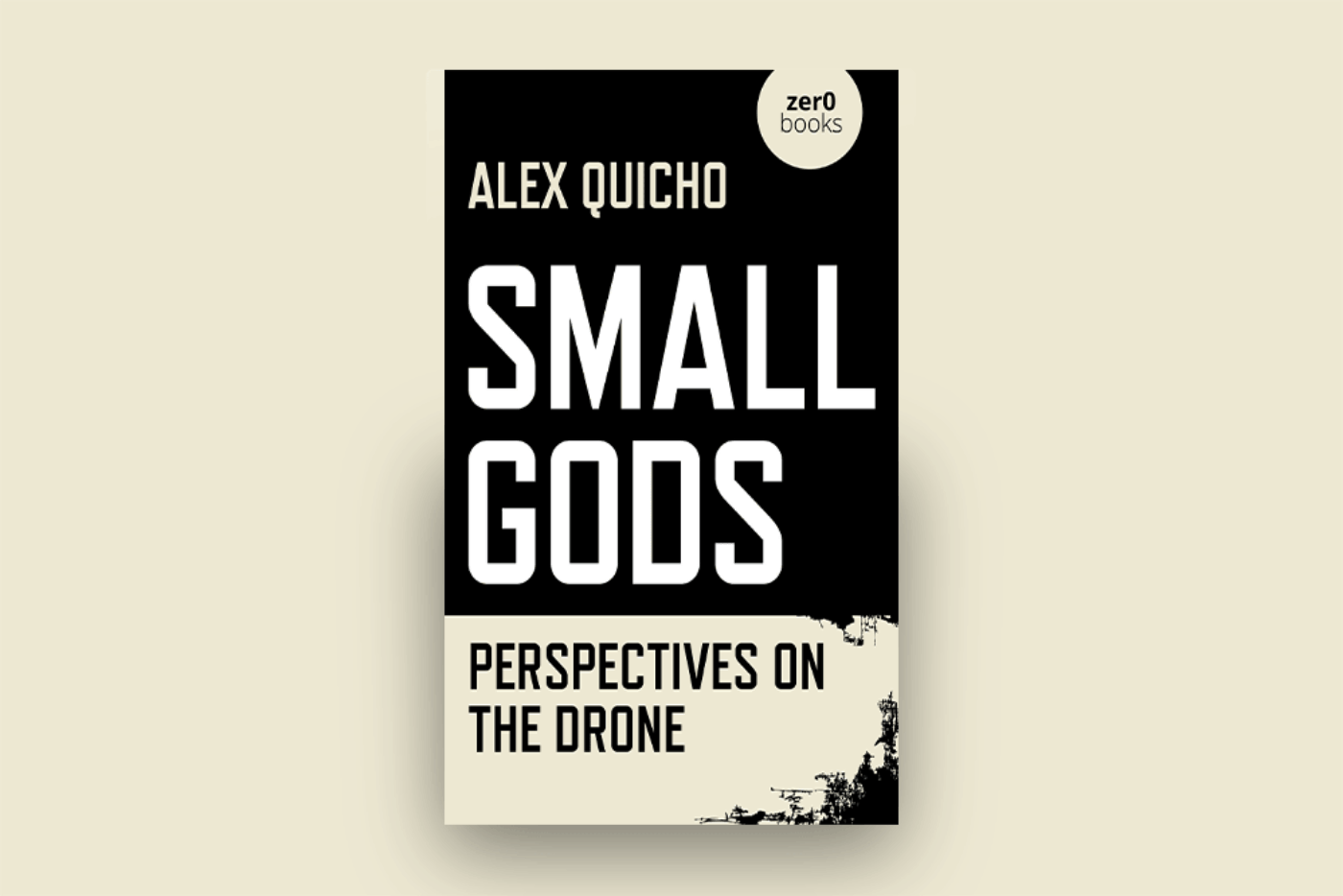 (2021, Zer0 Books)
"We know this: all gods become killing machines. But if a god stays small, can it create, instead, another reality?" So asks Alex Quicho in Small Gods: Perspectives on the Drone. Through a series of case studies, the London-based writer explores the presence of drone technologies and their attendant ocular, artistic, and sociopolitical implications in works of contemporary art.
In the first chapter, Quicho outlines the increase in drone strikes by the US military during the Bush and Obama presidencies, elucidating the ways in which political rhetoric intentionally miscasts drones as vehicles of "clean" kills and alternatives to purportedly messier forms of ground combat. In turn, media bias adds an additional valance: Quicho refers to findings that 61 percent of US drones strikes in Pakistan targeted civilian homes, which are often termed "compounds" in media reports—"estranging them from any associations with the domestic."
Observing that "not since the atomic bomb has war technology been so obsessively depicted," Quicho frames Small Gods for an informed yet curious reader. She notes the activist orientations of groups like Forensic Architecture—who often work in collaboration with whistleblowers and journalists—and an anonymous Pakistani art collective who installed "massively scaled, poster portraits of child-victims look[ing] back up at the sky" on rooftops and in fields near sites of civilian drone casualties. But Quicho remains circumspect considering art's potential to reframe or morally confront the brutal realities of drone warfare. Instead, her close readings of works that span installation, performance, film, virtual reality, data visualization, music, and sound reveal the reluctant compromises, defiant adaptations, and sci-fi-esque utopias and hellscapes that comprise twenty-first-century cohabitation with the drone.
Drones are not, however, only weapons. Quicho also writes about sonic dirges and the dissociative and psychedelic effects of droning. The author builds on ideas from Joanna Demers's Drone and Apocalypse (2015) about the relationship between tempo, melancholy, and mortality in music and sound. Analyzing twenty- and twenty-first century ambient music compositions—such as William Basinski's The Disintegration Loops (2002), an aural response to 9/11 footage—Quicho finds: "Slowing down moments, otherwise fleeting or forgotten, stretching the sonic marginalia of daily life into monolithic walls of sound, they demonstrate how the end of the world is already contained in the everyday."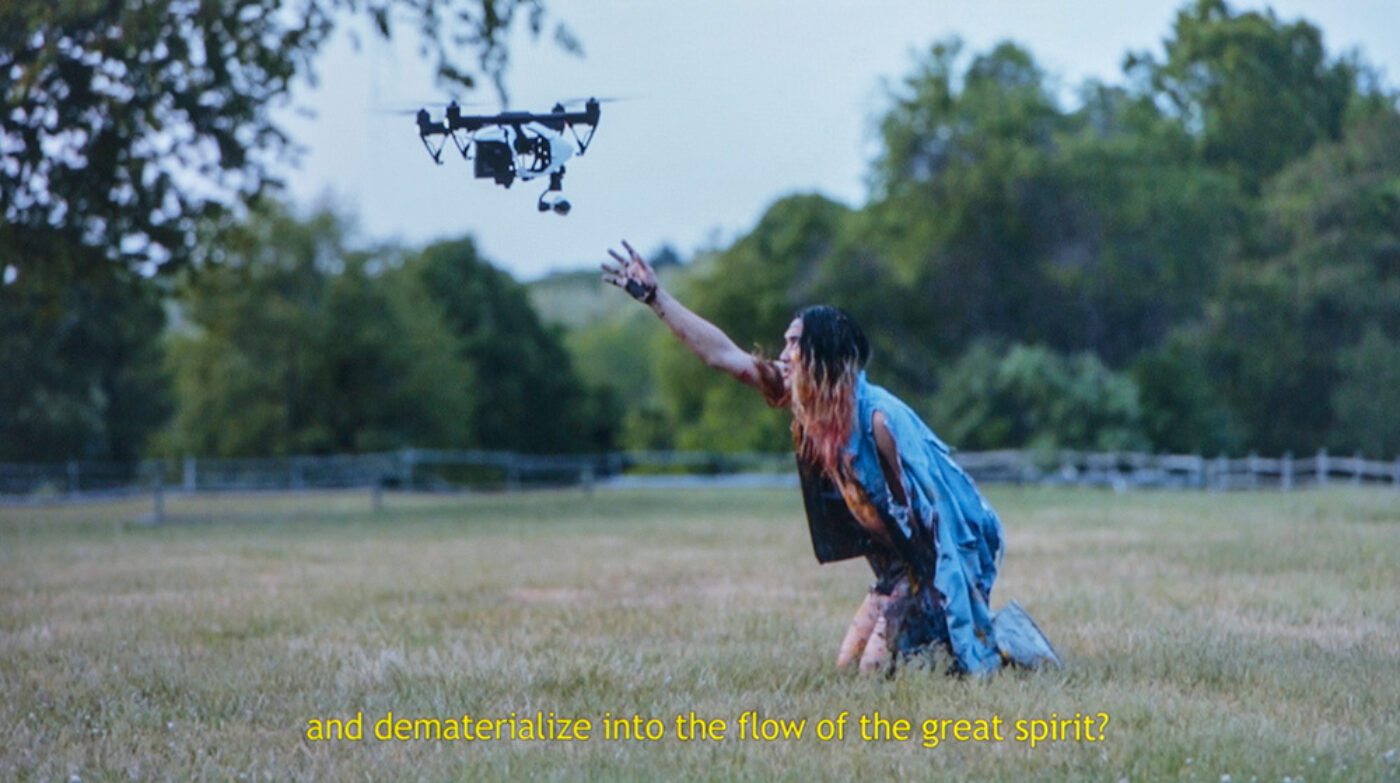 If the world's end is contained within the banality of the everyday, it is still experienced uniquely by different bodies. Dystopias may be universally frightening, but some individuals live with greater firsthand experience of disembodied surveillance, scrutiny, and policing than others. In studying the omnipotent, anthropomorphic figures in Korakrit Arunanondchai's video series Painting with History in a Room Full of People with Funny Names (2013–ongoing) and Stephanie Comilang's "science fiction documentary" Lumapit sa akin, Paraiso (Come to Me, Paradise) (2017), readers are reminded of alterior uses for aerial vision. Both projects feature a nonviolent drone character—in Painting with History, the drone spirit Chantri is a "benevolent guardian" and in Lumapit sa akin, Paraiso functions as a telecommunications mediator who collects transmissions from Overseas Filipinx Workers in Hong Kong. Each voiced by the respective artist's mother, Chantri and Paraiso share a humanist impulse and become conduits for experiences of comfort, recognition, and diasporic community.
Small Gods also includes welcome doses of first-person reflection. Riding her bike through London to the multimedia artist Lawrence Lek's studio, Quicho recalls "enjoying how the light and buildings liquify all around me as I cruise at an optimum speed," continuing: "I'm reminded of an older work, Bonus Levels (2014), a game for which [Lek] turned London into a post-apocalyptic wonderland, looping the Overground into a vertiginous dream sequence, and shooting a skyscraper reimagined as a stack of artist-run centres into the clouds above." Here, and elsewhere throughout Small Gods, Quicho reminds us of the exhilarating disorientation when art makes the bizarre, cruel, and occasionally sumptuous tech-mediated present somehow feel more real.
Esmé Hogeveen is a writer and editor based in Tkaronto/Toronto. Her work has appeared in Artforum, the Baffler, Bookforum, the Brooklyn Rail, C Magazine, and Frieze, and she is a staff writer at Another Gaze.
Originally published in
Our summer issue features interviews with Mel Kendrick, Azareen Van der Vliet Oloomi, Kader Attia, Arthur Jafa and Dana Hoey, Quntos Kunquest, Katiana Rangel, and Anne Anlin Cheng; fiction by Jenzo DuQue, Dylan Landis, Anthony Veasna So, and Sophie Hoss; nonfiction by A.V. Marraccini; a comic by Ronald Wimberly; poetry by Arthur Solway, Rickey Laurentiis, and Alina Stefanescu; an essay and portfolio by Kalup Linzy; an archival interview with Suzan-Lori Parks; and more.