Discover MFA Programs in Art and Writing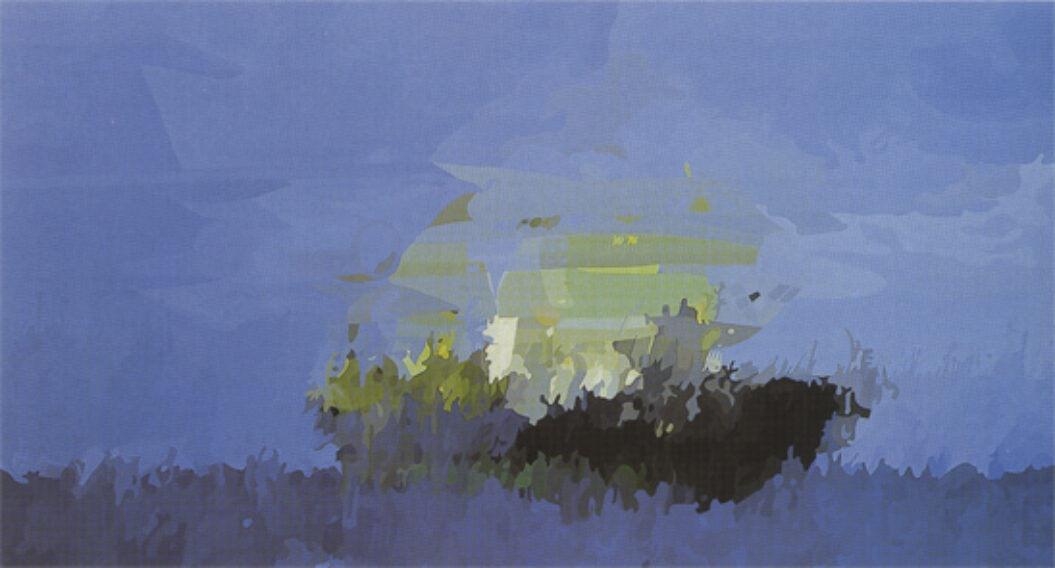 Looking at one of Alex Brown's fractured, faintly photorealist paintings is like trying to discern something behind a faceted crystal, watching a digital image partially download, or seeing through the blur of warm tears. An image is selected semirandomly (travel brochures, technology trade magazines, album covers) and then stripped down and restructured on the canvas as a Modernist jigsaw puzzle of pixeled modules. Brown's style of abstraction is the result of precise and obsessively meticulous brushwork, a measured trajectory of systematized image transmogrification. In the result, exactitude and symmetry wash all the familiarity—and, ironically, order—out of the image; what remains is altered and illusionistic. The formal tensions are between crisp and hard-edged compositions and sumptuous and tenderly nuanced tonal shifts. While some images are more discernibly something than others, meanings are always obscured into a coy and bewitching plurality.
Brown's newest paintings still attest to a Gerhard Richter—like preoccupation with the dialectics of abstraction and photorealism, but are departures from the painstaking grid. One image is superimposed over another like a Picabia transparency, producing alchemical results that keep us peering into the flat plane, hooked by not only visual allure, but intimations of things familiar. As in Brown's earlier work, modules are the basic unit, but their shapes are fluid and irregular, and no longer comprise a uniform geometric florescence. While moving into more gestural terrain, these paintings retain the grid's striking composition and subtle, stylized use of color. The effect is of phosphenes floating behind eyes closed to the sun, or the pulsing coloration of heat imaging. With the grid transmuted, the visual read slows down; the paintings not only remain reticent, but the artist has added further layers of subterfuge. In Ship, we see an ocean freighter from a wave's eye view, its vessel and main-sails of silhouette-like shapes. Overhead, a glinting and ethereal jumbo jet streams, its elongated cabin and fuselage deliquescing with the tops of the ship's sails, its tail wing traced in cirrus. The plane seems the ship's diaphanous hallucination, a dissipating specter. Underneath it, the vessel's crisp, overlaid components and briolettes of ocean vacillate, like we're looking through water, or heat waves. It's as if Brown has employed turbulence to occlude precision, or vice versa. His manipulations flirt with disclosure, only to purposefully flow back into a pleasurably anxious wavering between the discernable and the barely there. Simultaneously crystalline and nebulous, Brown's paintings offer a labored and heartrending vision of doubt.
—Rachel Kushner
Alex's Browns paintings are on view September 6–October 13 at Feature Inc. in New York.
Originally published in
Featuring interviews with James Casebere, Raimund Abraham, Julia Wolfe, Mary Robinson, Barry Hannah, Jonathan Franzen, and Barbet Schroeder.