Alessandra Sanguinetti's Le Gendarme sur la Colline by Gideon Jacobs
Old iconography in a new France

Discover MFA Programs in Art and Writing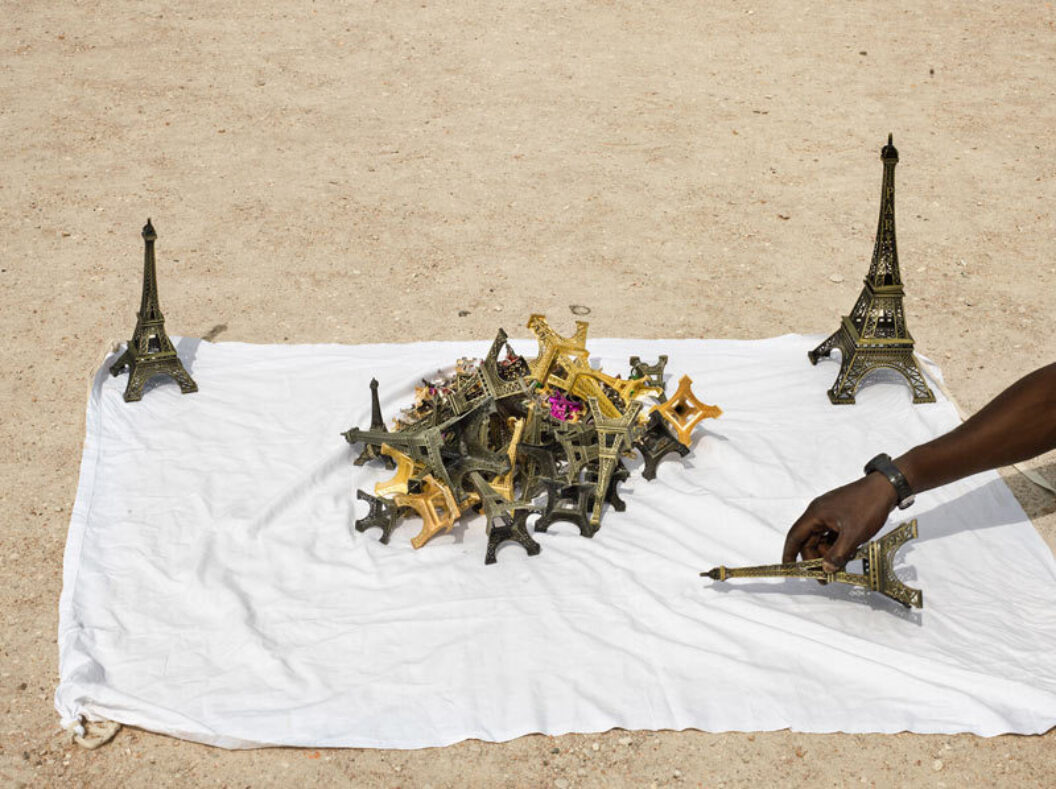 It's fitting that in Alessandra Sanguinetti's new exhibition and book, Le Gendarme sur la Colline, the photograph that can best play the role of icon, encapsulating this body of work in a single stroke, depicts the Eiffel Tower—a structure that does something similar for the nation in which it sits. But Sanguinetti doesn't point her lens at the actual 1,063-foot pride of France. Instead, she focuses on cheap facsimiles: souvenir trinkets sold all over Paris, often by immigrant vendors. In frame, the miniature towers are jumbled into a pile—a rather unromantic presentation of the most romantic symbol in the world. More importantly, a dark-skinned man reaches across a white sheet in hopes of peddling these commercial symbols of French tradition and lore—a tradition and lore that, to a great extent, may not include him.

It's a political photograph—though perhaps the same can be said about any image that documents a culture amidst an uptick in nationalist and xenophobic fervor. But Sanguinetti, in her way and on her terms, leans into it. For parts of 2015 and 2016, she traveled around France on commission from Fondation d'entreprise Hermès and Aperture Foundation, wandering from Calais—home to the country's most infamous refugee and migrant camp—to Marseille—home to over 200,000 Muslims—to Paris—the city of light and love. It's not an accidental route. It's a path that forced Sanguinetti, an Argentine who had never worked in France, to reexamine her image of the country. France, after all, isn't just a nation but a global cultural concept, a sovereign high-equity brand bought and sold both domestically and internationally. France is as much a story and as it is a place, and Le Gendarme sur la Colline is, at its core, an exploration of the tensions, comedies, and tragedies born from that paradoxical national identity.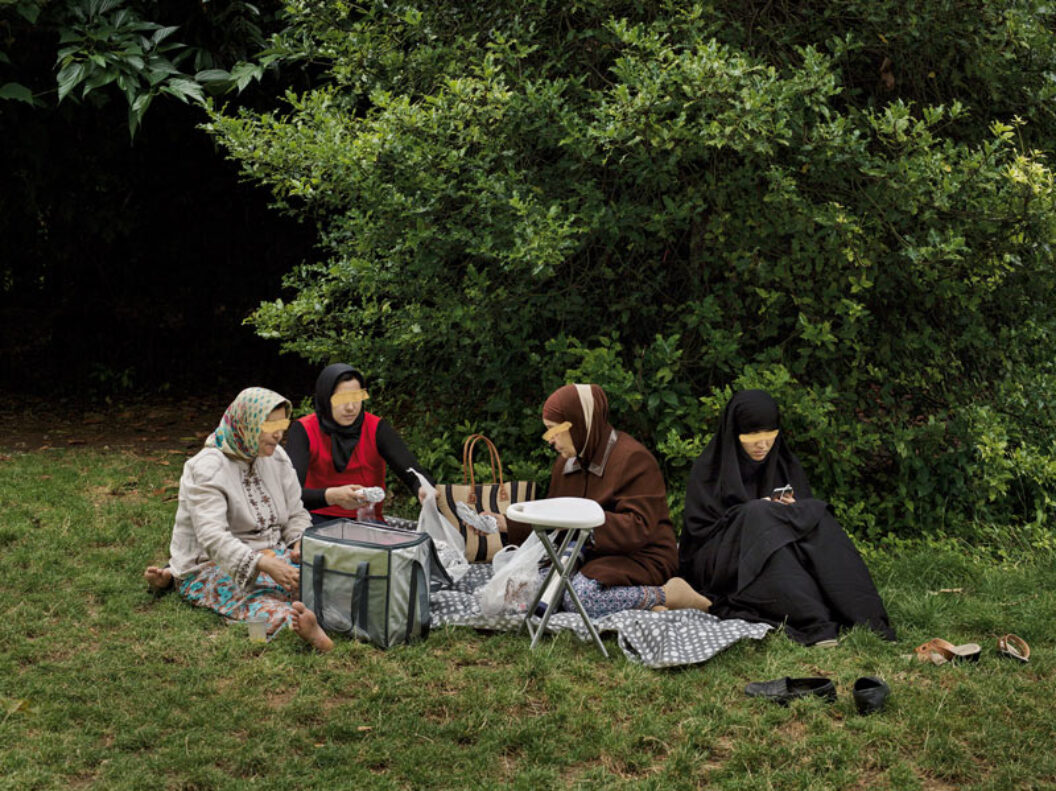 When Sanguinetti photographs classic French tropes—cigarettes, wine, chateaus, pétanque—she presents them in contexts that undermine their cliché. Her image of a French garden picnic brings to mind paintings by Monet or Manet, except here the picnickers all wear burkas. Her image of a woman in the countryside looks like a timeless portrait of a French peasant, but upon closer examination a cheesy tattoo is visible on the woman's wrist. These subtle juxtapositions are really contradictions, placing France as we imagine it right alongside France as it exists. Sanguinetti, without too heavy a hand or too judgmental a tone, reminds us that the French cultural fairytale is, in the end, just that—a fairytale.
It's this sentiment—that identity is always, in at least some sense, based on fiction—that gives Le Gendarme sur la Colline its quiet bite. After all, it's rabid attachment to these sorts of fictions—a belief that they were, at some point, totally true—that has fueled the rise of Le Pen, Trump, and their ilk. "Make America Great Again" can be roughly translated to "Make America America Again," which can be roughly translated to "Make America a Story Again." Le Gendarme sur la Colline isn't social critique, but it's certainly the product of a storyteller with a sincere reverence for the power of narrative.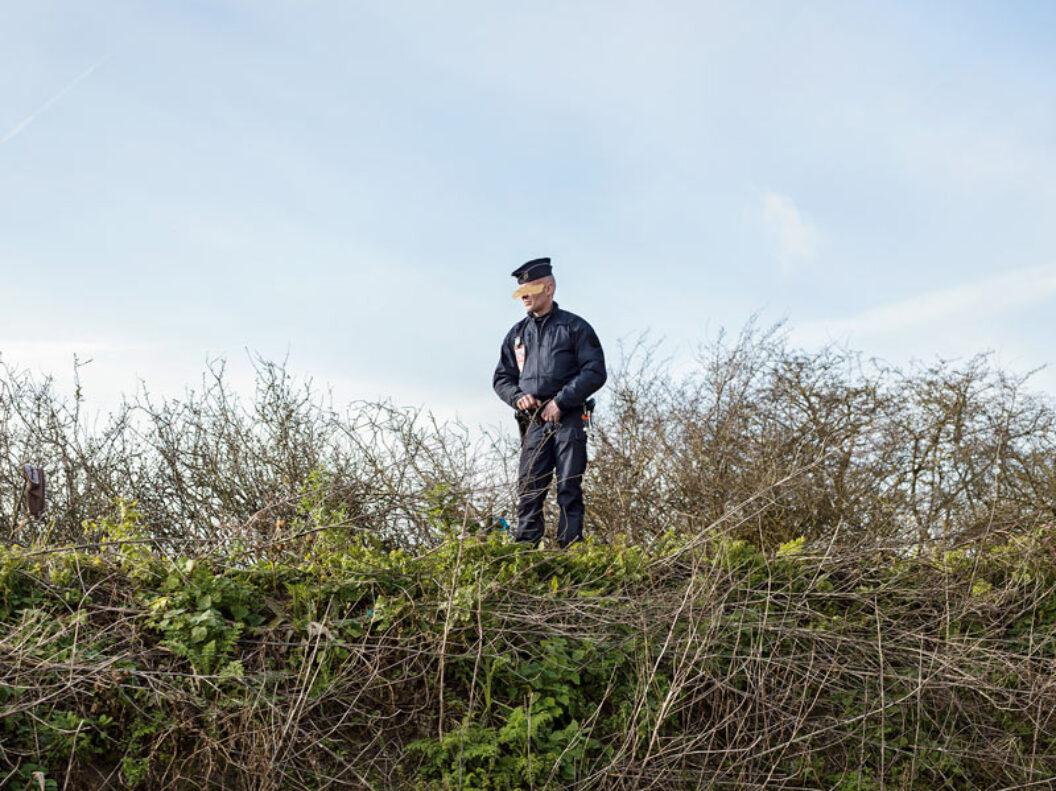 And then there is the policeman on the hill—the scene after which Sanguinetti titled this body of work. The gendarme stands on high ground so he can effectively monitor the refugee and migrant camp known as "Calais Jungle." Sanguinetti obscures his identity by covering his eyes with a gold brushstroke. (France has very strict privacy laws when it comes to photography.) With his hands on his waist, projecting authority, the anonymous officer serves as a human barrier, separating the world behind him from the world he sees below. But he's not really protecting France; he's protecting the idea of France. He's not protecting the French people, their institutions, their culture, or even their beloved Eiffel tower. In the end, he's just protecting those cheap little trinkets.
Le Gendarme sur la Colline is on view at Aperture Gallery in New York City through June 29, 2017.
Gideon Jacobs is a writer who has contributed to The Paris Review, The New Yorker, It's Nice That, and Buzzfeed, among others. Previously, he was creative director at the storied photo cooperative Magnum Photos. He's currently working on a collection of short fiction, followable on his Instagram.