Alchemical Energies: Dakota Gearhart Interviewed by Minh Nguyen
Video and sculpture that combine the digital and organic.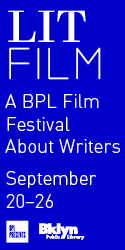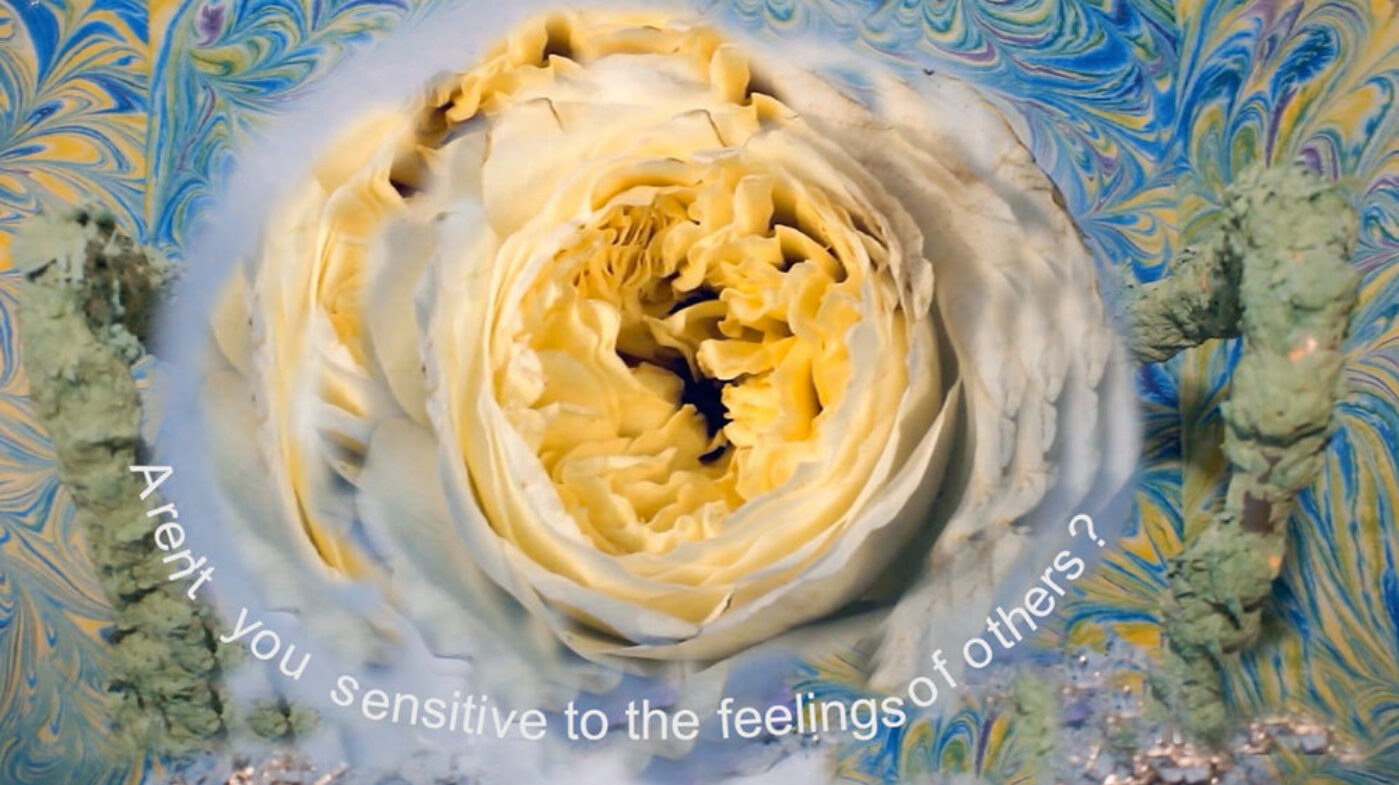 The artist Pipilotti Rist once compared the possibilities of video art to the vastness of a handbag, with "room in them for everything: painting, technology, language, music, lousy flowing pictures, poetry, commotion, premonitions of death, sex, and friendliness." This spirit reverberates through Dakota Gearhart's work whose boundless inquiries about ecology, femininity, nature, and intimacy are matched with an explosive approach to form. Her vivid, stereogram-like videos are embedded into installations for which the materials list reads like a scavenger hunt at a junkyard (and it is no surprise that Gearhart was once artist-in-residence at a recycling facility): confetti, electrical cords, media players, monitors, metal, aquarium tanks, collagen gel, plaster, electric-shock flytraps, earplugs, and corn syrup.
In her latest solo exhibition, The Sextant of the Rose, curated by Alexis Wilkinson at the Knockdown Center, this exuberance is directed at the study of roses. In my conversation with her, Gearhart discusses working as a florist for the 1%, the psychedelia of luxury flowers, and roses as allegories of beauty as a survival mechanism.
—Minh Nguyen
Minh NguyenWhat is The Sextant of the Rose? How does a visitor move through it? What do they see and hear?
Dakota GearhartViewers enter the gallery by going down a ramp into a darkened space. Four individual sculptures containing two to three videos each and a projection of a short film are spotlit in the room. Color is the visual language of the show: pink, orange, green, teal, red, purple, and yellow. Hand-shredded set paper has been turned into pulp and coats each video sculpture. The sound is soft and coming from above—it's the soundtrack for the film, which narrates the history of rose cultivation (as narrated by me). Real roses rest within the video sculptures and are added to weekly.
Overall, there are thirteen videos, which I think of as "the thing." The shredded-paper pulp creates a texture that references glitch and rose petals, combining the organic with the digital. In one of the main videos, there is a flickering body (mine) being overtaken by a colorful time-lapse of plants growing and dying. The body is placed inside a tomb-like sculpture that I see as a monument to the continuity of life, particularly the relationship between the human body and roses. Another video piece shows three screens that animate half-fictional and half-real stories about experiences working at the flower shop. Other videos are altered rose time-lapses, animated roses turning into faces, and the short film The Sextant of The Rose (2019).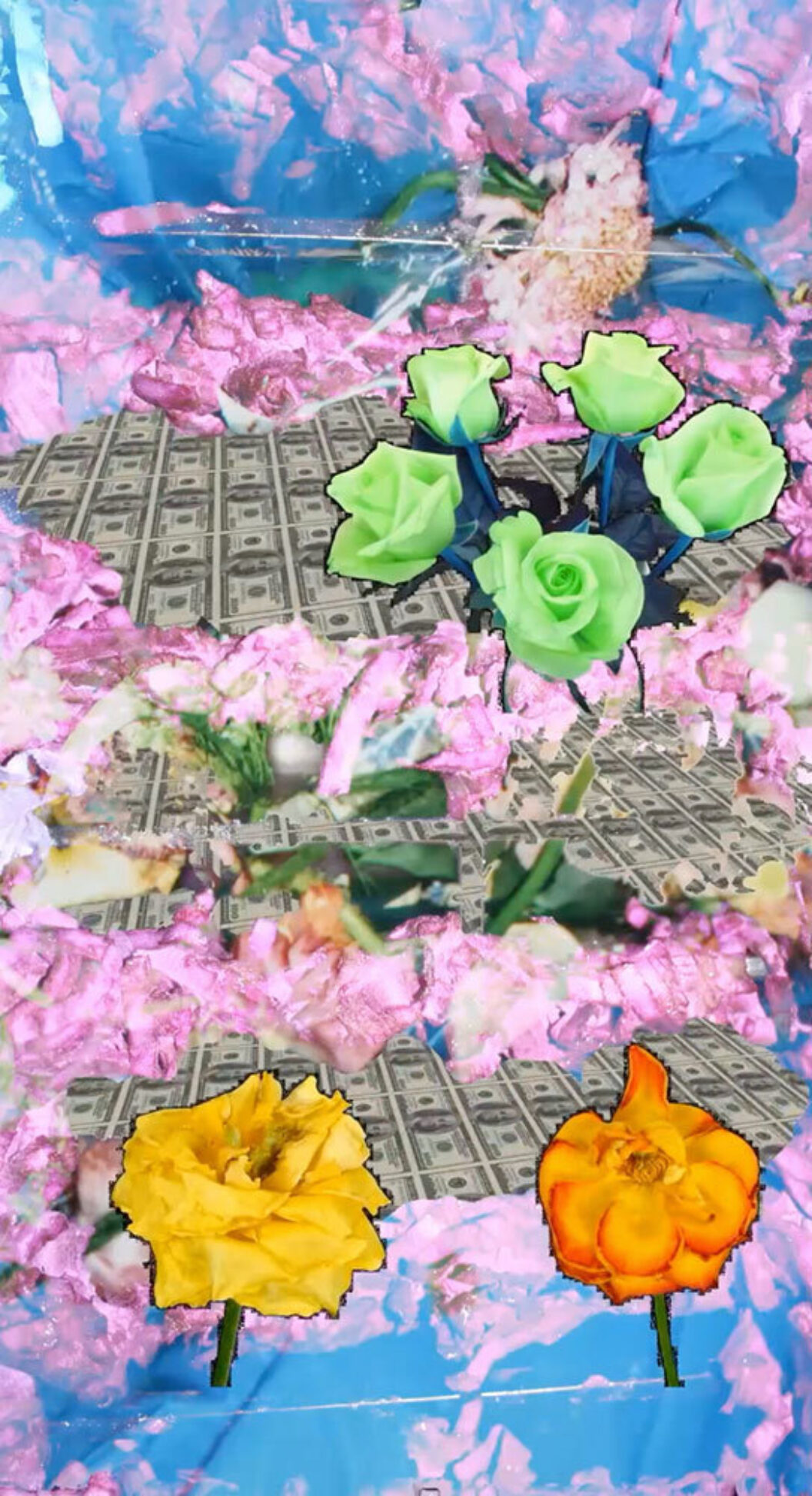 MN The idea of "combining the organic and the digital" recurs in your work. You coat electrical wires with syrup and collagen and protrude shredded-paper sculptures out of smashed screens. I find this insistent prodding between "natural" and "artificial" interesting in this context of flowers, which symbolize what's earth-given but are synthetic in the ways they're genetically modified and manufactured by the flower industry.
DG This was constantly on my mind when I was working in a luxury flower shop for the 1% in Times Square. I was working with thousands of high-end flowers shipped in from all over the world: orchids from Florida, roses from Ecuador, gloriosas from Japan, tulips from the Netherlands, peonies from China, proteas from Africa. I was thinking about beauty as economic capital and how revered flowers are universally, but also the symbolism involved in owning flowers. The buying and selling of flowers in the United States is a more than thirty-four-billion-dollar industry. All for slowly dying plant genitals.
MN Why focus on the rose in particular?
DG Right now, the Juliet rose is one of the most coveted flowers by the wealthy elite. A cultivar of the famed David Austin Roses, it is known as the "£3 million rose" because that's how much it cost to create the apricot-hued hybrid over the course of fifteen years. The rose is stunning. Its hundreds of peachy-flesh-colored petals open up over the course of a week; it's infinite softness can be both felt and seen. This flower is like a Gucci symbol. An arrangement with fifty Juliet roses will surely communicate that the owner is wealthy and powerful. I was interested in this as a symbol of wealth and how these symbols change as trends. I dove into rose history and saw how politically intertwined its presence has been in ruling societies throughout human history. China's Han dynasty, for instance, began rose cultivation as economic trade, and planted new cultivars at the imperial palace. In 218 CE, when Roman Emperor Heliogabalus first took power at age fourteen, her erotic bacchanals included rose petals piled a foot from the floor. In the current United States, an image-obsessed president hosts televised speeches in the one hundred and twenty-five-foot-long White House Rose Garden.
I started to hypothesize that roses are using human desire for their own evolutionary purposes. Since roses have been cultivated from one original plant into hundreds of species, they seem willing to be manipulated by humans as a way to significantly prosper. It's similar to how dogs were once wolves. In allowing themselves to be evolutionarily modified, we now invite them into our homes and take care of all their needs.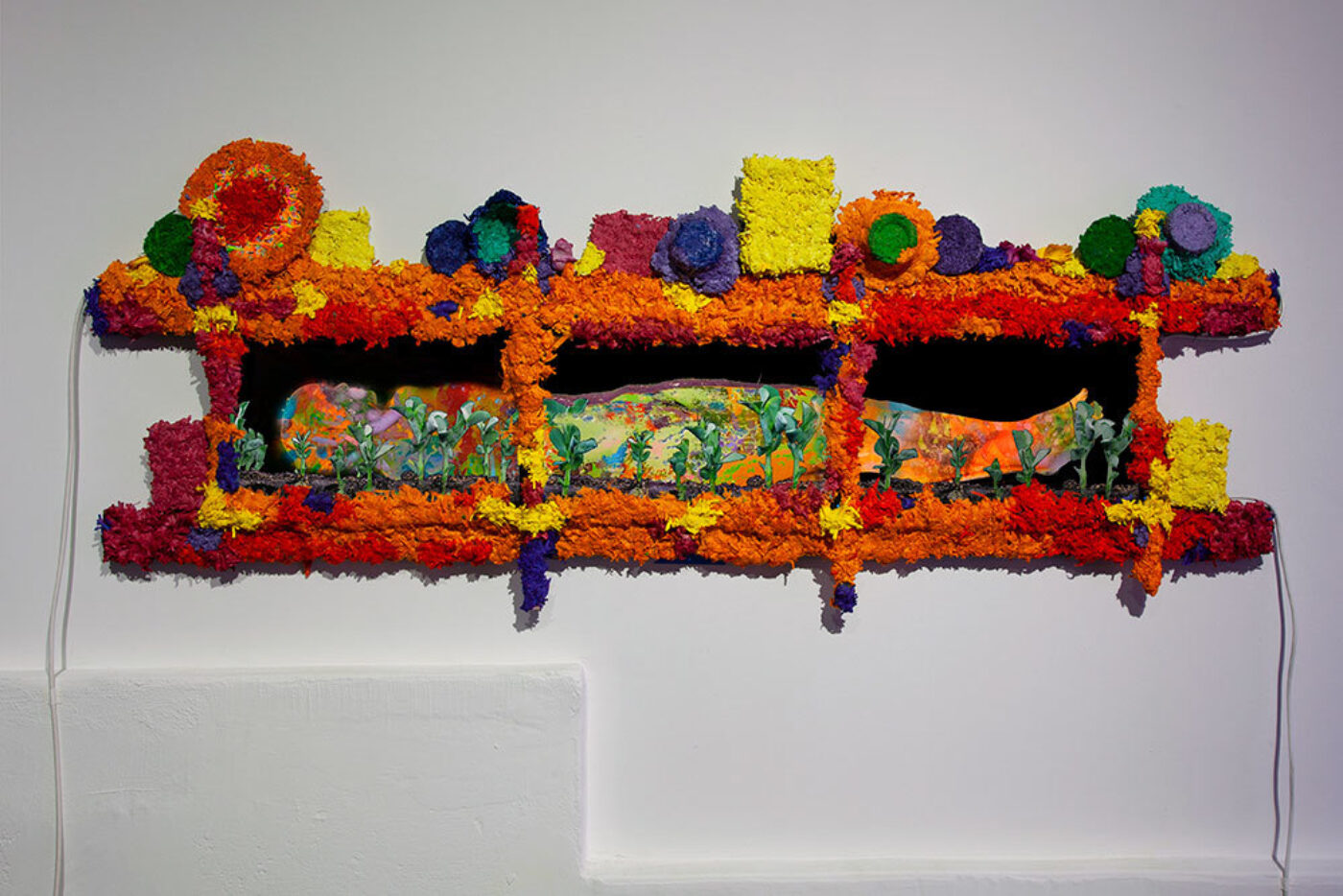 MN The Juliet rose is a psychedelic breed, in the sense that there's a surplus of sensory information: where there are normally forty petals on a standard rose, there are ninety petals on a Juliet rose.
DG Spending forty to fifty hours a week intensely looking at flowers started to do something to my brain. I began to have photopsia and saw flashing floral patterns overlaid onto faces or onto inanimate objects in waking daily life. My fingers were sensing the softness of every petal.
MN Your encounter with these designer flowers reminds me of how you write in an artist statement for Maake Magazine that you are interested in "the fragile terrain between desire and excess." What better demonstration of that than a ninety-petal rose? The petal is the motif of desire and is multiplied for maximum "desirability." To return to "psychedelia" as a style, it's a word that is often used to characterize your work. Why do you find this sensorial overabundance suitable for your expression?
DG I'm under the impression that we already live in a psychedelic spectacle. Call it surrealist reality, stylized truth, or the new normal; our current situation in this world is massively overwhelming, multilayered, and underthought. My work speaks to a sort of maximalist pseudo-realism, but I choose a focus within that mess—one where my inner cynic can live next to my inner child and combine historical research with a curiosity for life.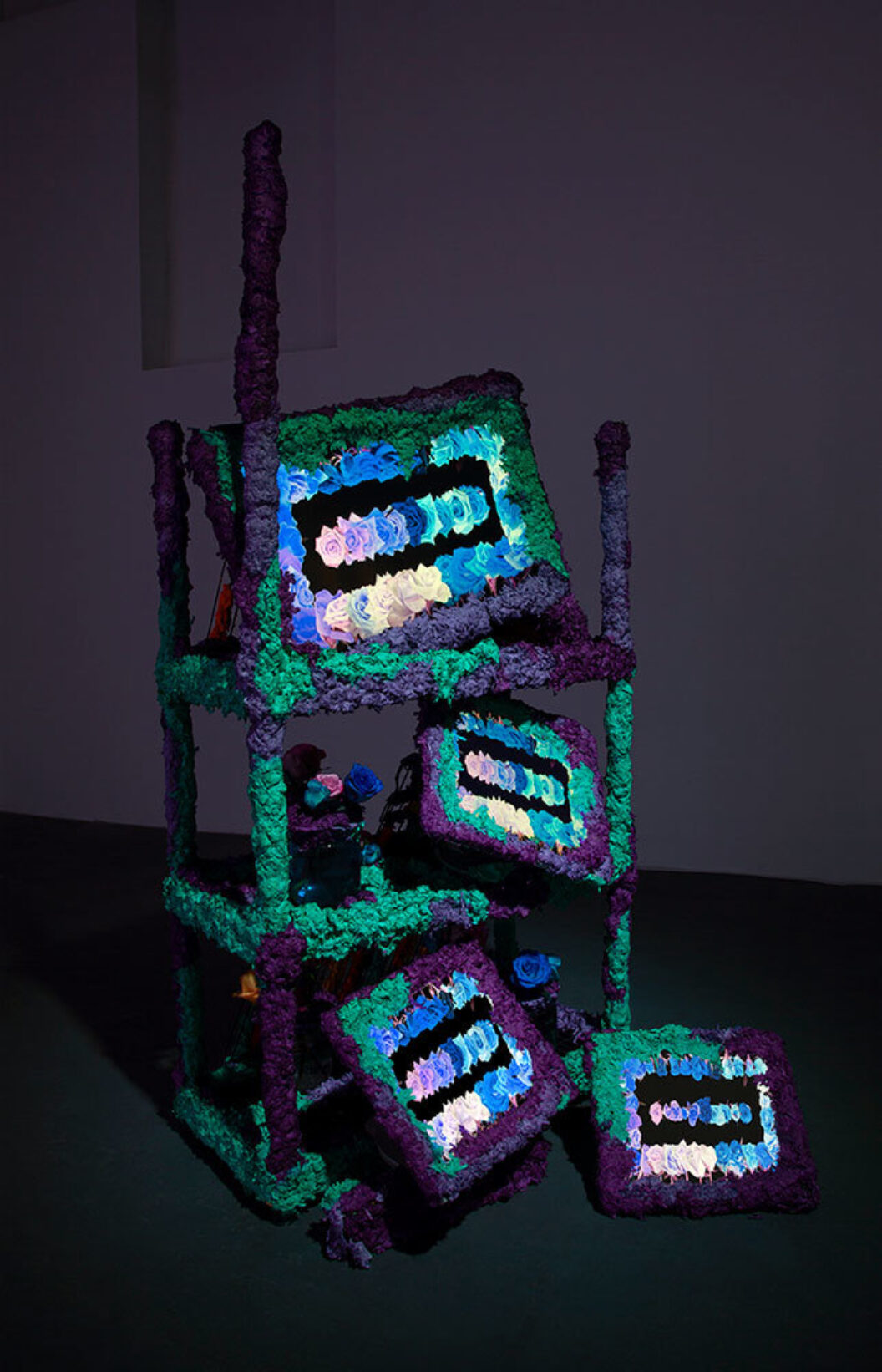 MNThe way you approach your work as a strategy for countering the surrealism that bombards us in daily life reminds me of how Pipilotti Rist described her own work as "a shield or exorcism of the over-image-reproduced world." You've said in Maake Magazine that you're influenced by Rist; and while she's of an earlier generation, it's clear that your work belongs to a canon of art that expresses environmental concerns through technology.
DGDee Dee Dame, a tarot reader who uses electronic cards, radically observed that "everything is energy." It made me rethink everything I knew about technology. A tablet, phone, computer, or any screen, file, or website contains energy that connects to what we call organic nature. Whereas I used to align everything with "nature," now I think everything has an alchemical energy, even a glowing screen, that we would more traditionally equate with an organic flower. In my work, I like to fuse those elements together to obliterate their categories. Everything is both fake in the way it came to be yet incredibly real to us.
Dakota Gearhart: The Sextant of the Rose is on view at the Knockdown Center in New York City until June 14. (The Knockdown Center is temporarily closed due to the coronavirus.)
Minh Nguyen is a writer and organizer of exhibitions and programs currently based in Chicago.