Discover MFA Programs in Art and Writing
Somewhat surprisingly, many of the significant developments in painting at the end of the 20th century depended upon representations of the human figure. A wide spectrum of positions was occupied, but even in such an open and flexible field of inquiry, Alan Turner's work was at the edge, if not out of bounds.
It's demanding even for its partisans. His recent paintings reminded me of a discussion I had ten years ago with a painter friend who, unconvinced by Turner's work at that time, said, "I like what they're about, but I don't like how they're made." While I disagreed, I took his point. Turner thrives in a medium of apparent disconnects between what and how. Turner's characteristic care and orderliness have attenuated his methodology into a sequence of operations so mediated as to feel archeological. He has maneuvered outside the discursive loops of postmodernism to a place that's really "nonmodern." His work is beyond contemporary–one imagines that in 100 years art could look like this, even while his slightly crabby rejection of topical alternatives blends with the archaic. The transparency of Turner's poking and digging into the most private experience lets us see what we might have known to be true all along.
I had hints of similar feelings when faced with his latest work; the subjects seemed unchanged but the process (both the extended working method and the specifics of painting a picture) had changed utterly, permitting the stealthy arrival of a deeply altered content.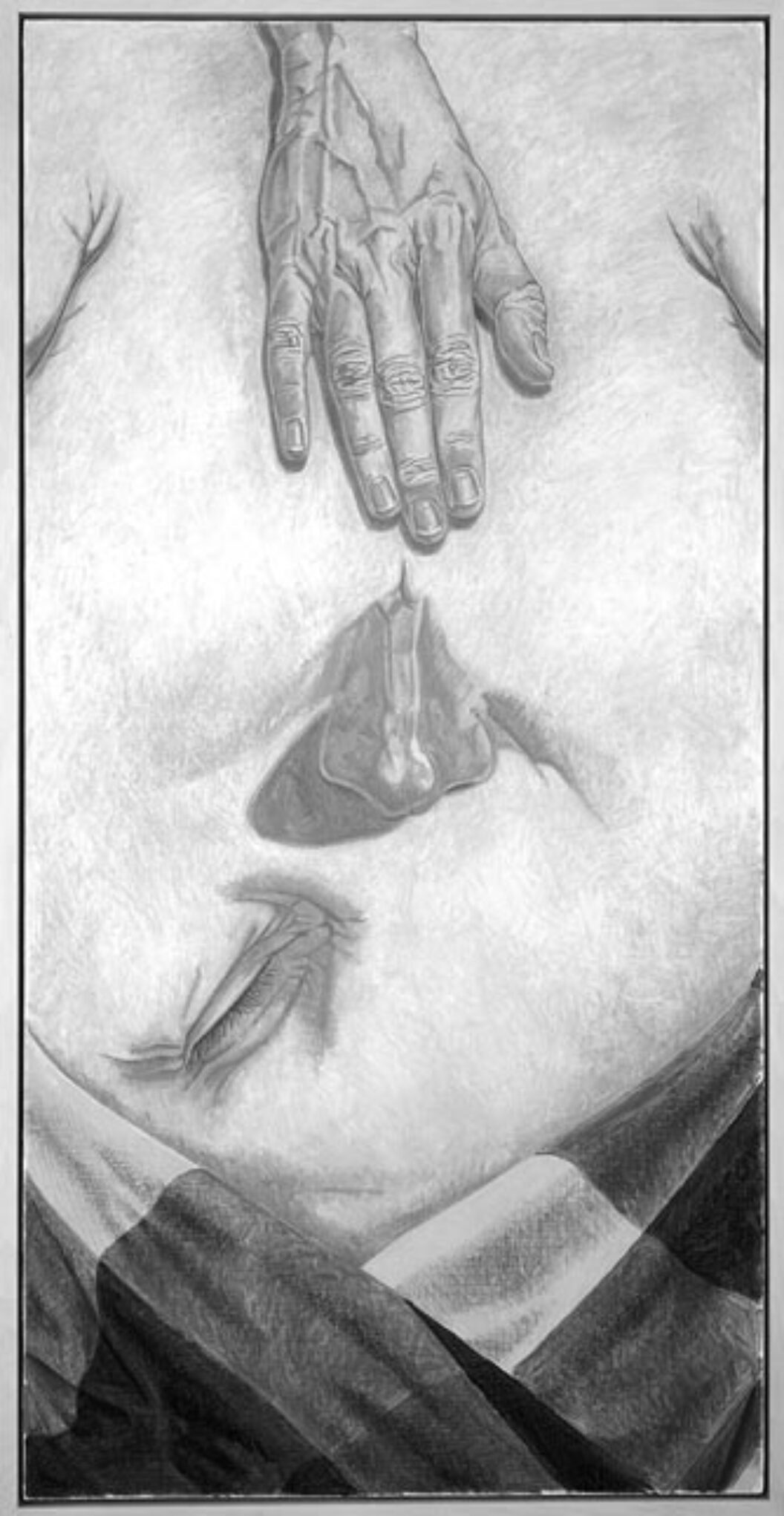 Turner has been depicting closeups of body parts for a long time. The first works of his I saw, in the mid-'80s, caused a discomfort which quickly evolved into mesmerized respect as I watched him unravel his odd path. Human elements shared an undulating space with totemic personal objects in an atmosphere that felt both antiseptic and sordid. He suffers from whatever is the opposite of attention deficit disorder—an alertness to detail made more disarming by its distance from retrograde exercises in illusionism. There was something kind, almost considerate, about the way this endless plane of flesh was being painted. The paintings' surfaces were like blankets, comforting sheets of little brush strokes thrown over compressed, intimate scenes.
The recent paintings are like rugs, fuzzy and weird. There's a feeling of looking down on a surface on which the images are woven into a continuous and densely marked planarity. Fat paintsticks, rough canvas, and a limited palette interact in an eccentric facture that resembles gravestone rubbing.
Things are crushed and broken as in a partially excavated tomb. Recent drawings posit a sun-drenched, desiccated alternative to the paintings' sepulchral atmosphere. The paintings and drawings are based on photographs taken from impressions of faces and body parts made in pans of dough. The extreme raking light in the photographs inhabits the drawings as a feeling of fastidious, bleached clarity.
—Carroll Dunham
Originally published in
Featuring interviews with Vik Muniz, Shirin Neshat, Madison Smartt Bell, Javier Marias, Misia, Michael Frayn, Karyn Kusama, and Michael Roth.