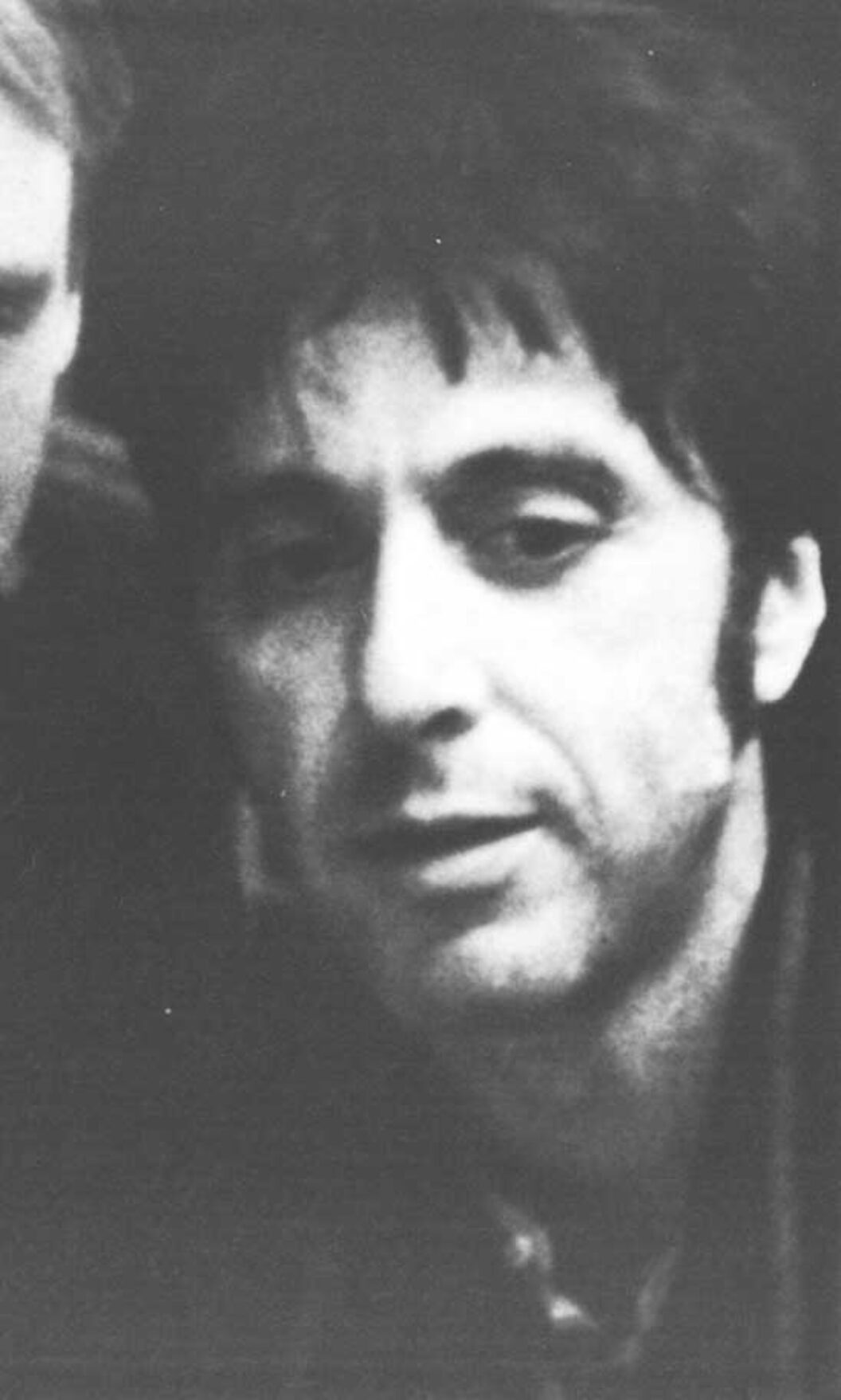 The Local Stigmatic, directed by David Wheeler, with some of the best performances from stage to film by Al Pacino and Paul Guilfoyle, is haunting and disturbing. The film is a play on language. Two rogues taunt each other into a game of ambiguous rules. Its devices, recorded as titillation in the media, are ironic, sexual and perverse; and its outcome, untenable. Like his contemporary Joe Orton, Heathcote Williams's world is sardonic and black; his writing elegant, and his language, raunchy and visceral.
Al Pacino's performances in Dog Day Afternoon, The Godfather, Scarface, and Dick Tracy have enabled him to support the production of this film. While most people have heard Heathcote Williams's lyrics for Marianne Faithful's Why'd You Do It to Me?, fewer people know that he is an eccentric and brilliant English writer—Whale Nation, Falling for a Dolphin and Sacred Elephant—who also penned two plays in the '60s. AC/DC won an OBIE award and The Local Stigmatic first appeared in London as a double bill with Harold Pinter's The Dwarfs. Al Pacino and Heathcote Williams came together in 1968 because of Pacino's interest in The Local Stigmatic, an involvement with the play that continues to this day.
Betsy Sussler How did you find The Local Stigmatic? And why make it into a film?
Al Pacino Harold Pinter gave it to David Wheeler who did it at a theater company up in Boston, that was in 1967. I did it in 1968 at the Actor's Studio just as a project. It took a few readings for all of us to realize that we were reading something special. At first, I didn't know. The language was strange. The second time, the language got more familiar, but what it was about, I was trying to guess. By the third reading, I felt something there; I was reading something that had gone beyond any new play I had read. I wanted to explore it. We tried to mount it, but none of us were well-known enough professionally. Then I did a successful Broadway show and so we were able to get the backing to do it Off-Broadway. It was not received well, and we were told to close after one night.
BS Oh no!
APBut Jon Voight happened to be around, and he believed in the play very much, and gave us out of his pocket enough money to run for a week, which was a gesture that I've always remembered. Then, it was over. I didn't think that we had served the play well, so I decided to do it again, six years later, with the late John Cazale, who was in Dog Day Afternoon and The Godfather. Eight years later, I was in London doing American Buffalo and had the idea to film it. I just wanted to record the play, to learn a little bit more about it from that angle. And then it just got out of hand.
BS The characters in the film seem to be extremely articulate in a way that most characters from the lower classes in American films are not.
AP Yes, exactly.
BSWhat they couldn't articulate was their rage. Your acting was very distanced, your character's violence, like the language, an intellectual violence that no one could find. That's why the overt violence at the end was so chilling.
AP It has something to do with the time he wrote it in, the age he was when he wrote it. When I showed the film to him, he said, "I wrote that three people ago." But at the time, he was inspired by incidents that took place. He had written a book, Speakers, where he became involved with a lot of street people in the '60s.
BS He was a squatter back then.
APYeah. He described one incident in particular to me. He was coming out of a bar with an unsavory character and the guy looks across the street. So Heathcote looks across the street: and sees for a moment, a quasi-celebrity staring back at his unsavory friend, then turn white and look away. And Heathcote's friend says, "He knows me." Heathcote never forgot that moment. It was part of why he wrote the play. There was some kind of mutuality that went down between these two men.
BS So there was a moment of recognition and in that recognition, fear.
APYes. To express that kind of metaphor, whatever that is, in terms of repressed rage, that underclass—all these things were swimming in a 22-year old mind, this sort of disconnected … which is why I say that the play is not quite finished. To this day, we always talk about the feelings in his piece, that it would be interesting to write a movie based on these two characters, this theme of rage, which is what's tactile and gets under your skin. A woman who saw the movie said, "To think that that's out there, that that's out there." There's a bit of nihilism in it too. Sentiments inherent in the world don't reach them. There's no hope for them. They're numbed by sentiment. It just stimulates them to strike.
BSIt's as if your character, Graham, has already drawn his conclusions, already knows the role he's going to play, every single one of the moves he's going to make. Nothing surprises him.
AP I know.
BSIt's very strange. These two characters just want some kind of little, lonely power.
APHeathcote says, "Fame is the perversion of the human instinct for validation and attention. Without [attention] our feedback system breaks down because we don't know who we are." What I saw as I worked with the play, were his political feelings at that time. If people understand the kind of political animal the writer is, then they can experience the piece. In the '60s, there were Joe Orton's plays, Edward Bond's, Osborne's—very political voices. Heathcote Williams was in this territory when he wrote AC/DC. That play was clearer, more accessible, but I think The Local Stigmatic will hold up more.
BSWhat about you as an actor, as a political animal? Jon Voight obviously made it possible for the play to go on, because he believed in it. You've taken a playwright who should be seen—I know you didn't mean to do it in exactly this way, you were intrigued and it was a very natural progression—but by making this play into a film, you have made it more accessible. It's an important idea—that actors and writers band together and do more of these projects.
APIf you mean political as an expression of how you're perceiving things, there are certain projects which express a point of view. Scarface was an expression of a political sense, of a certain thing that was out there. There are certain pieces that lend themselves to a political perception and others that are for entertainment. I don't have any strong political stance, at least, I'm not aware that I do, I'm like everybody else, I consider myself a performer, whatever that is. But when I see a piece that's addressing what's out there, what I see out there, that I've seen in my life, that I believe is out there … If I were a painter, I would paint it, if I were a writer I'd write it. But as an actor …
If you go out and make commercial movies, and you get supported by your art, and you're fortunate enough to make money, then you can afford to do your own projects. A lot of people can't afford to.
Bette Gordon That's what's sad. I expect people who work commercially to then have the freedom to work on plays, lower budget films, things they've always wanted to do. But very few attempt it.
API've seen actors become interested in more political ventures, feeling that they have to compensate for all the commercial work, which is all very good. What I felt I knew and understood was the material I responded to as an actor. There's also material I respond to as a person in the world. But when you can no longer do the work that you started out wanting to do as an actor—if you have a steady diet of punching in a clock, in a crazy kind of way, that can bring you an emptiness. Doing The Local Stigmaticgave me back the excitement I felt doing the off-off-Broadway stuff. I was involved in the film and didn't feel I had to bring it out at any certain time. Of course, you have to pay for that kind of thing. But that's nothing, because once somebody else pays for it, then you're at their mercy to market it, and then that already makes the whole process different. So I indulged myself. Here I had something that didn't have to be marketed. I still say, if it doesn't have a marketplace, that's okay, I did it. It's there. Hopefully, it'll be there after I'm gone.
BSDid you really want the filming process to go on sporadically over a couple of years so that you could mull it over?
API had no idea. We filmed this thing in nine days. You keep hearing that you can't do things, "No, that's not the way it's done, it's done this way. You gotta do this, you gotta do that." I tell you, I wouldn't be here if I had done things the way I supposedly should have done them. So, I'm starting to think, well, I'm doing this in a crazy way, and of course, you can't imagine how many mistakes I made, I'm certainly accountable to myself for these things, in the way I produced it, the way I wasted time, because I didn't know, I had to learn. But I was learning on my own, whatever, I was learning. And if I were to do another film, and I want to do others, and I will do others, because it's a lot of fun, and it made me feel like I was in it. I didn't feel out of it, I felt in it, if you know what I mean. It made me feel back in it, like I'm in whatever it is that we're in when we're in it.
BG That feeling of involvement is probably inexplicable, so different from being in somebody else's film, to say you're in it, it's an all-encompassing feeling.
APIt's not so much that I made it, because, really, I just acted in it. It was written by Heathcote Williams, and it was directed by David Wheeler, and Ed Lachman shot it and all; but what I mean is that you're not required to produce the work so that it has a mass appeal. What happens to people who have a steady diet of acting in mass appeal productions is that they feel an unnecessary pressure to produce. It was a relief not to have to produce. In the end it's that fine line—the difference between expression and a job: trying to make a thing work the way you feel it'll work, is expression. It's no new thing. For me, it is …
BSTo be able to just play.
APJust to play with something.
BGAnd see it grow. Did you look at rushes, and say, okay, this is how I did this particular scene, this is the way our characters are growing, and this is what I want to do next?
AP I worked with the actors for three months before we filmed it. I believe in extensive rehearsal times that can go on anywhere between six months and a year. It's something I'd like to do more often, if I can.
BSIt takes an enormous amount of time for text to sink into the heart: to reveal itself. That's what I'm thinking as you're talking.
APExactly. You can imagine Keene—he played Shakespeare's Richard III at age eight—what was he doing with that same role at age 30? You were seeing something, I'm sure, that was quite different from what you'd see if he'd had four weeks to prepare it. It was an extension of his psyche.
BGThe other school of thought is that when actors overly prepare and rehearse for film, what you get on the screen doesn't have the tension and excitement that it might. There's an immediacy that you're trying to get on film. Often, directors say that the first take is the best take.
APWell, there's a kind of rehearsing that doesn't go anywhere. I take my example from the Berlin Ensemble. They would come in, sit down, have coffee, and talk a little bit and then they would leave. And that would be that day.
BGThat was their way of rehearsing—just talk?
AP Yeah. I mean, look what they're doing now in films all the time. Woody Allen does it. Most films do it. They have what they call post-production work. Charlie Chaplin did it all the time.
BG They make the film and then they re-make the film in post-production.
AP Yeah. Charlie would come in and go to work and he would say, "Not today, I don't feel it today. And that was it." That's an expensive proposition. But this is not new. I'm getting this from all of them.
BGWould you have wanted to direct The Local Stigmatic?
APNo! If I had directed Local Stigmatic I don't know what I would have done. I have no idea. I'd move the camera of course, because that's what they're doing these days, isn't it?
BGYou had more to do with the performances …
APYes. I became interested in a lot of different aspects. The whole idea of taking a movie script and reading it as a radio show is fascinating. Listening to the script, the whole script—reading between the lines; she gets up and goes there, he walks over to the—you start to see the movie unfold before you've even shot it, before you've even started rehearsing. You see the movie in your mind. I didn't do that on this one but I have learned to do that now. Stigmatic is more like a film of a play. Because we never wrote a film script; we just filmed the play.
BGThe blocking seemed very natural.
APWe just got lucky. We did this in nine days, but then we came back a year or so later and shot five more days, the idea being that we then knew—after all that time editing, which we did whenever we could get together, because I had to do commercial things—what else we needed.
BSWould you want to work with everyone from this film as an ad hoc ensemble company; do another film together because you all understand each other's language, the way you all move …
API like the idea that I'm in movies, and I go off and meet all kinds of people, and go to different places. I need that in my life. I like changing. I want to add new people, find different things. There may be people you can learn from on certain projects, who are plugged into it in a certain way, and have more of a need to express that idea. So you should keep moving; and when it's right, when you get the right mesh, then it's—sometimes, though, you don't know that until it's too late, so …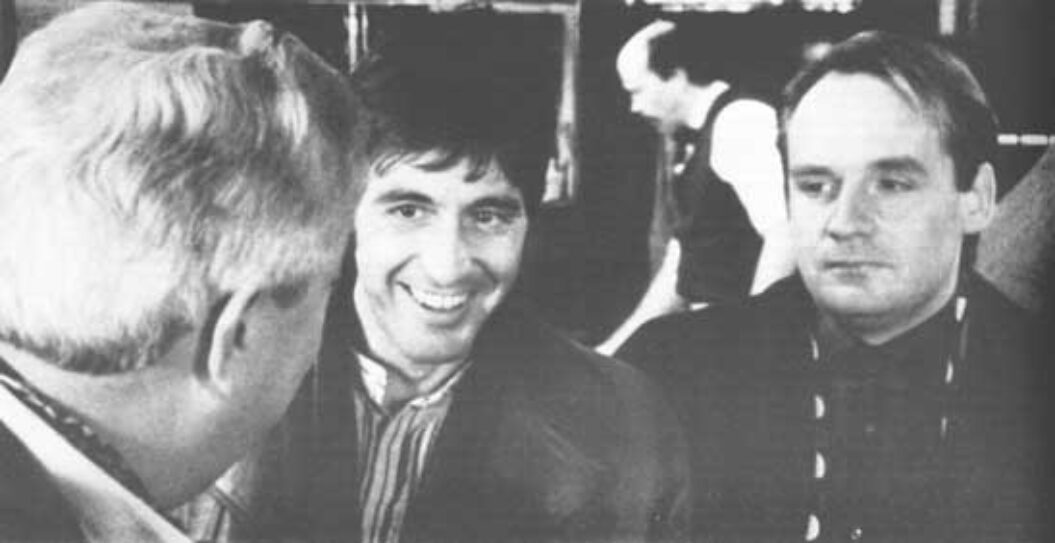 BS What's the next play you want to film?
AP I'm searching for things now. I look around and, when something strikes me in this way, I'm involved with a play that I'm developing, I don't know if I can film it but I would like to film it. There are a couple of Strindberg plays, maybe something that is a film, a small film.
BG That doesn't start off as a theater piece?
AP Yeah. I had a real idea about Eugene O'Neill's Hughie but I don't much want to actin it. I would like to get two other actors to be in it. I wouldn't want to direct it either, but I have ideas about how to film it.
BG You'd be like the creative producer?
AP Yes.
BG Why don't you want to act in it?
AP I don't feel that right for the character. That's what's good about trying things out. Try it out. See if you can play it. Give it a chance. Not a reading. If you know this is good material, go out and play it a while. See if it feels right on you, and then if it does, film it.
BG When you talk about readings, what is it that you do?
AP I get a group of actors, and we get miked. Then we record the reading. Later we listen to it and try to visualize it as a movie. Then we do other things: try to visualize the movie without words, talk the story with no dialogue, as if it were a silent film. And possibly you'll get a moment that you'll use in a film. I've done that in commercial pictures.
BG With other actors in the picture?
AP No, with the director.
BG Do you talk about the performance, or the voice tone, or the text …
AP No, not the performance so much, because you really don't have performance, you get a sense of the text. You get a sense of what scenes play. You get a feeling for your film. You hear it in context.
BG You realize which moments in particular are really important. What does that lead to?
AP It leads to rewriting it. And sometimes a thing you thought might not work, works. It's an advantage to be able to have the time to try different things out. And to be able to do that in the big world is what some of the big directors do.
BG What does Coppola do?
AP That's what Coppola does, George Lucas, all of them, they're very innovative. I got a lot of this stuff from them.
BG You had a strong part in the conceptualizing of The Local Stigmatic, from the theater to the film screen?
AP We all contributed. I'd give the film to the actors and say, "You cut the scene, and then you see, maybe there's room to play around." And they would cut it on videotape. We learned that way. That's when you really appreciate what an editor can do. But sometimes you start cutting it and … I felt a little bit like this: When you don't know something, you don't know what you're doing wrong, but you also don't know the rules. So you come up with things that might be different. That's what I mean when I say we got lucky. Because you're not supposed to do that. You know: you nevergo into the editing room!
BG So you just let it happen, that's better than knowing the rules and trying to break them.
AP Sometimes you feel you're brave enough. You feel brave enough to say, "Aw, screw it." Sometimes.
BG Do you think there is an undercurrent of homosexuality running through the play?
AP I don't believe so. They play perverse sexual games, they play at everything: heterosexuality, homosexuality; machismo, femininity … It's all about ambiguity, identity recognized and noticed, sexual ambivalence: AC/DC in the abstract.
BG Have you seen the films of Fassbinder, the German director?
AP Yes.
BG I feel a strong affinity between some of the British playwrights: Harold Pinter, Heathcote Williams, Joe Orton, and what Fassbinder was doing. He was very conscious of class. His movie, Ali: Fear Eats the Soul, has a similar violence hidden under its scenes as in The Local Stigmatic. The first time I met you, we talked about how to work with violence in film, not in an exploitative way, but in a way that is endemic to the material. What is your feeling about the way some films deal with violence and the way you deal with it here, in this play, and the movie?
AP Well, there was no getting away from it. There was a violent act committed in this piece. See, we had a different problem, because it is a play, and at the same time as this act is taking place he's performing a ritual of sorts, and he's speaking in ironies, and you have to hear that. And how do you have this act take place and hear it at the same time? And I think that was the reason it failed on stage, quite frankly. It was hard for an audience to hear what was going on while that was happening, literally, in front of them. And Heathcote had said that he felt his play leaked at that point, and he would never do that again. That violence dwarfed what was going on and therefore, people were confused by what they saw. They just took it as a brutal, gratuitous act.
BG It's an overt act in response to a covert desire.
AP Yes. So, in making the movie, we tried to figure out how to make it possible for the audience to receive a violent act. That was where that distancing style came in the film. And that's what took the time; trying to figure it out.
BG How did you do it on stage? Similarly?
AP Yes, we tried to mute it, but it was impossible.
BG Because the theater demands that you act it out.
AP Yes. The odd thing is—you see what they do all the time in movies; they're more graphic, more literal, when portraying an act of violence. We tried to have it happen, and at the same time make you be able to receive the impact of the ironies (the text) and the act.
My problem with the movie is that at around 30 minutes into the picture, I worry that the language gets tiring, there's no break in it. At one point, I wanted to—I heard later on that Ingmar Bergman did that—break the film there, a little accident that was built in …
BG The projector breaks, the film burns, and you see it burn on the film.
AP And you get a five minute break. Because this play is peripatetic, it's a descendent of the Jacobean plays. I feel that about Heathcote's language and his style, which is why anyone who writes responds to it, because they hear that dialogue. And then you know, you've gotta miss it the first time, you've gotta miss it the second time, it takes you two or three times to hear it. And that's the thing about the film: it serves the writing. The context is the language.
—Bette Gordon is set to direct a new feature film Love Me Tender, based on the book by Catherine Texier. She is also a regular director for the television series Monsters, produced by Laurel Entertainment.
—Betsy Sussler is a writer and Editor in Chief of BOMB.

Originally published in
Featuring interviews with Al Pacino, Ian McEwan, Dr. John, Harvey Keitel, Vikram Seth, Dorothea Phillips, Thulani Davis, Victoria Williams, Bella Freud, Jo Shane, Campbell Scott, and Dorothea Tanning.