Aki Kaurismäki's Man Without a Past (Mies Vailla Menneisyyttä) by Nell McClister
Evoking both sympathy and alienation, filmmaker Aki Kaurismäki portrays the Finnish lowerclass through an amnesiac's eyes in Man Without a Past.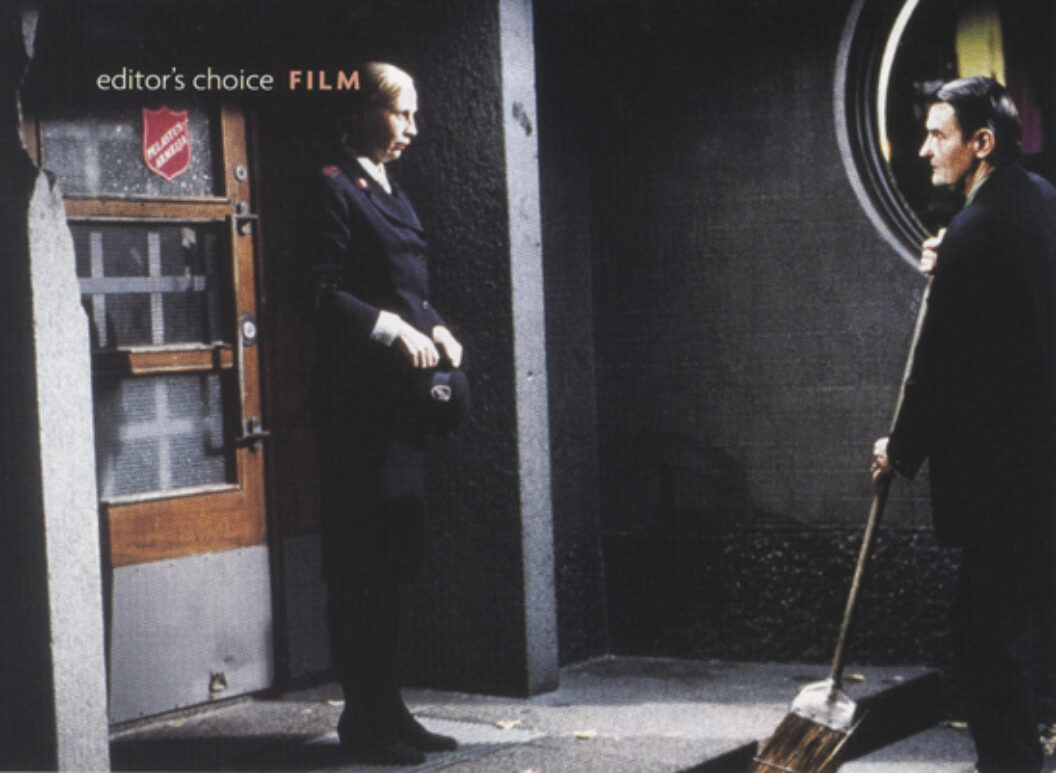 The protagonist in Finnish director Aki Kaurismäki's latest film lacks a past because it is beaten out of him in the first five minutes of the film. In fact, the man (Markku Peltola) momentarily dies from his injuries, but once the doctors leave the room he inexplicably leaps from his bed, straightens his crooked nose, and staggers to the outskirts of Helsinki, where he is taken in by the grim-faced but kind people who live in large shipping containers by the sea. It soon becomes clear that as an amnesiac he lacks a future as well as a past: without a name he finds himself unable to apply for welfare, open a bank account, or get a job. Instead he bides his time, at a loss, rolling and smoking cigarette after cigarette, an amiable if taciturn fellow who musters only enough energy to convince Irma, the unsmiling woman at the Salvation Army (Kati Outinen, voted Best Actress at Cannes), to let him woo her.
Love does act as a catalyst in this film, but the real transformations stem from death. As this resurrected stranger pulls himself together at Irma's behest, he also unites the little container community. He introduces '50s rock 'n' roll into the village via a rehabilitated jukebox and a retooled Salvation Army band, to the subdued delight of the locals. In the end he even inspires them to defend themselves against a trio of toughs, who turn out to be his own erstwhile killers. In this world, self-knowledge gained through experience in the past is not necessary for identity; it is the building of a world out of nothing, in the present, that constitutes self-realization. Formerly a hot-headed suburban gambler, the protagonist reincarnates himself as a softspoken potato farmer and volunteer rock-band manager.
Kaurismäki is a master of color and of shadows stabbed by light. He finds pale turquoise, foamy green, and brick red in the peeling paint of the shipping containers, gives Irma a buttery yellow dress, allows the camera to linger on a rude lunch of steaming soup served atop a small, open fridge, illuminated by late-afternoon sunlight. Yet moments of visual confrontation disrupt the steady seduction of the viewer; now and then a character even gazes deliberately into the camera. The pervasive '50s rockabilly is ludicrously inappropriate to the postindustrial Finnish landscape. Even the simplicity of the narrative acts as a distancing device, holding at bay any hope for a traditional climax. While the container people, neglected and abused by the government, look out for one another with unfailing politeness and moral pride, the fact of their severe poverty is a setting more than a theme. And the profound dignity of each character overwhelms the indignity of their surroundings without a hint of sentimentality or classism. Kaurismäki has avoided making either a sweet tale of redemption or a cold depiction of the Finnish underclass, either one of which would incite only sympathy from the viewer. As it is, almost impossibly, he manages to evoke equal parts empathy and alienation, a truly heroic feat in film.
Originally published in
Featuring interviews with Paul Pfeiffer, Pat Steir, Tom Sachs, Marie Ponsot, Steven Millhauser, Meshell Ndegeocelo, David Greenspan, and Neil Labute.