"A lot of times I end up turning on the camera on my computer and playing something out, and pausing it and seeing what tonal or emotional nuances are there that I can work with."

Discover MFA Programs in Art and Writing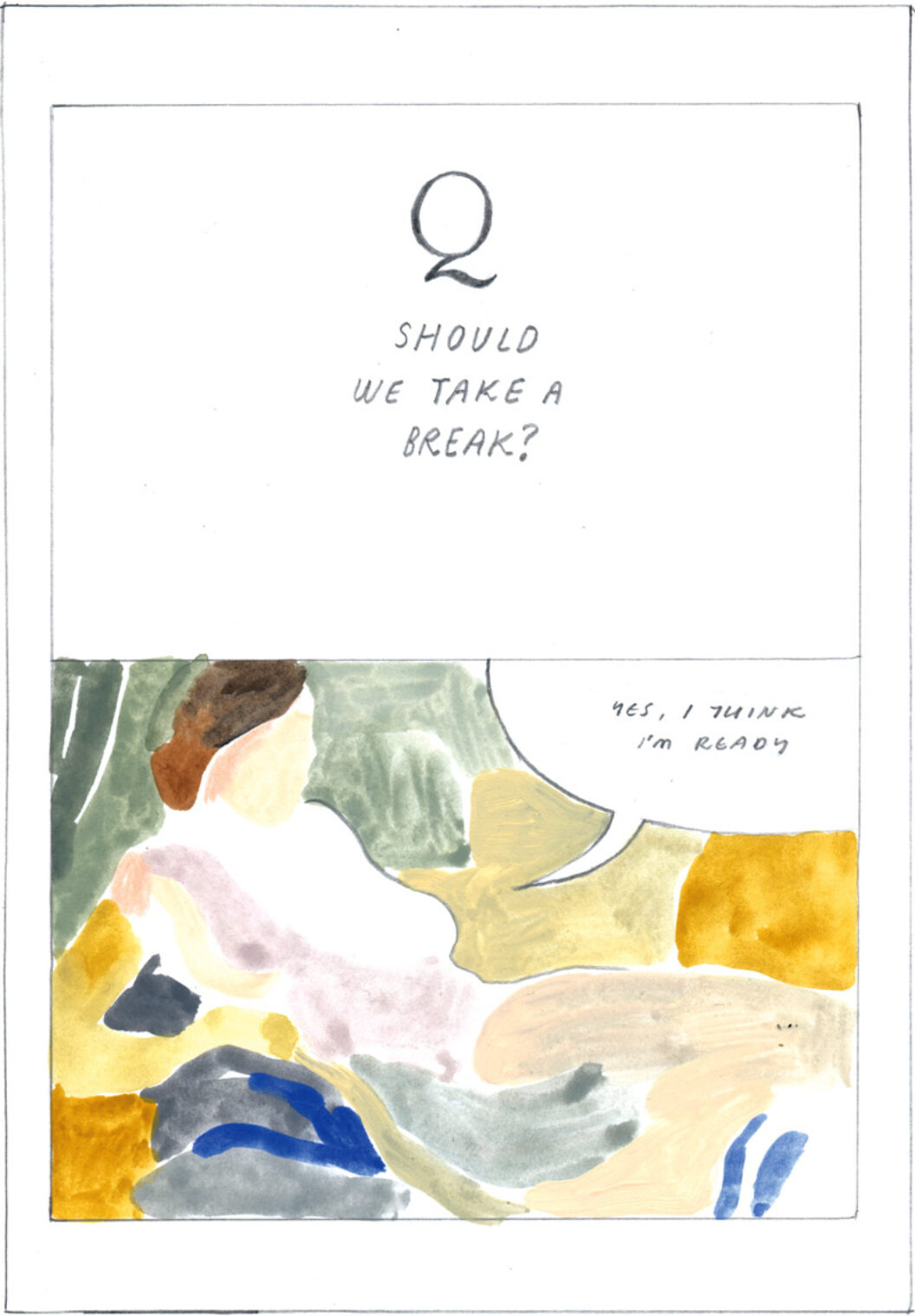 Fragmentation is a trademark of the comics of Aidan Koch, often in the form of visual synecdoche. An auburn splotch of hair or a flash of penciled brow can capture a whole figure with a specific posture and character, even as many details are left to the imagination. Her use of this technique, where a part refers to the whole, is one of a number of ways in which Koch reinterprets and complicates traditional motifs, employing the symbolic language of historic art and imagery to new purposes. Her excerpting and chopping of the idealized female form plays with gaze and problematizes the idea of formal completeness. At its simplest, her use of synecdoche acts as a visual shorthand, where the part acts as a symbol pointing to a single meaning, but much of what makes Koch's comics so compelling is the way they lean on the fragment's aleph-like openness to infinite possibilities and perspectives.
Koch's newest book, After Nothing Comes (Koyama Press), collects a number of her early comics and zines and traces the initial development of her quiet and elliptical form of sequential storytelling. She also makes sculptural pieces that look like artifacts unfettered from place and time. I spoke with Koch in her basement studio in Bushwick, surrounded by handmade ritual objects—candles in sprightly figural holders, flagpoles for hanging silk banners, a braided horsetail tied with string.
Chantal McStay In After Nothing Comes, we see a lot of sparks of things that you've continued to explore. The main thing being an interest in naturalistic drawing from the real world. So maybe we could start out by talking about reference photos and your research blogs.
Aidan Koch Sure. I have these different Tumblr accounts that are breakdowns of types of collections, and they're very specific and intensely curated. My first one now is basically just reblogs of contemporary art. There's, like, animals, too. But it's mostly art and historic cultural imagery. And Aidan Koch II is all screen captures, so it's a research blog. Every single image I've somehow altered, in that I have screen-captured it or somehow directed the way that it looks, and there's screen captures of texts, too. It's just collecting notes while I'm scanning the Internet. So that takes a lot of different modes or themes. III is environmentally related content. IV is self-promotional info and content. And V includes fashion, design, and lifestyle imagery.
The point is just keeping things in my mind. When I start drawing, I'll go on these sites and look around until I feel inspired. And maybe there'll be something I'll use, or an image will spark some composition or imagery or theme. And then I see how things evolve.
CM So you usually start from an image?
AK Definitely. I'll have ideas, but until I have an image down, it's hard to direct how those will play out. It's so important for the process for the image and the dialogue to be developed together. Dialogue can be a starting point in terms of where to start finding imagery to work with, but everything has the opportunity to change. I get it all together in my mind and then let things play out a different way.
CM And then the other component of image finding is that you use a lot of Photo Booth to create reference images.
AK Yeah, that's definitely the next step, generating imagery to work from. Because once I know the direction something's going, it's like, Well now I need a character to do this, or to play out this action, or to come from this angle. And stock imagery is just so… annoying a lot of the time. It can be really awkward to try to manipulate it. I will look at it depending on what I'm trying to get, but a lot of times I end up turning on the camera on my computer and playing something out, and pausing it and seeing what tonal or emotional nuances are there that I can work with.
CM So you act as your own model pretty much.
AK Yeah. (laughter) I think I like it because it's obviously very easy. I can do it whenever I need it. In order to keep my flow going when I'm working, it's really important to be able to just have the reference when I need it.
CM And there must be something to physically enacting the gesture before drawing it, like you've experienced it from the other side.
AK I think so. And I also think it's really weird, which is exciting. Like I have this backlog of photos of myself acting things out. It's just a strange catalog to go through and be like: Oh, that's that story when I had to lie on the floor and put my leg up.
CM And I think the use of reference photos contributes to the fragmentary feeling of things. You are making a collage in some ways. It's fragmentary because you are taking pieces of different images.
AK Yeah, I think it definitely limits things in terms of the perspectives that I'm getting. And also spatially in terms of not having a consistent space that things play out in, which creates this void that can be filled or manipulated in other ways. That's how Glass Surfaces and Still Pools is, a character in empty space. In the end, the world is imaginary. It's whatever you're making it. So not starting with a solid idea of what it is or isn't—that's almost easier. Maybe?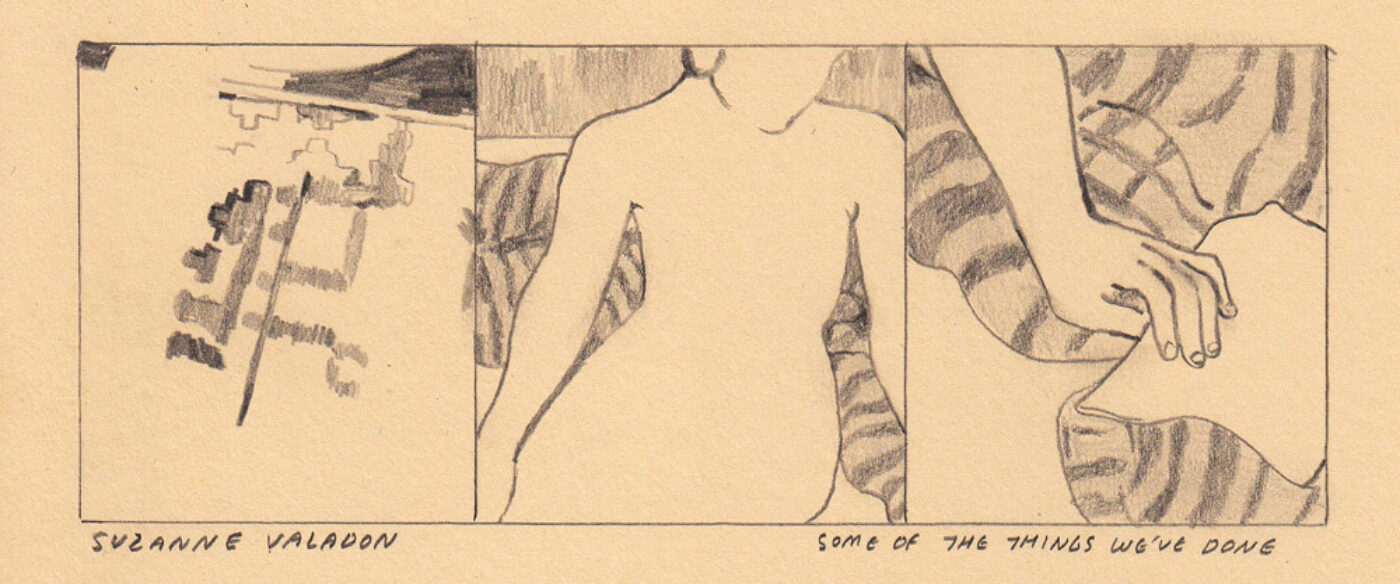 CM You set up an exercise for yourself, in which you deconstructed classical paintings. Some of these are in The Elements of Painting. And there's a recurring interest in deconstructing classical images or classical symbols in your work.
AK For sure, and also life and space and other types of images, too. Seeing what's important, or what you can make important by pulling things in or out. Like using myself for reference—by not drawing in the background, I'm only focusing on character, but if I started drawing other details, then suddenly there's all this concrete information that's competing. So being able to choose where the emphasis lies, all the time, panel by panel, seems really essential in learning about pacing and building. And when looking at paintings, it's often hard to focus. Especially ultra-dynamic ones or ones that have many characters or little actions happening. Medieval paintings are insane because there's so much going on all the time. I'll draw in museums a lot because it makes me look at a painting much more than giving it ten seconds and moving on. Because then you miss all these teeny tiny nuanced emotions or gestures.
CM It's fascinating, and I think you see this practice of deconstruction when you create symbolic stand-ins for the characters in a story, which avoids a lot of redrawing, and the viewer can totally figure it out if you choose the right element.
AK Definitely. Like hair is the easiest one for me, which I always do. It's all about using patterns and having the practice of breaking things down and seeing how things can stand in.
CM One of the stories in this new collection of old zines that I just love—it's really short. It's called "A Song." And it has these two girls playing in the woods, exclaiming, "Ah what men are we!" I think it's a key to a theme that you've continued to pick apart, in terms of the male gaze and inhabiting this world of the male artist from a female perspective. And referencing male literary material and classical painting—these men looking at women in a very particular and potentially exploitative but also admiring way. And you're doing something very subversive, really breaking that down and messing with it.
AK That story is super short and really playful, in a way that I maybe wouldn't do now, but yeah, just the idea of having male idols in terms of adventure—those girls feel a lot like how I have often felt. And it's obviously problematic that there's only masculine sources for that sort of inspiration. Of course, there are exceptions, but that's largely what's available. So that story deals in having to turn to these strong manly voices to empower the sense of adventure. But then it's like, kind of stupid, too. (laughter) It's like, Ugh, those guys usually sucked—
CM It captures how girls are put into the mindset of considering what it's like to be a boy, from the culture, the books that are read in school—like you probably read Tom Sawyer and The Catcher in the Rye and all these stories of boys going on adventures. There's not much emphasis on imagining the lives of girls in the same way.
AK Yeah, not that's wild and fun and exotic in the same way.
CM Elena Ferrante calls this the "male colonization of our imaginations."
AK That's accurate.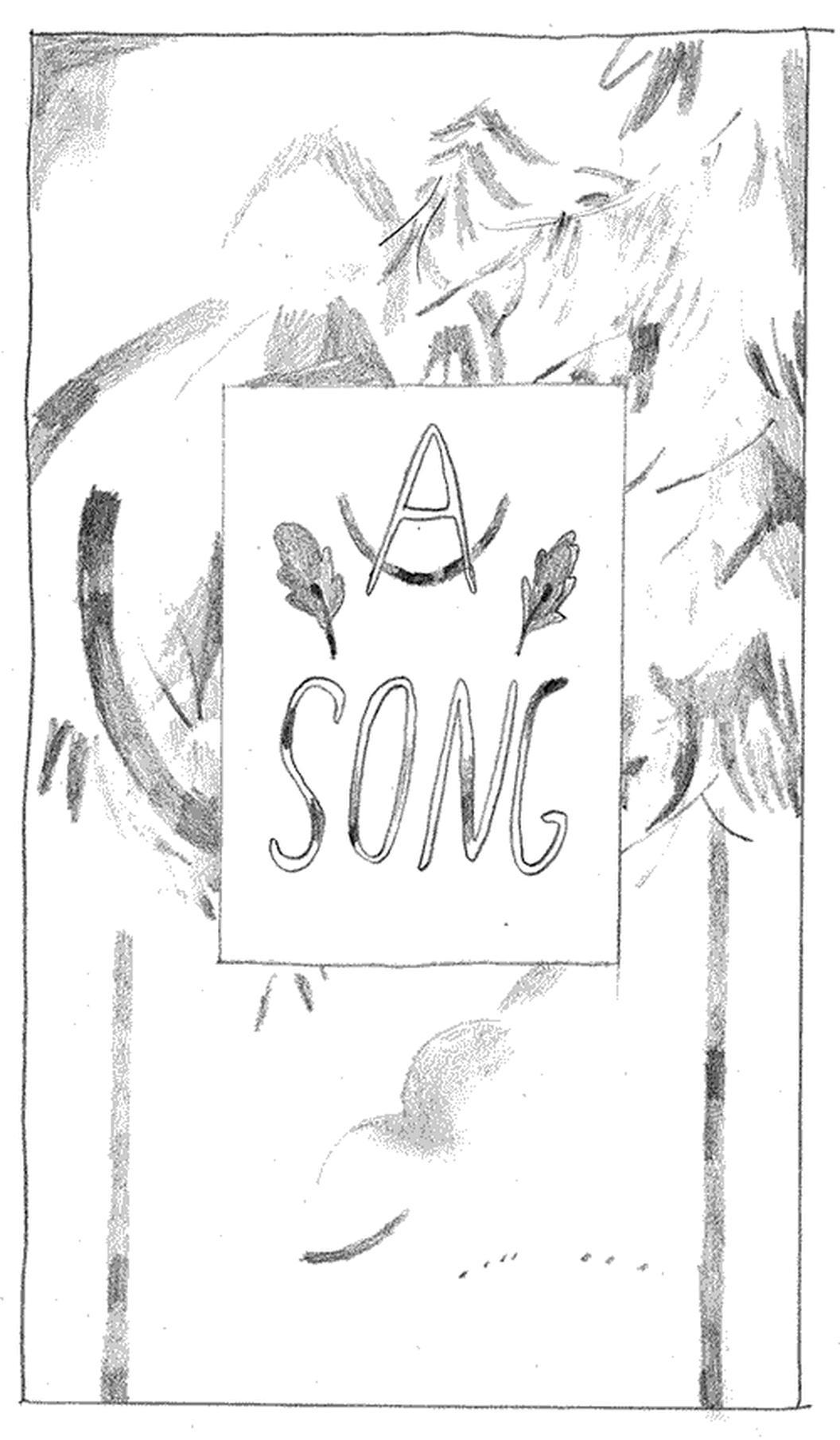 CM You're doing something very interesting symbolically with what the naked female body means in classical paintings by European masters.
AK I use classical imagery all the time, and it definitely is partly trying to confront my actual problem with that imagery and the existence of that history, but also loving classical painting so much and being so enraptured by how powerfully beautiful it is. So I don't know—all I can think of to do is give female characters a certain nuanced power and some kind of stance of their own, that at least is re-appropriating them or redrawing them as subjects, and giving another voice to the work, to the characters, to the people. I've always been excited in my stories that they don't necessarily feel like they're for women in particular, but they are women's stories. Just trying to give a different type of story by using female characters is really important.
CM And both looking at them and depicting them and maybe objectifying them in some way, but also you are giving their interior perspective. Particularly in Impressions, I would say, it's very much about both looking and showing us what the experience of being looked at is like.
AK Totally, and showing it as this constant internal conflict of the power of physical representation and beauty and history, but then also the power of choosing who you are and choosing an identity that you present yourself, rather than have other people present for you, and how those powers are very combative and continue to be.
CM I think you really go to great lengths to emphasize the handmade-ness and keep calling our attention to the fact that we're looking at a picture, at something that someone made. Like there's never that risk of confusing a beautiful object with beauty itself. You use all these hand-drawn fonts. And sometimes they will be unfinished or not quite filled-in, and they constantly remind us, like: Oh, it looks like printed lettering, but actually someone wrote this.
AK Like I'm very present as an author.
CM Yeah. You're always there, kind of winking at us, like: Someone made this. Someone drew this. (laughter)
AK I did! Me!
CM And acknowledging that this is just a picture seems like it's important to you in terms of avoiding objectifying people, even if the figure is actually just a Photo Booth portrait of yourself—
AK Yeah, I think that's something to think about when you're a singular creator—I don't think I have the right to speak for anyone else. I wouldn't want to try to give voice to something that I don't know or understand.
CM I think the fonts also alert you to the letter as a symbol, which is a big part of you practice—the root of language being pictorial.
AK Yeah, it definitely comes up. I feel like I use dots as ellipses in different ways. And various punctuation marks will work their way into the panel itself instead of just being part of the dialogue.
CM Or the letter Q?
AK Yeah, Q comes up a lot.
CM Q is this symbol for question, and it's also just a very mysterious-looking letter.
AK Oh yeah, it's one of the most beautiful. I love Q. I think it's fun, that it's the least functional letter. So then the more I used it, it's somehow funnier to keep throwing it in there. But it usually is a stand-in for question.
CM I also wanted to ask you a bit about the quality of your line. It's very particular. There's a certain amount of allowed imperfection. You're not doing a lot of erasing or redrawing, it seems. But it's evident how skilled the hand is. There's a feeling of a one-take approach. One take that looks effortless.
AK A lot of my work develops around just not wanting to waste time, so it's like: Alright, I better draw this right because I really don't want to do it again. I don't want to sketch things out beforehand when I could just draw it perfectly the first time, which takes time and practice. There's a lot of scrapped pages. But most of the time I can get it. I've just drawn a lot over the last twelve years or so. I've drawn so, so much.
Once I started incorporating more painting into pieces, if I really screwed up, I would just paint over stuff and the page was saved. But definitely, the goal is to just do every page once. There's a lot of openness to where little mistakes can lead. Like if I do mess up and have to paint over something, then that's a new kind of game of how that color plays into things.
CM It seems like the drawing style is in conversation with tattoos in some way, too.
AK Well it's funny because it's kind of the opposite, where people just saw my work as flash basically. Everything already works; it wasn't a conscious change to suit that purpose. I used to do really small stick-and-pokes years ago. But they suck. They are not actually reflective of my drawing. It's only in this last year or so that I got transfer paper and real needles. And now I can do exact drawings of mine.
CM A lot of your stories are either looking at one person alone or a two-person interaction. Do you know why that is?
AK I think so. The stories tend to be more about an emotional experience. And that usually plays out in a monologue. And the way it can develop is through some type of interaction. It's hard for me to think of a type of story or plot that would need more people.
CM I think the kinds of interactions you show have a level of realness, whereas in a group there tends to be a degree of pretense or artifice that prevents you from saying what you really feel or think.
AK Yeah, I think the purposes can get really convoluted if there are too many people. In real life, too. I think that I'm social enough, but I do so much better having one-on-ones. It definitely fulfills my needs.
CM I think I feel similarly. It's very hard to be your authentic self in a group interaction.
AK Yeah, I was just going to say that there's a lack of authenticity. Maybe also you're not likely to solve any problems or figure anything out about yourself in a group.
CM Well that gets right into something else I had been thinking of—the idea of epiphanies. Because your work is very much in the vein of short stories, and the short story tradition, where there are these really subtle interactions and then you get some little epiphany, and it's much more about a change in thinking than events transpiring. In two-person interactions, you can have an epiphany or a realization, and it can happen aloud in the dialogue, whereas in a group it's probably just a thought that you're having on your own.
AK Oh totally, like you've somehow regressed away from the other people.
CM In the story that you did for the Greater New York series—Little Angels—the main character is in a big group party situation, but the story doesn't happen there, it happens when she's digesting things later.
AK Yeah, I think the analysis of those things usually comes later. Like, I had a visceral reaction to something, what was it? Why did I have it? What does that mean? Is that good? Bad? I'm a slow emotional processor. Eventually I get there, it just takes a lot of analysis and confusion. Whereas in the moment, I might speak or act in a way that's not necessarily meaningful.
CM What do you make of anthologizing zines in an art book and repurposing them or recontextualizing them for a very different audience?
AK It's interesting—it wasn't my idea to do the book. I would have never brought it up. I'm definitely a live-and-let-live person, like they had their lifespan. But part of what's so nice in publishing is that you end up collaborating with people who know different audiences and who have different ideas about how to do things. The editor of this book, Bill Kartalopoulos, had been wanting to put this together for a while. He doesn't make comics, he's a comics scholar.
CM He does the anthology every year?
AK Yeah, he does Best American Comics. And he's taught comics history. So I think for him, the idea to do the book was about filling in this niche in the history of comics. I'm pretty out there for that world. And while most people now have maybe heard my name in comics, this anthology is about filling in what this journey has been. The work I make now is visually and narratively different from before, and yet there's still not a ton like it at any of those stages.
CM So he sees you as a pioneer of a certain type of art comics?
AK I think so. When I started doing comics, and all my peers at the time—everything we were doing was very fringe for comics, and still is. And things have changed, but there are still all these little niches to be filled. There's so much room for more comics creators and styles and approaches.
CM Who are some other comic artists you admire, who are now exploring this territory of art comics or alternative comics?
AK My friend Austin English—he has a book coming out that's also a collection of older work, and I've known him since the beginning. All my first comic friends are still going, which is really cool. Blaise Larmee was one of my earliest comic friends. And then other people, like Sarah Ferrick or Scott Longo, whom I remember at their very beginning stages, are now producing really significant things. I remember talking to Sam Alden, too.
CM Your work straddles different worlds—you're in the comics world, but you're also in the fine arts world and the literary world, and I think all those categories are both appropriate to you and somewhat inadequate in terms of labeling what you do. Do you have thoughts about being a multimodal artist?
AK So far it's all been good. Because other people can see how my work might fit in any of those categories, I get included in a lot of things where I wouldn't necessarily find myself. This past year I've ended up talking to a lot more film people. That's something I never really thought about. Now I can totally see it. Working in different disciplines has only opened up opportunities, and hopefully that leads to people generally being more curious and open to the idea of comics.
CM At the Company show, where you displayed comic spreads on the wall—I haven't seen that approach before.
AK Usually when that happens it's straightforward pages from people's books. And there's been a number of comic artists who, when they start showing work in galleries, either stop comics or no longer show their comics, and it's kind of an either-or scenario. So figuring out how to have it all work both ways—
CM So those pieces aren't from a book—they were made specifically for that show?
AK Yes.
CM And they're a story, but within the context of the gallery, people are going to be walking around and seeing them in different orders.
AK Yeah, so they do all relate very specifically, but I had to make sure each one can hold its own. It's helpful in producing the work to have a narrative, but here it's unfolding in space differently, in a nonlinear format.
CM The other pieces you have in that show are these artifacts—mysterious notebooks and ritual candles in a glass case.
AK In the two notebooks, I drew on every single page, but you don't get to see any of it. They're under glass. I thought that was kind of fun and cruel. These inaccessible archives of something. Withholding the content leaves the object captured in time, but it still has a hand present in it. And the way it's captured leads you to believe there's some kind of story or ownership there.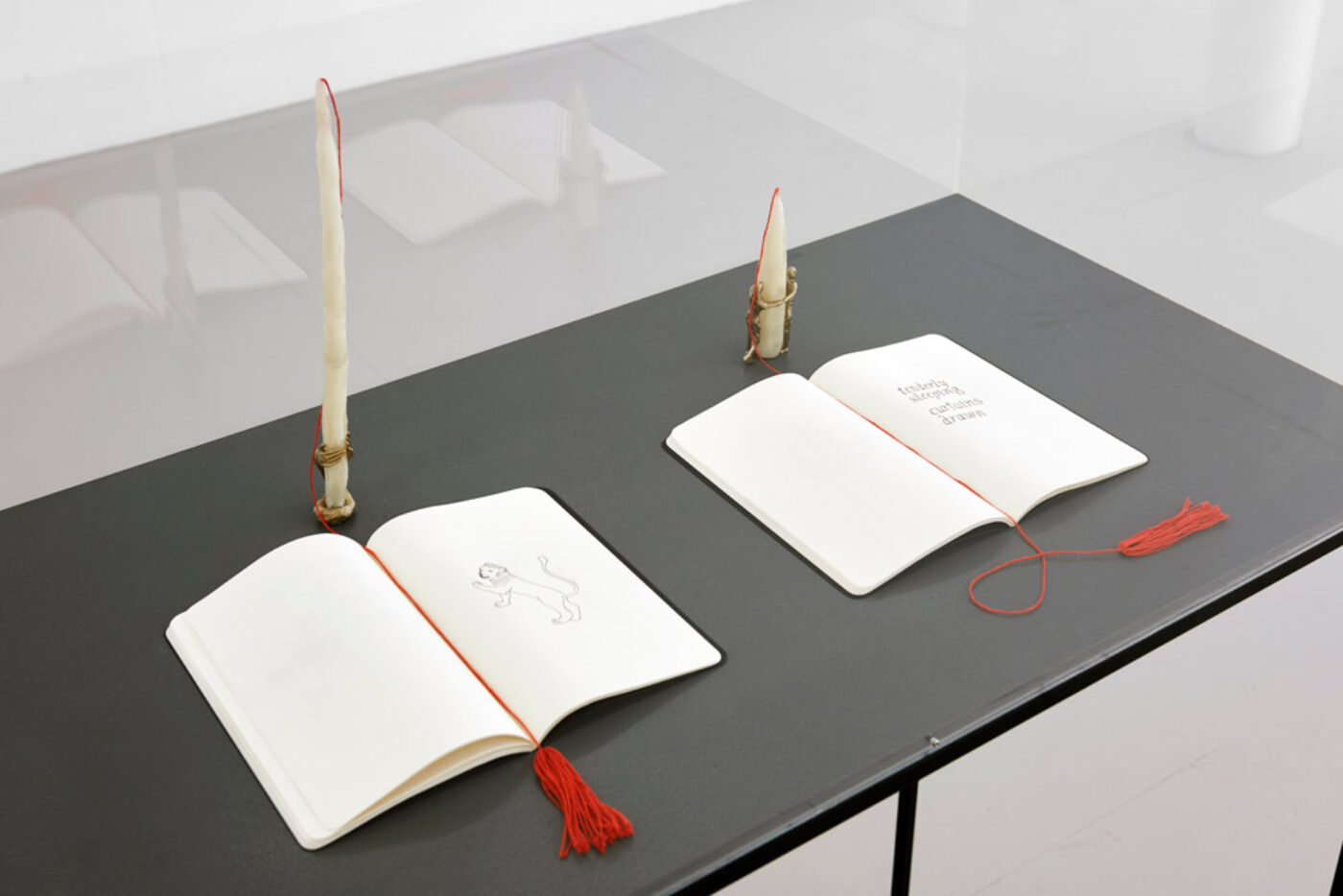 CM You seem very interested in the suggested narratives of objects. This is the joy of going to a museum—the joy, but also the denial and pain, where you see all this cool stuff but it's sterilized and cordoned off.
AK I know! Which is an aesthetic that I just love from going to museums so much, and fetishizing them.
CM The objects are totally objectified by eliminating any kind of use for them.
AK Which is like those candles I made—you can't light them anyway, so why have them even function? I made more for a show coming up. I sculpt them in wax and then get them cast. This one's a weird sphinx character. They're all these kind of useless ritual objects.
CM And they look like artifacts, but you can't place them in any time or civilization.
AK Yeah, they're living on their own. But referential to that feeling of antiquity. I feel like my art comes less out of a super conceptual stance and is more about creating worlds and emotions. There are so many different areas where creativity can come from, and I think I have such an aesthetic pull.
Part of what's kept me from making things on a more commercial scale—I make a lot of jewelry now, but I'm only doing one-offs pretty much—is that it feels like it would totally kill my romanticism to commercialize objects like these. Because the idea that each one of these is completely unique and individual, and kind of impossible to make again, is so precious.
CM Do you have any of the jewelry here?
AK Yeah. These are some charms. Little silver friends. I guess for personal reasons too, I'm resistant to mass production. I get bored of things easily. I love the inspiration of seeing something exist when it exists. That's kind of why I would have never put the book of zines out. Because I was like: Been there, done that. But it is really nice, looking at it now. I'm very happy that someone else had that idea and energy.
CM There are different page textures and stuff, to mirror how the original zines were?
AK Yeah, it's pretty true to how they once were. Even that's an idea I wouldn't have come up with.
CM It's cool, and now this book will get to a bunch of people who wouldn't otherwise have encountered the originals.
AK So many more. Yeah, the originals are pretty much not available. I mean, I might have some copies at my mom's house, but most of them even I do not have around.
CM They've become artifacts in a way.
AK Yeah, they're somewhere out there, floating around.
Aidan Koch's After Nothing Comes will be published on May 10, 2016 by Koyama Press.
Chantal McStay is BOMB's Andrew W. Mellon Fellow for Visual Arts and Literature.