The "grandmother of the French New Wave" discusses her ever-evolving artistic practice.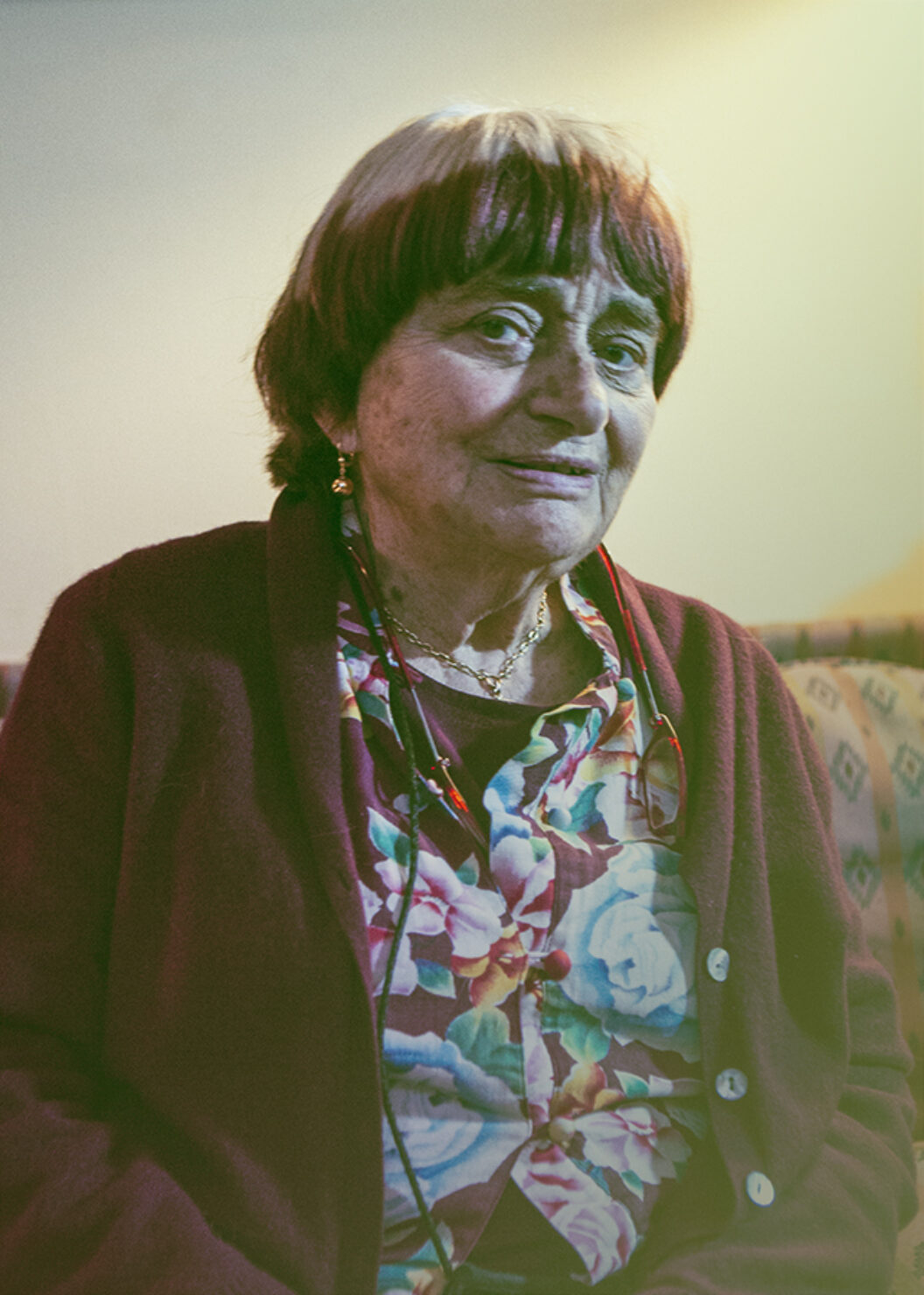 Agnès Varda is the only woman director to have been officially part of the French New Wave movement—and is perhaps best known for her classic Cleo from 5 to 7, from 1964. Her first film, La Pointe Courte, from 1954, was one of the first films from a member of the New Wave. She also made Vagabond (1984), one of the most important female road narratives to date, and has more recently received praise for her documentaries, including Jacquot de Nantes(1991), about her marriage to fellow filmmaker Jacques Demy, and The Gleaners and I (2000). As the writer and director of more than twenty features and countless shorts she is a bit of a living legend of filmmaking in Paris. But all that is in the past, as Agnès Varda has decided to move into a new chapter of her creative existence.
On the occasion of her winter opening at Galerie Nathalie Obadia last February I set about the project of trying to organize and interview with Agnès Varda on the subject of her new life as a visual artist. That was more than six months ago. The reality is is Ms. Varda has a great many people asking her for interviews and feels frustrated by how often the journalist 'gets it all wrong no matter how nice they may be as people' as she told me over the phone—and therefore she tends to turn them down altogether. Weeks and weeks gone by and a score of emails later her assistant suggested I come quickly to her famous address on Rue Daguerre on the left bank because Ms. Varda had agreed to meet with me after all, albeit briefly. Upon arrival I found her dressed all in maroon—to match her two tone hair, her cats wandering playfully around the living room, asking tea to be fetched for us. Ms Varda explained how much work she had to finish so we would have to make it quick. Who would argue with an eighty six year old trailblazer who has outlived the majority of her contemporaries anyway? I tried out some questions on her, and while some were left unanswered … these were the ones that passed the test:
Sabine Mirlesse You've been called the Grandmother of french new wave cinema, how do you feel about that title?
Agnès Varda Since I started 5 years before the storm of the so-called French new wave, they called me "Grandmother." I liked it very much since I was 30!
SM So what is it like to go from, in your own words, an'old filmmaker' to a 'young visual artist'? Is there anxiety involved in starting something new, moving from territory you've mastered to a new medium?
AV No anxiety, it's just an evolution of my work. I started in 2003 and I was already quite old (which I'm happy and proud of!) I had a big exhibition at the Fondation Cartier Pour L'Art Contemporain here in Paris in 2005, and recently at the end 2013 until June 2014 I had a larger exhibition at LACMA. For example, at LACMA I built an entire house out of film stock. I made the roof, walls, and so on, all out of film. You could see through the film and therefore the walls. I made a mural as well and exhibited photographs. I'm very pleased to say that they purchased the piece. I now have a piece in the permanent collection at the LACMA. I also have a piece at the MOMA in New York. This makes me feel good.
SM But what inspired the shift?
AV The need to change my way of working from flat screens to projections including space existed in me already. However when Hans Ulrich Obrist invited me to join a group of artists for Utopia Station at the Venice Biennale in 2003—that was the wonderful opportunity. At the first opportunity, I switched from movies to installations.
Do you live here in Paris?
SM Yes.
AV Well then you saw my exhibition at Galerie Nathalie Obadia last spring ?
SM Yes. Your gallery was very accommodating. They lent me the DVDs as well.
AV So then you already know what I do! You can just explain it yourself.
SM But I'm not here to simply describe the exhibition I saw in the spring. I'm here to speak to you, to try to ask you about the work and about yourself and your future projects.
AV Just describe it! Review it! Criticize it! Make a comment! Do whatever you want! You know you forget that artists express themselves with their art. My films express me. My art expresses me. That exhibition you saw has many references to what interests me—the puzzle for example. I always say that films are puzzles and that the characters are puzzles because you have to reconstruct them. I love portraits. I made a portrait with silver print and video on the side—as a triptych. It was my way of reconciling analog silver prints with digital video; still images with movement.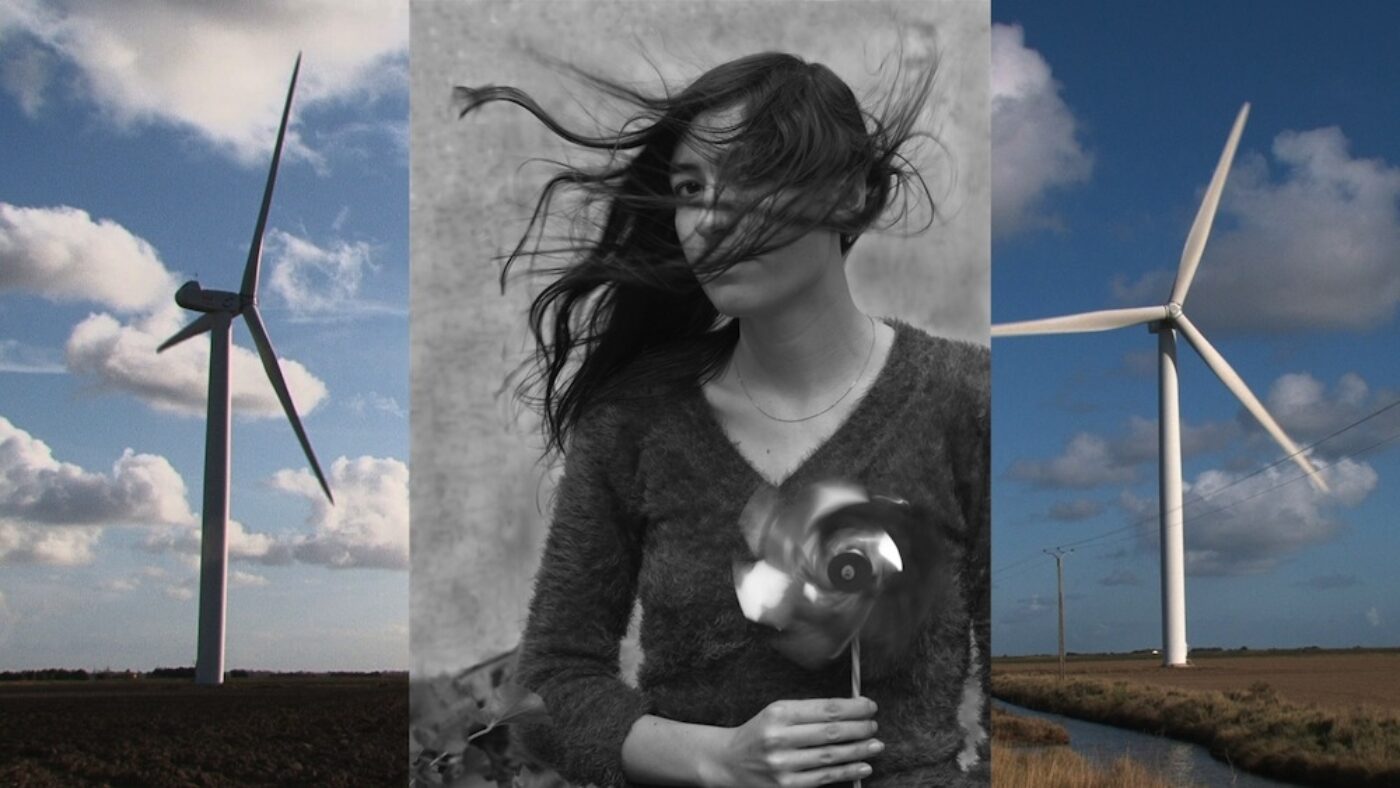 SM Yes, I wanted to ask you about those triptychs. While you are using photography it would seem you are still coming at it from the mind of a filmmaker—in the sense that there is not one still image presented in and of itself but instead at least three in sequence. What about the single image on its own, without a sequence. Is that not sufficient for what you want to express?
AV When you make movies, one screen is offered. From a long time, I wanted to work on three screens and I also decided to make portraits with side parts. Triptychs are presentation shapes of that I simply really love. I love all the older triptychs too.
SM I'm probably reading too much into them, but the display with the sides that fold in also feels like very overt gesture towards the Catholic trinity.
AV I've seen such beautiful triptychs from the time of Rogier Van de Vaden to Robert Campin. There's a long history of artists having to paint the Annunciation, the Descent of the Cross, the Birth of Christ, etcetera. Of course, you are right. But I've just been in love with this shape for many years. I love the idea that you can close it. I love the idea that you see something central and then something on the sides. I make triptychs because I love them. As I say, I reconcile everything.
For me it's not religious at all though. My work, Patatutopia, was a triptych of potatoes, but certainly not religious.
SM Are you religious at all?
AV No. I think this is a very private question.
SM Do you feel like you've come full circle in a way now that you're back to photography? I understand that you began your career as a photographer shooting the festival in Avignon.
AV Not exactly in the same way though. My first life was as a photographer, my second life was as a filmmaker, and my third life is as an artist—an artist who makes film, photography, constructing, installating, and using the capacity to propose another new relationship with the audience or the viewer. It's like the theme of the Nathalie Obadia show: three. I placed triptychs, photos cut in three pieces, and I felt good about that.
SM In your self-portrait documentary The Beaches of Agnès there is often a frame superimposed over the existing film—or there are frames placed within frames, frames placed beside one another. Its very similar to the triptych installation pieces we just discussed. Why the constant comparing or juxtaposition of images?
AV When you allow yourself to play with images, there is no reason to limit yourself in that play. Images are connected with other images, in the sense that they function as collages expressing variations, contrasts, or merely associations of thoughts.
SM Your video work allows for your narrative voice, literally, which is for me, an important characteristic to your film work—
AV Do you miss it? (laughter) In my films I leave my voice—it's a little of myself that I cannot separate from the film.
SM Well, I was wondering if you feel its absence in still images and installations? Do you feel you still have the same level of presence?
AV It cannot have the same form of presence. Precisely one of the concepts of photography is that it is silent. I love silence. I think there is such strength in a still image and silence. But then there is a lot of energy, which I love, in movement and voice—sometimes in my voice. Now in a gallery if you put three soundtracks playing at once, people would go crazy trying to listen to them. At most you can have one piece with sound, but you cannot have multiple soundtracks playing at the same gallery. I've done both silent exhibitions and exhibitions with sound. You have to organize your work according to the space you are given to exhibit in, keeping in mind how your audience will be able to appreciate—or love—your work. A bench to sit on, for example, which they forget in most exhibitions—a bench to sit down and stay put and just look at things peacefully.
SM In your more recent works the beach seems to have a strong presence. It features very prominently in the works of Fellini, something I believe he acknowledges as being a reference to his childhood—it made me wonder what the significance of the beach is for you.
AV For me, it makes sense for me to show all the beaches I've lived close by to during the course of my life. There were the Belgian beaches of my childhood, the Mediterranean beaches of my adolescence and youth. There were Atlantic beaches, since my dear Jacques was from Nantes and Noirmoutier, and Pacific beaches since he and I lived in California for a while as well. I play with the idea of showing all these beaches in my work. Now I've had to invent an urban beach here on the Rue Daguerre, the street where I live.
SM I read in an article in the newspaper La Liberation that you only photograph people you love—is that true? And if it is, could you tell me why?
AV In documentaries, or when I make a portrait, I feel it is important to have a feeling for the individuals I'm looking at—empathy, sympathy, tenderness or curiosity.
SM I was wondering if you could comment a little bit on what its like having been married to another artist, on how that impacted your process or how you impacted on his, or if you tried to keep your creative practice separate from your marriage …
AV I've said in many interviews, and also in my documentary self-portrait, that Jacques and I loved to work without mixing our love life with our personal creativity.
SM Could you tell me a little bit about what you're working on next?
AV In November 2014, I will show 1954 vintage photographs at Paris Photo at the Galerie Nathalie Obadia stand, and I'm also preparing a new exhibition and book. Also in the house where the great Victor Hugo lived, there is a show about his relationship with theater. I took pictures of two of his plays: Marie Tudor and Ruy Blas directed by Jean Vilar.
It's strange to have the big images of 1954 shown in the house of Hugo as well as small prints of photographs I also took in 1954, exhibited at Paris-Photos. Autumn 2014 proposes a revival—or a ghost—of my life from 1954.
Sabine Mirlesse is a photographer and writer who lives and works in Paris.