Michael Bühler-Rose and Matthew Gamber discuss the past, present, and future of black and white in an art world that's been overtaken by large format color photography.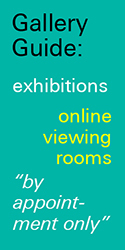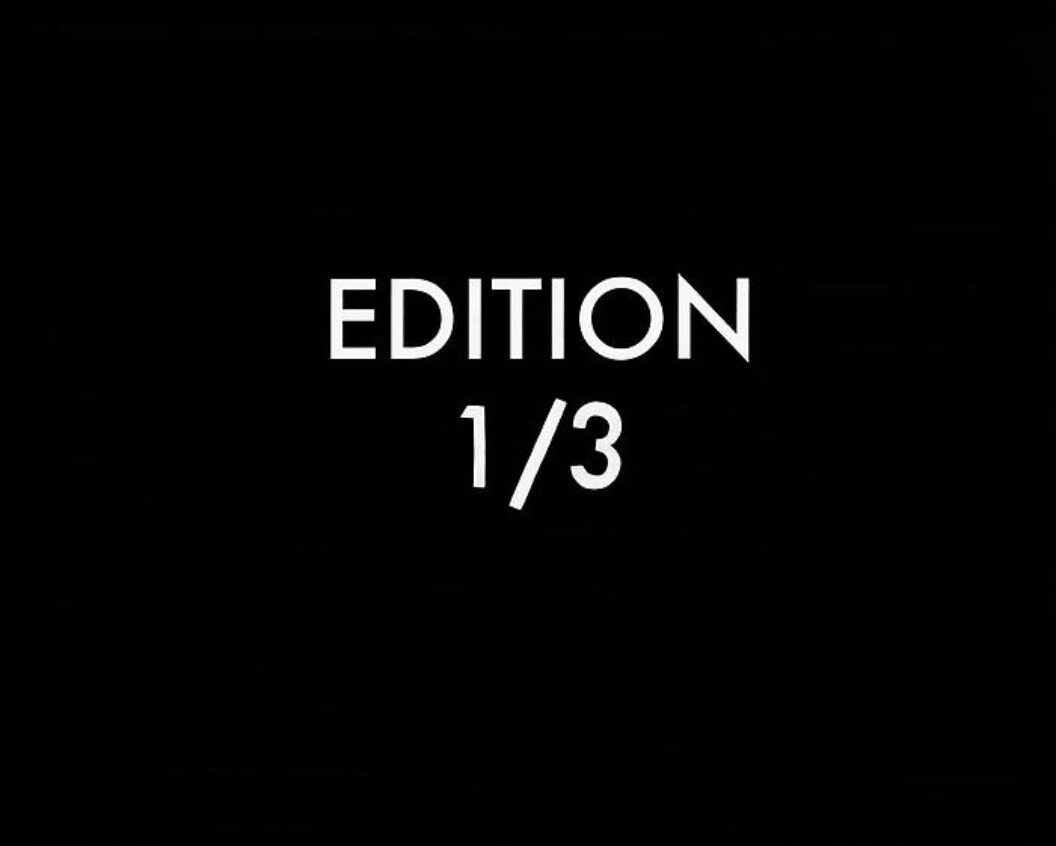 Michael Bühler-RoseThis is something we have talked about for a few years now—an art world where large format and color photography is the norm. Now, if it isn't in color, people assume it must be for some special effect, like you are trying to overemphasize that your photograph is fine art, or that you are trying to be a purist. However, if it is a special effect, then how can it be pure or essential? It's an embellishment. If something is in black and white there must be a reason for it. Can you remember walking into a gallery and not seeing a huge C-print? Ten years ago, it was a novelty; twenty years ago it was a spectacle, and a rarity. Now, it is just the default. I think huge images have their place, but not every image needs to be made at a large size. Otherwise, they start to resemble limited edition posters.
Matthew Gamber It became such a normal thing to see, and as a photographer, you were almost expected to do it. People would say things like 30×40 is the new 8×10. They had a point, in the sense that if you didn't print at such a huge size, you weren't taken seriously – you weren't a professional. If you were still making contact prints in graduate school, you were living in the past and without a peer – because you were seen as anachronistic. Black and white seems to be forever locked into the look of mid-20th century, arguably the height of its use by both professionals and general consumers, at least in the industrialized world. We've been trying to work with how to fit black-and-white into a contemporary dialogue. Do you think that it is now possible to reinvent it, now that there has been just enough time for people to abandon it?
MBR It seems like there had to be enough breathing room to look at it with a fresh eye. It now has an ability to change, where before it was stuck in a couple of established uses. I think people who are re-investigating those possibilities often see it as a sort of free zone to work. It seems similar to painting having to re-establish its identity after photography. I used to have a reaction that whenever I saw a black and white photograph, I assumed it was just a re-interpretation of "art photography," by just making any black-and-white image, or just lame street photography, that is so over-repeated where there is no more point in taking another picture of it. It's become overused, and has watered down all photography that looks like it. Too much time has passed from original source of that sort of tradition, people like Arbus, Winogrand, and Friendlander.
MG How are you trying to update the potential of what a black-and-white image could be?
MBR One thing I was thinking about was how it is possible reproduce the same photograph forever if you have the original negative. But when you think about it, in photography, where does the original begin? Is the original photograph the first print you make, or is it the negative on the film? More so, does originality start with the scene or with the photographer? Where does the source begin? The more you think about this, the more odd things like limited editions become.
MG You might have 10 copies of the same photograph for sale, and the first print in that edition might be the most desirable. But what's the difference between the first print and the tenth print? Either they are all the same, because they are in the edition – or they are all different because they are individually numbered.
MBR To that end, I've made these pieces where the literal image is the text "EDITION." The image broadcasts the idea of it being an edition, although it is a photogram and can therefore also be considered unique. I then had a sign painter paint in the edition numbers, which makes them all unique prints. I boiled down the idea of the photographic edition to its base elements: image and numbers. You then start to wonder which part is more important.
MG I tried to look at changed uses for black-and-white photography, in making large-scale photographs of blank slate chalkboards. As one concept, chalkboards were for information, and silver gelatin photographs were for information. The same kind of industrial revolution made both products possible. But now neither are valued as an efficient way to broadcast information. They don't have a fast informational turnaround compared to contemporary technologies.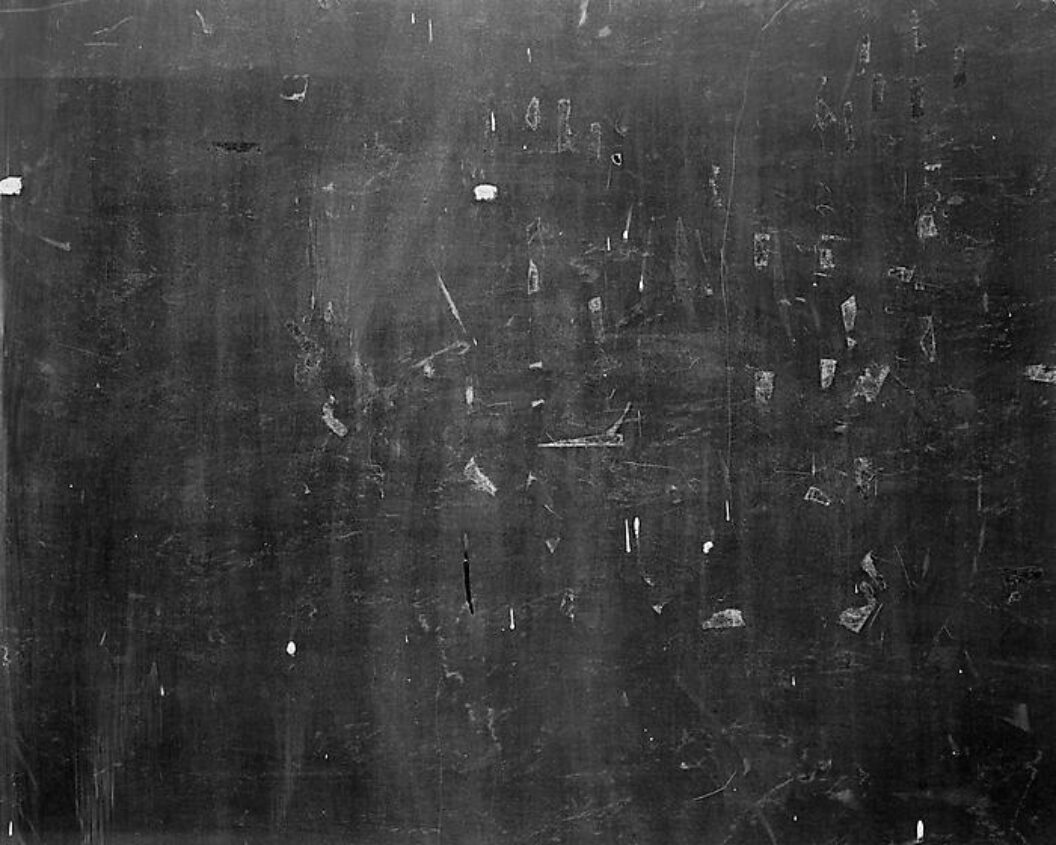 MBR It's all pretty Victorian technology. Both of them have this amazing surface that people now want for decoration in their homes. Even though they aren't valued for how they distribute information, they contain a huge amount of information.
MG An enormous amount of information. The film has the ability to get into the pores of the slate, and you see a century of overwritten information. In the end photograph, there is this dramatic entombment of both the imaging technology and the chalkboard. This is the best their technology will ever be. They are at the end cycle of their physicality. But their intentions will survive in interactive OLED displays and HD cameras.
MBR That's a pretty good life cycle. How long do you think you'll be able to easily listen to an old cassette tape that has been recorded over again and again? That is, if you can find a cassette deck that works. It would be great if new bands would start releasing music again on cassette tapes.
This is actually a good way to discuss how we are trying to deal with black and white photography. It's a technology locked into the past. It's crazy when some people think an LP sound is more real than the audio on a Blu-ray disc. I like the distorted sound quality of an old tape, but that doesn't mean it's more authentic.
MG The image might be of the present, but the character of the image is locked into the past. Is it possible to make a black-and-white image look like the present? Is it possible to put new music on an LP and listen to it without thinking of the past? The illusion of authenticity occurs because it seems more direct than other photographic processes, because you are getting a trace of light onto film, and then translating that light directly onto a piece of paper. Stripped down technology has the allure of being closer to the essential of what it is representing. For example, a photocopied zine feels more essential than a glossy magazine because it is so bare, direct, immediate, and accessible—and that is on top of the content inside, which is usually loose and improvised.
MBR Say you have a portrait of someone in black-and-white, just because that image is monochrome doesn't mean it is a more pure image of that person. It doesn't give them more soul. Some of these conventions, especially its ability to create a sort of "truthy" illusion has been embraced by documentary and advertising. For some reason, we still believe black-and-white as more authentic. Sepia photos of Obama make him look more timeless and authentic. People accept it as being closer to him even though there is less information, which is sort of weird. Many catch that they are just silly clichés. However, rather than disregarding these conventions, we can expand them within our own contexts. I think embracing and complicating them shows how sophisticated these conventions are.
MG So now we have this process, which is still useful, but I guess our purpose is to figure out what we can still do with it. We can give it this new vocabulary it didn't have before, and really dig into what the process is. We can look at what it does with a certain amount of freedom. You can make something different with it and fewer people are going to remember the original aesthetic context to tell you that you are doing it incorrectly. It's like trying to put together some IKEA furniture without knowing what it is supposed to be. There is a wild freedom to try all these different versions of purpose and possibilities. You might end up with a broken chair, but at least you can see more of why it was designed the way it was, or even come up with some new uses – changing the initial concept all together.
MBR Yeah, because black-and-white's usefulness is not an art world attempt at appropriating past images, rather embracing certain characteristic head on that had previously been glossed over – its scratches and grittiness, its ability to ignore color or reality, or its dealing only with form – in an abstract way. There are new ideas that couldn't exist before, and there are new ways of using old equipment because it is so novel now.
MG Now that it is really an obsolete media, and people have no responsibility to make useful images, users have the ability to revisit it with fresh ideas that were not really worked out before. However, those uses are based on established uses. We can focus on new uses, or rather, focus on how to recycle some old uses in new ways. It's about subtlety. What we are doing is building on that past, and making new arrangements for a common language. Without it, we'd just be sending out messages that nobody could decipher.
Michael Bühler-Rose born in New Jersey (1980), lives and works in New York. He received a Fulbright Fellowship to India, obtained his BFA (2005) from the School of the Museum of Fine Arts, Boston, and MFA (2008) from University of Florida. He is currently an Assistant Professor at the Rhode Island School of Design. In his work, he raises questions about medium specificity. Bühler-Rose merges a photogram of the word "edition" with hand painted numbers to ask: At what point does a piece become unique, and at what point is it an editioned multiple?
Matthew Gamber earned an MFA from the School of the Museum of Fine Arts/Tufts University. He is currently an imaging technician with Preservation & Imaging at Harvard University, and Editor-in-Chief of Big RED & Shiny. He has taught at Savannah College of Art & Design, Art Institute of Boston/Lesley University, College of the Holy Cross, and Massachusetts College of Art & Design. In a reference to abstract expressionistic painting, Gamber's photographs of excessively used chalkboards suggest a kinship between the chalkboard and film photography's recording capabilities.
After Color
Artists: Michael Bühler-Rose, Talia Chetrit, Matthew Gamber, Stephen Gill, Adrien Missika, Pushpamala N, Arthur Ou, Noel Rodo-Vankeulen and Michael Vahrenwald
On Display: July 8 – August 21, 2009
July 2009 New York — Bose Pacia presents After Color curated by Amani Olu from July 8-August 21, 2009. The gallery is located at 508 West 26th Street on the 11th Floor, in the Chelsea district of New York City. The gallery's summer hours are Monday through Friday from 11 to 6.