Aesop Rock's Fast Cars, Danger, Fire, and Knives: The Living Human Curiosity Sideshow by Nick Stillman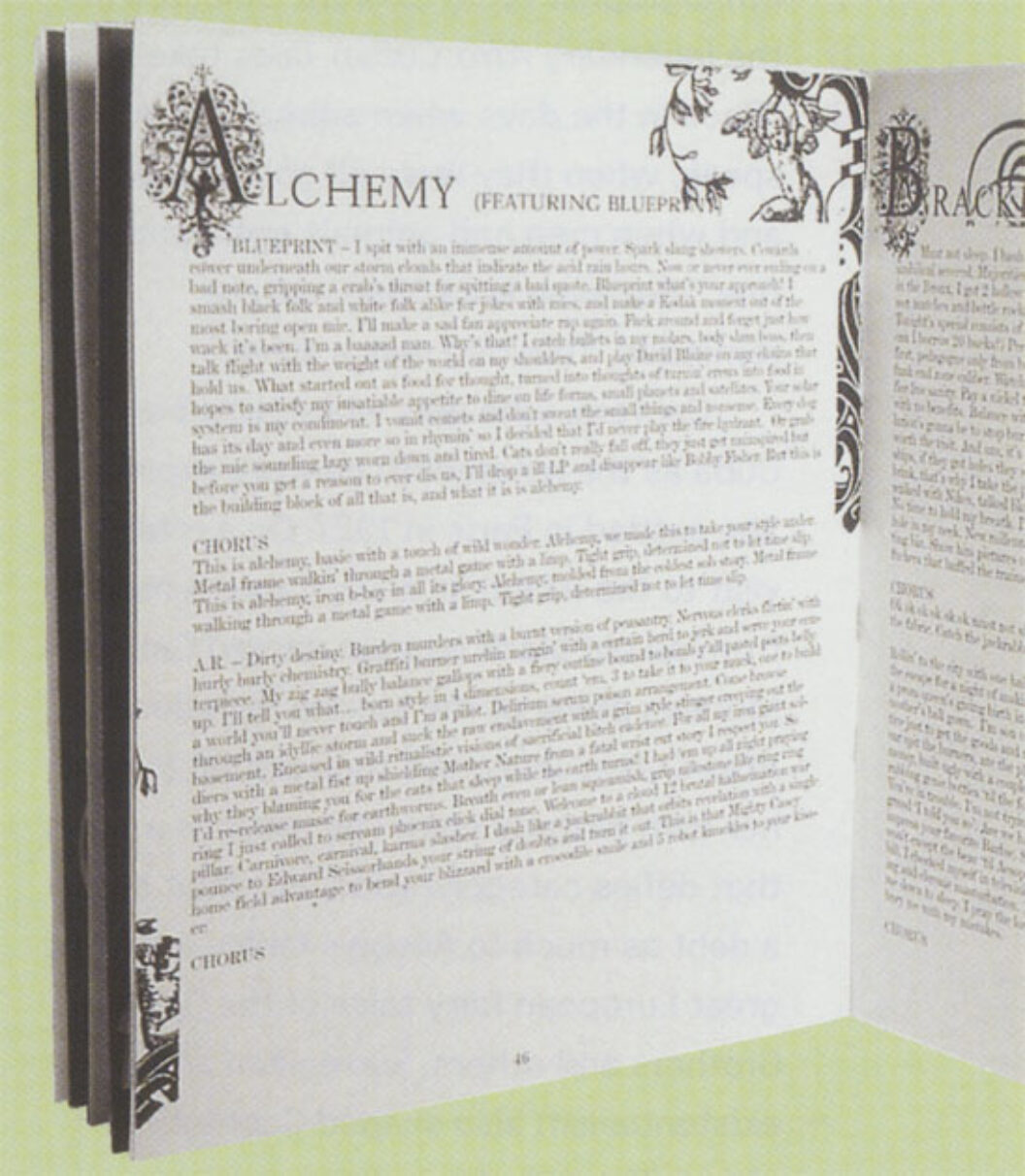 The handsome, CD-size book of lyrics accompanying Aesop Rock's new EP Fast Cars, Danger, Fire, and Knives is titled The Living Human Curiosity Sideshow, an apt caption for a rapper whose 1999 debut album Float became an underground classic so instantly that by his next album he would rap, "Dwarfed by the lights, bewildered by the fan base, bound by an idea but skeptical of the handshakes." But really, isn't anyone who can spit the words, "Mega biter snake bedlam holocaust freak heckle sheisty brain headroom shake planet" faster than you can say, Huh? a legitimate curiosity, if not an outright sideshow?
The book includes all the lyrics from Aesop's three albums and two EPs, and devoted fans will find themselves flipping immediately to classics like "Daylight" and "Basic Cable" to hungrily soak up each of the self-proclaimed Bazooka Tooth's fantastic amalgams. Though at his very best, Aesop only gives the listener/reader a fleeting peep into his universe before blazing off into another dense passage of baffling wordplay.
The songs on Fast Cars find Aesop knee-deep in references to the war in Iraq. In "Winner Takes All," Aesop envisions himself in fatigues, scared as hell and clueless in Baghdad: "I have landed safely. I have not received my papers. I have zero natural enemies. I don't know my location. I have no training in reconnaissance, combat or colluding. I'm calling for my orders, over." At their core, Aesop's songs are communiqués from generation alienation, cloaked in language's equivalent to camouflage. The truly skilled rapper, however, combines slangy abstraction with bluntness, and Aesop's quotable proclamations are some of his best moments. After all, there's little doubt he speaks for most of America's youth when he says, "If the revolution ain't gonna be televised then fuck, I'll probably miss it."
Nick Stillman writes about art and music for several publications and is the editor of NYFA Current.
The Living Human Curiosity Sideshow and Fast Cars, Danger, Fire, and Knives are just out from Definitive Jux.
Originally published in
Featuring interviews with Constant Nieuwenhuys and Linda Boersma, Julie Mehretu, Alexi Worth, Pearl Abraham and Aryeh Lev Stollman, Robert Antoni and Lawrence Scott, Kiyoshi Kurosawa and Jim O'Rourke, Roscoe Mitchell and Anthony Coleman, Brad Cloepfil and Stuart Horodner, and Bruce Mau and Kathryn Simon.