Politics, sex, and fire in this cinematic house of cards.

Home of the Bill T. Jones / Arnie Zane Company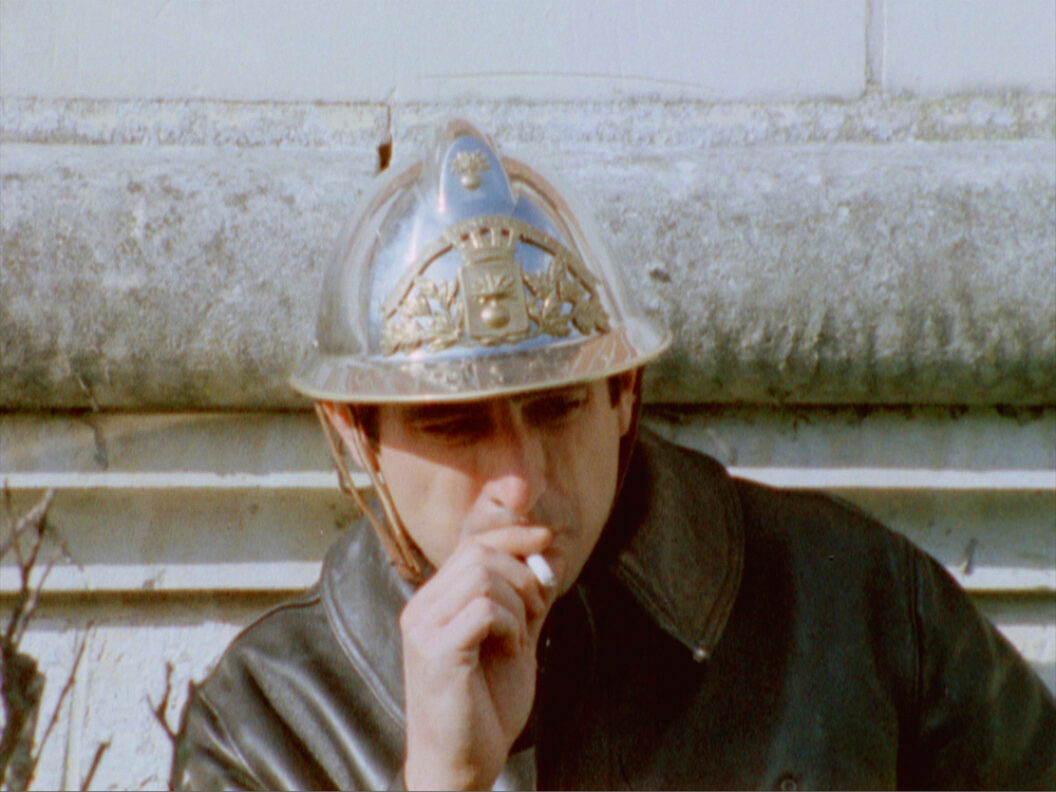 The 1970s were difficult years for budding French filmmakers. These young men and women had to contend with making their mark during the long comedown from May '68 and the aftermath of the New Wave, possibly the most attention-grabbing film movement in history, and one which seemed to have done everything from capturing the pulse of the street and the bedroom to combining CinemaScope with the ideology of Mao Zedong. Some reacted by reclaiming classicism, others made films political in content but stodgy in form. A third group found a vein of meticulous freedom that has left us some of the most eccentric wonders of modern cinema. Adolfo Arrieta's Flammes (1978) is like the secret handshake of these films, best categorized as brazenly opposed to categorization.
Flammes (Flames) begins with a little girl waking from a dream, terrified at having possibly seen a fireman at her window. With an uproar of symphonic music that momentarily transforms the tightly-framed, darkly-lit scene into a windblown epic, the girl's father takes her in his arms and puts her down near the fireplace. This decision to move the frightened girl to the very spot that would most attract the object of her fear indicates that in Flammes no logic operates other than the one constructed by its Madrid-born, Paris-based director—or that the fireman may turn out to be something other than an object of fear.
The film then skips ahead several years, revealing that the girl Barbara is now a brooding young woman who hangs around her father's chateau playing cards. During this opening twenty minutes, the viewer might feel like he is watching a Balthus painting brought to life: the people move stiffly through a density of old wallpaper and dusky daylight, speaking a dying strain of proper French that stifles a vague erotic charge. Deliberately primitive close-ups settle like oil paint. The viewer sees, but might as well be wearing a blindfold: we have no idea where we're going.
Flammes only shows its hand once it embarks on its single foray beyond the chateau. Barbara is in the nearby village putting her shopping bags into the car when she catches sight of the local firemen. In a long speechless sequence cutting between various angles of Barbara's rapt face and a flat wide shot of the red firehouse with the men lined up in their shiny helmets and black uniforms, the viewer understands that the fears of childhood will be the desires of maturity. Soon firemen will be climbing through the bedroom window and Barbara will no longer come down to breakfast, lunch or dinner. The blindfold is off. We settle in to watch the characters play. But though their identities and relationships are blurrily defined in such a manner that any combination of playmates seems conceivable, the most arduous play we actually witness is the building of a house of cards, a glorious emblem of Flammes, not for its fragility, but for the innate possibility born of constraint. Like kindred masterpieces of the '70s such as Paul Vecchiali's Femmes, Femmes, Jacques Rivette's Céline and Julie Go Boating, and Raoul Ruiz's The Hypothesis of the Stolen Painting, Flammes turns its back on the demands of plausibility, the lingering disappointments of a failed revolution, and the illusion that film can capture reality by creating a confined house of fiction within which anything is possible. Uniformed bodies speaking in foreign accents and moving awkwardly through rooms with scarlet walls are only sparks for the imagination. There are no firemen spurting liquid from thick hoses here. Fiction, fantasy and desire are in the head, in the locked room at the top of the stairs. Play is what you don't see because play is that boundless region of the mind. Play is sex, of course, and the donning of a fireman's uniform. But play is also making a movie and making a movie is serious business. Relationships are fluid; camera placement is not.
Flammes screens at FIAF at 7:30 PM on May 20 in the Cahiers du Cinéma series French Cinema's Secret Trove. The screening will be introduced by author Bruce Benderson.
Nicholas Elliott has been New York correspondent for Cahiers du Cinéma since 2009 and is Contributing Editor for Film at BOMB. He co-programmed the series French Cinema's Secret Trove with Delphine Selles-Alvarez.