A World Apart, A Dialogue in Three Parts: Linda Mvusi by Liza Béar
A World Apart explores apartheid through the eyes of the young daughter of political activists in Johannesburg in 1963. This interview is the second in a three-part dialogue with screenwriter Shawn Slovo, director Chris Menges, and actor Linda Mvusi.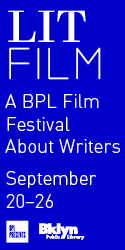 Linda Mvusi's acting debut as Elsie the maid in A World Apart was awarded the Best Actress prize at this year's Cannes Film Festival, an award which she shared with Barbara Hershey as activist Diana Roth, and Jodhi May as her thirteen-year-old daughter, Molly.
Liza Béar Is this your first visit to New York?
Linda Mvusi I was here in the summer of '86 for four months. I was painting in Philadelphia and I used to come up here.
LB Painting?
LM Yeah.
LB Oh… I understand you have quite an unusual background for an actress. How would you describe yourself principally?
LM I describe myself as an architect. That's my training. I work in Zimbabwe as an architect.
LB In Harare?
LM In Harare, yes. It's the main capital of Zimbabwe. The film was shot in Bulawayo, which is the second largest city.
LB Zimbabwe's still a socialist economy?
LM The rhetoric is socialist, but they inherited a very capitalist infrastructure, and that's still in place. And there's a lot of anomaly between what should be the situation and what is. That's very apparent.
LB Is architecture under the aegis of the government or of private structures?
LM Well, the private industry is very much the old Rhodesian practices, but there's a contradiction here because the main client is the government.
LB They have the funds.
LM Right. I found this very interesting, which is why I decided to go to Zimbabwe to work because I combined an African training with… My family left South Africa in 1960, and we lived in Ghana up till '63 at the time when Kwame Nkrumah was president…. There was a lot of fusion between intellectuals and academics who'd all gone to Ghana because it was a newly independent state. So that is part of my heritage, this massive infusion of resources and talent in a concentrated space. Then I lived in Kenya just after independence, so I was part of that….
LB …Struggle too.
LM Yes. In fact, we got there a month before independence.
LB Good timing.
LM Great timing! I stayed there for four years. My father taught at the universities in Ghana and Kenya. The house was always full of people. I'm just explaining this by way of my particular interest in architecture. I don't know how to define myself as an architect—I'm still trying to find the responsibility of the architect given the situation in a third world country because you don't have the luxury to…
LB I imagine you don't design condos or private mansions, you design housing for working people?
LM That's what we should be doing. But we are called upon to build luxury buildings which are only appropriate for a very tiny minority who may be in opposition to the vast majority's wishes. So your position as an architect is called into place. Who invested in you and who are you giving to? Now I'm caught up in that kind of dilemma.
LB Uh huh. How did A World Apart manage to call upon your talents as an actress—which are quite considerable, I must say.
LM I think it was also timing. (laughter) I was there, and I'd just completed a government office block, which was a major thing—I'd had my head in it for six months, and met the deadline though I'd started two months late. After this intensive period, suddenly there was a vacuum…. 'Cause I'd just arrived in Zimbabwe. The question (of my being in the film) came up at a time when I needed to reevaluate what I was really doing architecturally, and even in my personal life, and because of the cultural boycott any cultural work to do with South Africa has to be approved by the People's Democratic Movement (it's like the ANC)…. I don't know who identified me, I think it was the casting person…. I don't know because I hadn't acted before. But I got a call from the local ANC office to look out for this lady…. And why did I listen to the proposal? We did an audition and we talked about the issue for a long time, I remember, it was for about two hours. I was really fascinated by the idea of a film. And also it gave me an opportunity to back off from architecture for a while. And at the same time be paid for it, so I didn't have to tap into my meager savings.
LB Did you have any trepidations about acting? If you did it didn't show. You gave such a wonderful natural performance.
LM Well, I was surrounded by very supportive people like the technical consultant, who was a South African journalist. She had more of a foothold in the industry, and she was very very generous with the information. Then I also had support from Albee Lesotho, who plays Solomon, my film brother. He's a theatrical actor from South Africa. We formed a little family there which was very intensive with ideas and instruction and methods and what the issues were… Did I have trepidations? No. I'm a very fearless person! Sometimes I jump before looking. But the film appealed to my sense of adventure and new frontiers and sheer curiosity.
LB How did you view your role in the film as Elsie, the live-in maid?
LM In South Africa she would be called the domestic. We really developed her persona between all the interactions on the set, because when I got the script—which is what appealed to me too–her character was very thinly sketched, so there was a lot of room to build her up. As my grandmother says, you don't find somebody sitting on an anthill. The person has to come from somewhere. So we built up who she was, facts which don't appear in the film, where her children are, what happened to her husband, for instance.
LB The back story.
LM The back story. We built up a very typical Everywoman situation. And also, South Africa being what it is, you don't become a domestic by choice…
LB By economic necessity.
LM That's right. Because of the repressive laws you can't be anything else. I imagine a woman like Elsie would be a teacher in another country, or an administrator. But being in South Africa, her potential for life and growth is severely repressed. And she's conscious of this every time she's doing the job, and she attaches a great deal of dignity to the job. She's going to do it as best as she can. But she knows very well that if Apartheid were not there, she would have been able to develop her talent in another direction. In fact, we built up the political dimension of Elsie between my film brother and I by talking around the issues.
LB You hung out together before production started?
LM No no no, we met right on the set once the shooting had begun. It was a parallel development, literally.
LB The Elsie character provides the warmth and the intimacy to Molly which her mother isn't there to provide. But there is a tragic element to it because of what's happening to Molly's mother and to Elsie's brother at the same time. They are both victims of the situation.
LM It is a real tragedy in South Africa because a woman like Elsie is forced to leave her own children, and take care of someone else's…. But her success has to be measured in terms of whether these children would support apartheid or not as adults. This is the dilemma that most South African women in this situation have to face. They're raising children who may turn around in 10–15 years time and shoot their own children. So what do you do as a mother? Because you have your children to take care of. And at the same time you're making choices. And inasmuch as you love these children who are in your care because they are South African children, there's this enormous loss and all this pessimism about the future.
LB The children and the oppressed share the same world, in a sense.
LM Yes, and I think that is mirrored in reality very much too…. How does Elsie deal with the dilemma? She uses a very traditional method, by including the children, and allowing them growth in their own footsteps, which is what she did with Molly.
LB Some of the scenes you had to play, especially towards the end of the film—I guess the key emotional scene is when you hear the news of your film brother's death—had you experienced something related that you could draw upon to act out that scene?
LM Yes. My youngest brother was killed in 1982.
LB Which country was that in?
LM He was studying here, in Greensboro, North Carolina, at the university….
LB Here?
LM Yes, he was studying at the university and he was killed.
LB By Americans?
LM Yes… I didn't realize it at the time but there was a lot of unspilled grief around that which I was fighting against. At one point I remember telling Chris, there's no way I am going to cry…. But then I worked very closely with Albee Lesotho. He's not just a professional actor in Johannesburg, he also works with children in South Africa. The black community has no recourse whatsoever to psychiatrists, so…
LB He works as a therapist?
LM He uses his drama as a therapist with children to help them cope with the trauma of being in a militarized zone, which is what the township is. Albee was very very close to me, he was my mentor and he held me very closely, emotionally, and drew the thin line between drama and reality that enabled it to be drama so that I didn't completely break down. It was very painful for him and for me. I don't think it would have been possible for me to do it without him.
LB What is the position of South Africans in this country? What sort of risk do they run?
LM As far as (my brother is concerned), it's still an open case. What had happened the year before, '81, was that four black American students had been killed in a (confrontation) between KKK elements and black consciousness in the U.S. student ranks. He was attending the oldest black college in the U.S…. There was a lot of tension between the white campus and the black town. And what has really marked the case is that the police have not been willing to investigate what actually happened. But he was found hanging, lynched, on a basketball court.
LB Goodness. How old was he?
LM He was 22. It was a trauma not just for the family but also for a lot of black South Africans here because they felt even more exposed…. You know, this sense that you didn't belong to a country and anybody could do anything to you… It sent a tremor through the exile community…. Because it seemed there was no recourse. They had a detective on the case for about three years after the event, and he wasn't able to do anything. Some evidence even disappeared. (pause)
LB Will A World Apart be shown in Zimbabwe, and Ghana and Kenya?
LM Oh, yes, yes. There's been a promise of a premiere in Zimbabwe.
LB Does this experience make you want to act again?
LM I went into this thing as a one off, and certainly I did it with no conception of its being a film. I did it as a project.
LB As a project? But you knew it was going to be a film.
LM Yes, I did, but I didn't conceive of it as something that one would look at from a distance on a screen, to view…
LB Large scale.
LM That's right! One just went from day to day dealing with the problems, getting things done. I think I approached it very much as I would an architectural project, from the inside out. You don't say, I want a beautiful building, you put different elements together. And what's triggered the work is the Cannes award….
LB Oh, congratulations, by the way.
LM …And now I feel some obligation to film as a medium, though not necessarily acting. I still don't consider myself an actress.
LB How do you view dramatic film as apolitical medium?
LM I think it's crucial. From a third world perspective, for us the central question has to be the element of control.
LB Over production?
LM Over content. What I found working in a film as an actor was a frightening lack of control over content. If it had been a stage, you'd have more power as a performer over the end result, over what is perceived.
LB That's the nature of the film medium. You don't know what the camera's taking from what you're doing.
LM Yes, exactly. And I haven't even seen the film as such. I saw a video of it.
LB Tonight you'll see it for the first time?
LM Yes!
LB Well, I think you'll be very happy.
LM I'm hoping that I can view it very neutrally. To get back to the question, (film) is a medium that should be looked at more seriously than print, because in Africa we have an illiteracy problem, and it's an illiteracy problem that's…
LB We do here too, actually.
LM I've gathered. In Africa it's also compounded by having no unifying language, and it seems to me film transcends this. There's no democracy without information. And I was really fascinated working on the set of the film at the technology, and the precision of it…. If that's what we did with architecture, buildings would be up in a week.
Beyond the Frame: Dialogues with World Filmmakers (Praeger, 2007; 336pps), a collection of Liza Béar's interviews with 55 filmmakers from 23 countries, is available from select bookstores or online at www.amazon.com. For more information go tohttp://lizabearmakingbook.blogspot.com.
Liza Bear's first feature, Force of Circumstances, is now in distribution through Double Helix Films. She teaches film at Columbia University.

Originally published in
Stockard Channing, Frederic Tuten, Dorothea Rockburne, Shawn Slovo, Jeremy Gilbert-Rolfe & Stefanie Hermsdorf, Gary Stephan, Chris Menges, and Linda Mvusi.