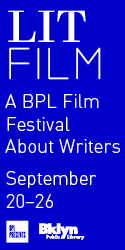 My nightmare is always in green-gray tint:
My husband is dead but he doesn't believe it
he smiles his mean smile with his golden tooth,
breathing on the mirror but no life witnessing mist
except in my eyes.
 
Not much of a farmer but a fisherman
who trembled feverishly like his rod
while fish flirted with the worm.
Then he hauled it in a silver arc.
Nothing more for the fish
but a dull thud over the gunwale
which he executed with the same flair
he displayed in sex.
 
Relentless lover. He loved me with the love
of a sailor whose furlough is at an end
yet he felt the same passion for the baker's wife
that one with rusty hair, and her sister
and everyone minded one's own business
very civilly, in feigned ignorance.
 
But mine was the last. He said:
"No fuck like home fuck," while biting my neck
and ripping the bed sheet with his big toes.
Then we had tea and soft talk
and that was my husband as well.
 
I know that he drowned with the imprints
of my hips in his horny hands
still smelling of my skin, lemon and detergent.
The wound of the river surface instantly healed
When he drowned as if nothing happened.
 
At his funeral the black umbrellas,
looked to me as bats in flight
full of threatening energy
and I had nothing but a brown handkerchief
of my helplessness.
 
It must be the madness of my pregnancy
which makes me crave for my rotten husband,
who was no better
than the giant sperm which won the race
and started the life I curl around.
—Rade Panich is a writer of plays, stories, and poetry. His novel Tito's Hawaii was published this spring; his play, Don't Throw Dentures in the River, was broadcast by BBC. He lives in Harare, Zimbabwe and contributes to local and foreign magazines.
Originally published in
Featuring interviews with Elizabeth Murray, Kerry James Marshall, Anthony Hecht, Michael Winterbottom, Liza Bear, Wong Kar-Wai, Olu Dara, Martin Sherman, and Philip Kan Gotanda.