A True Story About Two People: Easter 1964  by Cookie Mueller
I had two lovers and I wasn't ashamed. The first was Jack. He was 17 and I was 15.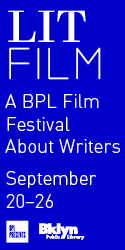 I had two lovers and I wasn't ashamed. The first was Jack. He was 17 and I was 15. The skin of his face was so taut over protruding bones that I feared for his head, the same sympathetic fear one has for the safety of an egg because of its fragility, its vitrescence. He wore his black hair all greased up spiraling into his languid eyes. Jack owned only black clothes and he wore his cigarettes in the rolled up sleeves of his black tee-shirts, showing off his arms which were big for a skinny person.
Once I visited him in the hospital; he had infectious hepatitis and cirrhosis of the liver, resulting from his four year bout with alcoholism. He didn't look too good either, all yellow in a murky blue private room. His visitors had to wear hospital gowns and surgical gloves, also masks over the nose and mouth which really frustrated him because everyone looked so morose without smiling mouths. My nose and lips were the first nose and lips he had seen in two weeks: after his mother left I whipped off not only my mask and gown but my pants and hopped into the hospital bed with him. I kept my rubber gloves on.
He was very sick and quite contagious and looked ill but sexy like pictures of Proust on his death bed and I was in love and we were teenagers going steady.
He had been expelled from high school for bringing in real moonshine, corn liquor, from his uncle in West Virginia and he had gotten all his best friends drunk on the lunch break and tried to beat up his American History teacher when Jack cornered him later in the bathroom.
Jack had a black Impala with red rolled and pleated bucket seats, racing cams, dual exhausts, tire slicks, a roll bar, Laker pipes, big foam dice hanging from the rearview mirror, and four on the floor of course. We drank Sloe Gin or Laird's Apple Jack or sometimes Thunderbird and ate bennies like little candies.
And then there was Gloria. She sat three rows in front of me in algebra class. I watched her hair-dos from the back, everyday they were different: Beehives, Barrel-curls, Air-lifts, Artichokes, Pixies, Flips, French Twists, Bubbles, Double-Bubbles.
The things I liked best were the way her scalp shone through all that teasing as if her head was a mango and the spit curls pasted down beside her ears with clear nail polish and bitten to the quick fingernails. I even liked the warts and nicotine stains on her index and second fingers.
I began spending Saturday nights with Gloria when Jack got too drunk and had bloody cut eyes from fights. I slept in her single bed with her and she first used to feel me up and kept telling me, "Just pretend I'm Jack, just pretend I'm Jack."
In the beginning the cajoling was necessary but in the weeks that followed I didn't have to pretend she was Jack anymore. Jack and Gloria liked each other and no one ever suspected anything about Gloria and myself. For appearances we were best girlfriends, both of us with our combustible hairdos, teased so high as to induce acrophobia and our black tight skirts hobbling us and our spike heels clicking down the high school hallways. We picked up guys together, smoked a lot of cigarettes, sniffed glue, drank terpenhydrate and codeine.
I stopped seeing Jack and took his initial ring off when he went to jail for a B and E charge. I stopped seeing Gloria when she got pregnant and decided to get married to Ed, her longtime boyfriend, who she kept telling me she didn't love nearly as much as she loved me.
Years later I found out that Jack, who was always pretty literate, was writing a novel and shooting speed, never being able to drink again because of his liver. As for Gloria, that girl, born of a light bulb it seemed, had died when she had gotten silicone injections for her little tits and it spread all over her body making tiny lumps arise on every inch of her skin, until finally the plastic entered her pulmonary arteries and the aorta and she died of a silicone heart.
Originally published in
Betsy Sussler by Craig Gholson, Carl Apfelschnitt by Sarah Charlesworth, Michael McClard by Kathy Acker, Eric Mitchell, Becky Johnston, and Amos Poe. Cover design by Sarah Charlesworth.