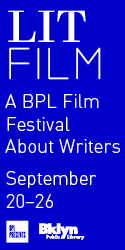 My mother told me, be a good angel
and then I headed for the street
with this great sensation
that a benediction by a mother
gives to resolve.
Around 1859
Billy the Kid
was a member of the Swamp Angels gang
and when he was only fourteen years old
gave a passport to the infinite
    to a Mexican stronger than a buffalo
who entered the bar saying good evening
to all the gringo sons of bitches.
Billy Harrigan or Billy the Kid
took a lot of time to practice his aim
and many times he did it
in the company of guitars
    and, at brothels in New Mexico.
According to how Borges tells it, Sheriff Garret
put an end to his precocious adventure
sewing his belly with bullets.
Faithful to this transcript of history
because at the end of this night
when I bent over my legs
I decided to follow the advice of my mother
and here in heaven
I have become a good angel
with my little Sheriffs star
and a water gun.
Translated from the Spanish by Zoë Anglesey.
César Young Núñez. Panama. Poem originally published in the Central American literary magazine edited by Roberto Sosa in Honduras, Presente.
Originally published in
Cindy Sherman, Dario Fo, Bruce Weber, Lisa Fonssagrives-Penn, and Raymond Voinquel.