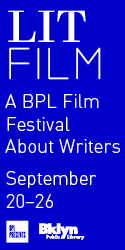 You could stand in the middle and almost touch the tall synthetic oaks on each side. It was a rough road—the roughness agreeably generic, not without art: good bumps and pneumatic fakeroots, little pools of gel. Into one of these last I let myself tumble, thinking, as I fell, how I would have liked to watch the pool crackle and blaze like the fire-in-fireplace I'd been sexting without response for years. While I drowned, I remembered lying in bed cursing myself for shaking a cashier's hand in my loneliness. Who does that?
When I back a creature into darkness
I feel I am adorable. Adorable. How else
caricature a grieving beast,
destroy art supplies with snot? Memory
 
sees the river wend its clarified way
town and expensive farms and on
past a peachtree to marrow, as if to nothing
 
the marrow of nothing. Yea
 
loan-stars binge on my kingdom. I am old,
and this dish of vanilla melts,
this dear spoon I can't remember
 
buying or stealing or accepting  
remains a bent example
of pure invention; particles of rain
blown through the screen contaminate my treat
here on the porch, yet water on my face
wards off the Sleep. I begat
 
in my dream a biographer-son
 
guide through the season after winter not spring
before the cut flowers have dried,
dust in the chiseled name blown away.
Three hundred years of a life spent in "violating, step after step, the circumscription by which the aristocratic compasses again and again, with reluctant extension to successive greater distances, defined the scope of the knowledge proper for a man of my condition"—over. Frightened, blinking in sudden wild yellow sunlight (of which I had only read) and a loud wind (ditto), I reminded myself that "the ruthless deed is an essential preparation for mighty knowledge"; and though I could take no credit for the act, not having exiled myself, yet I hoped my labors—and attendant mind glooms—had won me this, convincing the Nurse to place me Outside her as the necessary next step in my journey. I had never been so cold. Looking down at myself, I saw I was wearing my old familiar plastic scholar's smock (but the dickhole was in the wrong place?), spongy tripe clogs, and nothing else. My left hand white-knuckled a bald wand of asphodel—not, as I realized then I'd been assuming, my beloved pipe. Perhaps I was being punished after all.
PAGE DISCARDED FROM TREATISE ON LUCK
Isn't it lucky to be
a dweller in a peaceable community
erected on a skinscape as featureless as the
 
salt-flats I fled while a gosling?
 
     lucky  
 
miniaturized but grown,
a goose dreaming I'm huge—
 
All was still and silent and I saw myself
clinging there, a bird on a world, stuff
 
mere worried stuff wanting more breath
In a great empty foul-smelling hearth he jumps twice, thrice, again and again, too cold rather than too small to reach the lowest rung on the blackened ironwood ladder that runs out of sight up the chimney. He jumps again, he is jumping still. Don't think because he is cold he's not small / Cold found the Molecule, after all. Small jumper in extra-small company jumper, jumping to reach the rung he will never reach. You can buy audio of the puny thud he makes
repeating on a loop
for me for Holiday. The East Wind picks the streets clean of life, as if it recognizes no other impediment, though certain memorials to life also are noticed: the thicket of statues in which the sweep has taken refuge disperses swiftly around him, statues tall, shit, equestrian, more shit or unfinished or totally shit slinking heavily off down many-elbowed alleys, and he is left huddled in an open square. Of course he will remain there forever, with only his snuffle to eat.
Isn't the gravy
light? That there is light? Any light at all? And "Harry" has been done on the back of a discarded roll-up map so that he can be easily stored for his long journey to
a maintenance locker on Colwynox.
Mark Francis Johnson's most recent publications include How to Flit (Roof Books, 2018), Can of Human Heat (Golias Books, 2017), and Treatise on Luck (Gauss PDF, 2017). He lives in Philadelphia, where he sells antiquarian books and rare records out of his shop, Hiding Place.
Originally published in
Featuring interviews with LaToya Ruby Frazier and Fred Moten, Sergio De La Pava, Nina Hoss, Barbara Hammer, Joseph Keckler, Lydia Ourahmane, Kaneza Schaal, Hank Willis Thomas and Kambui Olujimi, and Summer Wheat.