A unique art catalogue mixes text with text.

Discover MFA Programs in Art and Writing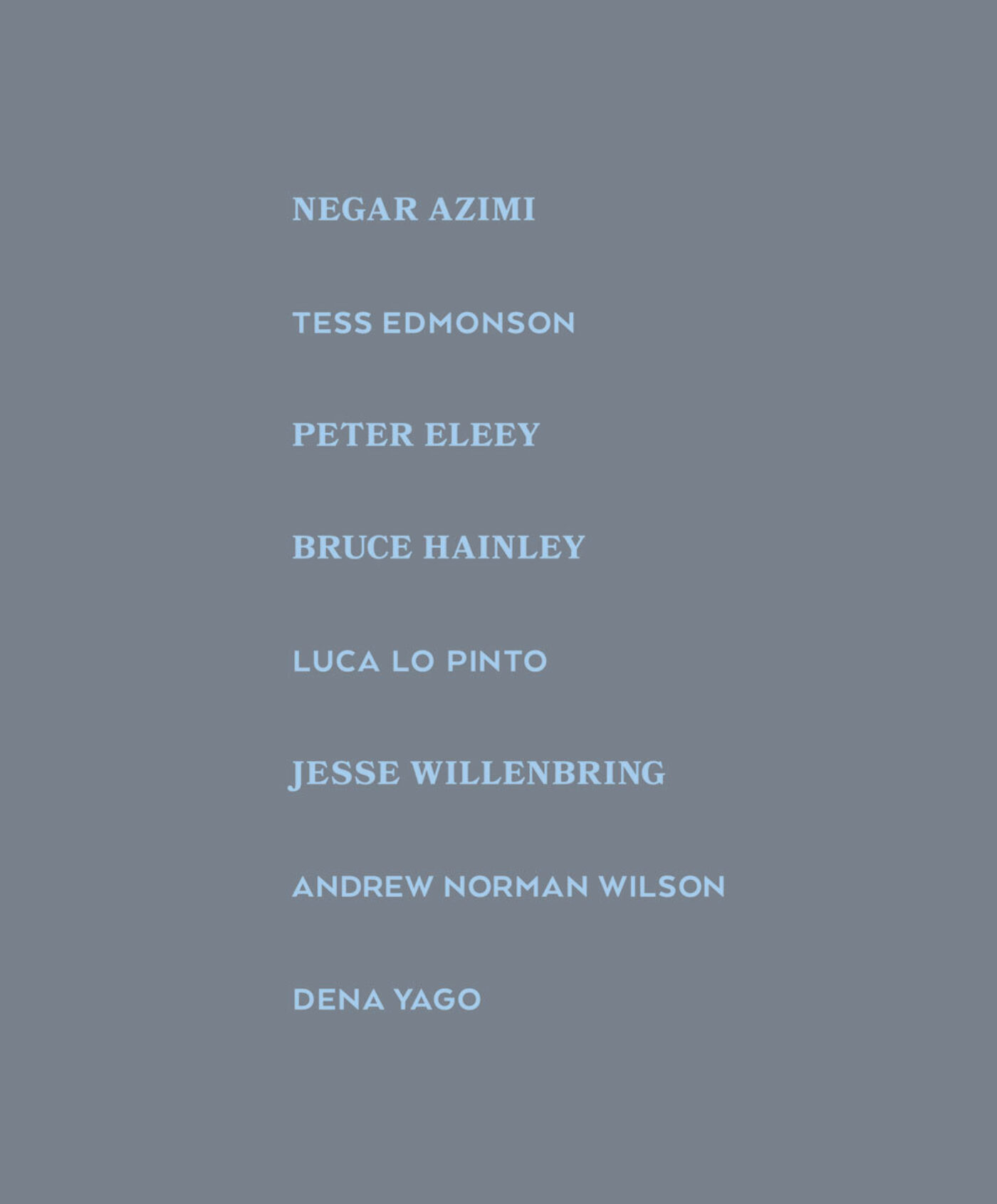 (@mined_oud), Darren Bader's solo exhibition at Museo Madre in Naples, Italy, was as demanding as it was playful. Installed within the capacious museum, (@mined_oud) was more like a treasure hunt than the typical show of an individual artist. It included stand-alone sculptures such as Thirsty Eggplant (2015) and antipodes: Parmigiano Reggiano (2013), but oftentimes his work was mixed with the art of others or took the form of a poem written on a label next to someone else's painting. The first room of the exhibition contained two couches and a large television screening his video The Tourist (2013) which morphs Roman tourist attractions into something flashier with game-show style framing and mythical romantic pairings beside the Trevi Fountain and Spanish Steps.
This tour of Rome feels like the macro version of the show at Museo Madre and of the catalogue, Darren Bader, accompanying it. Bader's work creates a critique by placing objects next to one another and then changing their essence with simple, deliberate moves. As Negar Azimi points out in her contribution to the catalogue, "Bader … creates worlds the way a poet or a novelist does, one brick at a time, using the motley tools at his disposal." Similarly, the catalogue releases Bader from authorial intent and possessiveness by letting his language exist freely with the words of other authors. As a result, it feels more like a series of artists' chapbooks than a single volume—each with its own voice, ideas, and form.
The catalogue's texts, both from Bader and other contributors, are recontextualized. Bader invited the authors to delve into his archives and write about whatever they liked in whatever fashion they preferred. He has added text here and there and given some input; he also helped design the book, as he notes at the end, although his hand is invisible. It is unclear whether it is a book about him or by him. In fact, the cover lists Azimi, Tess Edmonson, Peter Eleey, Bruce Hainley, Luca Lo Pinto, Jesse Willenbring, Andrew Norman Wilson, and Dena Yago. Darren Bader is only written on the spine, his name a title.
There are four epigraphs on the opening page, and the authorless one stays with me: "Cows With Names Make More Milk." Where does it come from? I guess Bader has written this one himself, ghosting next to the likes of Virginia Woolf, which is generally how Bader operates in the catalogue: he sidles up, sneaks in, ever present but rarely announcing himself.
The book does contain large pieces of Bader's writing, chosen by the authors from his emails, books, and exhibitions. There are screen shots from the creation of Lasagna on Heroin (2012) as well as the letter Bader addressed to Tom Cruise and NASA first featured in his book James Earl Scones (2005). The tone is ironic but has a playful philosophy about it that leaves space for more serious meditation, especially for readers who may not have experienced these earlier works.
The first essay is by Eleey and Hainley who cite Mike Kelley's idea of equivalence: "just because something may look equal doesn't make it so." This is then realized in Lo Pinto's essay, which he writes in Italian, translates into English, then back into Italian. The language is repurposed, its materiality resonating like the shoes on Bader's giant chessboard, or the sculptures renamed, or the poems made into labels.
Lo Pinto writes in three columns: one an essay, another a list, and the third holding images of Bader's work; reading is both vertical and horizontal. Lo Pinto quotes Bader:
Picture and text are entirely dear to me. They are what I gravitate toward most: word and image. Their intermix is becoming less and less important for me in any strict relationship to either one. I stand by my words here … intermix was at times a strict relationship to both-as-each-one, now it is more an ascetic practice for me of trying to tap each one's lymph on its own terms. Word, image, audio, hyperlink: each are quantities that are fundamentally interchangeable to me. They're all sculptural entities, each occupying space (sensory-cum-cognitive), cognitive/aestheticizable space.
In the co-authored essay by Edmonson, Wilson, and Yago, they indicate exactly what I experienced as I walked through the museum thinking about and with Bader's works: "My questions start to seem dumb, and I have this feeling that while I trust the artist, I don't trust my own cognitive faculties." Bader, who often uses the book as a form, returns to it here in perhaps its most sculptural iteration. He takes language's materiality, uses it and allows others to use it as one would clay or fiber, creating, as Azimi writes, "befuddlement and delight."
Darren Bader is available from Koenig Books via D.A.P.
Allison Grimaldi-Donahue is a writer and translator. Her work has appeared in The Brooklyn Rail, Words Without Borders, Electric Literature, Funhouse Magazine, Gramma Poetry, and elsewhere. Her chapbook Body to Mineral came out in 2016 with Publication Studio Vancouver. She is an editor at Queen Mob's Teahouse and at Anomaly. She teaches writing at John Cabot University, Rome.