A Review of Paul McCarthy's Snow White Sex Orgy In Midtown by Forrest Muelrath
Titillating and nausea-producing? Certainly. Transgressive? Maybe. Forrest Muelrath reviews Paul McCarthy: WS at the Park Avenue Armory.

Discover MFA Programs in Art and Writing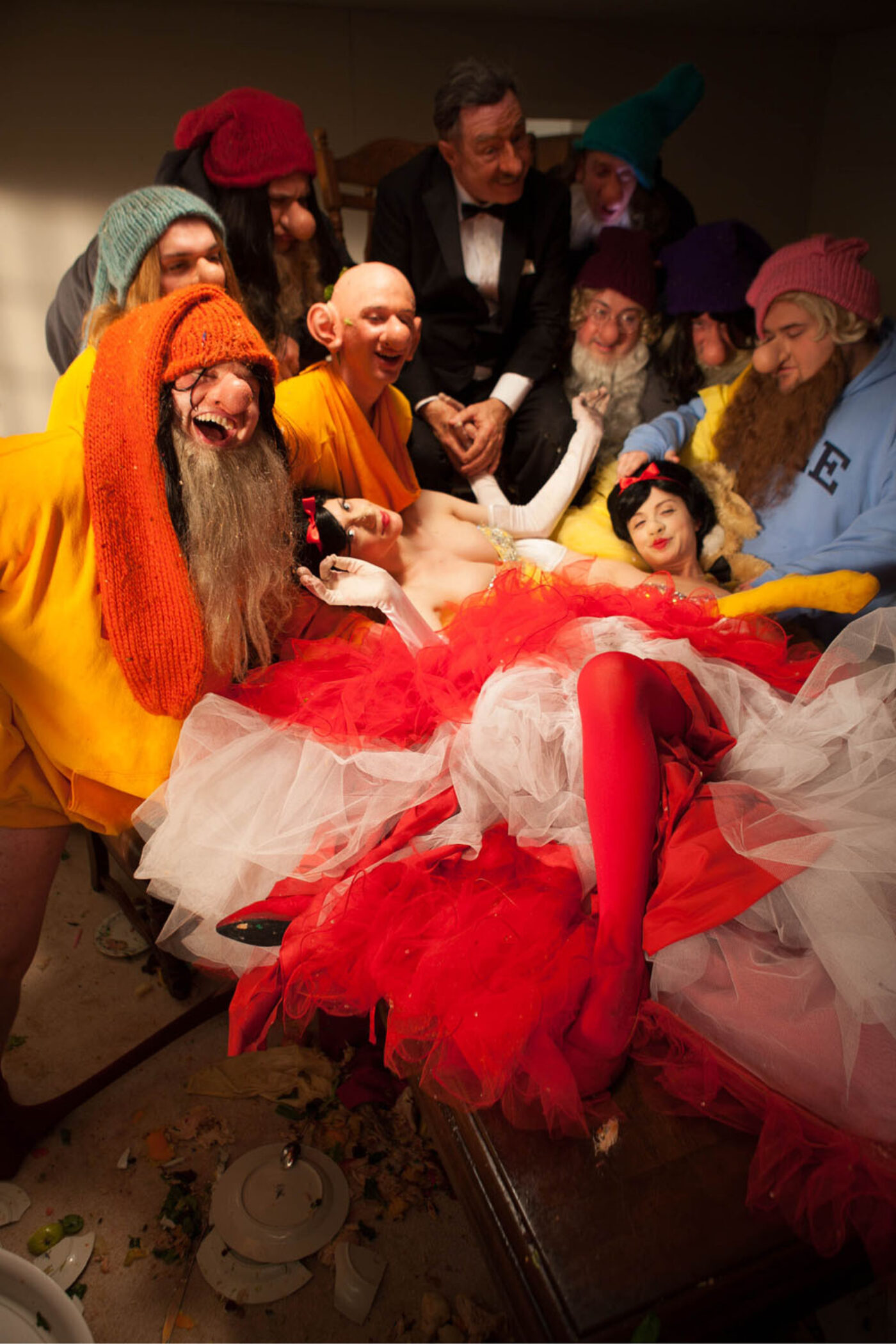 Several warning signs about the graphic nature of the work were hung around the entranceway of the gymnasium-sized exhibition. As I walked toward the room, the first thing I noticed was the soundtrack of the film—a constant dull roar of extreme drunkenness. The feature film is played out across eight large screens hanging from the balcony, four screens on opposing sides of the room. Upon entering I saw about a half dozen people looking up over the entrance at large screens, their faces contorted, some with wry smiles, most overtly scowling. Onscreen three Snow Whites, seven Dwarfs, and Walt Paul (McCarthy's own portrayal of Walt Disney) were in the middle of something like the most debauched night of the year in an art-school dorm. The set was packed with the ingredients for the makings of an orgy in middle America: tables stacked with booze and cake, half empty bottles of Hershey's chocolate syrup lying on the floor, flour spread all over everything (which at one point is patted on Snow White's genitals), 'Happy Birthday' banners dangling over the mantel. The character's speech is incomprehensible. It's hard to tell if they are drunk or handicapped; even in sober moments they are still barely able to form sentences. They are often nude, stumbling around, semi-erect, engaged in sloppy erotic play, rubbing food on each other, urinating, binge drinking and forming a constant barrage of images that will trigger a dopamine release in the viewer—the same chemical reaction in the brain that causes addiction to drugs and sex, and Internet media. At one point Prince Charming—played by the most physically fit, porn-star-looking actor in the film—masturbates into a life-sized doll—a doll I later found on display in a glass case just like Snow White after she ate the poisoned apple. The film takes place in the type of home that the majority of people in the last half century would have watched Disney's Snow White. It also takes place in the exhibition space; the entire set is in the center of the room, including houses filled with detritus left after the murderous orgy, and a dazzling life-sized forest constructed of plastic and foam.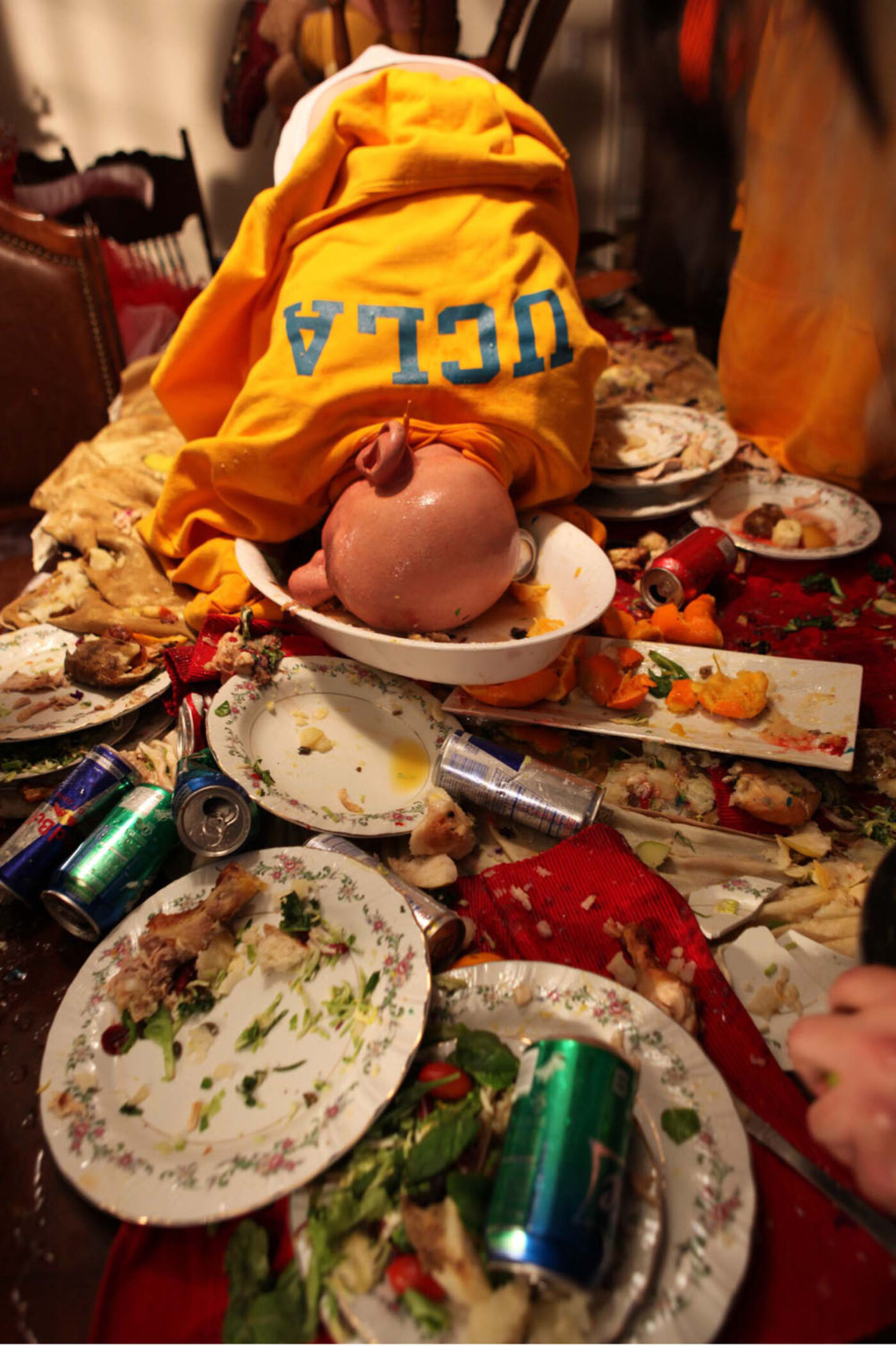 The video initially conjured feelings reminiscent of watching the most debauched scenes in some of my favorite transgressive films—like climaxes in Harmony Korine or John Waters films—watchable and funny with a bit of pop-cultural parody. Perhaps the most direct connection through my understanding of film history is with Richard Kern, whose films in the early 1990s attacked sexual strictures. They now exist on the Internet where all violation of sexual mores is buried among porn and advertising, and all that remains is style. As I continued to be immersed in the set and the sounds echoing through the room, I begin to feel sick, sexually stimulated, and embarrassed. The film mesmerized me, as much as it left me feeling unsettled, I wanted to see more because of a biological compulsion and addiction to the dopamine released by the imagery. I stayed until the end feeling increasingly unwell, wanting to break the spell and walk out the door (as most attendees did) but allowing myself to stay until closing despite knowing that what I was experiencing was physically bad for my health. When the film ended I felt isolated and uncomfortable. All and all it was an unpleasant experience and I wouldn't recommend it to anyone who is looking for a "good time." I imagine the physical repulsion and the lack of good feelings is why reviewers like Jerry Saltz "did not like it much." The only delight to be found here for the people who are sincere art lovers, like Saltz, is in the sculptures and sybaritic set design.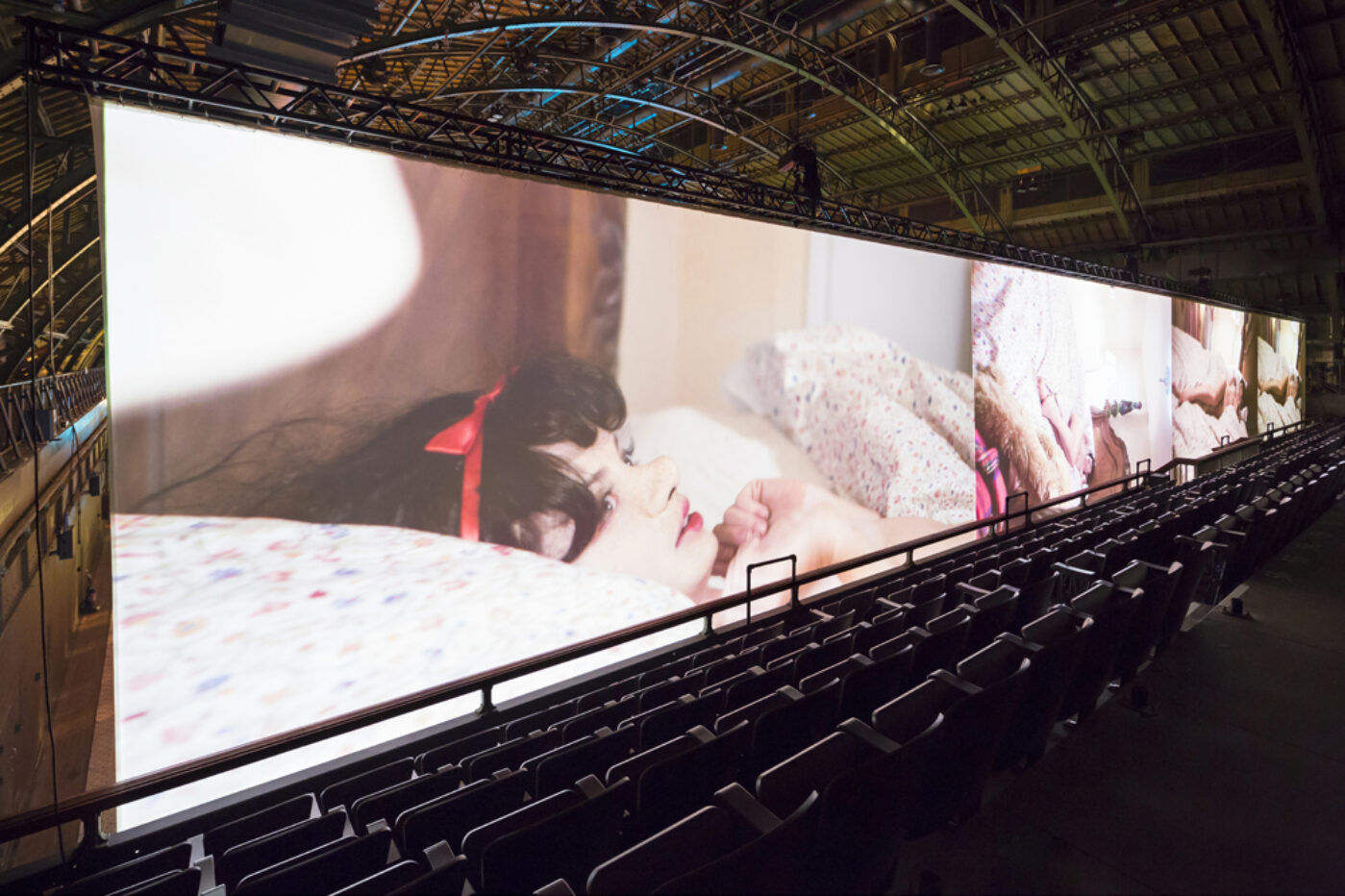 The sex makes parsing meaning from this show difficult. It is easy to find a "statement" in a pornographic act performed publicly—something about it being self-expression and free from the confines religion or conservative culture. I want to like the show solely to support sexual liberation, but in this instance of an excessively successful male artist performing/masturbating in the Park Avenue Armory, sex receives little opposition and there are no laws for the work to challenge. McCarthy further confuses the issue of sex by stating that the on-set house was modeled after the house he grew up in and that Snow White is reminiscent of his mother, but anyone who doesn't see this as a cheap attempt to add interest with tenuous psychoanalysis might as well skip the show and consider the psychological makeup of characters from Internet porn.

With McCarthy's work, it's important not to conflate Transgressive European Art and Transgressive American Art. Historically transgressive artists from both sides of the Atlantic have shared many traits, but nowhere are the two modes more separated than here. Transgressive European art, first acknowledged critically by George Bataille, existed originally as opposition to religion. Surrealism, and Bataille's own pornographic fiction, are exemplary of this mode of art, where a deviation from religious mores was achieved through graphic depiction of libidinous impulses. The American version has primarily stood in opposition to the commodification of culture, and although artists working in this mode often attempt to shock the audience with graphic sex, ultimately the sex is used to disturb audiences that are complacent to commercial art, rather than provoke thought about sexual strictures.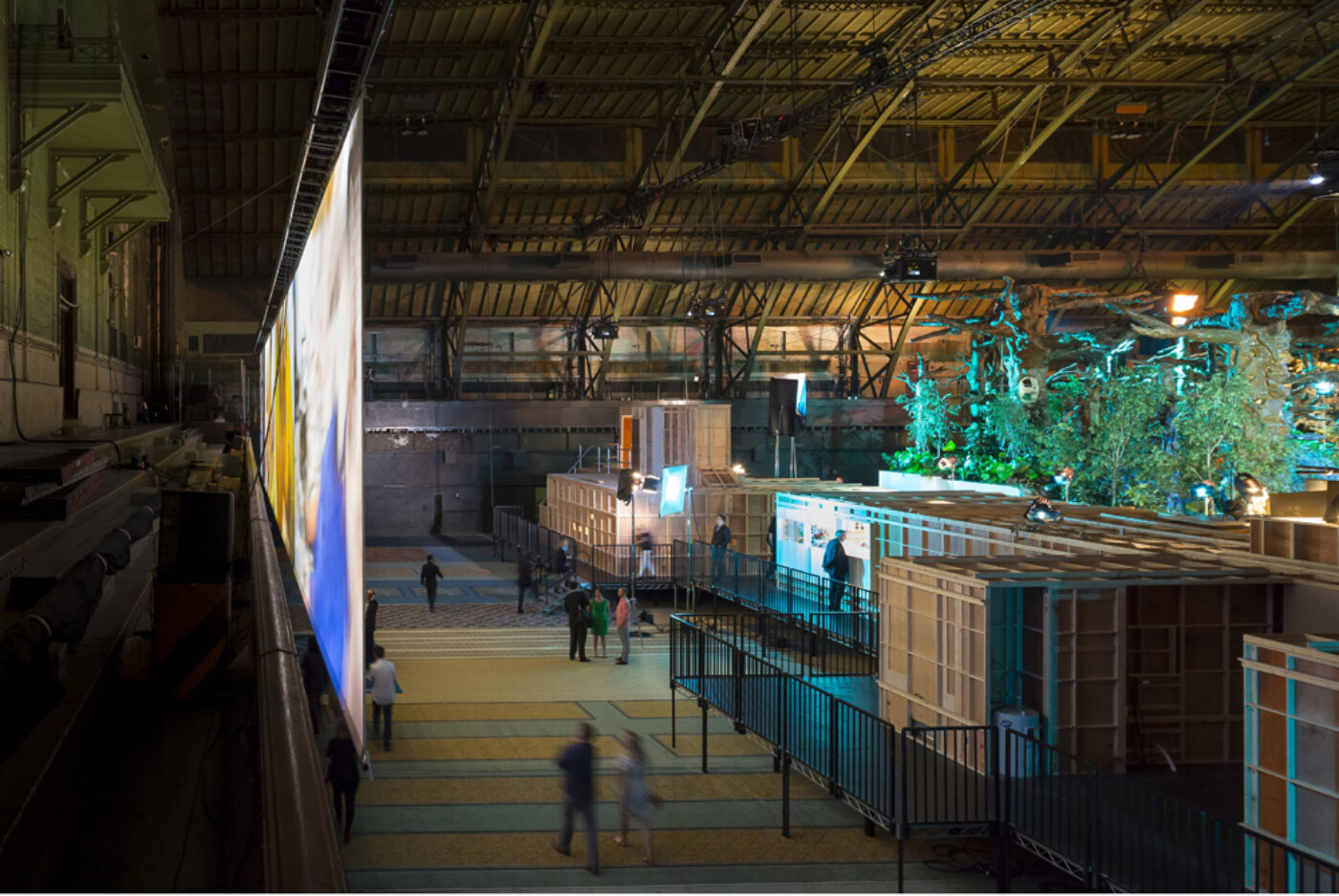 McCarthy has had a large presence as an American transgressive artist since the genre became identifiable. (There could be a point made that this show is a celebration of a prolific career in one of Manhattan's largest single-room exhibition spaces.) He was rubbing himself with condiments back in 1972, in films like Sauce, and he understands as much as anyone how his art differs from his European counterparts. When asked about how his work compares to the Viennese Actionists he's quoted saying, "Vienna is not Los Angeles. My work came out of kids' television in Los Angeles. I didn't go through Catholicism and World War II as a teenager, I didn't live in a European environment."
As I approached the fourth hour of experiencing WS I began to wonder if it might be possible to sate my unconscious desire to experience this kind of media, as if by somehow immersing myself into a massive pornographic exhibition the urges that make sex so exploited in new media might wither away. But ultimately the sexual urge is an unlimited resource to advertisers and producers of commercial culture, and I was left feeling physically ill. The most frightening thing about this murderous orgy is that there is no escape from the imagery within American media. The show isn't a transgression against the American dream; it's an indulgence in media at its most liberated and powered by capital free to appeal to our biological compulsions in whatever way is most profitable.
Paul McCarthy: WS is on view at the Park Avenue Armory until August 4, 2013. For more on Paul McCarthy, click here
Forrest Muelrath is a freelance editor living in Brooklyn and currently working on a novel. You can follow him on Twitter