The once-staid atmosphere of New York City Opera has lately received a dose of downtown experimentalism. Nick Hallett discusses what he sees as a welcome intrusion.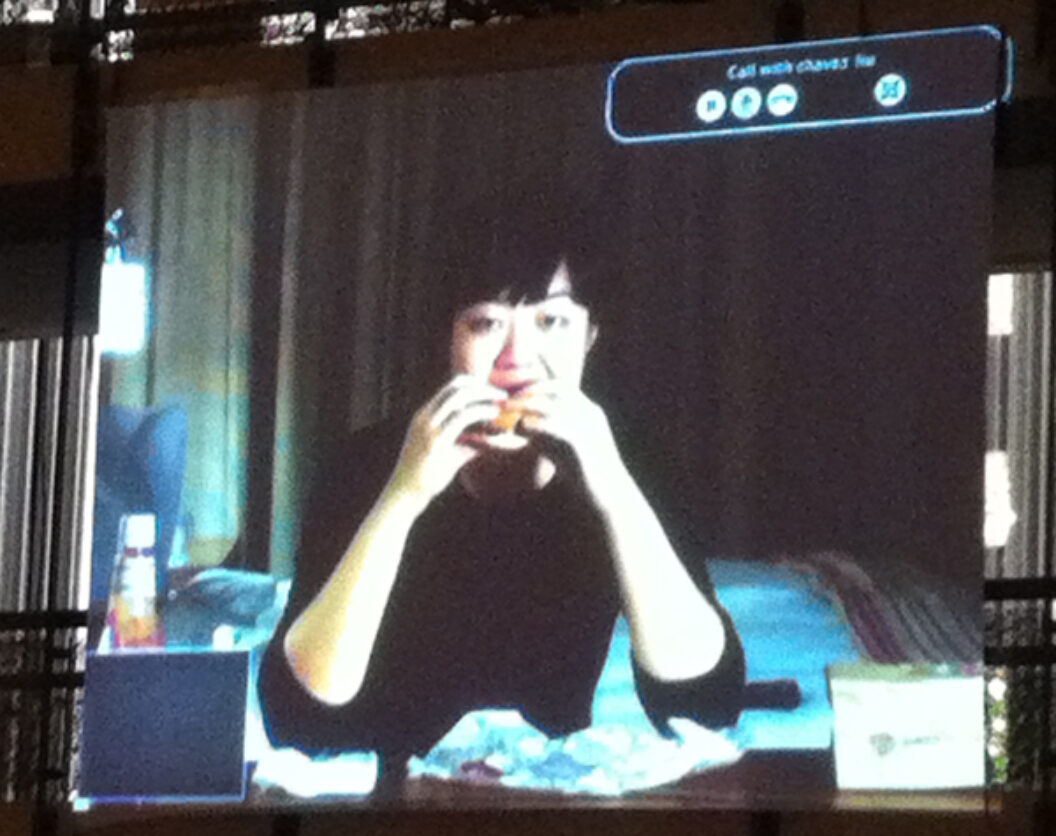 As the audience at New York City Opera spilled out of their evening of Monodramas into the atrium of the Koch theater last Thursday, they were met with amplified, electronic noise. Blue-haired subscription holders plugged their ears and beelined for the exit, while a small coterie of bearded hipsters gathered on the fourth tier for complimentary cocktails and the performance of Fugue State, an audiovisual collaboration between turntablist Maria Chavez and artist Jen Liu. Fugue State operates more like a band than a fixed work, with each performance involving slightly different tools and strategies, the connecting thread being the excavation of narrative through the enmeshing of borrowed sound and image. This was an appropriate tie-in to the preceding solo operas of John Zorn, Arnold Schoenberg, and Morton Feldman, wherein a singular character abstractly experiences the extremes of her inner psychology without having to be propelled through any kind of traditional storyline. The Fugue State performance was curated by the New Art Dealers Alliance in conjunction with L Magazine as part of a monthly series called Act 4, a peculiar combination of marketing tactics and what seems to be a newly minted competition among the various arms of Lincoln Center to continuously try to out-downtown one another.
Appearing in shadow at the far end of the atrium, Chavez sat behind a desk of turntables, improvising with her collection of 20th-century vinyl detritus at a casual pace while a video screen covering the Philip-Johnson-designed façade revealed the supposedly live and networked image of Liu at a hotel room in Vienna, where the artist had a concurrent opening. Liu's performance involved eating a hamburger, donning a mask of the Hamburger Helper mascot, and hyperactively painting illegible texts onto the video image with ketchup. If the faux-Skype element added a sense of early-21st century interconnectedness (to say nothing of the fast-food punning), it was not apparent if any substantial collaboration structures were premeditated between the artists, even Zorny or Feldmanesque ones, giving Fugue State a spontaneous, fleshing-things-out feel.
Lincoln Center's acceptance of this kind of explicitly experimental material more easily typified by programming at The Stone or ISSUE Project Room—or in this case, an art gallery—signals some kind of shift in how the uptown establishment sees itself as staying relevant within a transfigured landscape of audience demographics, financial cuts, and an overall changing of the garde. In the past year or so, various branches of Lincoln Center have presented Tyondai Braxton, Dirty Projectors, and the music of Neu!, while daring repertoire in the classical tradition is more represented in their concert halls, including major New York premieres of Ligeti's Grand Macabre and Adams's Nixon in China. While the auditorium for the Monodramas seemed about three-quarters full, and fewer than 100 stuck around for Fugue State, if City Opera can pull off a critical success around a left-of-center idea, integrating the work of living composers (and an afterparty featuring the work of emerging artists), it does a service to the creative community it serves, even if the financial gain seems still to be some time off.
So encouraging is the community-at-large towards the effort, that Anne Midgette, writing about Monodramas for the Washington Post, expressed guilt about having to address her complaints about director Michael Counts's production, which, to my taste, was frustratingly overcrowded for an evening of solos. Counts's knack for the material resonated most intensely with Feldman's Neither—by far the stand-out of the three one-acts—staged in a fully-realized environment of rotating, mirrored cubes which caught candy-colored light and spun it around the entirety of the hall to varying degrees of intensity, connecting the immateriality of reflection to the otherworldliness of Cynthia Sieden's high soprano tessitura and Feldman's spare, intense orchestration. Still, the tuxedo-clad dancers sharing the stage were a bizarre distraction, especially during sudden outbursts of synchronized jazz-hands combinations. Zorn's La Machine de l'être was a giddy, wordless amalgam of extended vocal hurdles for soprano Anu Komsi and, at about ten minutes in length, felt like more of a teaser for City Opera's upcoming seasons. For the moment, they're hosting parties with experimental art and pouring free drinks for the downtown set, where the future of opera is on everyone's mind.
Nick Hallett is a composer and vocalist. He is currently creating a soundscore for an upcoming fulldome presentation of the Joshua Light Show and curating music festivals at The Kitchen (Aluminum Music, April 15 and 16) and ISSUE Project Room (Darmstadt Institute, June 1 through July 1). www.harknessav.org