A "New" Normal: Farah Al Qasimi's FUNHOUSE Reviewed by David Everitt Howe
Cultural hybridity and displacement between East and West.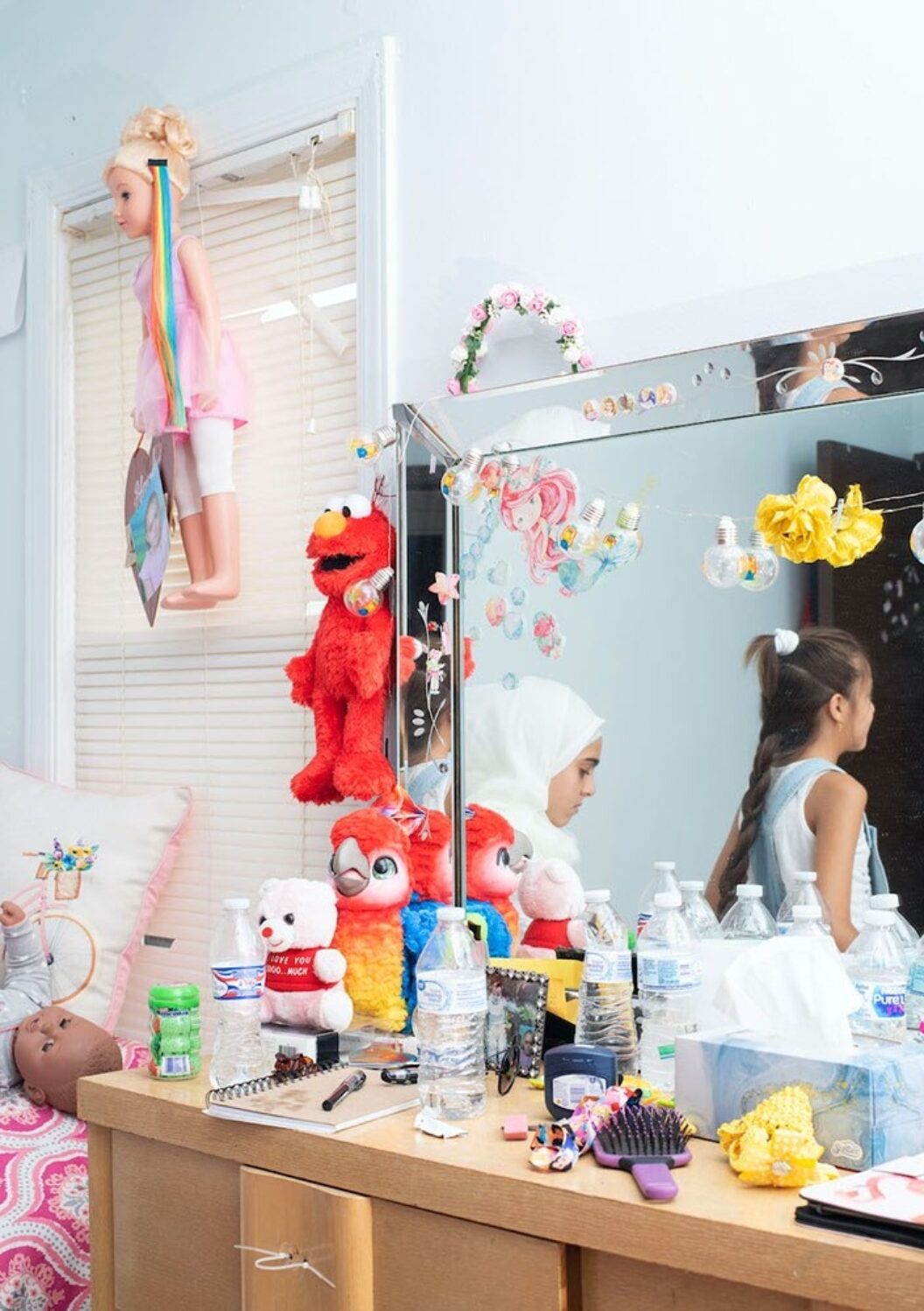 Farah Al Qasimi's photographs of domestic interiors, shopping malls, and other public and private spaces capture moments so unassuming that it almost seems as if blinking an eye might erase them entirely; each image functions like a split second in time. Hailing from Abu Dhabi and currently living between Dubai and Brooklyn, Al Qasimi captures the poetic beauty of everyday life seen through the specific lens of Arab American experience. In the artist's photographs, cultural hybridity is viewed within a world of children's TV characters and trinkets, toiletries and household goods—a kind of international style of consumerism that's generic yet, in its own way, alluring.
A bar of soap and the corner of a bathtub may seem unexceptional, but in Green Soap in Blue Bathroom (2020) their respective, pastel coloring is artificial to the point of looking unreal; Al Qasimi zooms in on the composition to such a degree that they nearly become abstract. A drying rack in another work is so festooned with bright, mismatched towels that it disappears under them entirely, while a garish carpet of red, white, and beige surrounding the rack turns the whole composition into a panoply of ad hoc, heterogenous patterns. The car interior in Trompe L'oeil Car Seat (2019) is, like the aforementioned image, a study of pattern and surface, this time of upholstery that's made to look tufted when it's actually a printed pattern. All of these instances help flesh out the exhibition's title, FUNHOUSE; nothing is as it seems, and everything refracts something else in a constant feedback loop of artifice and reflection.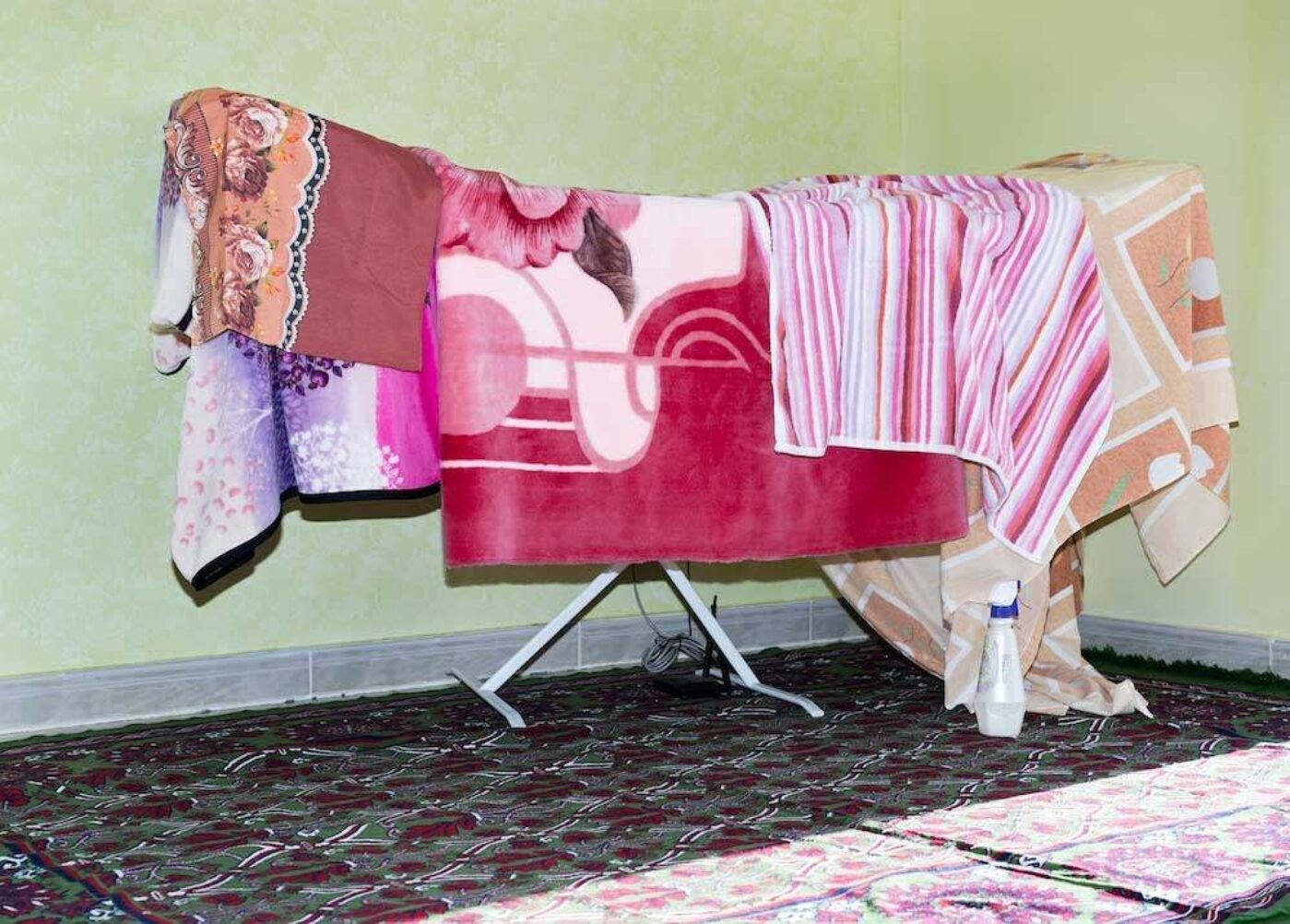 This almost hermetic quality gives Al Qasimi's subjects an air of timeless placelessness. One wall of Al Qasimi's current exhibition at Helena Anrather is entirely papered over with an image of a lively street scene dominated by a building facade, which is itself plastered with knock-off Amazon.com signage in both English and Arabic. Al Qasimi has affixed on this disorienting, urban tableau a grouping of framed photographs of banal interiors pocked with weird abnormalities—a tension that runs throughout the show. In one photograph, a window of a kid's plastic playhouse found throughout suburbia opens to reveal … a goat. In another, Fairlane Mall (2019), a woman wearing a bright-green hijab moves a pawn in an oversized chess set, surrounded by groupings of white, American families.
This clash of cultures becomes more explicit in other works, like Noora's Room (2020), which looks like a parody of a French Baroque bedroom, with its dolls, elaborately hung curtains, and ornate furniture seemingly lifted from Louis XIV's Versailles. Shot in Abu Dhabi in the home of a friend of Al Qasimi, the image conveys a glut of pervasive, Western influence. In Marwa Braiding Marah's Hair (2019), one sister braids the other's hair, as reflected in a large mirror decorated with stickers of flowers and girlish heroines. Refugees from Syria now living in suburban Detroit, the pair inhabit a room dominated by a bright red Elmo stuffed animal and a vanity littered with hairbrushes, fake flowers, and plastic water bottles—a nod to Flint, Michigan's lead-laced water crisis. Here, "normalcy" perseveres against all odds, with political tension and ethnic displacement ostensibly relegated to the backburner in a moment of intimate exchange.
Of course, assimilating to the norms of a certain culture's values is in and of itself a kind of soft violence, one in which "forms of oppression and domination … become invisible—the new normal," as Michel Foucault writes. Making visible—in the quietest of moments—the compromises and concessions adopted in order to conform to a dominant worldview is often central to Al Qasimi's project. Who or what determines what is or isn't normal? The people populating the artist's photographs cling to certain signifiers of one identity while relinquishing themselves to another.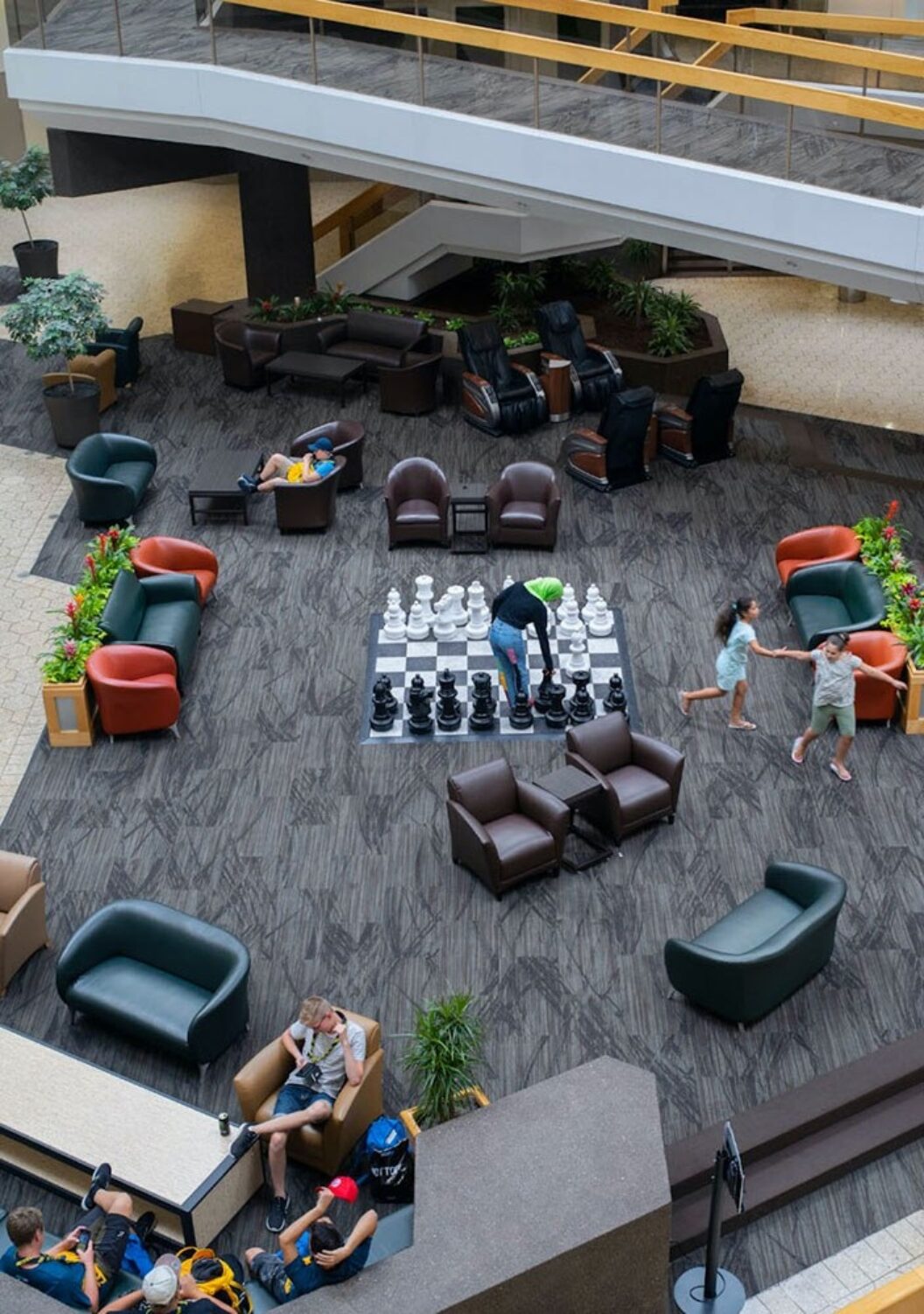 There's perhaps nothing more redolent of Anywhere, USA, than a beauty pageant, and nothing more foreign to Anywhere, USA, than Islamic culture, which has been stigmatized for decades in the United States. Yet in FUNHOUSE we see a Miss Muslimah Iowa pageant contestant smiling widely, decked out in a gown and sash—a whiplash-inducing image if ever there was one. The brown skin of the woman paired with the equally brown skin of an off-camera supporter, tweaking the woman's collar, prompts the press materials to muse, "America as it could be." As treacly as that statement may be, it gets to the beating heart of the exhibition: a monolith made up of innumerable different pieces can't, and shouldn't be, a monolith at all.
Farah Al Qasimi: FUNHOUSE can be viewed by appointment in July at Helena Anrather in New York City.
David Everitt Howe is a Brooklyn-based critic, curator at Pioneer Works, and BOMB contributing editor in visual arts.