"A Near-Tragic, Near-Comic Lyricism": Jamar Roberts Interviewed by Monica Uszerowicz
Alvin Ailey's Jamar Roberts on pain, joy, and choreographing to John Coltrane.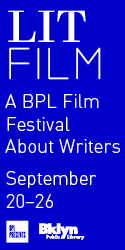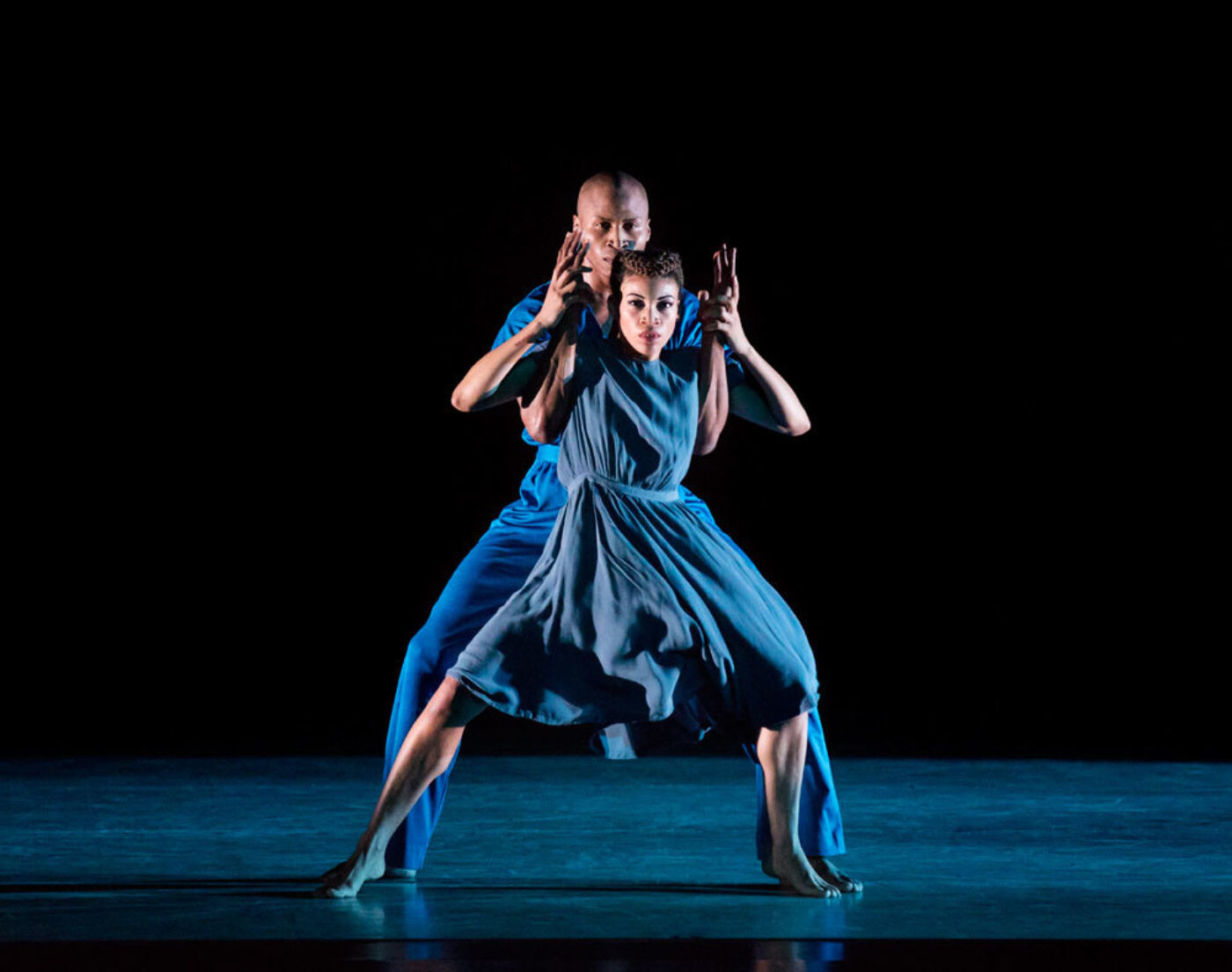 John Coltrane's "Dear Lord" opens with a note like a grip on the shoulder, snug and warm till it softens into the looseness of a real cinch that's falling away. The song unfolds into a spiritual the Trane way: somber and sanguine in the same few-seconds span, played to God from somewhere fallibly soft and mortal, and over too soon.
"Dear Lord" is the opening song in choreographer and dancer Jamar Roberts's new work, Members Don't Get Weary, for the Alvin Ailey American Dance Theater, a piece not unlike Coltrane's ballad in its physical luminosity. The dancers are clothed in shades of blue, nearly collapsing under an implied feverish sun. It later bestows them a hopeful grace; unfaltering, they stretch their arms toward it, as if in prayer. The piece is prelude to the second act, set to Coltrane's "Olé," in which the bodily dichotomy between disintegration and ascent is painted over and over, the small breakdowns and releases rendering every movement a kind of religious thaumaturgy. 
Roberts is an Ailey veteran, and his movements contain their own language, fitting beneath each dancer's skin a little differently, a sea of translations. The effect is like a watery ripple reverberating across the stage—which makes sense, because Members Don't Get Weary imparts a sense of drowning, then finding breath, again and again. Its narrative is as much about black pain as it is about ecstatic, glowing reverie. Here, Roberts explains his process and Members Don't Get Weary's story.
 —Monica Uszerowicz
Monica Uszerowicz You were a child when you first saw an Alvin Company performance. Do you remember that experience? 
Jamar Roberts I remember seeing certain dancers and the energy from the men, in particular. My brothers played basketball and football my entire life, and that was the only time I'd ever seen that type of energy and athleticism, in person, coming from the male body. That Ailey performance was the first time I felt something similar—but with dance. I was really blown away, because there was an emotional element, too. I was floored, and remember thinking, "How is that possible?"
I had this teary-eyed moment, but from that point on I didn't really carry that feeling with me for much longer. I don't know why—it may have to do with the way I process my emotions. But I'm sure, on some level, it informed the way I'd later approach my dance classes, whether I knew it or not.
MU In an interview with Robert Battle, Artistic Director of Alvin Ailey American Dance Theater, he said it was interesting to watch the dancers "become Jamars." The language of Members Don't Get Weary isn't traditional. How does that work in a choreography session?
JR First, you pray that everyone's going to understand what you're talking about. I have to do it myself; I think that's the best way to do it. The movement hints at ballet, at jazz, at modern—but it's not any of those things, so I can't completely use that terminology. There are no terms for some of the steps. I have to do them myself.
I also brought in an assistant because sometimes the dancers would get a bit overwhelmed and think, "Only this 6'4" person can do that." The assistant is smaller than I am, and she can do it as well. In terms of how it works in the studio, though, I still just have to do it—show every single thing. When the dancers get the general gist of the vocabulary, I can coach them to go a little bit deeper into the body and really pull the movement out from an emotional level, not just from an aesthetic place.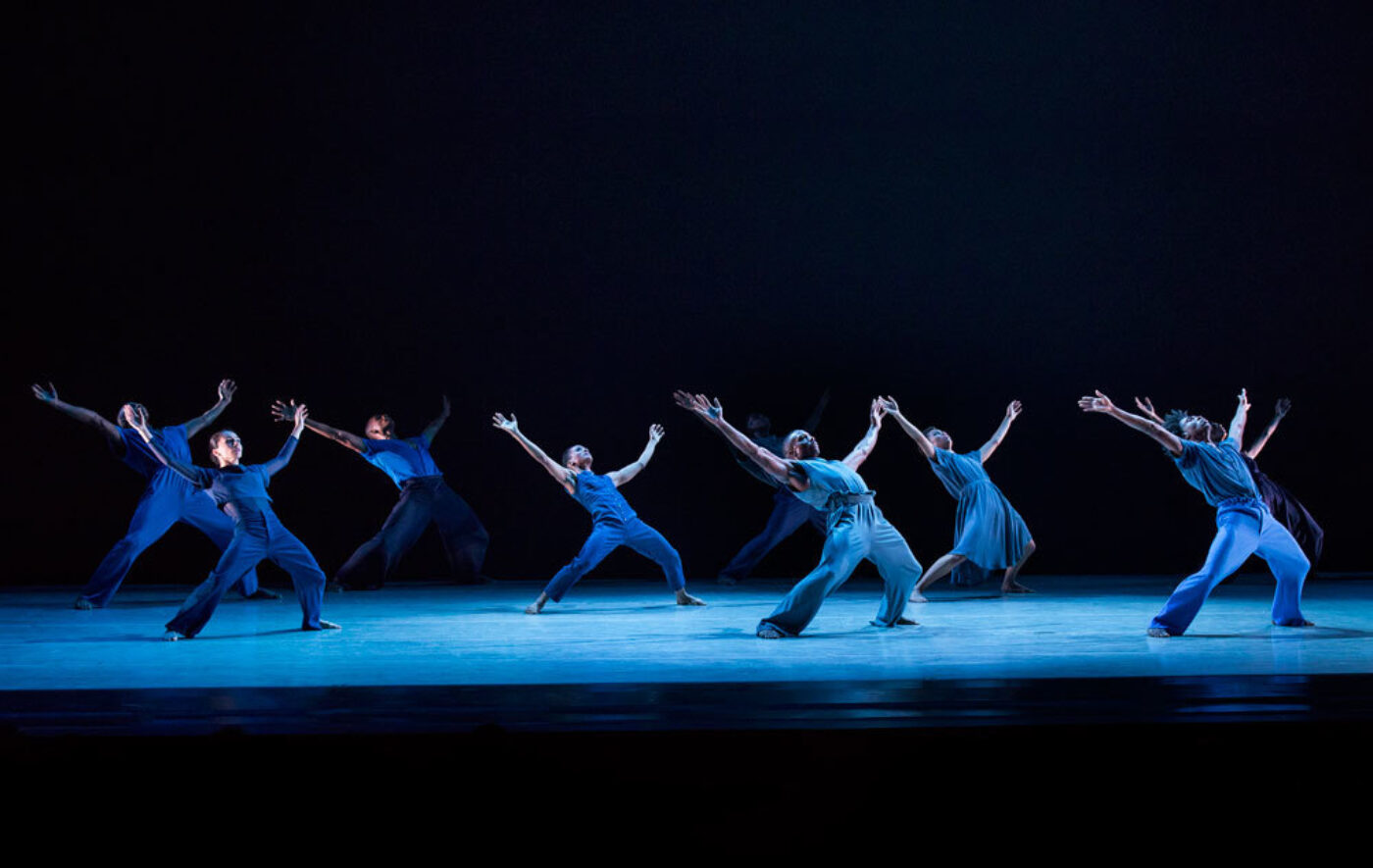 MU Because of the movements' specificity, every dancer adapts differently. The movements seem to fit into everyone's skin differently. 
JR I love that.
MU That dynamism is supposed to happen, right?
JR That's supposed to happen. When it comes to dance, I think the expression should be free, and I think the dancer should feel free within the multitude of forms and boundaries that we have. I'm always trying to capture freedom, naturalism, and this feeling of the human body speaking—rather than using a technical device. I love that I can give five dancers one set of eight moves to do, and they'll all do them in their own way. That's the beauty of dance, and I think that's the beauty of the Ailey dancer, too. We're all so very different.
MU Were the Coltrane songs themselves the impetus for this piece?
JR I knew that I wanted to use a major, traditional jazz score, and to blend jazz music with modern dance in the same way ballet uses classical music. I didn't think, "Why can't jazz do that, too?" but rather, "I want to use jazz"—Coltrane, and Miles, and all these guys. But when I first heard the music, I didn't see the piece that you saw. I didn't see anything. I had to listen to it every day, for breakfast, lunch, and dinner, and pull out a story.
It was almost like searching for your keys in a dark car—you take a flashlight and scan the space. I had to take the music and scan my psyche and my emotional state and figure out where the piece was, or find a morsel of a feeling that could build into something greater. I had to work that music, shape it into that piece. The music was absolutely terrifying when I first heard it. I had no clue how I was going to make it work, but I had a strong feeling that it needed to be done, because the Ailey Company has never used a Coltrane score before. And I thought, "Why not?"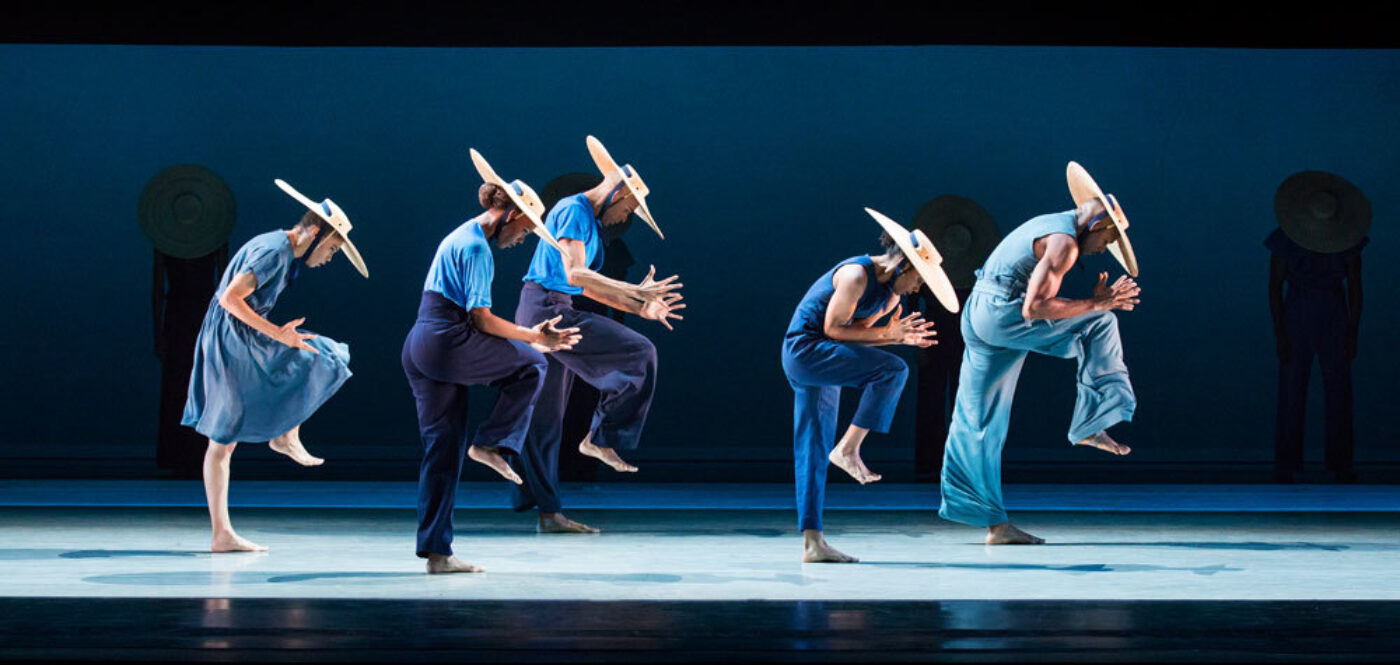 MU Members Don't Get Weary is an emotional landscape. There's "the blues"; there's this ecstasy, too. What aspects of those emotions were you channeling? 
JR I was channeling, probably, both—the pain in the imagery. Sometimes it drifts in and out of story, or what seems to be narrative. I also want the freedom and the joy to be within the human body, pushing it at a speed that would incite excitement, or a good feeling—kind of like when you're on a rollercoaster. I thought of the joy and the pain: the joy being in the human body, and the pain being more in the actual construction of the piece, creating these images of loneliness, heartbreak, fear.
MU In the show program, Members Don't Get Weary's description is accompanied by a Ralph Ellison quote: "The blues is an impulse to keep the painful details and episodes of a brutal experience alive in one's aching consciousness, to finger its jagged grain, and to transcend it, not by the consolation of philosophy but by squeezing from it a near-tragic, near-comic lyricism. As a form, the blues is an autobiographical chronicle of a personal catastrophe expressed lyrically."
JR I came across that quote years before the piece was made, and wrote it down on an index card that I kept with me for a very long time. It felt like something I would build on, eventually. I like to say that my piece deals with two sides of the same coin. Its first section deals with the blues, and the oppression from the times when it was harder to even speak—black people were given no voice—or to vote, or to get a decent meal. There's this feeling of tragedy. A lot of the movements are in place. They're breathing, reaching out, and then sinking lower. The movement pulls out and reaches out into the space, but then it sinks back into the ground. 
There's a sense of religion, too, which was also a huge part of the African American tradition. It was the place you would go to take all of your joy and your pain. There's a play on references to heaven and hell, too. I would do these movements that were gesturing toward the ground, feeling like you're pulled into it, and then something that feels more lifted—as if you were ascending. The tension is this tight oppression; in the ascension sections, it's the same type of oppression—it's more like 2018, where the bodies and minds are a bit more liberated and empowered, but the same struggle is still there.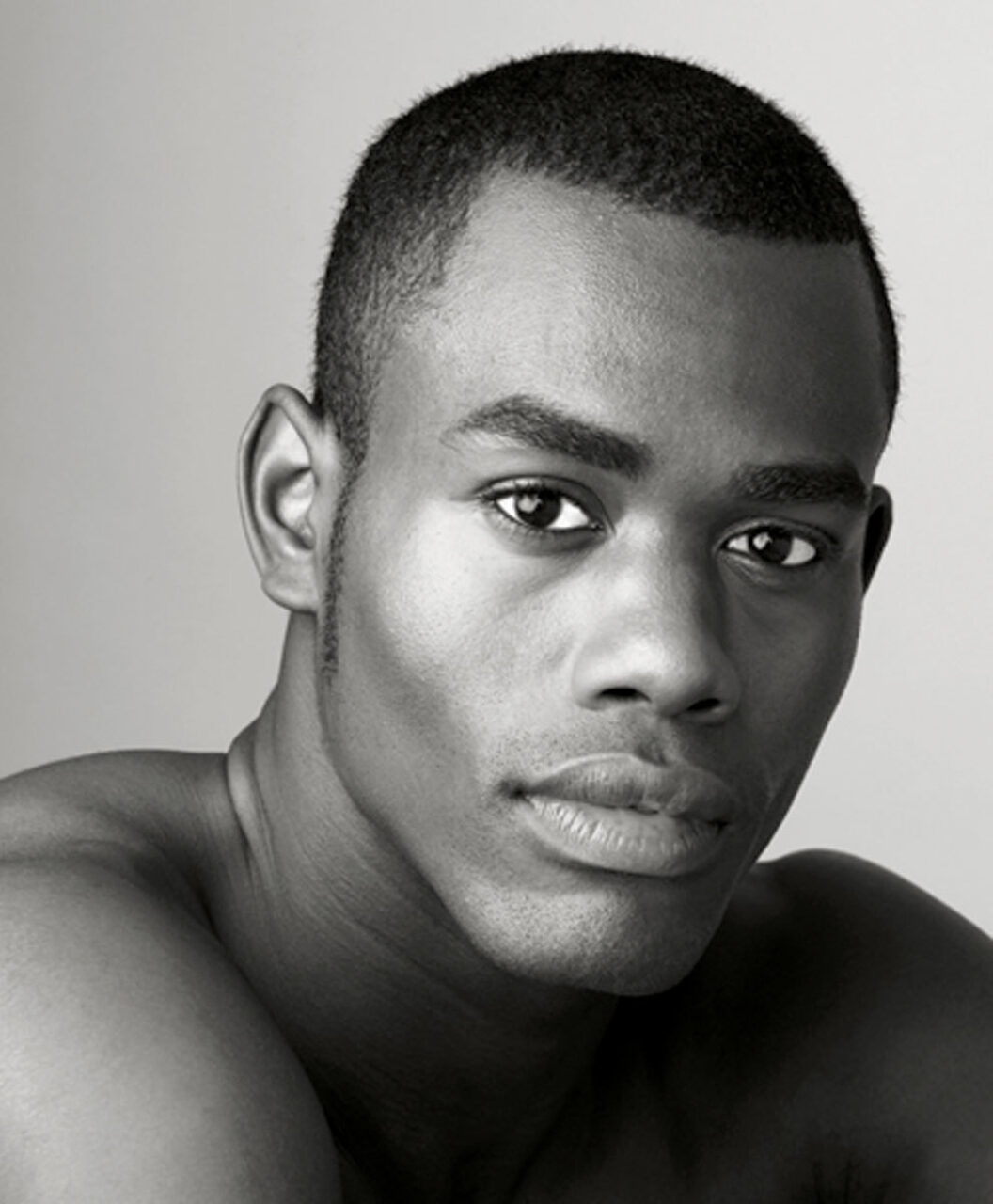 MU Members Don't Get Weary speaks to both the past and present, in the same movements.
JR I was just listening to an interview with Joan Baez. She was asked, "You were making music back in the 1960s when the country was extremely divided … Do you think times are better or worse now?" She said that they were worse. I don't know why, but I was so shocked. Members Don't Get Weary definitely speaks to today. I also think feelings of sadness are part of humanity—they're a very universal feeling, and how we deal with them is a universal question. It'll never go away. It's embedded into who we are as people. We're always going to have to face our demons, our fears, Big Brother, and whomever else is keeping us down at any moment in time.
Members Don't Get Weary will be at the New Jersey Performing Arts Center in Newark on May 11 and at the David H. Koch Theater in New York City on June 16 and 17. For dates and tickets, click here.
Monica Uszerowicz is a writer and photographer in Miami, FL. She's contributed work to Hyperallergic, Vice, The Miami Rail, and Avidly, a channel of the Los Angeles Review of Books.