Tent Music: 75 Dollar Bill's I Was Real Reviewed by Michael Blair
"You could dance to it, mourn with it, revel in it, or march alongside it."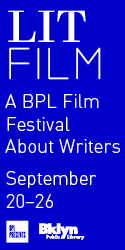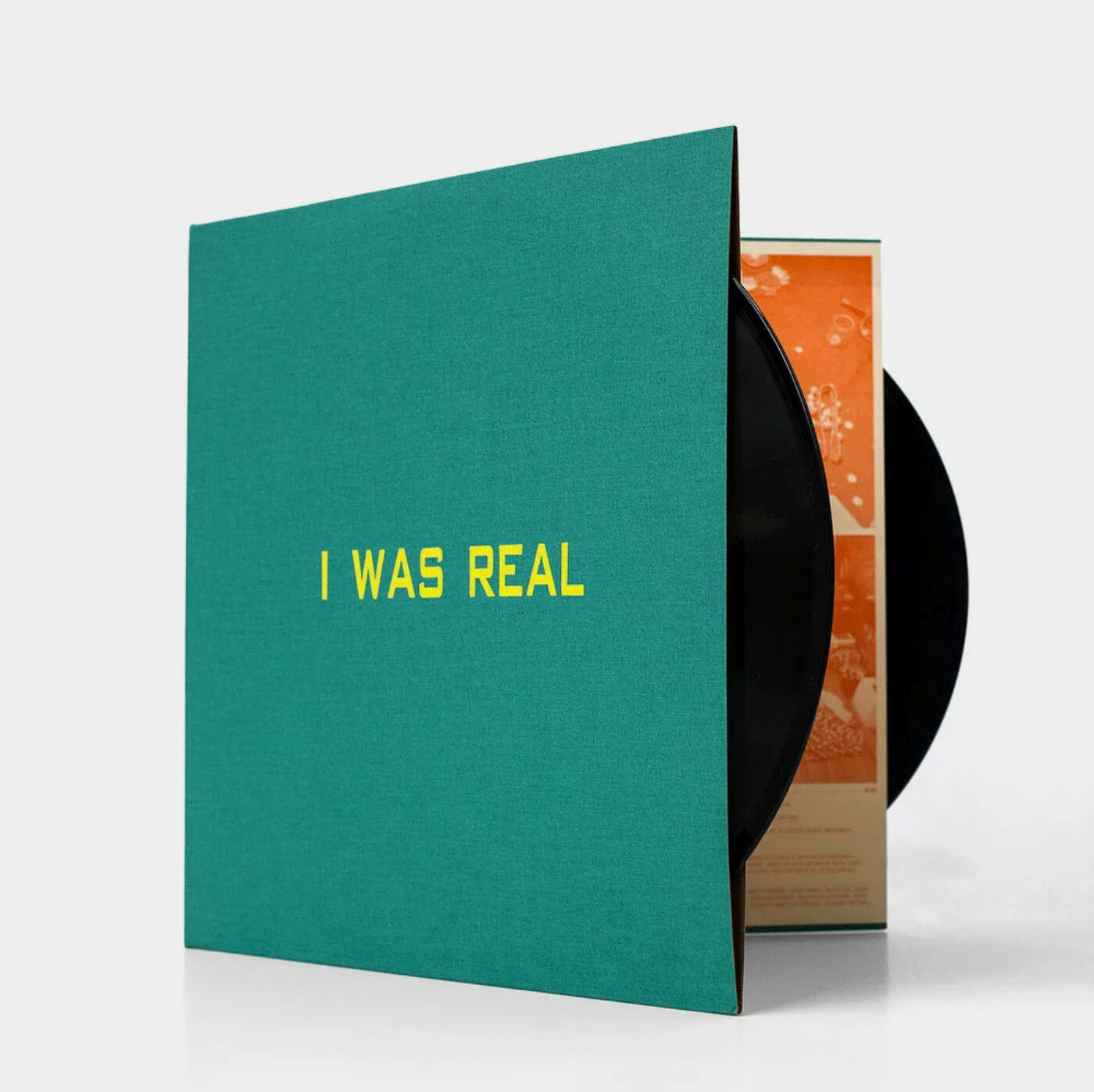 A few years ago, the New York-based band 75 Dollar Bill began handing out homemade business cards before and after their shows around the city. The cards, wallet-sized and hand-stamped, read: "Please Consider 75 Dollar Bill for your: WEDDINGS-DANCES-PROCESSIONS-FUNERALS-PROTESTS-PLEASUREMENTS," followed by the slogan "Tent Music for Tent People." The final declaration was a kind of mission statement in the form of a riddle for the audience, who might have been left asking: Who is a Tent Person? What does a Tent Person do?
Some answers could be found in the group's sound, built off the mixing of Che Chen's rockin' re-fretted guitar—which seems to pull equally from Mauritanian and Arabic modal music, New York minimalism, and blown-out Bo Diddley-style riffs—and Rick Brown's plywood crate, which he discovered discarded on the street and then struck with mallets, maracas, kick pedals, and other implements of percussive force. Sometimes Brown and Chen would produce other Tent-Music objects, like DIY horns assembled out of colored plastic or PVC pipe, a tiny Ace Tone organ, a portable cassette player, chimes and sleigh bells affixed to a stick, or a cowbell. But the center of the music was always the syncopated groove created from the interplay of the electric guitar and the wooden box. Chen could make the guitar sound tinny and ghostlike, as if it were tuned into a shortwave AM radio, or he might make it chunky and deeply resonant. Brown could summon all kinds of pitches and timbres from the crate, from a harsh slapping sound, like drywall slamming up against brick, to hollowed-out bass notes. The simplicity and strangeness of the instruments made for music both open-ended and jarringly direct, expansive yet tactile. Often the duo would play in venues without stages so that the audience would find themselves enveloped, tent-like, in the same musical structure as the musicians.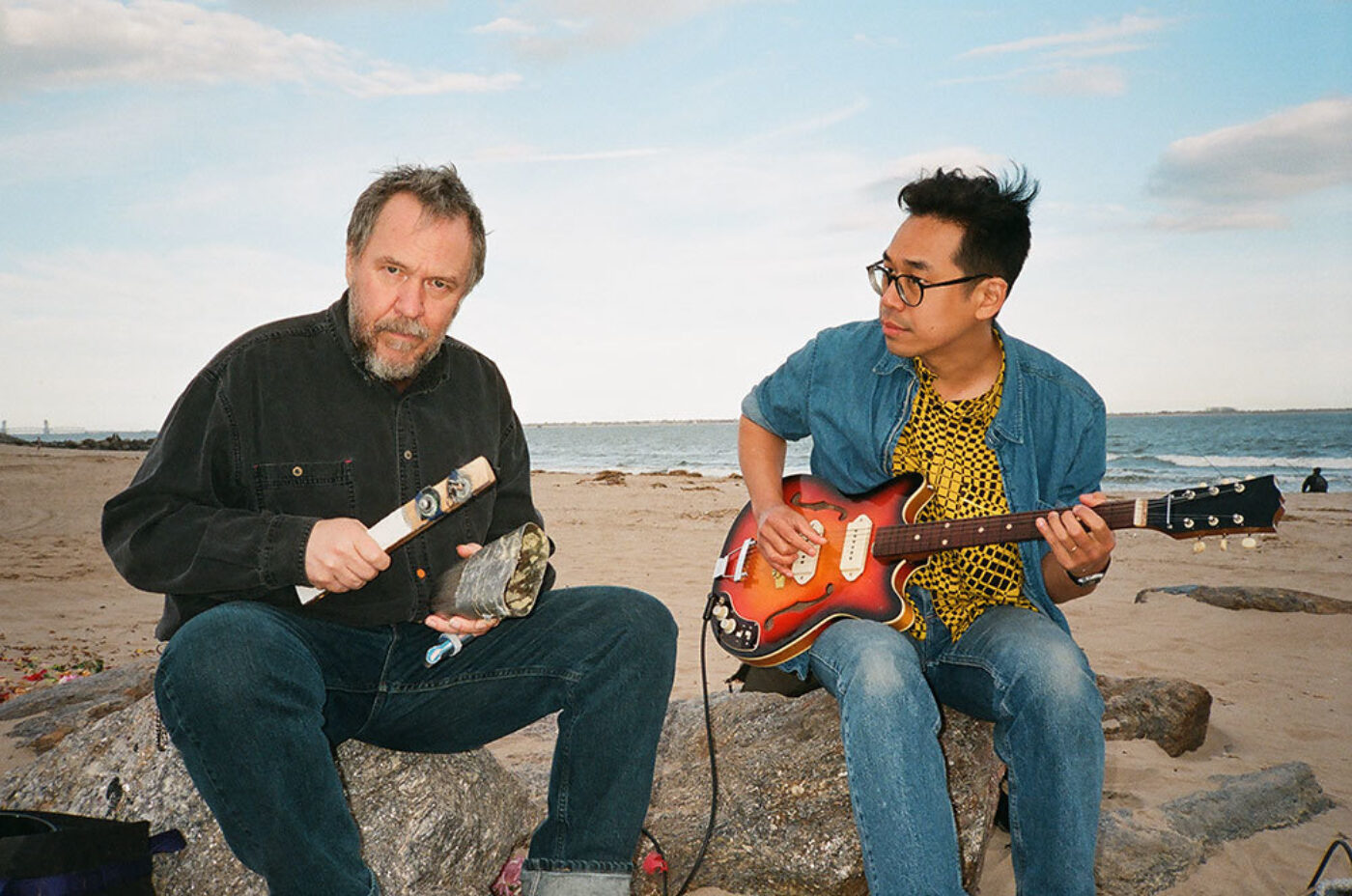 "The cards were mostly wishful thinking at the time," Chen wrote later, "talismanic objects that I hoped would manifest some of these situations into being. The phrase 'Tent Music for Tent People' was another bit of magickal thinking, the naming of a community that did not exist yet, and a nod to Sun Ra's own calling cards, which read: 'Beta music for Beta People'." But now, six years and three full-length studio albums into the project, his conjuring seems largely to have become reality. The group has performed at weddings as well as bars, and at a kind of funeral in 2016 when they led a New Orleans-style second-line march to mark the closing of the beloved record store Other Music. They've protested, blasting saxophones and guitars, through Foley Square on May Day, and processed off stages and into the crowd during performances at more traditionally designed venues. Less literally, but more to the point, they've continually crafted a particularly social kind of music, one that invites listeners and audience members into its company while also affording the musicians the freedom to pursue far-out concepts, like invented quarter-tone modes and outré time signatures.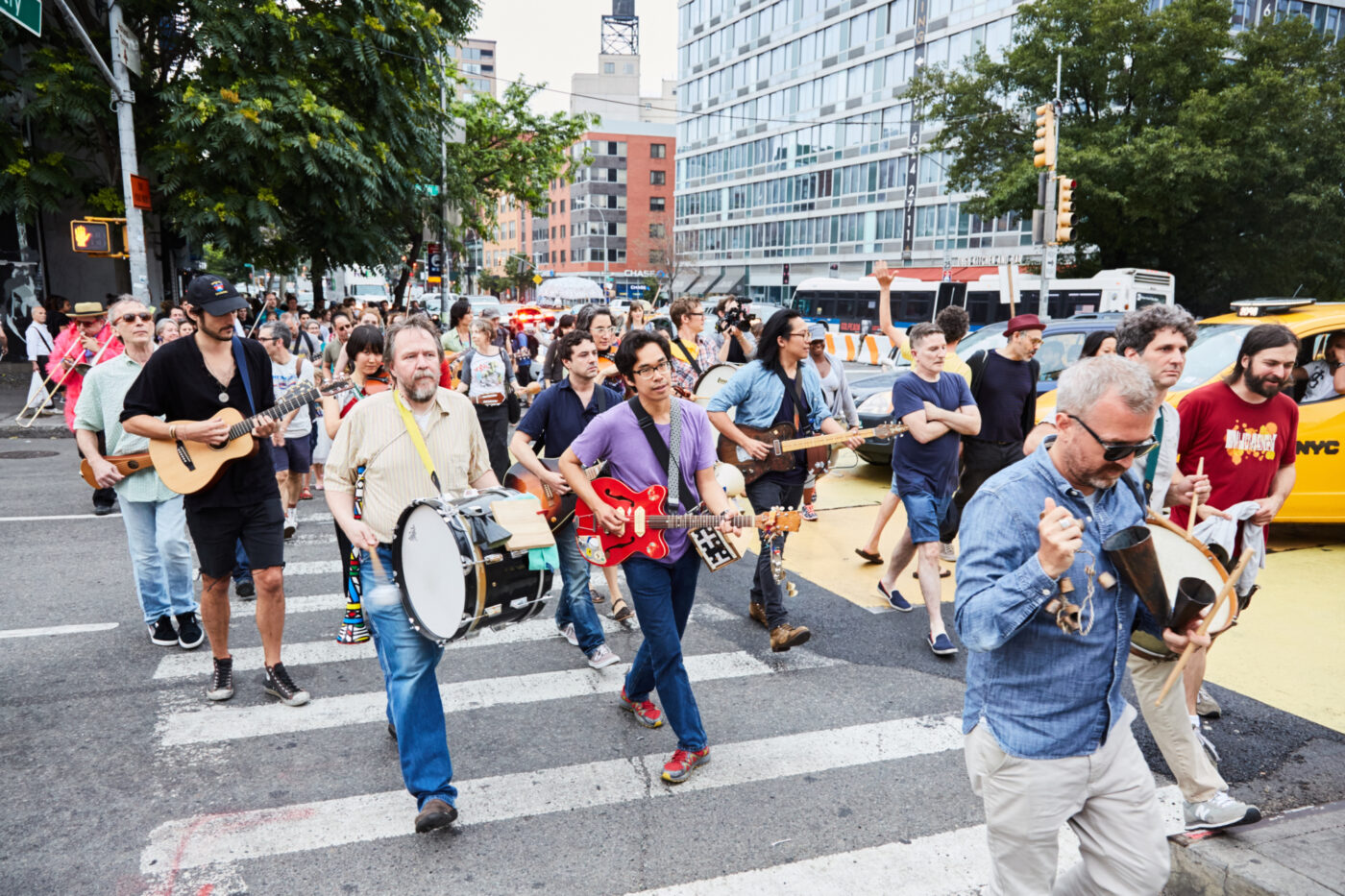 I Was Real, a double album released last June on Thin Wrist Recordings, marks just how far the group has come from the days of Chen and Brown's early experiments. For one thing, most tracks (and most recent live shows in New York) feature an expanded ensemble of musicians playing alongside the guitar and the box: there's Sue Garner on electric bass and guitar, Cheryl Kingan on alto and baritone saxophone, Andrew Lafkas on contrabass, and Karen Waltuch on amplified viola; Jim Pugliese provides additional percussion, Steve Maing adds extra guitar, Carey Balch plays the hi-hat, and Barry Weisblat further distorts and repurposes certain tracks using analog signal processing techniques. The added players take Chen and Brown's raw material and transform it in varying ways.
Different compositions call for different arrangements of musicians, who in turn add the textures of their instruments and their own sonic vocabularies. On "Tetuzi Akiyama," a song that's titled in tribute to an avant-garde Japanese guitarist, it's Cheryl Kingan's saxophone, for instance, that drives the music forward and whose cutting timbre suggests Japanese free improvisation and the sounds of African funk and No Wave. Two compositions employ the concept of a "verso" by reassembling melodies and rhythms out of different constituent parts. "WZN#3 (verso)" appears on the album before its twin, "WZN#3," refracting its source material by transposing its melody from the West African-sounding tones of Chen and Maing's electric guitars to Waltuch's electric viola, which, when paired with a distorted bass line, recalls the drones of Tony Conrad by way of Appalachian fiddle music. This kind of sonic stew feels less like fusion for the sake of demonstrating how disparate influences might fit together than a creative form of musical recycling. Sounds get sifted, crushed, and compacted. In the same way that Chen's calling cards playfully channel the spirit of Sun Ra's, 75 Dollar Bill's music pays homage to its overlapping influences by remaking them in its own homespun image.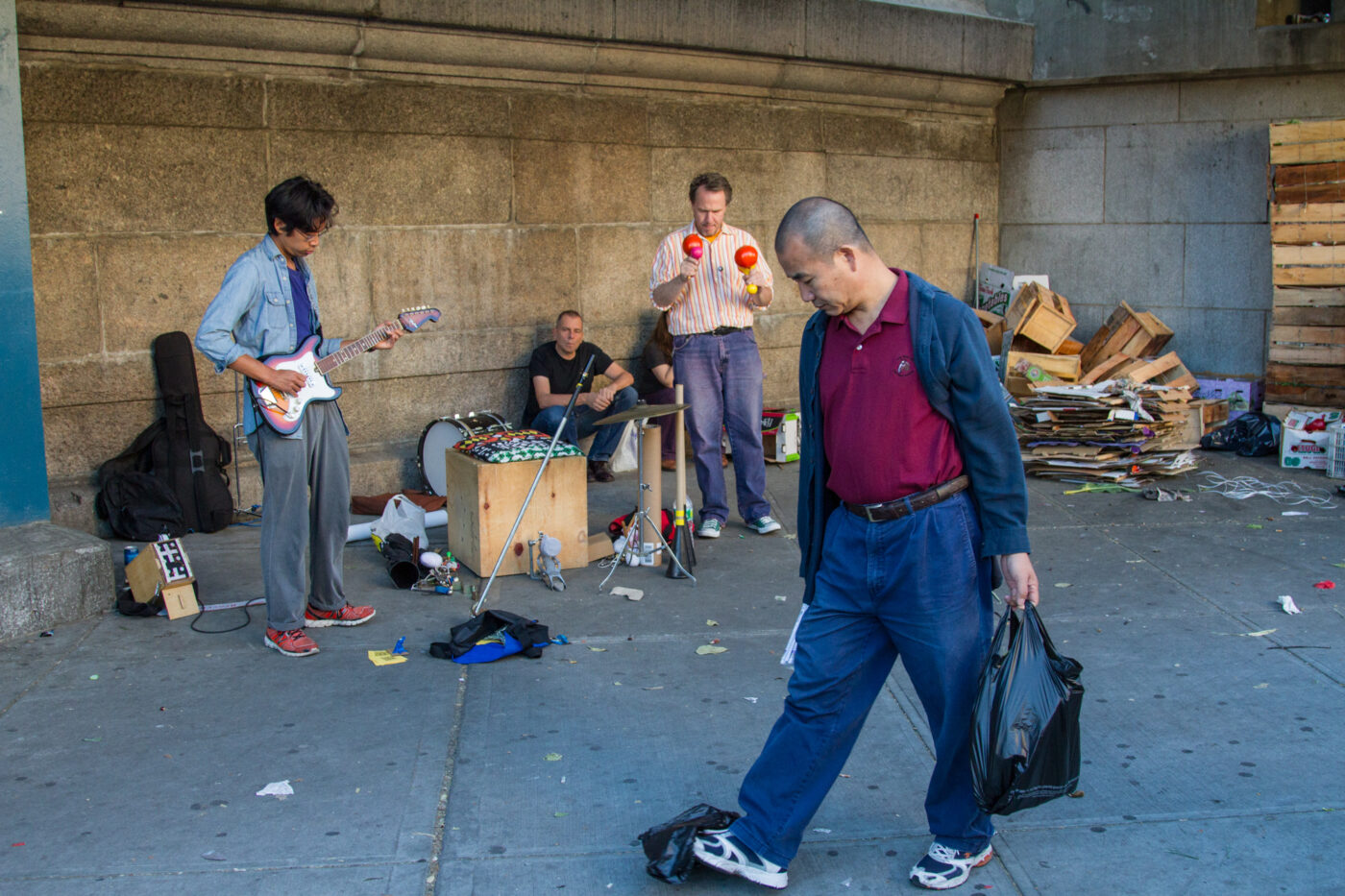 Such a freewheeling yet dedicated approach is particularly exciting right now, when the convergence of reissue record labels, hyper-specific genre revivals, almost unlimited access to new and historical recordings online, and the moneyed art world's growing infatuation with experimental music can sometimes leave listeners left in the lurch. 75 Dollar Bill's tunes don't require one to have expertise in order to get down with them. And they frequently get down. The nearly seventeen-minute title track, "I Was Real," is a series of repeated guitar riffs hunkered into a wooden backbeat, creating a groove which seems to be in a state of constant readjustment, its accents shifting subtly over time. Chen's melodies never quite resolve, but instead seem to be in a process of resolving. A constant bass drone creates the feeling of a home, but the tonal lines above it remain jagged and unkempt. Brown's box makes a stop-and-go rhythm, one that's funky but almost plodding in its insistence on starting itself over again. It clops. You could dance to it, mourn with it, revel in it, or march alongside it. Just so long as you stay close to the ground. And if you keep your poles spiked into the dirt, you could let your tarp whip a bit in the wind.
Michael Blair is the coauthor, with Joe Bucciero, of a book on Young Marble Giants's 1980 LP Colossal Youth. He is a contributing editor at BOMB and works at Electronic Arts Intermix.