700 Acres and 30 Corporate Sponsors: Four Days at Bonnaroo by Alex Traub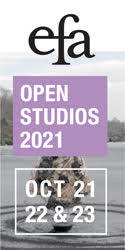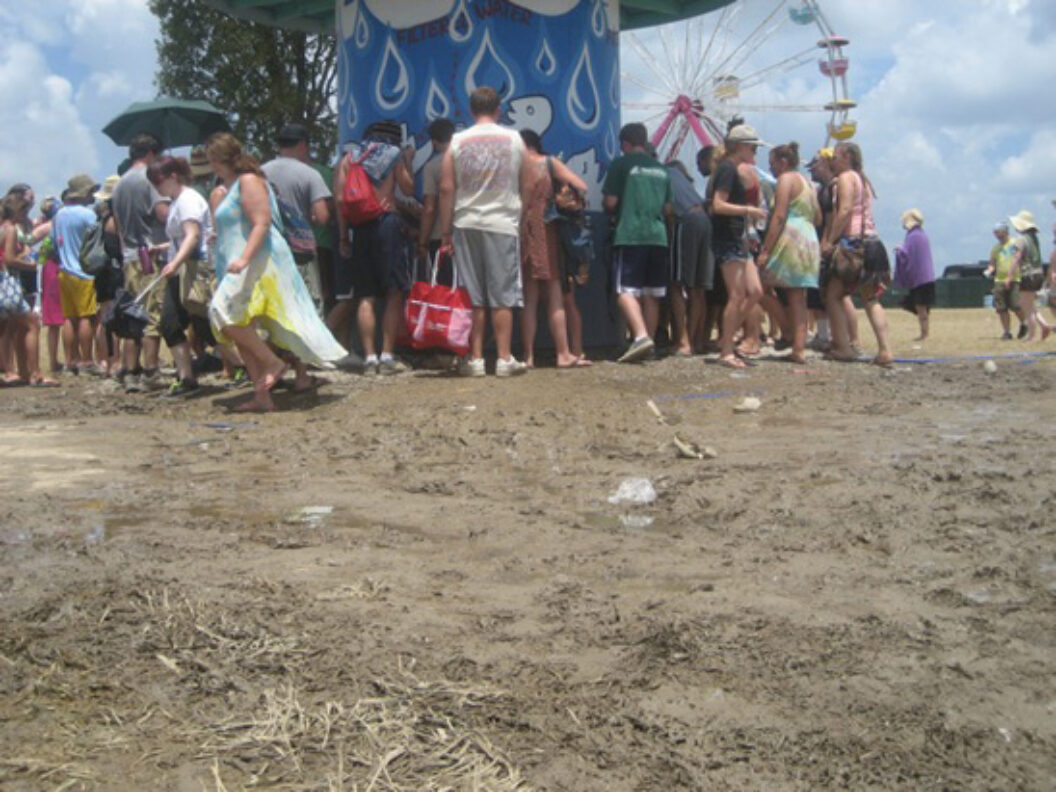 In the Bonnaroo guide, the festival organizers pride themselves on an "integrated approach to brand partnerships." "Instead of branded stages and intrusive signs," they note, "we incorporate brands into the fabric of the festival experience." For a corporate presence to be "intrusive," it must by its very nature by exposed and honest, and Bonnaroo's subtler approach to sponsorship obscured and even intensified the influence of brand identities. Alex Traub navigates his way through the maze of bands and brands at this year's festival.
Thursday: After ten minutes of standstill traffic, people finally started getting out of their cars. The sky was a vast, uninterrupted blue, a bright yellow cornfield to our left shone in the sun, and the line of cars snaking towards a 700-acre farm in Manchester, Tennessee, extended past the horizon. A middle-aged man in the car behind me continued playing an acoustic guitar behind the wheel, as he had done throughout the stop-and-go traffic; a girl reeking of vodka, wearing a floral dress and a fedora, asked us for directions and concert festival advice; and droves of stout and seemingly angry Tennessee police stalked up and down our queue. It was 11:30AM, and I was with a group of seven friends waiting to get into Bonnaroo.
Now nine years old, Bonnaroo is a four-day music festival held every year on the same Tennessee farm. Effectively all attendees live in tents for the festival, which showcases every kind of popular contemporary music.
My friends and I finally reached our campsite at 4:00PM and immediately began setting up our tents and organizing our food supply. Most campsites were full to capacity, and it took significant acrobatic skill to walk through one without collapsing adjacent tents or knocking over nearby coolers. We were finished unpacking and constructing in an hour, and then we all set out to Centeroo, the main grounds of Bonnaroo that contained all five concert stages and the comedy tent. We trod through the beginnings of thick mud and made it to an open, sand-covered road. On our way down it, we passed nearly a dozen headshops, countless fried food vendors, and one stationary man who quietly asked "nugs?" underneath his breath as each group of people walked by. After floundering in the heat for nearly an hour, we finally reached the big purple Bonnaroo arches and the security checkpoint that signaled the entrance to Bonnaroo.
I entered what turned out to be far more than simply a series of five stages. Though on my right I saw one of the two principal stages for Thursday, on my left, and around the edge of all of Centeroo, I saw a continuous maze of stores and corporate-sponsored activities. As I passed Loopy's Café and Crepe Cart, a stand manned by twentysomethings who all looked like concertgoers, I could see in the distance a cornered-off Cartoon Network Adult Swim series of tents, a place named Fiesta Garage (after Ford's line of cars), and The Photo Pit (sponsored by Canon). I tried walking into the Adult Swim area, which proved impossible to navigate due to a tee shirt giveaway.
Half-naked was the norm already on the first day, though the bikini-clad women seemed more attune to their appearance than bare-chested men, some of whom had reached the older, hairier, and saggier side of life. That said, the general affect from the Bonnaroo crowds was one of youth, slowly increasing intoxication, and positive partial nudity. Despite the occasionally thorough security guards standing outside Bonnaroo's entrance, there was a complete lack of police presence inside, so that many audience members would plunk down in the shade of a tree and start smoking pot without any concern of getting caught. At concerts, someone was in the process of doing some kind of drug approximately every 80 feet.
Though we were exhausted, my friends and I had come to see music, and after downing iced coffees we all saw great shows by up-and-coming electronic bands Miike Snow and Neon Indian, indie-folk favorite The Dodos, and, most impressively, The xx, whose gritty, urban synth lines and dark, Cobain-like electric guitar progressions made the whole crowd bob their heads and bend their knees in unison. Sometime after midnight, we must have made it back to our campsite, because we all woke up together the next morning.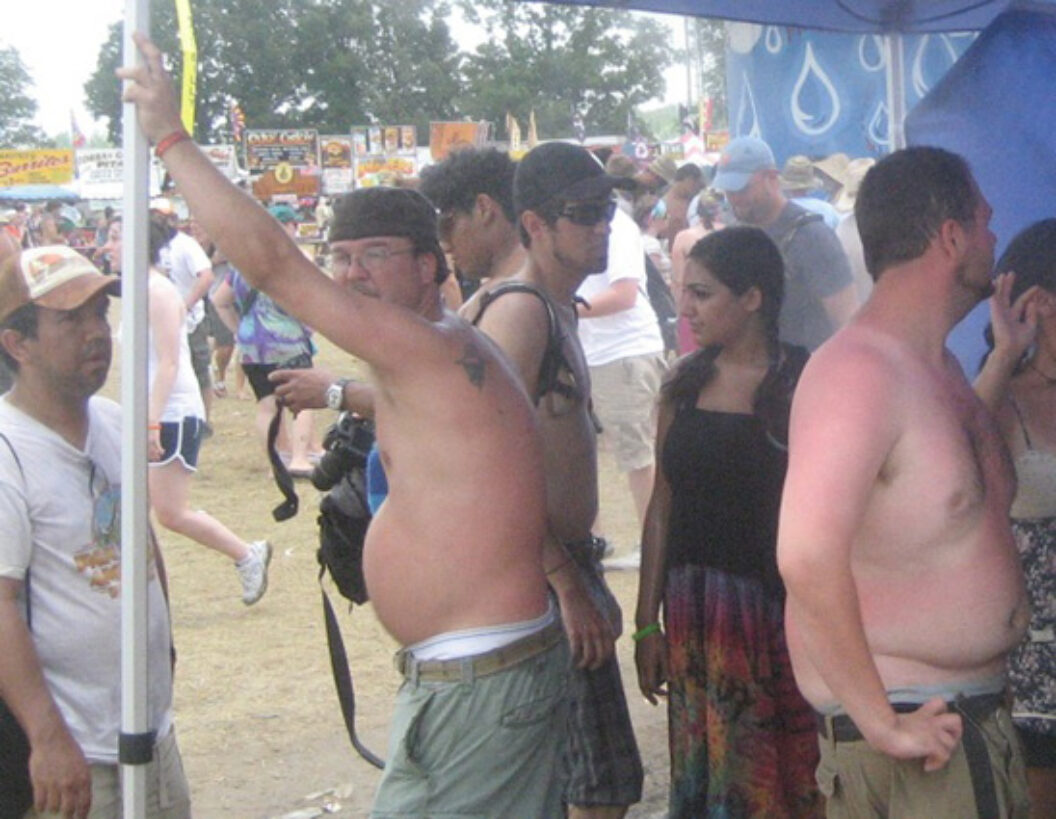 Friday: Just as one visit to the Met affords the opportunity to see unparalleled Impressionist painting, an Egyptian temple, and ancient Greek sculptures, so too did Friday at Bonnaroo exhibit the best in bluegrass, indie rock, rap, reggae, metal, and even comedy. My friends and I began the day with Punch Brothers, whose classical music structure and bluegrass sounds (their debut album, Punch, featured a four-party forty minute suite entitled "Blind Leading the Blind") combined for an hour of hip-swinging and hand-clapping. Their faces lit up by broad smiles and clad in ties and bowties, the band ignited raucous applause when frontman Chris Thile's mandolin began to play out the chords from The Strokes' megahit single, Reptilia. As Thile bent downward, bringing his whole body to bear pressure on his small pseudo-guitar, roaring, "please don't slow me down," and violinist Gabe Witcher gyrated while powerfully fiddling his instrument's highest falsetto key, the crowd stamped, clapped, and shouted along. "You can get this for free on the website, punchbrothers.com," explained a laughing and panting Thile after the song, "but this is not a time for websites."

Next came Carolina Chocolate Drops, whose new album Genuine Negro Jig has reached #1 on the bluegrass charts. The band, whose instruments during the concert included banjos, a guitar, a snare drum, and a jug, provided an authentic old-time African-American folk music experience. Where they sounded a little less genuine, perhaps, was when drummer and jug-player Dom Flemmons explained, "now while we're preparing for this next song, I want to tell ya'll about what's at the merchandise table." I remembered then that the Punch Brothers had also delved into an advertising pitch, even if less enthusiastically.
That night provided one of the most fun concerts all weekend. Michael Franti, lead singer and public face of the post-rap rock-reggae group Michael Franti & Spearhead, must have given a speech about how wonderful it was that people had driven down "packed into cars" with "their smelly friends" and "too much stuff" just for "the love of music!" more than ten times. With each successive speech, however, Franti continually managed to endear himself further to the crowd. Finally, after dancing for what felt like days, the crowd generously thundered when Franti ended the concert saying, "Before we leave we have to thank our sponsors…ladies and gentlemen, the good people of Tennessee!" Sweet as this sentiment was, it ultimately functioned as yet another reminder of the corporate sponsorships and mass consumerism that, lurking behind the messages of each concert, had made the whole festival possible.
Eyes half open, I somehow managed to then lug myself to Kings of Leon, The Flaming Lips, and Kid Cudi. Including Edward Sharpe & The Magnetic Zeros, Damian Marley and Nas, The National, and Tenacious D, all of whom I saw earlier that day, I had gone to ten concerts since noon. Comatose, I left Kid Cudi early and crashed the second I entered my tent, without even noticing my friend trying to get to sleep a foot away.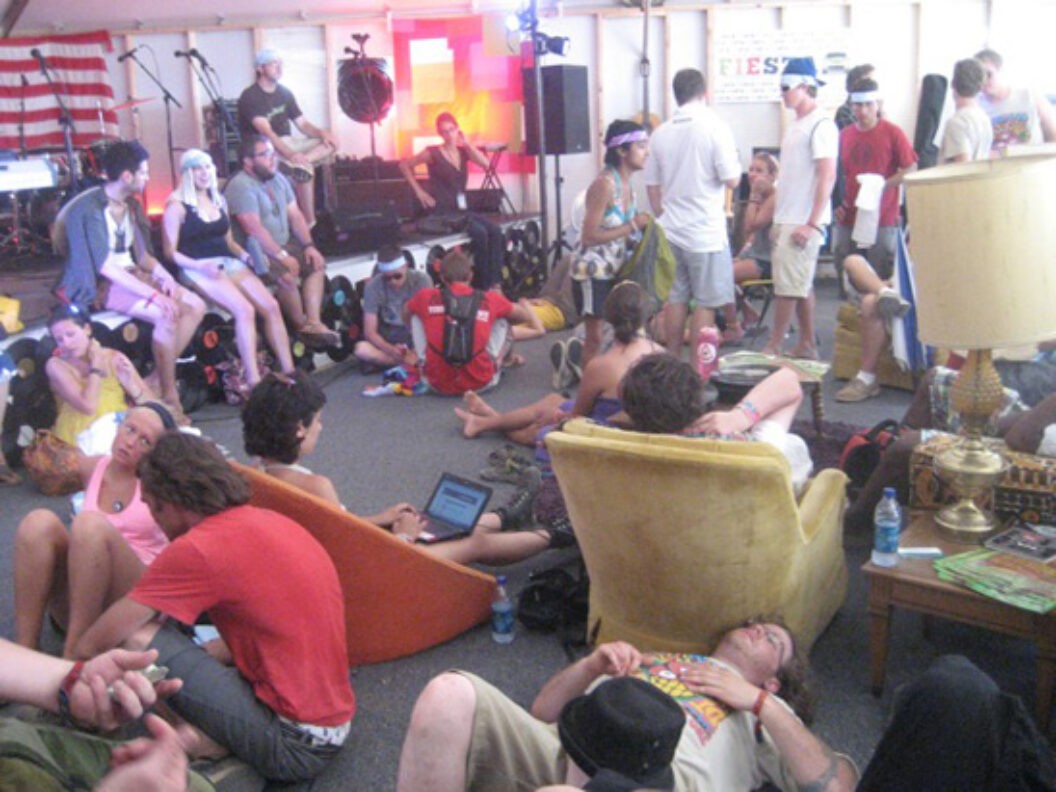 Saturday: I had until 3:30 PM before Jimmy Cliff performed, so the first thing I did on Saturday was deposit my name at the Garnier Fructis hair washing station, which offered complimentary hair styling and a karaoke booth. Unfortunately, when I arrived around 11:30AM, I was given number 645 and told that the stylists were only then at number 51. Late in the afternoon, they had only reached 263.

I then walked a few hundred feet to the Odwalla tent, which was offering free shots of their new juice flavors Pink Poetry, White Lemonade, Chocolate Protein Monster, and Original Superfood. Inexplicable blow-up cows, mushrooms, and trees hung from the ceiling upside down as a part of a lush, inflatable, skyward landscape. A shirtless, middle-aged man played on the acoustic guitar at the talent show booth. Unsurprisingly, a full wall of Odwalla juice bottles was displayed behind the man, who was dwarfed by the refrigerator-turned-tank. As I waited in line to collect my juice offerings, a young, eager employee asked "have you been here yet?" to passing customers, all of whom mumbled that they had. As I was leaving, I noticed a few people return to the back of the juice line. I did the same, and was unblinkingly asked again if I had been to the Odwalla tent yet. I had.
From there, it was only a 30 second walk to get into Ford's Fiesta Garage, which was designed after the stereotypical basement in which American suburban high schoolers smoked weed and talked about music with their friends from the 1960s to the 1980s. As anachronistic top 40 music (Rihanna) played in the background, I saw a bike hanging up on a wall, a bunch of unrelated and beat-up chairs organized around a ratty couch, one odd rug in a corner, some small, old fake-mahogany TVs, old records, an empty guitar case, and dozens of posters. The central couch and surrounding chairs were all oriented towards a central stage, where the likes of Youtube phenomenon Julia Nunes would play a few times a day. There were also two computers and a consistently long line to get a free Ford Fiesta tee shirt. Most importantly, there was a cell phone charging station and decent air conditioning.
In the Bonnaroo guide, the festival organizers pride themselves on an "integrated approach to brand partnerships." "Instead of branded stages and intrusive signs," they note, "we incorporate brands into the fabric of the festival experience." For a corporate presence to be "intrusive," it must by its very nature by exposed and honest, and Bonnaroo's subtler approach to sponsorship obscured and even intensified the influence of brand identities. The Fiesta Garage, for instance, didn't provide a single service that either had a logical relationship to cars or made an explicit attempt to advertise; and yet, this conveniently located center for false nostalgia and phone charging must somehow have been making a pitch for the new generation of Ford's classic line of subcompacts. Those things could both be true only if Ford was reaching my subconscious, so does that mean that I'd been brainwashed?
Industry icon Jay-Z was the perfect end to my corporate freebie day. The hip-hop legend played every major song of his career, from "Can I Get A," to "Big Pimpin'," to "Empire State of Mind." He also covered each of rap's major tropes: there was a pour out liquor for your dead homies moment, as Jigga reminded the audience of "all of rap's fallen soldiers," including "Tupac," "Notorious," "Aaliyah," and "Left Eye;" he extolled our collective virtue for electing the first Black president; and he talked about the troubles of the hood right before he began his epochal hood ballad, "It's a Hard Knock Life." The concert felt like the entire history of rap music strung over two hours, leaving any rap fan totally sated, maybe even supersaturated. After all, how could the organic development of a whole genre ever be covered in such a short amount of time? The concert was good to the point of being cartoonish.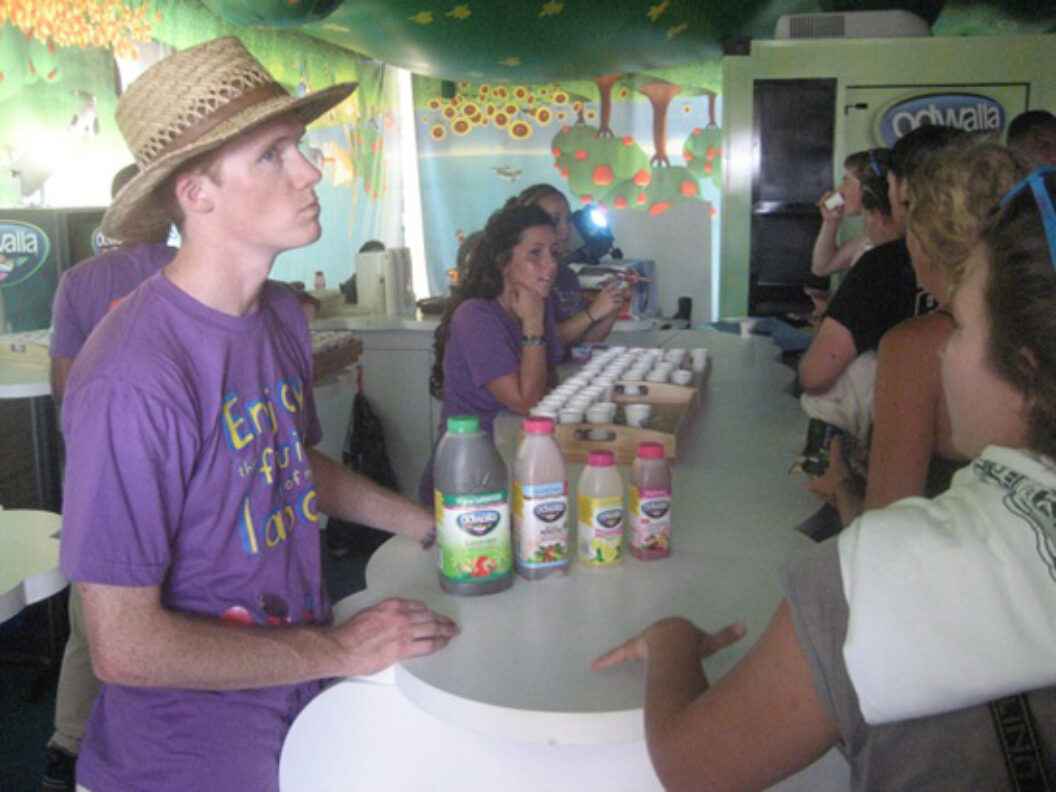 Sunday: When I went to Loopy's for a crepe on Sunday, I got a chance to talk to the proprietor. "We are just a traveling business," explained storeowner Dan Quinones. "We go to a number of different shows, craft fairs, farmer's markets, horse events, things like that." Mr. Quinones explained that he and his wife had bought the stand when they needed to make some extra money to send their daughter to college and that now many of her friends were employees at Bonnaroo. He was also happy to say that everyone working there, himself included, got the opportunity to go see music at Bonnaroo.
Not all small business owners, however, had a similarly positive Bonnaroo experience. "Bonnaroo's become…too dirty, too shady. I think it's kind of corrupt" says Paver, who works at what she describes as a "mom-and-pop" head shop called the 4:20 Spot, based in Austin, Texas. Paver explained that her shop was muscled out of a contract they'd signed that gave them rights to a good location. Now, a much larger company that made its "glass" in China had taken over their site. Paver does appreciate a certain subsection of Bonnaroo: the community of small vendors that exists "if you're cool and if you're small and if you're not trying to just monopolize everything," among whom, she said, are "some of my best friends, who I haven't seen in six months or a year." After having gone to Bonnaroo for years, however, Paver concluded, "I'd rather sell at a smaller festival. I don't really like Bonnaroo because it's gotten so big and so commercial."
The rest of Sunday passed in a haze of fatigue. Before Dave Matthews Band had gotten midway through their set, my friends and I had escaped the awful traffic we'd faced getting into Bonnaroo and were on our way to the nearest roadside motel. Driving through an empty, almost eerie farming landscape, it was amazing how few miles it took for rural Tennessee to erase every trace of our four-day long trip to Music Disney World.